Sleep is arguably the most essential part of anyone's day. There's nothing better than cozying up under a soft, pillowy comforter and drifting off to sleep in its cozy warmth.
If you have chosen to go with a comforter rather than a duvet because of its convenience and luxurious texture, then we are here to help you pick the best one possible. In particular, we will be looking at green comforters and giving you some inspiration for how to style them.
What Makes a Good Comforter
Comforters are super cozy blankets that are, as the name suggests, very comfortable. As opposed to duvets, comforters come as one piece that is used without a cover. The structure of the blankets features two layers of cover fabric with a fill of some kind sandwiched between them.
The filling can be made from polyester, microfiber, or even natural down feathers, making the comforter thick and soft. A critical feature that comforters have is that they are often quilted, which is responsible for keeping the comforter fluffy and airy. The stitching is often in squares and sewn all the way through to make them as durable as possible.
This keeps the stuffing isolated in each square, so they remain plump, and no fill leaks out. This should ensure that the fill remains evenly spread across the surface wash after wash.
The Best Materials for Comforters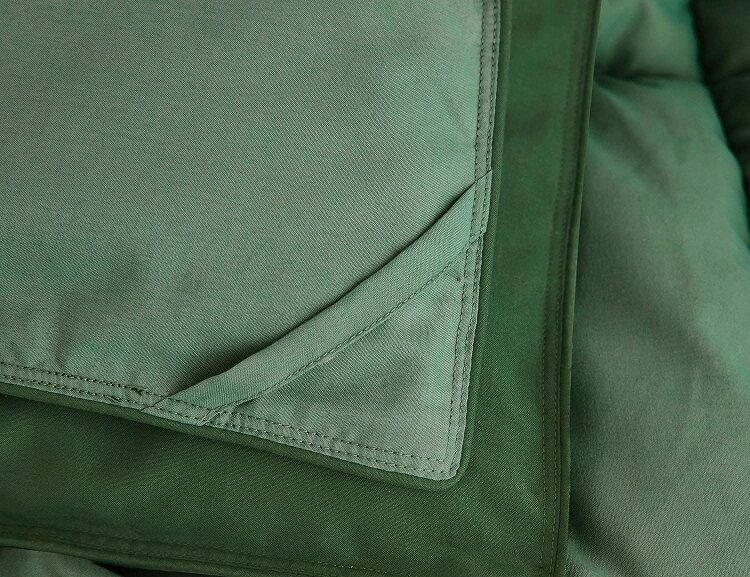 An essential factor you need to consider when buying a comforter is comfort itself. The best materials for both the covers and fill will allow a lot of air to be trapped inside. This keeps the environment beneath it at a regulated temperature. This will keep you warm in winter and cool in summer.
Traditionally this fill would be made from natural duck feather down, which is very soft and airy. However, many people can be affected by down allergies and therefore can't use this fill material. On top of that, down can smell, and the feathers' quills can occasionally push through the fabric and prick you in the night, which is less than ideal.
Synthetic fills have been created to combat this issue, primarily using polyester, which mimics down perfectly to get all of the airy, lightness without any of the detracting factors of genuine down.
The outer fabric should also be soft and skin-friendly, so you are as comfortable as possible. Fabrics that are very popular for this purpose are cotton, microfiber, and bamboo, which can be made to replicate less sustainable fabrics like viscose, silk, and rayon.
How to Style a Green Comforter
When it comes to styling a green comforter, there are a few ways you can go about it. Depending on the shade, green can work in a modern environment as a pop of color in a neutral room, but it can also look rustic or boho if paired with earth tones and patterns.
You can adapt this color to fit whatever style you favor by picking a comforter of the right design. If you want to go all out with an eclectic pop of color, you can pair your green comforter with purples to take advantage of the effects of the complementary colors.
When it comes to particular styles, a green comforter will work beautifully in botanical or jungle-themed rooms to add to the leafy color palette. They could also enhance a more vintage style, especially if you go with a more pastel shade.
This color is so versatile that if you pick a more natural, forest, or sage green, you could also create a gorgeous rustic look with the comforter as a design base. Many of these green comforters we will be looking at today are minimal in their design, so they can be used in any style of space if you use them the right way.
For example, if you are going for minimal chic with a pop of color, you can pair the comforter with a bright white sheet and pillows with no extra throw pillows or accessories. On the other end of the spectrum, if you are going for a boho look, you can add some patterned throw pillows and maybe even a shaggy throw to the end of the bed to add more color and texture.
So now you know what to look for, let's dive in and take a look at some green comforters.
Top Picks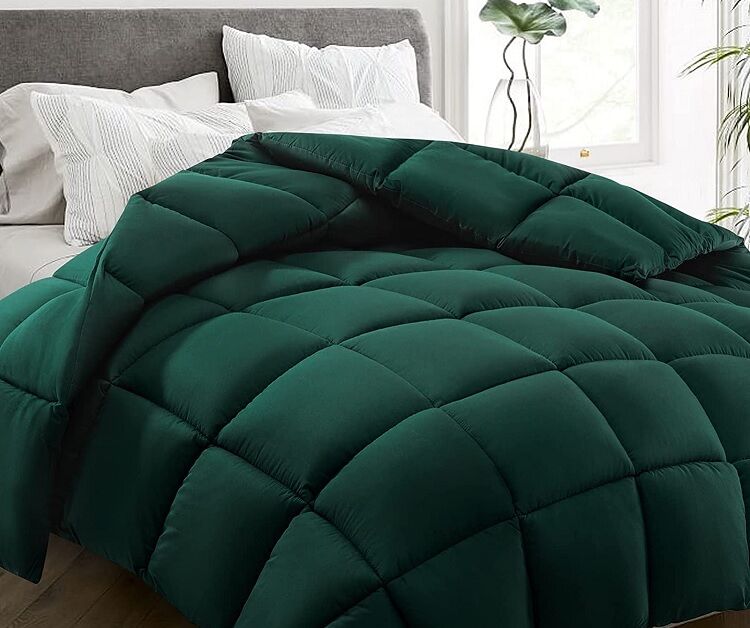 This Hyleory comforter is a stunning emerald green that will brighten up any bedroom. It is luxuriously thick and quilted in large box-stitched squares that make it durable and aesthetically pleasing.
It is filled with a cooling goose-down alternative that is incredibly comfortable and mimics the feeling of down while being suitable for vegans and those with down allergies. The fiberfill is ultra-soft and filled using an 'overfilling' technique that makes it extra soft and comfortable.
This also makes the comforter noise-free, with no artificial crinkling or poking feathers to disturb your sleep. The cover layers are made from soft, brushed microfiber that is skin-friendly. All these factors combine to make this comforter heavenly to sleep beneath.
The price tag might seem like a lot for a blanket, but with its thick, soft texture and long-lasting, anti-ripping stitching, it will last you years. It is also suitable for all seasons because it will keep you warm in winter and cool in summer so you will get a lot of use out of it. Ultimately it depends on what budget you have to invest in a great night's sleep.
This comforter should be washed in a machine in a cold and gentle setting and not dry cleaned. Unlike many other comforter sets, this doesn't come with matching pillowcases, but it does come with a 90-day guarantee as a bonus if you are not satisfied with the product. It is available in twin, full, queen, king, and California king.
Pros
All season
Down alternative
Anti rip stitching
Cons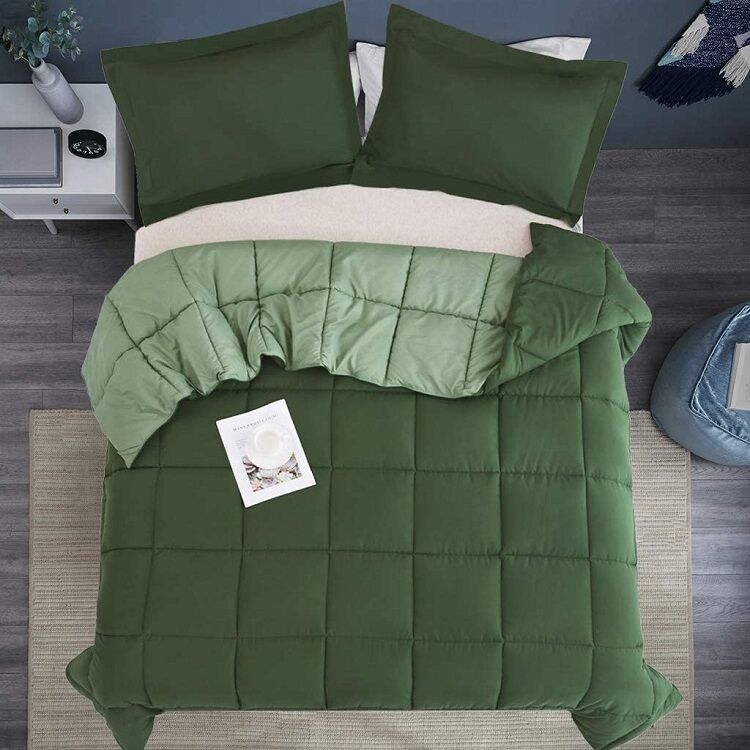 This EvJk comforter takes sage and forest green and marries them together in a beautiful design that looks rustic and makes you want to curl up in its softness and drift off to sleep. The reversible design is versatile and lets you change up the look of your room with a mere flourish of the blanket. You can also fold down the top to contrast the colors in a lovely way.
This is another all-season comforter that is lightweight and breathable but very warm. Like the previous option, this one is filled with a down alternative that is very fluffy and quiet. The outer fabric is skin-friendly and very soft, yet durable and long-lasting, so it is the best of both worlds.
It has a large box stitched design that is attractive and keeps the blanket nice and voluminous. This design is an excellent combination of comfortable and cute that gives you two looks for the price of one. As an added extra, this comforter comes with two pillowcases that are also reversible so you can easily mix and match.
For the utmost convenience, this comforter can be machine washed in a cold setting. This one comes with two pillowcases and is available in twin, queen, and king sizes.
Pros
Matching pillowcases
Reversible
Down alternative
Cons
Only three sizes
Most expensive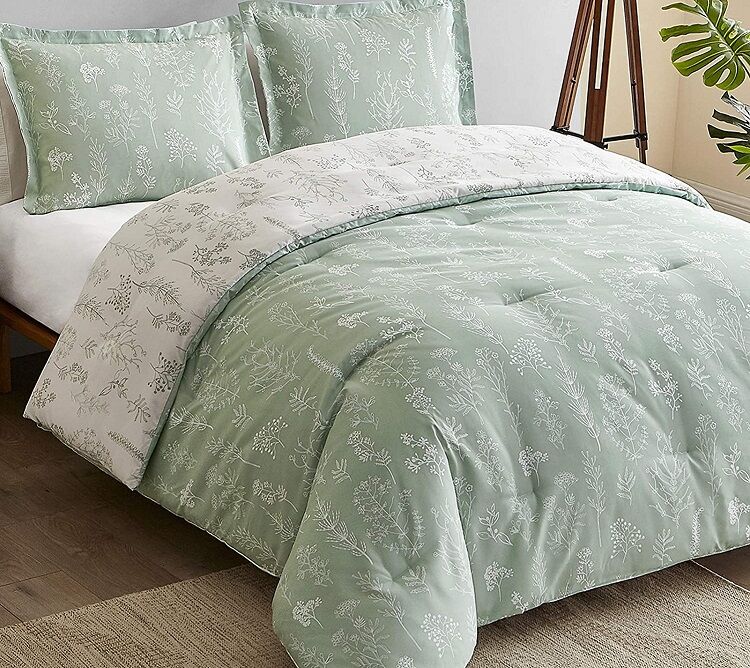 If you like a bit of pattern in your life, this Bedsure floral comforter might be more your speed. Its delicate illustrations bring a botanical element to your bedroom design that you could easily use as a design inspiration that you bring in throughout the room.
This is beautiful and bright, as well as being light and fluffy so you can slumber in comfort and style each night.
This all-season set has a reversible design with sage green adorned with white floral illustrations and the inverse on the other side.
This lets you mix and match the different sides and the matching pillowcases to change your look a little. The cover is made from 100% polyester that is very soft with a 300gsm down alternative to make it fluffy.
A negative to this beautiful design is that it doesn't have the strong stitched through quilting that keeps these blankets evenly filled. This could mean that this option might not last as long as the fill may redistribute as it is washed over time.
This set comes with matching pillowcases that are available in twin, queen, and king sizes. This comforter should be washed in cold water and air-dried or tumble-dried on low heat.
Pros
Beautiful pattern
Reversible
Cons
Not fully stitched through
Only three sizes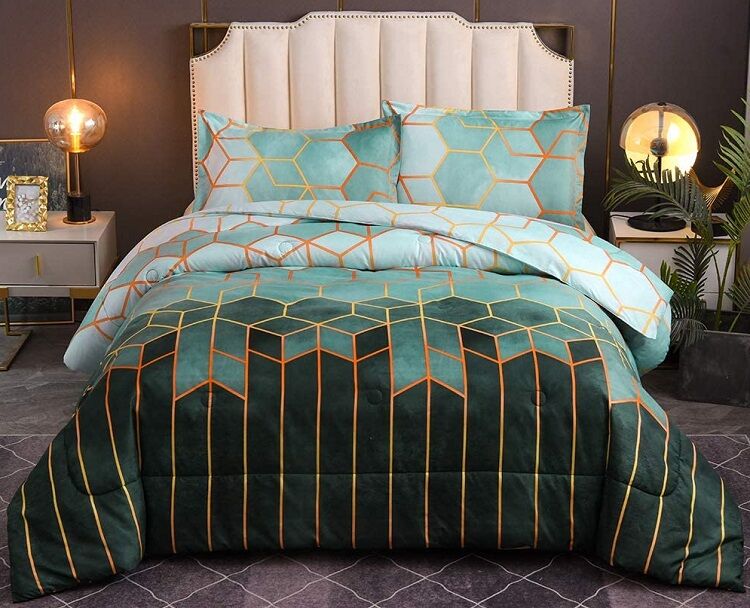 If you like a bold design and want to make an impact with your bedding, then this gorgeous Sisher marble and geometric comforter should already be in your basket.
This stunning ombre design fades from emerald to teal and incorporates yellow/orange stripes and hexagons that look like gold foil. This is truly a design to base your bedroom decor around as your eye will immediately be drawn to the bed.
This all-season comforter has a soft and skin-friendly microfiber cover with a hypoallergenic fill that is perfect for those sensitive to down. It has a large-scale quilted design with round button-like anchor points that keep the filling from shifting.
Despite its soft feel and beautiful design, this comforter is the cheapest of the lot, so it is an excellent option to consider if you love the design and are on a budget.
This comes in twin, queen, and king size and has two matching pillowcases. Since the pillows are manually cut, their design will be random from one comforter to another. This comforter is machine washable in cold water.
Pros
Beautiful design
Affordable
Hypoallergenic fill
Cons
Pillowcase design is random
Lastly, we have this Homby's comforter in a bright pale green that will elevate any neutral space. This comforter may look comfortable and appealing, but that's not all it has to offer; it is also eco-friendly! The cover is 100% bamboo with a natural silk softness and a hollow microfiber fill that is an accurate down alternative.
Besides being made from a sustainable fabric, this comforter was also designed to have adaptive temperature control (ATC). This means that the comforter will maintain a steady temperature no matter what the weather is outside.
This is achieved through the hollow microfiber fill that simulates the air structure you would get inside down feathers that keep this blanket super fluffy and soft but quiet and odor-free, unlike actual down.
This makes this blanket ideal for anyone who experiences night sweats or gets very hot when they sleep. The comforter also features stitched through box stitching that will keep all of this fill firmly in place.
The silk-like touch is also suitable for sensitive and oily skin, so it won't cause you any issues while you sleep in absolute comfort.
This comforter is machine washable and available in twin, queen, oversized queen, king, California king, super king, and super king plus, so it has by far the most option of the lot. It doesn't come with matching pillowcases, however.
Pros
Sustainable material
Adaptive temperature control
Cons
Best For Night Sweats
If you are a hot sleeper, then the Homby's comforter is the choice for you. It boasts innovative adaptive temperature control that will keep your temperature regulated all night long, so you never have to wake up in a cold sweat ever again.
No matter what the weather outside, this clever comforter will keep the environment beneath it at the perfect temperature so you will sleep peacefully all night long.
Best Value for Budget
It may come as a surprise that arguably the most beautiful comforter is the cheapest! The Sisher Marble Geometry Set is the cheapest here, but you get a lot of bang for your buck.
The design is striking, you get two matching pillows, and it is hypoallergenic into the bargain! If you want a comforter, but you are on a budget, then the Sisher is an option that will look far more expensive than it is.
Conclusion
Comforters are a great alternative to duvets that keep you at a comfortable temperature while you sleep and envelop you in a lightweight, fluffy cloud. How could anybody get a lousy night's sleep with one of these on hand? Green comforters are versatile and adapted to fit so many styles, so they are a great color choice for any bedroom.
Overall the Homby's Lightweight Comforter is the one I would recommend. Besides being very soft and lightweight, it is also made from sustainable materials, making it the most eco-friendly choice.
It also comes in many size options, unlike the other comforters we have looked at today. The Homby's does give you a lot for the price, so you really couldn't go wrong with this soft and fluffy option.