Say Goodnight to Nighttime Pests: a buying guide to the best insect traps for a peaceful night's sleep
There's nothing like settling into bed at the end of a long day, with clean sheets and a comfortable pillow… only to hear the sound of a fly buzzing around the room. Wrestling with the decision of whether to get up and eliminate it, or try to sleep through it, can shave precious minutes, or even hours, from your rest time. There's also the concern of "What if it's a biting insect? Will I wake up covered in bites?" to contend with. If, like many people, you are susceptible to being bitten by mosquitoes and other biting flies, you've woken up more than once to itchy red welts from their nighttime visits.
In this article, we'll talk about the latest and greatest in insect traps to help you hit the snooze on nighttime pests.
What's the Haps with Insect Traps?
Insect repellants, both for the air and for your skin, have been around for a long time. They're reliable, effective, and readily available. However, nobody wants to spray chemicals in a room they or their family are trying to sleep in, or slather themselves in a layer of insect repellant sprays before getting into their lovely clean bed. Traditional sticky insect traps tend to be messy, unsightly, and unreliable, electric insect zappers are noisy: both are not the safest or most hygienic options around inquisitive children or pets.
So what can you do to ensure a peaceful night's sleep, free from insects? Enter: a new era of electric insect traps.
Sleek design, enticing lights and scents, quiet air-suction fans— these things added together mean that your odds of a restful and bite-free night just went up. Most of these new indoor fly traps share the same elements but there are still a lot of options and variables among brands. Some are specifically designed for different insects, and some have more features, like refillable sticky traps or automatic light sensors. How do you know which one you want? Well, that's what this buying guide is here to do!
When considering which type of insect trap you need, use the following questions:
What type of insects do you want to trap

How do you want the trap to work

Where in your home you need it
The Buzz on the Top 5 Indoor Flying Insect Traps
Keeping these in mind, let's take a look at some of the best indoor flying insect traps available right now.
Ready to catch almost any type of flying insect in your home? The Katchy Indoor Fly Trap is! This device is one of the best indoor fly traps around. The Katchy works by attracting flying insects with the UV light. Once the unsuspecting pests have flown close to the light, they're sucked in with the strong airflow from the deceptively-quiet fan, and deposited on a sticky sheet inside. The Katchy uses sticky sheets which are easy and mess-free to replace. This particular model comes with Manual Mode and Auto Mode: Manual Mode runs constantly and Auto Mode is triggered by a light-level sensor and only runs when it's dark. Attracting bugs with a UV light is most effective in the dark, and this auto feature means Katchy is definitely a "set it and forget it" device.
[maxbutton id="1″ url="https://www.amazon.com/Original-Indoor-Insect-Trap-Non-Toxic/dp/B07H2JGSM6?&linkCode=ll1&tag=pillowinsider01-20&linkId=2d78b6286c17978e11dd57f1eaf83324&language=en_US&ref_=as_li_ss_tl" text="Buy at Amazon" window="new" nofollow="true" ]
Katchy works best on:
Mosquitoes

Fruit flies

Gnats

Moths
Pros
Uses sticky sheet refills (available to purchase separately)

Manual Mode and Auto Mode with light-level sensor
Cons
Works best in the dark

No scent trap
If you were looking for even more insect trapping power, Katchy is currently running a Kickstarter for the next generation of Katchy: the Katchy Duo. With an even bigger purple halo of UV light, this new device also has a liquid bait trap that you can fill with a mixture of soap and vinegar and place inside the device or nearby as a lure. Twice the luring power!
---
Are mosquitoes your mortal enemy? You've found an ally with Biogents! This indoor mosquito trap was specifically designed to trap the tiger mosquito (Aedes aegypti, Aedes albopictus). The Biogents trap emits a patented artificial human scent, the BG-Sweetscent, which is especially developed to attract the tiger and yellow fever mosquitoes. This scent, an internal heated surface (to simulate body temperature), and the optional UV light, all work together to attract mosquitoes that are pulled in with the suction fan and left to dehydrate in the chamber below. Sounds great, right? Sadly this indoor mosquito trap is not as well received as it's sister product, the Biogents BG-Mosquitaire Outdoor Mosquito Trap. With only a handful of reviews and mixed responses, some say they have caught even house and fruit flies while others say that there's nothing to stop flies escaping.
[maxbutton id="1″ url="https://www.amazon.com/dp/B08XY3N8B6?&linkCode=ll1&tag=pillowinsider01-20&linkId=6b130c81fc728dd07134dd7564f3dbe2&language=en_US&ref_=as_li_ss_tl" text="Buy at Amazon" window="new" nofollow="true" ]
Biogents works best on:
Pros
Patented artificial human scent: the BG-Sweetscent

Scent lasts 2 months with refills available

Heated body temp surface

Optional UV light
Cons
No sticky trap makes it messy to clean

Low number of positive reviews

Scent must be aired outside for two days before use
---
A close competitor to the Katchy is this flying insect trap from Fenun. It works very similarly to the Katchy, relying on a UV light, quiet-running suction fan, and refillable sticky sheets to attract and trap the unwelcome insects. As well as being another high ranking device in Amazon's Pest Control Traps category at #9, the Fenun also boasts nearly 10,000 5-star ratings. The sleek insect trap comes in both white and black options, to blend neatly and easily into any room or decor.
[maxbutton id="1″ url="https://www.amazon.com/Mosquito-10-Sticky-Glue-Boards/dp/B08C7YPHS3?&linkCode=ll1&tag=pillowinsider01-20&linkId=70cf9c5e3a8d8841fba3c6cc7907d99b&language=en_US&ref_=as_li_ss_tl" text="Buy at Amazon" window="new" nofollow="true" ]
Fenun works best on:
Pros
Includes 10 sticky sheet refills (and available to purchase separately)

7 different light wavelengths to choose from

Comes in black or white
Cons
Works best in the dark

Manual controls only
---
Time to take your vendetta against flying insects to the next level? The Black + Decker indoor insect trap will catch practically anything. Plus, you can free up counter or dresser space with a wall-mounted trap. This fly trap was designed to mimic the appearance of a sconce, with the powerful insect trapping capabilities of free standing devices. The Black + Decker trap attracts flying insects with the bright UV light and traps them on the sticky strip below as soon as they land. It's simple to clean, just lift the front, remove the sticky strip, wipe down, and replace once a month or when full.
[maxbutton id="1″ url="https://www.amazon.com/BLACK-DECKER-Wall-Mounted-Control-Mosquitoes/dp/B08S49753K?&linkCode=ll1&tag=pillowinsider01-20&linkId=48ae213d5dd3550e311bcac404d026e4&language=en_US&ref_=as_li_ss_tl" text="Buy at Amazon" window="new" nofollow="true" ]
Black + Decker works best on:
Mosquitoes

Biting flies/gnats

Moths

Beetles

Stink bugs

Wasps/hornets

Asian beetles/Lady bugs

Drain flies/fruit Flies

House flies
Pros
Wall mounted

Includes 3 sticky sheet refills

Easy installation

Easy to clean
Cons
Only third-party refills available

No suction fan

Hard to relocate once installed
---
Nothing will make a statement against the flying insects quite like the FVOAI indoor fly trap! This stylish big catcher works like the Katchy and Fenun fly traps: blue light attracts the insects, strong-but-silent fans suck them down, and then they're deposited on the sticky sheet to perish. The manual controls on the FVOAI trap have a 6-hour or a 12-hour setting, meaning you can leave it running and don't have to come back to turn it off again in the morning. While the FVOAI is the same in function, the design and aesthetic is very different. The large circular top acts like a light tunnel for the insects, and it would make more of a visual impact, wherever you position it. This could be a pro or a con for anyone, depending on your interior decor needs. At #21 in Pest Control Traps and with almost 1,000 5-star ratings, the FVOAI is another worthwhile option in flying insect-control.
[maxbutton id="1″ url="https://www.amazon.com/dp/B095YH12WK?th=1&linkCode=ll1&tag=pillowinsider01-20&linkId=8ab86817d65da5d9913cfe6cb746fba3&language=en_US&ref_=as_li_ss_tl" text="Buy at Amazon" window="new" nofollow="true" ]
FVOAI works best on:
Pros
Includes sticky sheet refills

Comes in black & blue or black & pink
Cons
Works best in the dark

Manual controls only – 6-hour or 12-hour options
---
Our top insect trap tips:
Place traps near food, trash, plants, or points of entry such as windows or drainage holes.

Check the traps periodically and more often in the warmer months.

Use one device in a room—use multiple devices in a larger home for better results.

Don't place too high or too hidden away – this makes it harder for the insects to find it before they find you.

Move free-standing traps around periodically to check for insect "hotspots" in your home.
By now, you should have a much better understanding of this new era of electric indoor fly traps, and how they can work for you. We covered some of the best on offer and hopefully answered your question "What is the best fly trap?"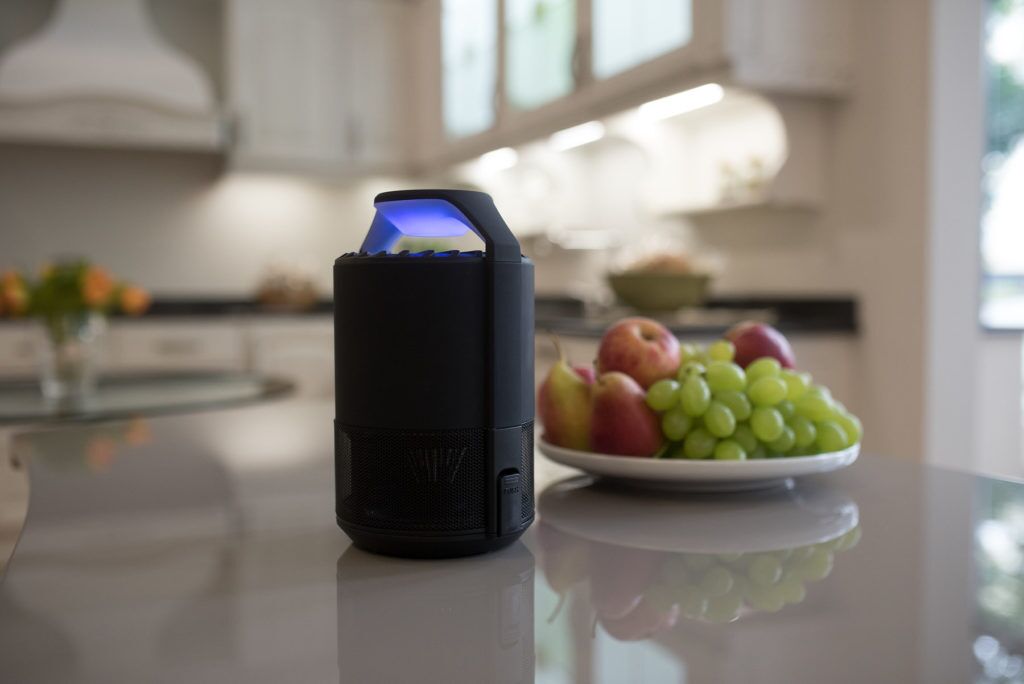 The portability of the various free-standing traps is great for adapting to the changing needs of your home, but wall-mounted units are a solid choice for a permanent solution when you understand the insects' habits and patterns.
Using one of these electric insect traps in your bedroom is certainly the most toxic-free option when it comes to pest-control. With no sprays being released and the traps relying on lights and quiet fans, you can breathe easily and know your family is safe from chemicals. We wouldn't recommend using the devices on their own if you have a serious infestation, but they certainly help with long-term, daily pest management.
Getting a peaceful and uninterrupted night's sleep, or waking up without itchy or painful bites, is something everybody deserves.