The first time I heard the term "latex sheets" I had a momentary vision of Batman diving under a rubberized comforter and squeaky bed sheet. This was definitely not something that my grandma had used on her beds, so I was quite puzzled why anyone would want to sleep under a rubber bed sheet or on a latex or vinyl mattress cover.
Then curiosity took over, and I simply had to find out more, and well, try out some rubber, PVC, or latex bedding for myself. I was pleasantly surprised, and I am sure you will be as well when you slip into bed on a PVC cover or under a rubber sheet.
Latex Bedding and Why We Use It
Latex or PVC sheets are bed sheets that are usually seen in medical examination rooms, where having a waterproof bed sheet is a requirement. These sheets are impermeable to fluids, which keeps the beds in hospitals and clinics protected from fluid spills. Latex or PVC, being non-absorbent, is also seen as being more hygienic.
One very popular characteristic of latex and PVC is that it is strong and stretchy, which is why it is also used in a lot of medical equipment such as disposable gloves and even condoms.
Latex is a natural fiber that is extracted from the rubber tree, while rubber is made in a chemical process that creates a polymer blend, which is flexible and waterproof.
The real drawcard of latex and rubber sheets is that they are waterproof. Latex, being a natural rubber material, is often used in the manufacture of beds and mattresses. The material is buoyant. It retains its shape and is well known for being heat resistant.
One downside is that it can create an allergic reaction in people with sensitive skin, which is why synthetic latex is also becoming a huge thing in the bed world. Many mattress protectors are made from synthetic blends like polyester or bamboo fibers.
Speaking of beds, since latex remains cool, it is also considered a beneficial material for bedding for sleepers who tend to sleep hot as it offers good climate control.
Some beds have latex beads built into the mattress design to help cool the sleeper during the night, preventing overheating. Latex mattress toppers are also very popular as a way to get your bed to chill out.
Using latex, whether natural or synthetic, can help keep beds dry. Latex and rubber sheets are ideal if the sleeper is ill and struggling with incontinence or for young children who are still learning to potty.
A waterproof bed protector or rubber sheets is also ideal for expecting moms who don't know when their water will break or when they may go into labor.
Another popular use for latex bedding and sheeting is in the adult world of pleasure, with the waterproof capacity of these sheets offering adventurous couples spill-proof surfaces for late night games.
The simple fact: beds are expensive, and replacing a mattress that has been damaged by liquid spills is costly. Protecting your mattress from accidental spills is not only practical but also cost-saving.
Benefits of Latex and Rubber Mattress Covers and Sheets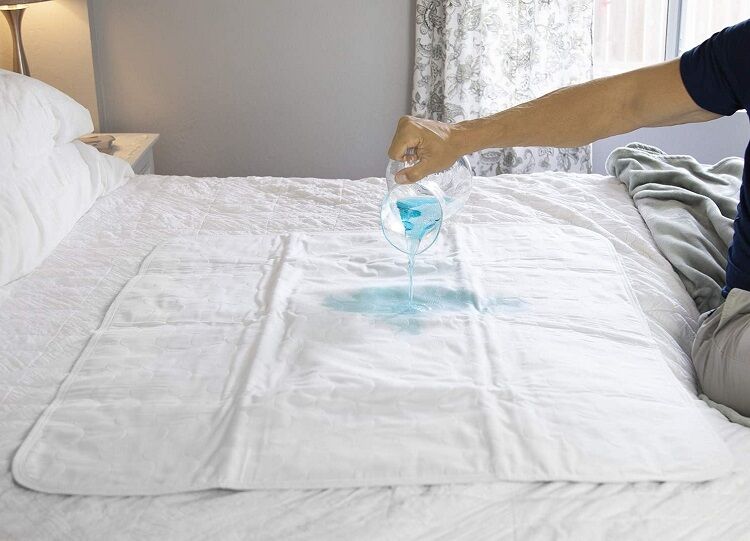 There are several benefits to using latex in mattress covers and in medical sheets:
Temperature Control
Latex and rubber doesn't absorb heat, which means it has a cooling effect on the sleeper. This makes it an ideal thermoregulating bedding.
Waterproof Surface
Since latex provides a waterproof surface, it is ideal for containing spills. It makes for a hygienic barrier to protect your mattress and blankets, so you can use latex or a PVC sheet.
Hygienic Bedding
Latex, PVC, and synthetic latex are all known to be hygienic as these are not absorbent fibers that can become infested with bacteria and microbial particles. For those who require a waterproof sheet or mattress protector for a sickbed, this is ideal as it helps in maintaining a sterile environment.
Hygiene is also an important factor when using waterproof sheets for adult play. Likewise, when using waterproof mattress covers or rubber pads on children's bedding, it also helps create a healthy environment that prevents diseases from penetrating the child's mattress.
Long-Wearing
Latex and PVC are both long-wearing materials. While the cost may be slightly higher than simple cotton sheets, latex or vinyl mattress covers are long-lasting.
A Quick Overview of Latex or Vinyl Mattress Covers and PVC Sheets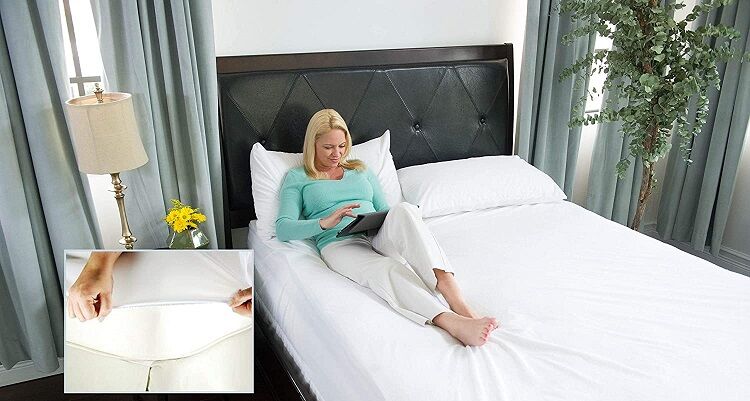 So when you are looking at latex or rubber bedding, there are basically two categories you would search under:
mattress covers, bed pads, or medical sheets
adult pleasure sheets
Mattress Covers and Medical Sheets
Best used to protect mattresses, latex and rubber covers and sheets are designed to keep moisture from penetrating the rest of your bedding. This makes it an ideal choice for situations where people are ill or as a means of making clean-up easier for you.
With the cooling nature of these materials, it also makes the protected bed cooler for someone who is suffering from fever or prolonged illness that requires them to remain in bed for long hours.
On the practical side, these bed covers are ideal since they are waterproof, and some provide extra padding that makes for even more comfort. Now you can snack in bed without any worry of messing up that expensive bed you saved for.
Latex or vinyl mattress protectors can be used as a surface to sleep on. You can also add a regular fitted sheet over them if you prefer a specific material finish such as cotton, microfiber, or polyester blends.
Most mattress protectors have the latex, vinyl, or rubber/PVC layer on the bottom, facing the mattress, while the other side is a high-quality fabric like cotton or a cotton blend, which is also hypoallergenic.
Adult Pleasure Sheets
If pleasure is your goal, then a latex or rubber sheet set or even a latex mattress cover will hit the mark. Your foreplay shouldn't lead to expensive mattress damage, so covering up a valuable mattress and protecting it from various liquids is essential. Additionally, couples enjoy the smooth feeling of latex and rubber sheets.
Latex sheets make for a more hygienic environment that can be washed and cleaned. Rubber sheets can also be polished for extra shine to complete the intimate picture.
Caring for Your Waterproof Mattress Covers and PVC Sheets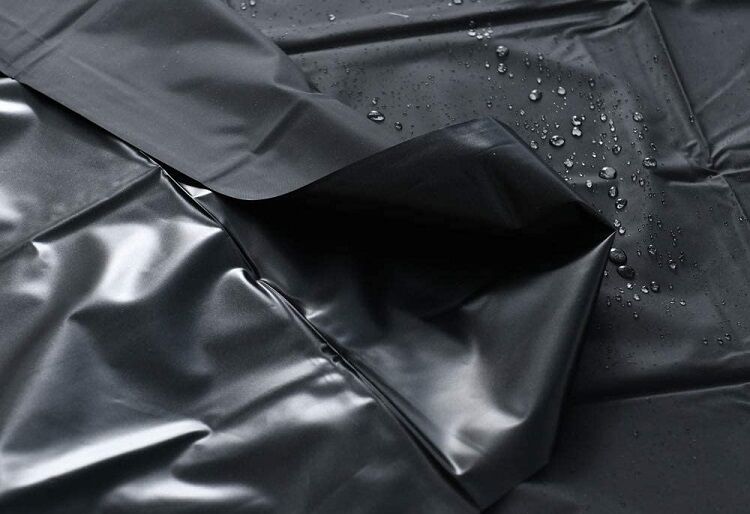 Whichever type of waterproof bedding you choose, mattress covers or sheets, you need to clean them in the appropriate manner. Here are a few quick tips to caring for your latex, vinyl, and rubber bedding to ensure you get the most out of them.
Wash these kinds of bedding in warm water. Waterproof bedding is tolerant of warm water, and you can safely wash these in warm water on a gentle cycle in your washing machine.
Use mild detergent when washing. While latex and rubber are pretty tough and durable materials, it is best not to use harsh chemicals when you wash these as this can lead to them perishing and starting to flake off from the fabric lining. Full rubber sheets can also become brittle and disintegrate.
Avoid using any form of oil or harsh chemical liquids on these sheets, so take care with the fluids you use during your adult play sessions. Even baby oil can damage latex and rubber sheets.
Do not tumble dry or dry clean latex and rubber bedding as this can lead to the materials becoming brittle and breaking.
Hang your waterproof bedding in a shady spot to dry. Avoid folding the sheets before they are fully dry to negate any smells forming.
Air regularly to avoid the tell-tale rubbery smell that these sheets can develop.
Never iron your latex or rubber sheets or bedding. The heat from an iron will lead to melting and stretching of any latex, rubber, or vinyl treated sheets and bedding.
To remove wrinkles, simply stretch the mattress protector over an appropriate size mattress, and within a few minutes, the wrinkles should lessen. You can use your hand to smooth out wrinkles but ironing or steaming latex or rubber is not advisable. Body heat will also smooth out wrinkles.
PVC sheets should not show wrinkles as the material is more flexible.
The Best Latex, Rubber, or Vinyl Sheets and Mattress Covers
Launching into an online search, I discovered the best waterproof mattress covers, medical sheets, and play sheets available.
Best Waterproof Vinyl Mattress Cover for Adult Bed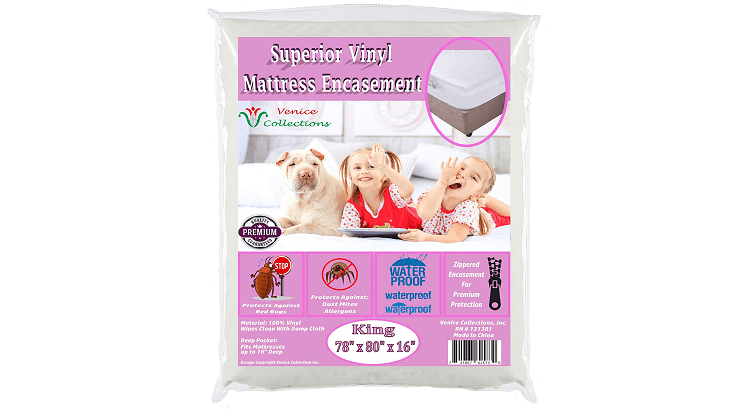 The Superior Extra Heavy 8 Gauge Vinyl Mattress Protector Zippered Encasement Cover 100% Waterproof King Size from V-Store is an ideal value for money mattress protector. Unlike most mattress protectors that simply slide over the mattress, this cover literally covers the whole bed (mattress and base).
Pros
Fully waterproof
Industrial grade zipper
Available in four sizes
Hypoallergenic and resistant to insects and other allergens
Fairly quiet when sleeping
30-day money back guarantee
Price: Less than $30
Cons
Some people are allergic to vinyl
Not pet-friendly
Difficult to fit
Strong rubber smell when unpacked
I must admit that fitting this mattress cover was a REAL pain. The material is pretty strong and rip-proof, but I had to shoo my dogs away as their nails were definitely more than a match for the rather thin cover. Once I had fitted a regular fitted sheet over the mattress cover, my dogs were again welcome to camp in Lala land.
The rubbery smell was somewhat off-putting, but thankfully, this cleared once the cover had been aired, and I learned quickly that exposure to sunlight tended to create the smell again.
I made peace with the fact that I would be fitting the mattress cover every quarter or so when I laundered it. This is at least doable, and with spills, I didn't need to remove the cover as it simply wipes clean.
Best Rubber Pads for Incontinence Bed Protection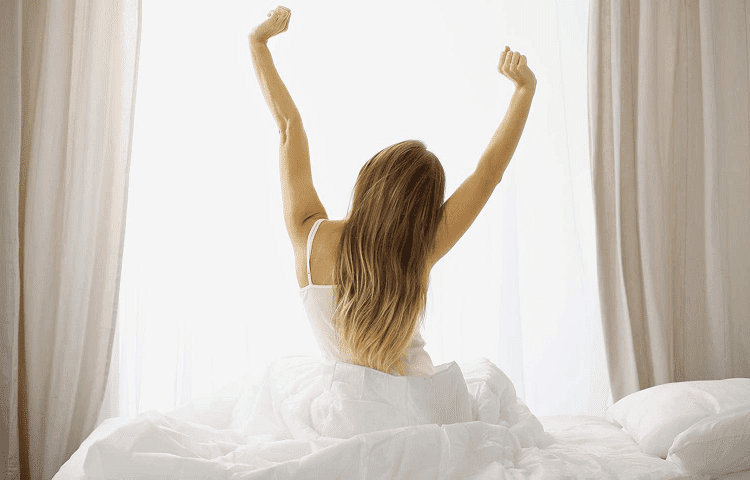 The Vive Washable Incontinence Bed Pad is a great product for protecting beds from the usual leakage that comes with incontinence, potty training children, menstrual leaks, and other medical problems. While not a sheet, this is an ideal bed protection product to consider.
Pros
Available in three quantities with a single sheet, pack of two sheets, and pack of four sheets on offer
White color, which helps hide the sheets in your bed
Noiseless
Absorbent core stops leaks spreading
Rubberized backing layer provides traction to keep the pad in place
Soft-blend fabric is moisture-repellent, keeping your skin dry when in contact with a wet pad
Fully washable
Extra length is great for adult play use too
60-day money back guarantee
Price: Less than $30
Cons
Absorption rate may not be fast enough for a large scale stain that may see liquid run off to the surrounding bedding
Adults may find the pad shifting when they roll over in bed
Pads may take longer to dry when the inner layer has fully absorbed liquid
I really liked these versatile pads, and with the rubberized backing, it is great for a whole range of other uses. My niece recently had her first baby, and I instantly got her a pack of these pads to line her bedsheets and the baby's crib too.
In addition, the pads are available in different sizes, which means she can take a smaller pad with her when she heads out, creating a barrier between the baby and any surfaces she has to lay her on.
Best Waterproof Sheets for Medical Use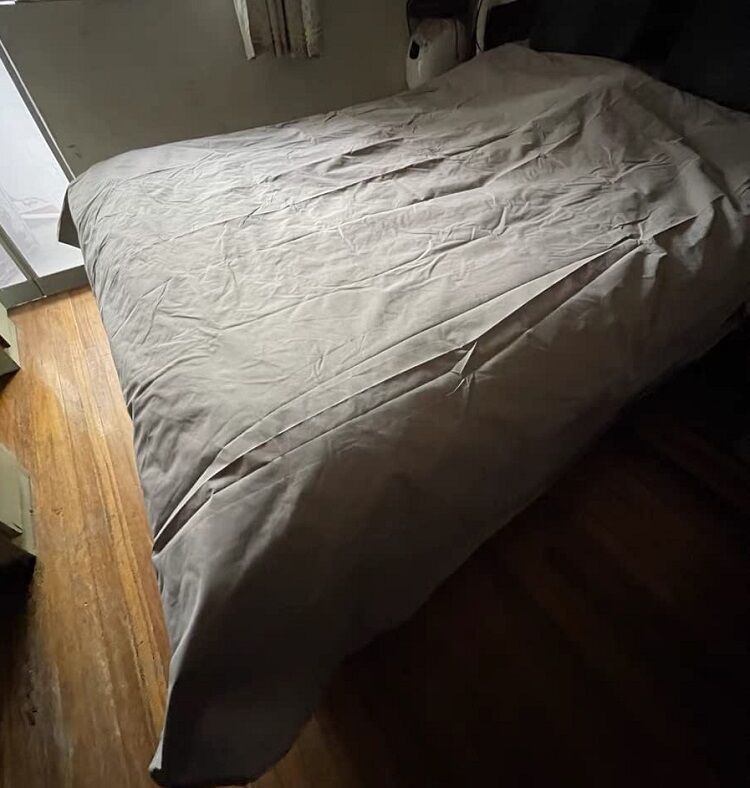 When using the Waterproof Bed Sheet King Size sheet, I couldn't help but think of all the great ways in which this sheet could be used. Apart from using it in the bedroom, the sheet is great as a water-repellent cover for sofas, while out playing in the garden, or to protect your rear car seat when you have kids or puppies in there.
Pros
Two sizes
Polyester upper
Bottom layer is waterproof, lined with TPU
Machine washable in cold water
Hand washing is recommended
Suitable for daily spills and adult time too
Price: $70
Cons
One color only
Large spills will soak through
Harsh texture makes it less than pleasant on skin
What I did find was that this sheet doesn't really stay in place. Since it doesn't have the same fitment application as a mattress cover or fitted sheet, it slides around a bit. Still, it is useful for covering your valuable bed and keeping things clean.
Best Latex Bed Sheets for Adult Use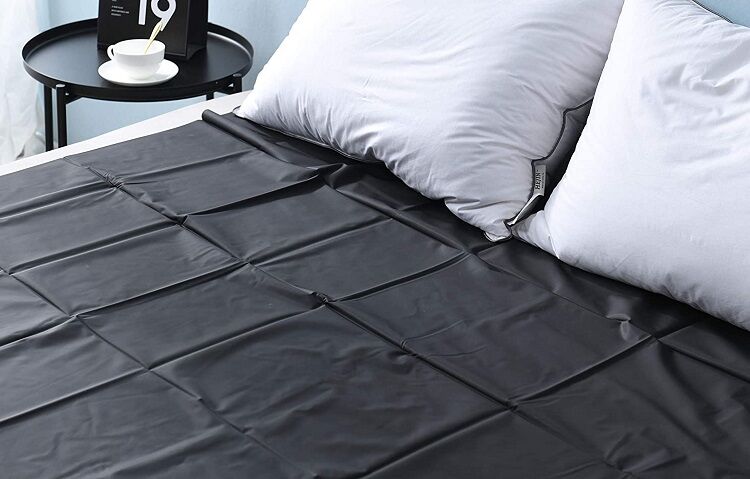 Having water and spill proof bed sheets is ideal for adults to use. The Sex and Sensuality Adult Bedsheets Waterproof Bed Sheets are designed specially for those "busy" hours when you don't want your bed being spoiled.
Pros
Available in one size
Three colors available: Black, red, and pink
Sheets provide healthy and hygienic use of the bed during sex or while away at hotels where protection from foreign mattresses is desired
Waterproof, creates a barrier between liquids and the bed
Soft and silky feeling of latex
Discreet size when folded (the size of a magazine)
Wash in cold water or wipe with a damp cloth
Cons
Not machine washable
Some users complained the texture was like a shower curtain
Quite pricey at almost $50
I found this to be somewhat less sexy than I imagined. It reminded me of an inflatable mattress in terms of the texture and smell. I can imagine it may be useful for a host of other functions like keeping the backseat of my car dry when I load up a bunch of hot and sweaty kids from soccer practice or from the local pool.
As for the intended use, I guess you will have to try it and see.
Buyer's Guide for Selecting the Best Latex Mattress Covers and Sheets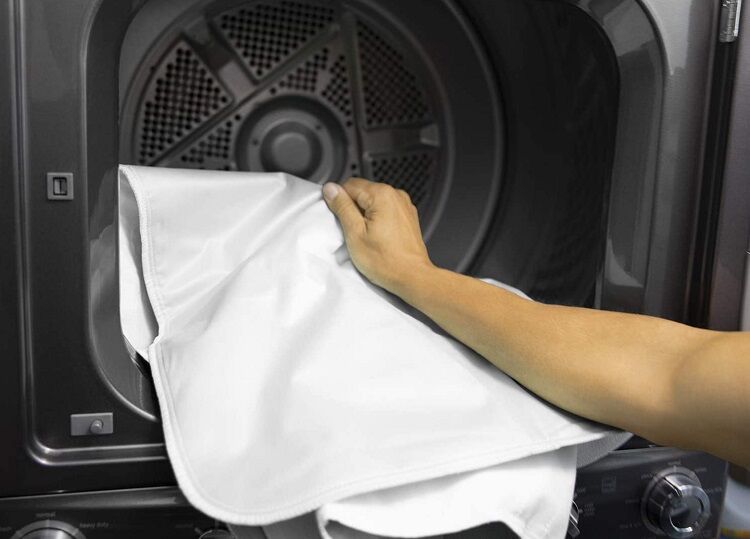 When buying latex mattress covers and also latex bed sheets, be sure to consider these guides to help you buy the best quality and avoid disappointment.
Quality of the Latex
If you are buying a latex mattress cover or a waterproof medical sheet, the main concern will be that the sheet needs to be of a suitable grade or quality. Medical grade latex is best. Natural latex is the most hypoallergenic and it also offers the best stretching capacity.
Whether you are buying a latex mattress cover, a latex mattress topper, or a set of latex sheets, be sure you are choosing 100% latex, unless you have a pre-existing latex allergy.
Elasticity of the Latex
Choosing a latex that is elastic enough to provide softness and give to the latex sheets or latex mattress protectors will result in superior quality. A good latex bed sheet can have as much elasticity as 700% more than the stretch factor. The more elastic the latex, the softer the surface will be.
Color of the Latex
Latex sheets are available in a number of colors, though the best option is to go for a natural color. White, black, or brown latex sheets will likely have less artificial colorants added, which will limit the chances of the sheets rubbing off on other sheets, clothes, or people.
Alternative to Latex or Rubber Mattress Cover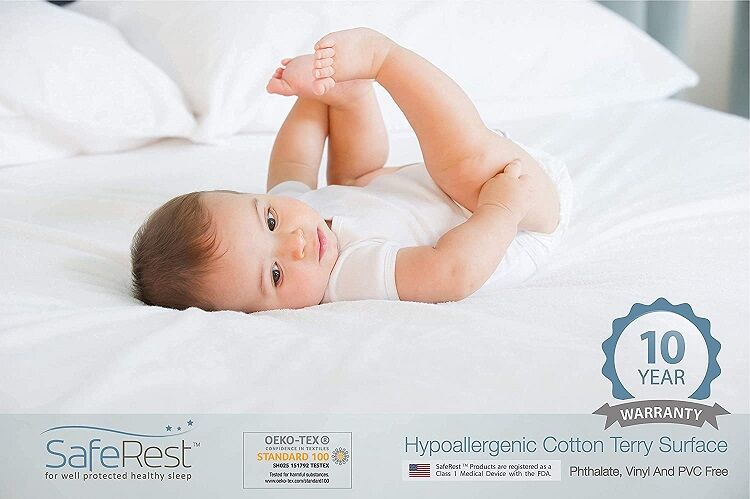 If waterproofing is the real function you need these sheets for, then this is the top natural material fitted sheet/mattress protector that may offer as much water protection.
Try the SafeRest Queen Size Premium Waterproof Mattress Protector – Vinyl Free. This highly recommended product is waterproof, and the backing is free of most harmful chemicals. It is soft and noise-free. Registered as a medical device with the FDA, this mattress protector is hypoallergenic and breathable. It's great for heavy sweating sleepers, and it is also machine washable.
If you are expecting a heavy price tag, you may be surprised as the largest size (California king size) is less than $30! The mattress protector is also available in six sizes, fitting most size beds. The upper cotton terry cloth of the protector is also comfortable against the skin.
Since the material is softer than some other mattress protectors I have tried, I found that fitting the SafeRest protector was somewhat easier, but I would still top it with a fitted sheet and only change the protector once a quarter unless soiled earlier.
The Final Verdict
I am still quite unsure whether I would opt for a full rubber bed sheet. The feeling on my skin is less than appealing, but the water-resistant quality of rubber or latex sheets can't be argued with. While there are many mattress protector products available, it is not always easy to know which is best.
What I found most relevant from the trials I did is that an absorbent and waterproof mattress protector or sheet is best as it not only wicks moisture away to stain something else, but locks the liquid in place, keeping everything clean. A product that stays in place is also much more convenient and useful.
My final choice is then not to go with a latex or rubber product but rather opt for the alternative option of the SafeRest Queen Size Premium Waterproof Mattress Protector – Vinyl Free. This waterproof mattress protector is hygienic, soft, and medically registered.
I'd suggest you give SafeRest a try. I was really impressed, and I'm sure you will be too.
Best Latex Sheets FAQs
Question: What are Rubber Bed Sheets Used for?
Answer: Rubber or latex bed sheets are used to protect the mattress from liquids that may spill on it. These sheets are useful for the elderly, young children who still wet their beds, and adults who use lubrication during sex.
Question: Is Latex Good to Sleep On?
Answer: Yes, latex is a natural fiber, and it is hygienic to sleep on. Latex is mostly used in the manufacture of mattresses, but latex blends and rubber sheets are readily available. These protect the mattress, prevent the contamination of the bed by liquids and other organisms that may cause allergies, and it is also fire-resistant.
Question: What's the Difference Between Rubber and Latex?
Answer: Rubber is a generic term for waterproof materials that are usually made from latex blends. Latex is usually the liquid form of the natural fibers, while rubber is the finished materials that are used in sheet form.
Question: What Material Makes the Most Comfortable Bed Sheets?
Answer: While natural rubber or latex does make for a soft bed sheet, cotton is still considered the most comfortable bed sheet. Cotton is fully washable, and while it's not water-resistant, most bed or mattress protectors are lined with a water-resistant layer and have a cotton upper.
Question: How Do You Wash Rubber Sheets?
Answer: Adult play sheets are usually made from rubber. To wash rubber sheets, simply place them in the washing machine or wash by hand. Do not use the tumble dryer or allow it to dry in the sun as this will make the rubber sheet perish.