Do you wake up feeling stiff and sore? Do you find your lower back aching throughout the day? If lower back pain is a new development, it could be a bulging disc. Bulging discs are not the most serious back problem on the spectrum, but they can lead to a considerable degree of discomfort and they have a tendency to worsen over time.
Best All Foam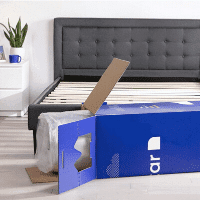 Nectar Mattress

Affordably priced
Multi-layer foam construction
Overall Best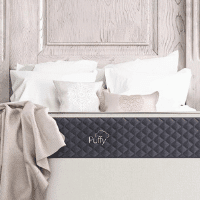 Puffy Mattress

Medium firmness level
Four layers of foam
Best Organic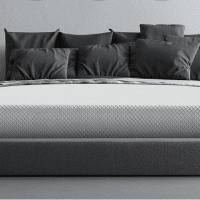 Nolah Mattress

Flippable design
Affordable
In this article, we'll explore the subject of bulging discs to determine how they differ from herniated discs and their most common symptoms.
We'll then move on to explore the importance of proper spine alignment and how choosing the right mattress is essential. You'll also see our top picks for the best mattress for lower back pain sufferers, including those with bulging discs.
[alert type="success" icon-size="normal"]
What is the Best Mattress for Bulging Discs?
[/alert]
Bulging Disc vs. Herniated Disc
Discs are the cushions that sit between the vertebrae in your spine. They consist of an outer layer of cartilage surrounding a softer cartilage center.
These discs absorb shock and help keep the spine limber but, over time, they may dehydrate, and the cartilage can stiffen. This causes the outer layer of the disc to bulge out. A herniated disc is when the outer layer of cartilage cracks, allowing the inner layer to protrude out of the disc – this is also known as a ruptured or slipped disc. Both can cause pain, but a herniated disc is more likely to irritate the nerve.
Here are some of the symptoms of a bulging disc:
Mild tingling or numbness
Moderate to severe pain
Pain in the legs and feet
Lower back pain
Difficulty walking normally
Bladder incontinence
Back pain radiating to the stomach/chest
Muscle spasms
The severity of bulging disc symptoms can range according to how close the disc is to herniating. Some patients with bulging disc experience little to no pain at all, though the condition will likely worsen over time. Some patients go for years without severe pain while others develop serious symptoms which require immediately medical attention.
[alert type="warning" icon-size="normal"]If you experience lower back pain, it could be a bulging disc causing the problem. Talk to your doctor to see what tests are required to diagnose the issue and consider other potential causes. Something as simple as sleeping on the wrong mattress could cause back pain or make existing back pain worse. [/alert]
The Importance of Proper Spine Alignment
One of the most common causes of bulging discs is simply wear-and-tear. The natural aging process combined with certain risk factors makes your discs vulnerable to degeneration. Bad posture during sleeping, sitting, standing, and exercise can contribute as well.
When it comes to good posture, it's all about proper spine alignment. As it so happens, spine alignment is the key to a good night's sleep with less back pain in the morning as well.
You may think of your spine as a straight line of vertebrae that runs from your neck to your tailbone when in fact it has a natural curve to it. Misalignment in the spine (known as vertebral subluxation) due to any number of factors can affect all the various systems in the body. When your spine isn't properly aligned, the central nervous system might not be able to communicate properly. If the misalignment affects certain muscles, the other muscles may overcompensate to pick up the slack. All of these things can lead to chronic issues like poor digestion, headaches, fatigue, and stress.
The first step to correcting spine misalignment is to be aware of it. If you're experiencing recurring symptoms like headaches, lower back pain, joint pain, or fatigue, it could be related to misalignment.
Talking to your doctor is the second step – it's the key to diagnosing the underlying cause of your spine issues to determine whether you have a bulging disc or if something else is going on. From there, you can discuss treatment options which may include muscle-strengthening exercises, chiropractic treatment, surgery, or spine alignment devices.
In addition to talking to your doctor about treatment for your spine problems, consider switching to a more supportive mattress. Read on to learn how to choose the best mattress for back pain.
Choosing a Mattress for Back Support
Sleeping on the wrong mattress can make existing back pain worse or cause new back pain to develop. It all comes down to lack of support – an unsupportive mattress allows your spine to fall out of misalignment during sleep which can affect your muscles and joints.
When shopping for a mattress, personal preference matters but you also need to think about what's going to do your back the most good. You'll need to think about your sleeping style and additional factors such as your body weight and whether you sleep with a partner. Different mattress materials offer different benefits, so take the time to explore the options before you make your choice.
Here are some things to consider when shopping for a new mattress:
Mattress Materials – Memory foam, latex foam, and springs are some of the most commonly used materials in modern mattresses. Each has their own set of benefits, so do a little research on your own to determine which option fits your needs best.
Comfort Layers – The comfort layers of the mattress are the upper layers that provide pressure relief. Look for a mattress that contours the body enough to relieve pressure but not one that sinks so much your spine falls out of alignment.
Support Layers – The lower layers of the mattress are the support layers – they also help determine the mattress' firmness. High-density foam and springs tend to be the most supportive, so look for these materials in the base of your mattress.
Temperature Regulation – Though spine alignment is important for comfort, so is temperature regulation – if you're too hot to sleep, you won't be comfortable. Memory foam tends to trap heat, so look for materials infused with gel or non-conductive materials like copper. Spring mattresses and low-density foam materials tend to be cooler as well.
Motion Isolation – If you sleep with a partner (especially if you're a light sleeper), you may be concerned about motion transfer. Memory foam does an excellent job of isolating motion but it may not be firm enough for some – consider a mattress made with pocketed springs or latex foam for a firmer feel.
Now that you have a better understanding of what's causing your back pain and how switching to a more supportive mattress might help, you're ready to start shopping. Read on to see our top picks for the best mattress for lower back pain sufferers in a variety of different categories.
[alert type="info" icon-size="normal"]
Read Also:
13 Best Mattresses for Migraines in 2022
[/alert]
The Best Mattress for Bulging Discs
In the past, many doctors recommended a firm mattress for back pain, but it has become increasingly clear that there is no singular "best" mattress for lower back pain sufferers. Many studies indicate a medium firm mattress is the best for spinal alignment and comfort. In the end, however, it largely comes down to a matter of preference – what you find most comfortable.
We've done our best to assemble a list of the best mattress options for you to consider. These mattresses are designed for back support, so think about your sleeping style and comfort preferences to choose the best mattress from this list.
Here are our top picks for the best mattress for bulging discs:
Best Overall: If you suffer from herniated disc pain at night or just find that you wake up with a sore back, you may want to make an upgrade to the Puffy Lux. This all-foam mattress features a 12-inch profile and a 4-layer construction, designed for optimal contouring and support. Not only does it relieve pressure points, but it supports your back to keep your spine in proper alignment for a comfortable night's sleep.
The Puffy Lux is moderately priced and it features high-quality materials. Built on a base of Firm Core Support foam, this mattress also incorporates three layers of cooling foam to deliver the perfect combination of pressure point relief, spine alignment, and cooling comfort. Upgraded from the original Puffy mattress, the Lux model includes the addition of a layer of Plush Dual Cloud foam for enhanced temperature regulation and a luxury cover. This mattress adapts to all sleeping types, though heavyweight sleepers may find it a little too soft for back or stomach sleeping.
Pros: Medium firmness level, four layers of foam, cooling properties, comfort and support
Cons: May not be firm enough for some sleepers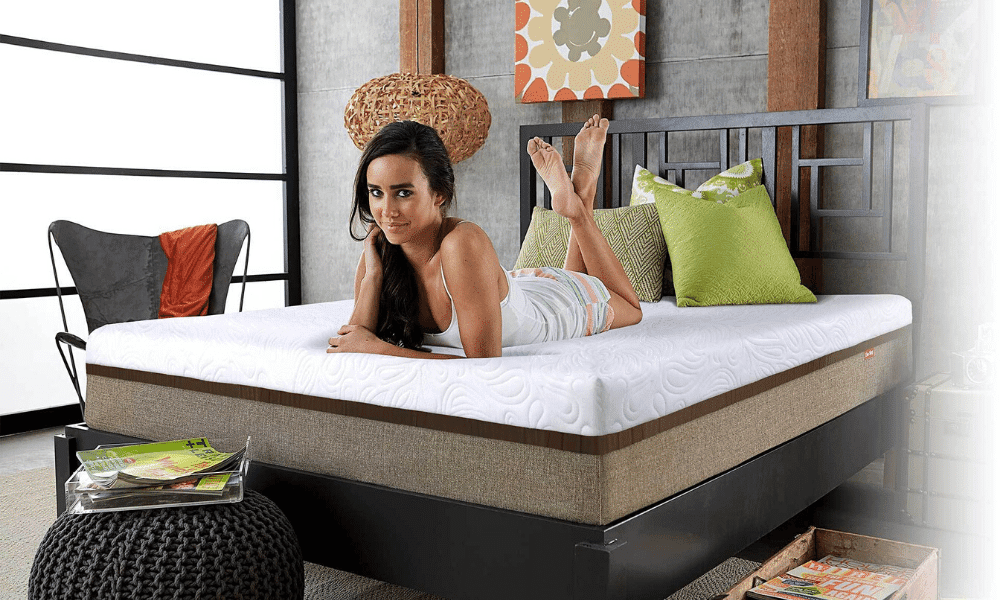 Best Budget-Friendly: You don't necessarily need to spend a fortune to improve your mattress. When it comes to relieving back pain, it's all about support. If you want something simple that gets the job done right, consider the Live and Sleep brand. This company offers three different mattress models, all affordably priced under $900 for the queen size. No matter your budget, you can find a model that works for you.
The Live and Sleep Classic mattress offers cradling plush comfort with a deep support layer and is rated medium firm. The Elite mattress is a little firmer, offering cooling comfort with total body support. The Luxury model is medium balanced, combining the comfort of plush memory foam with a firm support core. All three models feature several layers of premium memory foam with a luxury cover, both breathable and soft to keep you cool and comfortable all night long.
Depending which mattress model you choose, Live and Sleep offers a risk-free sleep trial up to 100 days. The Elite and Luxury models come with free 2-day shipping and all three come with a 20-year warranty.
Pros: Three options to choose from, multi-layer foam construction, breathable fabric cover
Cons: May not offer the same level of quality and durability as more expensive models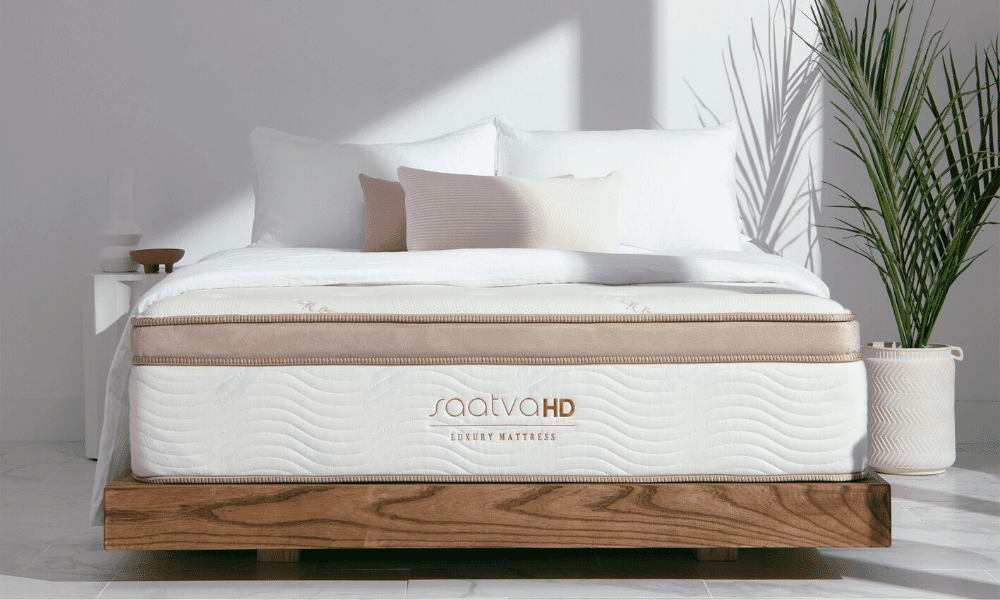 Best Luxury: The best support comes from the best materials and construction – the Saatva Classic luxury hybrid innerspring mattress offers both. This mattress blends the support and durability of a coil-on-coil innerspring mattress with the highest quality, eco-friendly memory foam to deliver cushioning comfort and support for optimal spine alignment.
The Saatva Classic mattress features a luxury Euro pillow top tucked into an organic cotton cover with the addition of a Guardin botanical antimicrobial fabric treatment. Next comes a layer of individually encased springs with a perimeter edge support system and enhanced spine support from Lumbar Zone technology in the middle of the mattress. It all sits on a durable base of tempered steel coils, triple-tempered and oven-baked for maximum strength. This foundation ensures that the mattress won't sag over time, so you'll enjoy excellent support and spine alignment for years to come.
Pros: Three firmness levels to choose from, luxury hybrid construction, breathable and supportive
Cons: Hybrid mattresses tend to be fairly heavy, less contouring/hugging than foam mattresses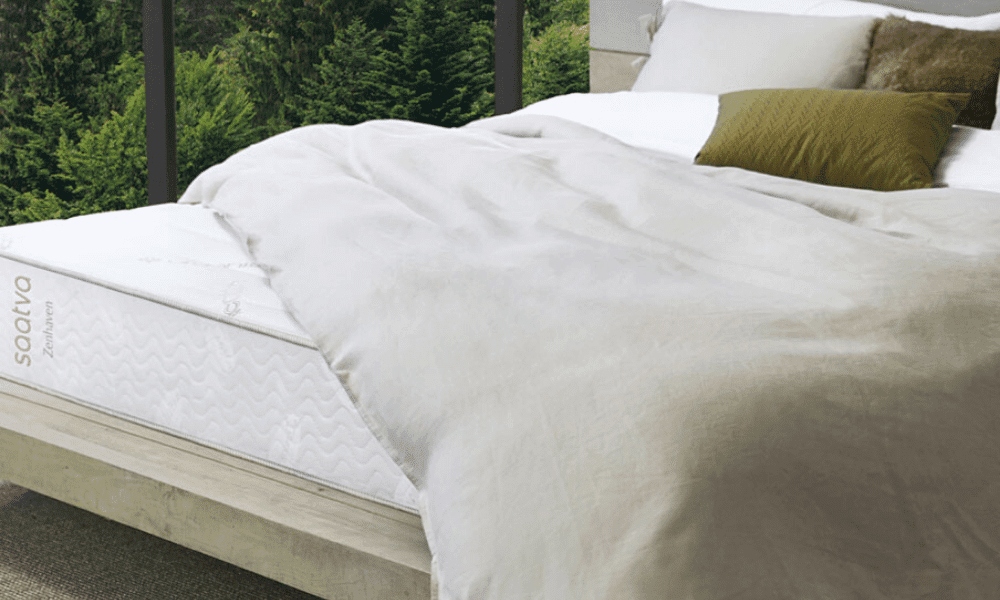 Best Flippable: A new mattress can be a significant investment, so you want to avoid choosing something you'll have to change a few years down the road. Unfortunately, you can't control your preferences so you may find that you want something different even before your mattress wears out. That's where a flappable mattress like the Zenhaven by Saatva comes into play.
The Zenahven mattress is designed to be used on either side. One side is rated Luxury Plush (4-5/10) while the other is Gentle Firm (7-8). This mattress is made from natural Talalay latex with a proprietary 5-zone comfort layer, a multi-layer latex support core, and an organic cotton cover. It stands just 10 inches high, so it works well with standard bedding and can be used with a box spring, slat foundation, or adjustable bed. Because it is made from all-natural materials, the Zenhaven mattress has no off-gassing and you can rest easy knowing you're sleeping on something good for you and the environment.
Pros: Made from natural and organic materials, flippable design with 2 firmness levels, no off-gassing
Cons: Significantly more expensive than many models, neither side may be ideal for side sleepers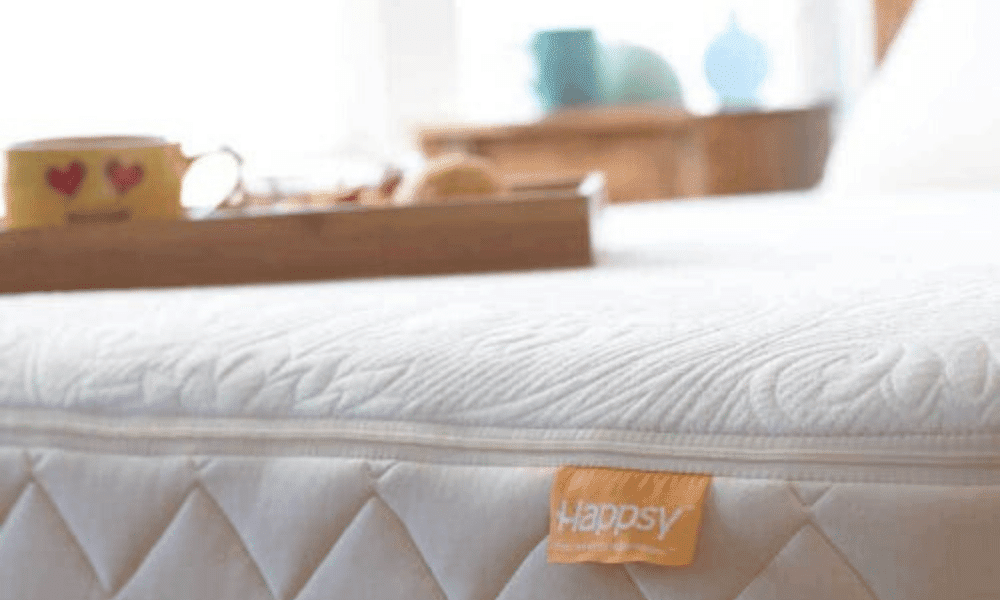 Best Organic: The best mattress for bulging discs is one that supports your back for proper spine alignment. As long as it does that, you can choose pretty much whatever you like. For many people, however, choosing a mattress is a little more complicated. Not only does the quality of the materials come into place, but also their sourcing. The good news is that there are several organic mattresses on the market.
Happsy is an organic mattress made with Global Organic Textile Standard (GOLS) and Global Organic Latex Standard (GOLS) certified materials. Not only does this mattress make you feel good by relieving back pain, but you also feel good knowing you're choosing a healthier lifestyle and an eco-friendly product. Happsy is a hybrid mattress that incorporates individually pocketed springs for a strong, supportive foundation with organic latex for pressure relief. This mattress also features an organic cotton cover and organic wool filling.
Pros: Organic certified materials, hybrid construction for comfort and support, individual springs
Cons: Latex materials have a little more bounce than memory foam, may not be ideal for heavy sleepers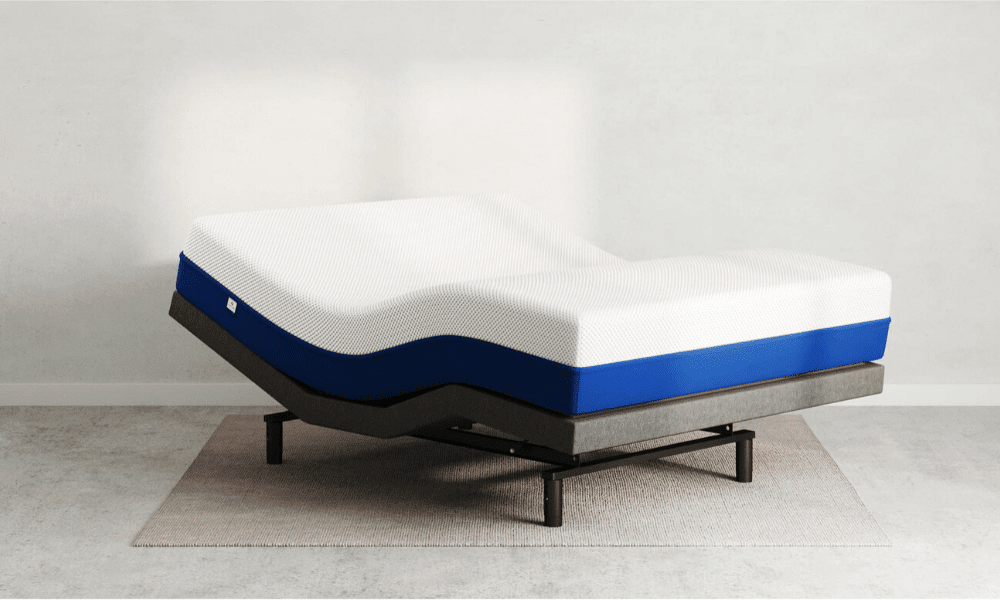 Best Hybrid: When you can't choose between an innerspring mattress and a foam mattress, a hybrid mattress could be the perfect choice. Amerisleep offers three hybrid mattresses, all made with individually pocketed coils and premium foam for targeted pressure relief and optimal back support.
The Amerisleep hybrid mattress delivers breathable comfort with a soft cover to prevent overheating. Patented Bio-Pur foam features an open-cell structure that sleeps cooler than traditional foam while contouring to the body to relieve pressure. These mattresses also incorporate a firm, supportive transition layer and a firmer perimeter for edge support. You'll find the coil base very supportive and it sits on an additional layer of transition foam for added comfort and durability.
Pros: Targeted pressure relief, optimal back support, cooling comfort foam, three models to consider
Cons: Shipping may be a little slower than some companies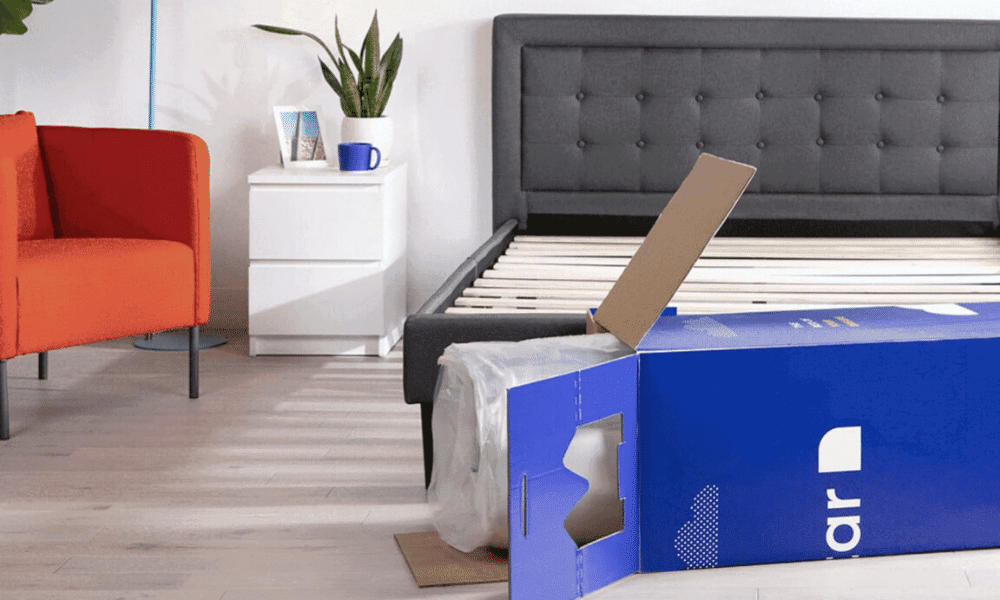 Best All-Foam: Memory foam has become one of the most popular materials for modern mattresses, and for good reason. Not only does it offer a great deal in the way of comfort and pressure relief, but it is cost-effective and strong in motion isolation. The Nectar all-foam mattress is a great option if you're looking for the best mattress for bulging discs pain relief.
The original Nectar memory foam mattress is a medium-firm mattress that measures 6.5 on the 10-point firmness scale. It consists of four layers of memory foam with a quilted memory foam cover, all designed to sleep cool and minimize motion transfer. This mattress works on all kinds of foundations and works well for any type of sleeper. What makes Nectar well worth trying is the fact that you get a full 365 nights to try the mattress and if you don't love it, simply return it for a full refund.
Pros: Multi-layer foam construction, excellent pressure relief and motion isolation, affordable price
Cons: May not be firm enough for heavy sleepers, foam may be slow to respond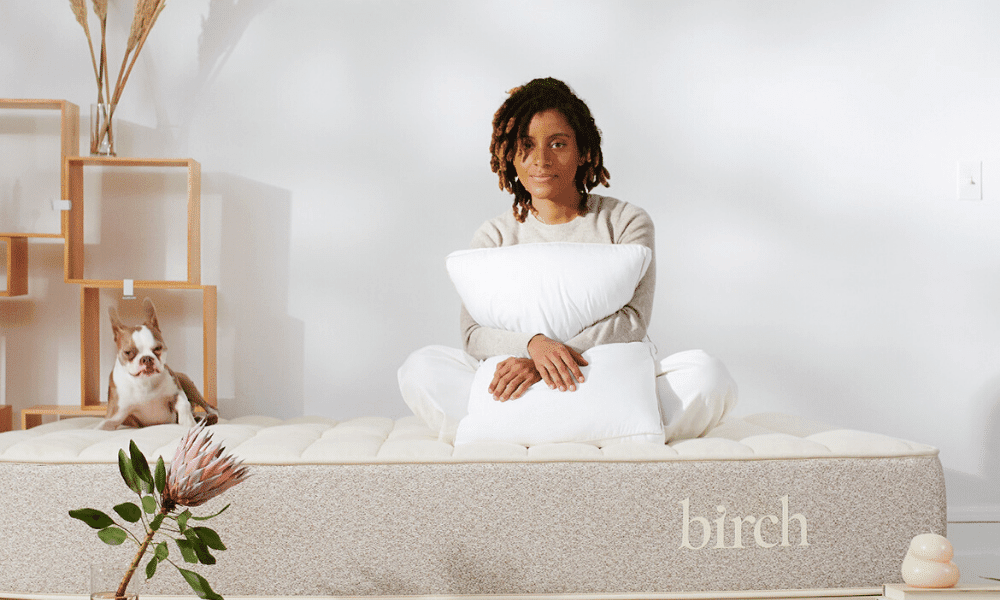 Best Latex: Memory foam offers excellent pressure relief, but it does give you the feeling of sleeping "in" rather than "on" your mattress. If you prefer a mattress with a little more bounce but you don't want a traditional innerspring mattress, a latex mattress like Birch by Helix could be a good option.
The Birch mattress is optimized for pressure relief but it also offers a great deal of support. This mattress features a support layer of individually wrapped coils that cradle the body and provide support without sinking to the degree that you feel trapped in the mattress. Over the coils you'll find a layer of natural Talalay latex for contouring pressure relief with the addition of a comfort layer of organic birch wool. The mattress comes with an organic cotton cover as well for breathable comfort.
Pros: Hybrid construction for support and pressure relief, less sinking feeling than memory foam
Cons: Some may not like the bouncy feel of latex materials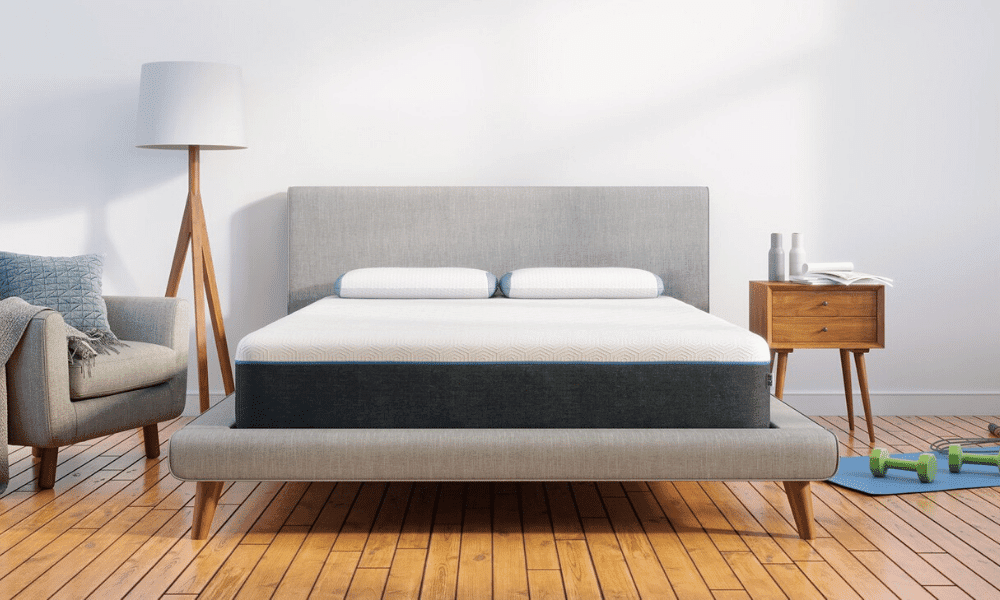 Best for Hot Sleepers: Memory foam is great for pressure relief, but it tends to sleep a little hotter than other materials. If you sleep hot, a Bear mattress could be the perfect solution. Bear offers two memory foam mattresses as well as a luxury hybrid model. We recommend the Bear Pro for back pain relief.
The Bear Pro is the company's newest offering and it features advanced pressure-relieving copper foam. This 12-inch mattress is affordably priced and comes with a 100-night risk-free trial and 10-year warranty. It features four layers of foam including a support layer of high-density foam and a transition layer of responsive pressure-relieving foam. Next comes a layer of gel memory foam for temperature regulation with the added cooling of a layer of copper-infused foam. It's all topped with a breathable Celliant cover to keep you comfortable and speed muscle recovery while you sleep.
Pros: Designed for cooling comfort, relieves pressure and provides support, cooling Celliant cover
Cons: May be too firm for some sleepers, may not be supportive enough for very heavy sleepers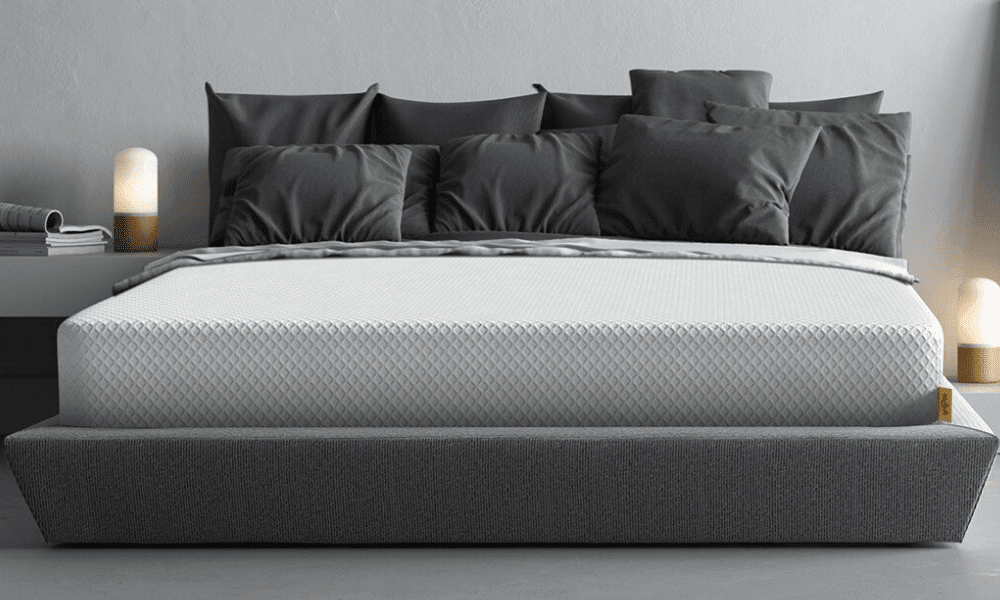 Best for Side Sleepers: Side sleepers often struggle with pain in the hip and shoulders due to increased pressure in those areas. Without proper support, however, you may end up with back pain as well. If you're looking for the best mattress for side sleepers, we recommend the Nolah Signature 12-inch mattress.
This mattress offers 2-sided comfort for the perfect fit, enabling you to choose from a soft or firm side. Nolah Signature features a 7-inch base of high-density foam for support with an additional support layer of high-resilience foam. On either side you'll find a layer of cooling Nolah AirFoam which relieves pressure by contouring to the body without trapping body heat.
Pros: Two-sided design to choose firmness, cooling foam for comfort, 120-night trial period
Cons: May not be a good choice for heavyweight sleepers, somewhat pricier than other options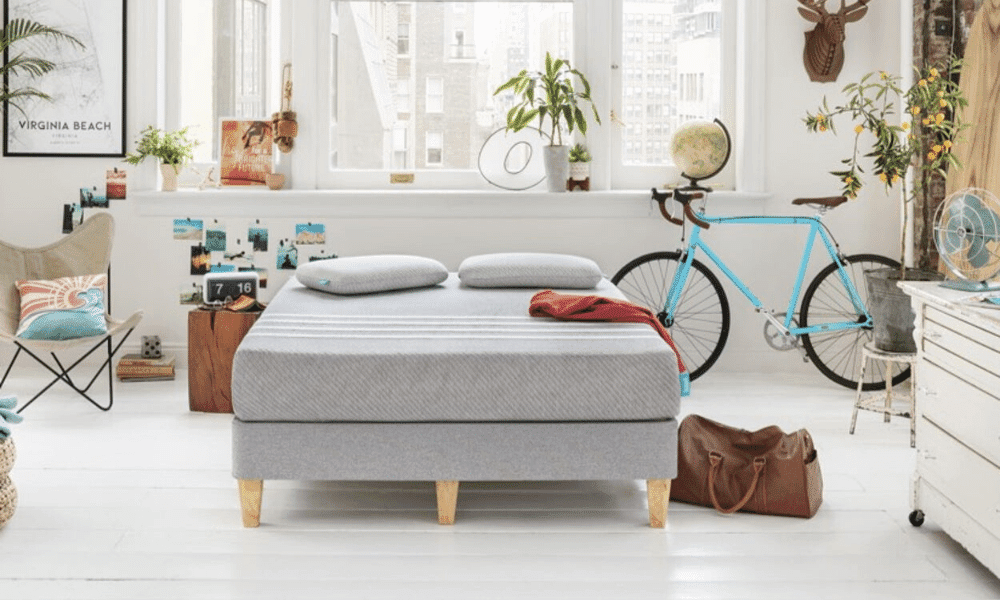 Best for Back Sleepers: Sleeping on your back is the best position to support proper spine alignment, but your mattress needs to do some work as well. We recommend the Leesa Original foam mattress for back sleepers because it delivers the comfort and support you need with a medium firm feel and an affordable price.
The Leesa Original features a four-layer construction to deliver pressure-relieving support for optimal spine alignment. On the bottom you have a thick layer of support foam topped with a recovery layer of memory foam that contours the body for pressure relief. Next comes a comfort layer of breathable, responsive foam topped by the twill fabric Leesa cover.
Pros: Relieves pressure and provides support, all-foam construction, affordable price tag
Cons: May sleep warmer than some mattresses, may be too firm for side sleepers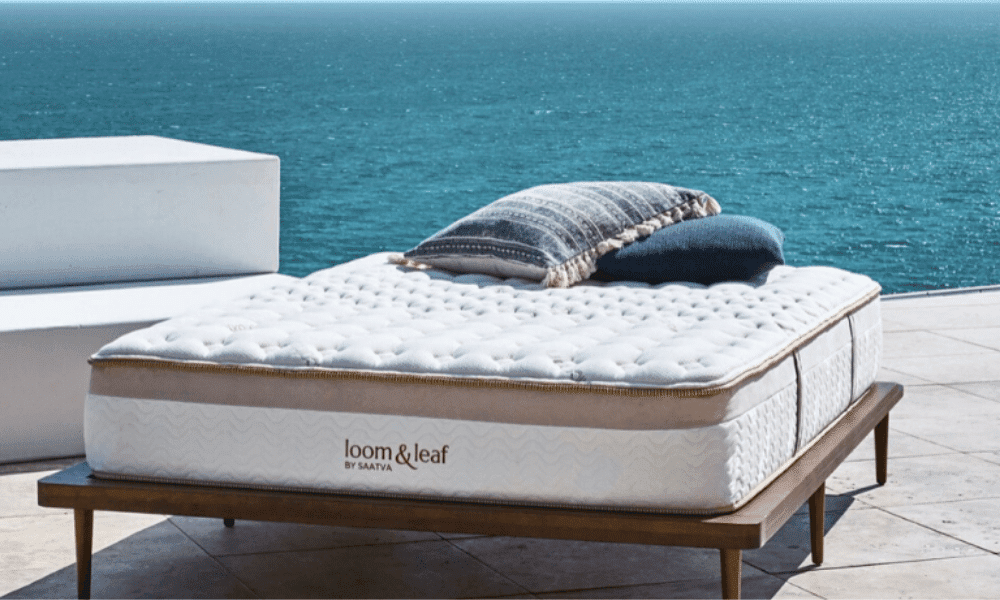 Best for Stomach Sleepers: When sleeping on your stomach, you need just enough cushion to relieve pressure but not so much that your hips sink, kicking your spine out of alignment. Our top picks for the best mattress for stomach sleepers is Loom & Leaf by Saatva. This luxury mattress comes in two firmness levels so you can choose according to your preference, taking your body weight into consideration.
The Loom & Leaf mattress features a quilted organic cotton cover over a cooling layer of Spinal Zone Gel foam, the combination of which keeps you cool and comfortable all night long. This mattress delivers optimal lumbar support and incorporates a layer of premium eco-friendly memory foam for pressure relief. The base of this mattress is made up of several layers of support foam which ensure the optimal degree of luxurious comfort as well as contouring support for the spine and body.
Pros: Made with premium materials, two firmness levels to choose from, designed for adjustable bases
Cons: Fairly expensive compared to many models, may be too firm for some users
If you're going to spend a third of your life sleeping, don't you want to sleep in comfort? The truth is the wrong mattress does more than just keep you tossing and turning at night – it can also contribute to worsening back pain. If you have a bulging disc, the wrong mattress could make things worse.
Fortunately, relieving back pain could be as simple as switching to a more supportive mattress. It may not be a miracle cure – especially if you've been diagnosed with a spinal condition – but it won't hurt, and it very well may help.
Take what you've learned here about choosing the best mattress for back pain and consider the options we've reviewed above.
Frequently Asked Questions
What type of mattress is best for back pain? – When it comes to relieving back pain, it's all about finding the right mattress for you. The to back pain relief is support and proper spine alignment, so as long as you find a mattress that fulfills those needs it could be a good choice. Memory foam excels in relieving pressure and isolating motion while springs and firmer materials like latex foam offer plenty of support. There are plenty of options for each type of mattress and many that combine several different materials.
Are adjustable beds good for you if you have back pain? – If you suffer from back pain, you need a mattress that will take excess pressure off the spine and support optimal alignment. An adjustable bed is one that enables you to change the angle of the bed at the head and feet. Back pain sufferers often find relief with an adjustable bed because it enables them to sleep on a slight incline with additional support under the knees. It is particularly beneficial for side sleepers because it makes it easier to keep the spine aligned.
Do you need a firm mattress for a bad back? – Not necessarily. Recent studies suggest a medium firm mattress is best to relieve back pain. It's important to consider your body weight and sleeping style, however, because it's really all about support. If you sleep on your side, you might need a slightly softer mattress to keep your spine aligned without putting excess pressure on the hips and shoulders. For stomach and back sleepers (as well as heavyweight sleepers), a slightly firmer mattress may be best.
Can a firm mattress hurt your back? – The wrong mattress can hurt your back, but firmness isn't the only factor to consider. If the mattress is too firm, it may prevent you from sleeping with a neutral spine. Having dips or gaps in support allows for spine misalignment which can lead to back pain. It's not just a matter of firmness, however, since stomach and back sleepers tend to do best with firm rather than soft mattresses.
How do I know if my mattress is too old? – Now that you know a little more about what makes for a supportive mattress, you may be thinking your current mattress has all those features. At least, maybe it did when you first bought it. If your mattress is 7 years or older, it's probably time to start thinking about replacing it. If you are a heavy sleeper, your mattress could wear out even faster. It's a good indication that it's time for a new mattress if yours is sagging, if there's an indent where you sleep, or if you find it uncomfortable. If you're waking up feeling sore or unrested, it's time to start shopping.