When you start to feel that familiar throbbing in your head or notice that the lights feel a little extra bright, you know what's coming: another migraine.
Best Pillow Top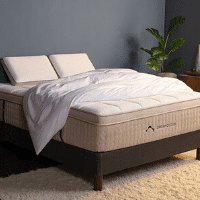 Dreamcloud Mattress

Memory foam and encased coils
Comfort and support
Overall Best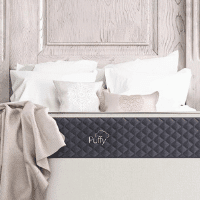 Puffy Mattress

Climate-adaptive materials
Strong pressure relief
Best Luxury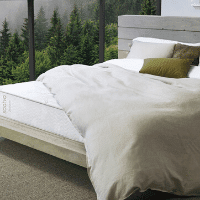 Zenhaven Mattress

Contouring and pressure relief
Two firmness options
Some studies estimate that as many as 12% of U.S. adults have migraines and up to 4 million have chronic migraines. If you experience frequent migraines, you know they're more than just a headache. For 90% of people who experience regular migraines, they prevent you from functioning normally and may cause you to miss work.
At this point, you may have learned to live with your migraines but that doesn't mean you can't do anything to improve your situation. In fact, doing something as simple as buying a new mattress could make a difference in your quality of sleep that might very well impact your migraines.
[alert type="success" icon-size="normal"]
What are the Best Mattresses for Migraines?
[/alert]
In this article, we'll explore the subject of migraines including the symptoms and triggers. We'll take a look at the importance of a good night's sleep and how changing your mattress might help reduce the frequency or severity of your migraines. You'll also see our top picks for the best mattress for migraines.
What Causes Migraines?
Often described as a very strong headache, a migraine is actually a neurological condition. Migraines are characterized by intense, often debilitating headaches but may cause additional symptoms like nausea, vomiting, difficulty speaking, sensitivity to light, and numbness or tingling. They affect people of all ages but typically begin in adolescence or early adulthood and often run in families.
A migraine typically consists of several stages that can last for days.
A day or two before the migraine hits is the pro-dome stage in which you may notice subtle warnings of an impending migraine – changes in mood, food cravings, neck stiffness, and frequent yawning. Some people experience an aura characterized by visual phenomena, vision loss, or uncontrollable jerking movements before or during a migraine.
A migraine attack usually lasts from 4 to 72 hours, if left untreated. During a migraine, you may experience throbbing or pulsing pain, usually in both sides of the head. Nausea and vomiting may occur, and you may become more sensitive to light, sound, and sometimes touch or smell. After the attack comes the post-drome stage in which you may feel drained or confused for up to a day.
The exact cause of migraines is poorly understood, though researchers suspect genetics and environmental factors play a role. Though the underlying cause of migraines is unknown, there are several common triggers.
Common triggers for migraines include the following:
Hormonal changes in women
Alcohol or caffeine
Stress
Strong sensory stimuli
Changes in sleep
Intense physical exertion
Changes in weather
Certain foods or food additives
The best way to prevent migraines is to know your triggers and to avoid those things as much as possible. Stay hydrated, avoid skipping meals, and get plenty of sleep.
If you find yourself waking up with headaches on a regular basis, you may want to take a look at your mattress and pillow. The wrong mattress can affect the quality of your sleep which could increase your risk for developing a migraine. Poor spine alignment could also contribute to headaches.
[alert type="info" icon-size="normal"]
Read Also:
11 Best Mattresses for Restless Leg Syndrome in 2022
[/alert]
How Might Changing Your Mattress Help?
There is no miracle migraine-curing mattress out there, but it's a very real possibility that your mattress has something to do with the frequency with which you experience migraines.
Most significantly, a bad mattress prevents your body from getting the support it needs which affects the quality of your sleep. When you don't sleep well, your body doesn't function optimally, and you may be more likely to experience a migraine. If your mattress is fairly new, it could have something to do with the materials in the mattress or you might be using the wrong pillow.
If you find yourself waking up with headaches, it could be caused by strained neck muscles. If your mattress isn't supporting your spine, sleeping in an awkward position could make your head throb.
The best mattress for tension headaches and migraines relieves tension and pressure from the head, neck, shoulders, and back. Your pillow plays an important role in supporting the contours of your neck and head, so it's just as important to find the right pillow as it is to find the right mattress.
What Materials Should You Avoid?
You spend about a third of your life sleeping, so it's easy to understand how the quality of your mattress affects your health. What you may not realize, however, is that the materials from which your mattress is made are just as important to consider as the construction and firmness of the mattress itself.
Memory foam is one of the most popular materials for modern mattresses – these mattresses receive high customer ratings for comfort and durability. This material conforms to the body, relieving pressure without compromising support. The trouble is, the materials from which memory foam is made can be quite dangerous, depending on the quality.
The primary material used to make memory foam is polyurethane. Most memory foams contain other chemicals as well that increase the viscosity and density. Prolonged exposure to some of these chemicals has been linked to symptoms including headaches and respiratory issues.
Here are some of the chemicals found in memory foam:
Formaldehyde
Benzene
Naphthalene
Chlorofluorocarbons (CFCs)
Methyl chloride
Isocyanates
Trichloroethane
This raises the question of whether memory foam is safe. The thing you need to know is that not all foam mattresses are created equal.
[alert type="warning" icon-size="normal"]All foams, both natural and synthetic, contain chemical ingredients but some
mattress companies adhere to strict standards
to ensure the materials they use are made without volatile organic compounds (VOCs), heavy metals, formaldehyde, CFCs, and other harmful chemicals. If you're shopping for a memory foam mattress, choose one that carries a CertiPUR-US® certification. Oeko-Tex Standards set limits for harmful chemicals as well and mattresses that contain latex should meet the Global Organic Latex Standard (GOLS). [/alert]
How to Choose the Best Mattress for Migraines
When it comes to choosing a mattress, the primary concern for migraine sufferers is support. Research shows that interrupted sleep can trigger a migraine, though the exact connection isn't fully understood. Quality sleep requires both comfort and support, so look for a mattress that suits your preferences for firmness and construction but that also supports proper spine alignment.
Here are some things to look for in a mattress for migraine sufferers:
Materials – Modern mattresses incorporate a variety of materials like memory foam, latex, gel foam, and coils – choose a mattress that feels comfortable and supportive to you.
Support – Proper support based on your body weight and sleeping style are essential, so make sure your new mattress has a strong base layer.
Pressure Relief – Also known as 'comfort,' pressure relief comes from softer materials in the upper layers of the mattress that conform to your curves to prevent pressure points.
Motion Isolation – If you sleep with a partner, motion transfer may be a key concern – memory foam tends to be a good option or individually encased springs rather than a continuous coil.
Firmness – A little sink is good for comfort and pressure relief, but you need to find a firmness level that supports proper spine alignment based on your body weight and sleep position.
Now that you have a better understanding of how your mattress might affect your migraines, you're ready to start shopping. You've learned some key features to look for in a mattress as well as standards and certifications to check for. Read on to see our top picks for the best mattress for migraines.
The Best Mattress for Migraines
There are too many mattresses out there to review them all, but we've done our best to assemble a list of choices in different categories. Whether you're looking for an all-foam mattress, a latex mattress, or a hybrid, we've got you covered. We've also provided options based on price range and other factors such as comfort and firmness. Check them out below!
Here are our top picks for the best mattresses for migraine sufferers: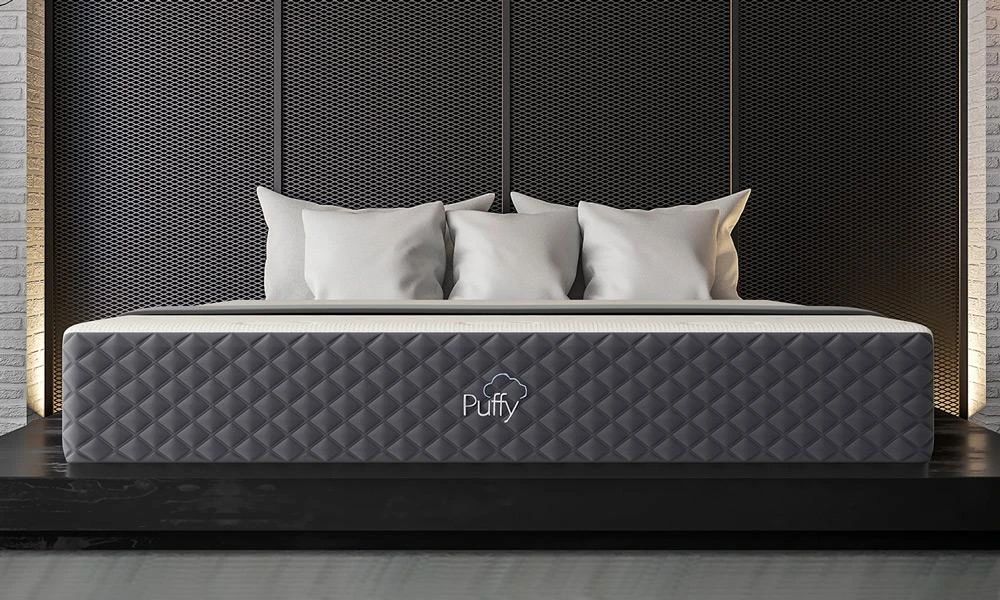 Best Overall: Puffy (Price Retail: $1,795 ) – When it comes to choosing a mattress, if you want the best of the best, the Puffy Lux is certainly one option to consider. This all-foam mattress features premium materials including a luxury cover and climate-adaptive materials to provide the optimal combination of comfort, support, and pressure relief.
As an all-foam mattress, the Puffy Lux features four layers. On the bottom you'll find a layer of Firm Core Support foam topped with a transition layer of Climate Comfort foam. Next comes the Plush Dual Cloud layer, exclusive to the Puffy Lux, which helps minimize strain on pressure points, working together with the top Cooling Cloud layer to keep you cool. By keeping your spine aligned, your body supported, and your temperature regulated, the Puffy Lux is just what you need for an uninterrupted night of sleep.
The Puffy Lux mattress ranks medium-plush on the firmness scale, so it may not be the ideal choice if you prefer a firmer mattress. It is, however, a great option if you're looking for something to support spine alignment and pressure point relief.
Pros: Designed for cooling comfort and support, climate-adaptive materials, strong pressure relief
Cons: Significantly more expensive than many models, may not be firm enough for stomach sleepers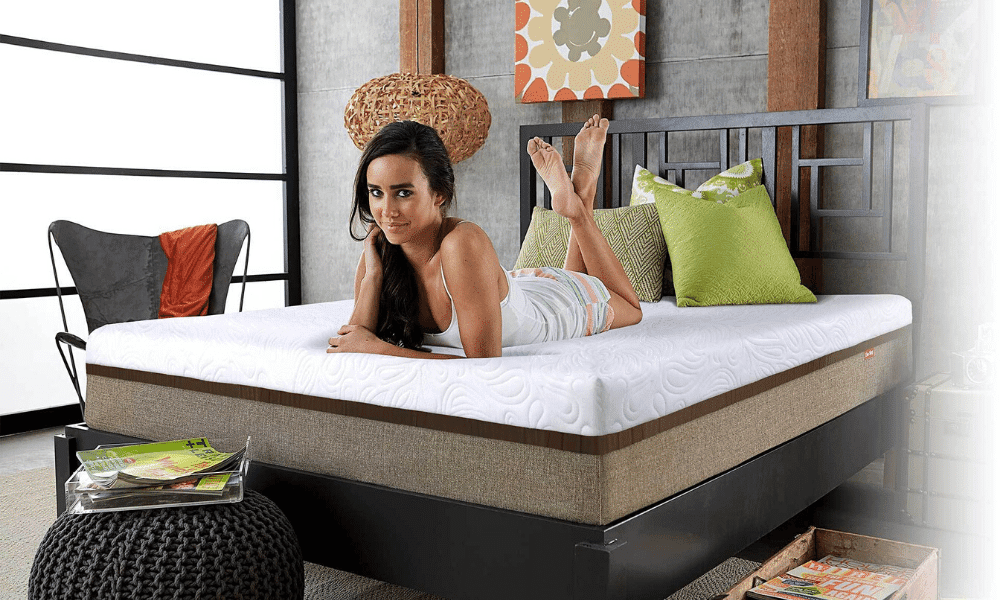 Best Budget-Friendly: Live and Sleep (Price Retail: $549) – Replacing your mattress doesn't have to be an expensive affair. If you're simply looking to upgrade to a newer mattress made with better materials to support your head and neck, the Live and Sleep Classic is an affordable choice. This medium-firm mattress comes with a 30-day sleep trial and 20-year warranty.
The Live and Sleep Classic is a 10-inch mattress made with a breathable stretch-knit cover and two layers of premium memory foam. On the bottom you have 7.5 inches of high-density support core base foam topped with 2.5 inches of premium memory foam for comfort. This mattress may be simple in design, but it delivers medium-to-firm support with plush comfort on top. It conforms to the contours of your body to relieve pressure points without sinking so deep you lose spine alignment. Whether you sleep on your side or back, you should find it both comfortable and supportive.
Pros: Affordable price tag, breathable fabric cover, two layers of premium memory foam
Cons: Free 2-day shipping only applies to Elite/Luxury models, may sleep too hot for some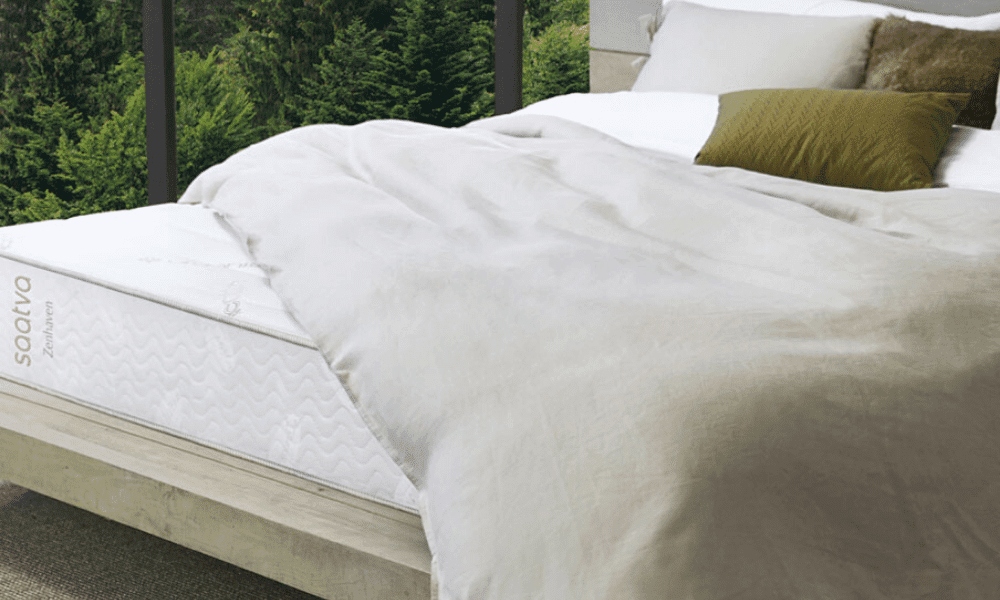 Best Luxury: Zenhaven (Price Retail: $1,999) – Investing in a mattress is an important decision and if you want the best of the best, consider the Zenhaven mattress from Saatva. This mattress delivers an outstanding combination of comfort and innovation to create the ultimate sleep experience. Made from natural latex, this mattress instantly responds to the curves of your body for optimal pressure point relief.
The Zenhaven mattress has a quilted organic cotton cover and 10 inches of premium latex. Each one of Zenhaven's base layers is made of 100% Talalay latex, including the 5-zone comfort layer which gives you firmer support where you need it to ensure optimal spine alignment. Both sides of the mattress are covered with flame-retardant, 100% organic New Zealand wool for breathability and moisture-wicking comfort. This mattress comes in a Luxury Plush or Gentle Firm with a 120-night sleep trial.
Pros: Made from natural latex materials, contouring and pressure relief, two firmness options
Cons: May not be the best for side sleepers, might have too much bounce for some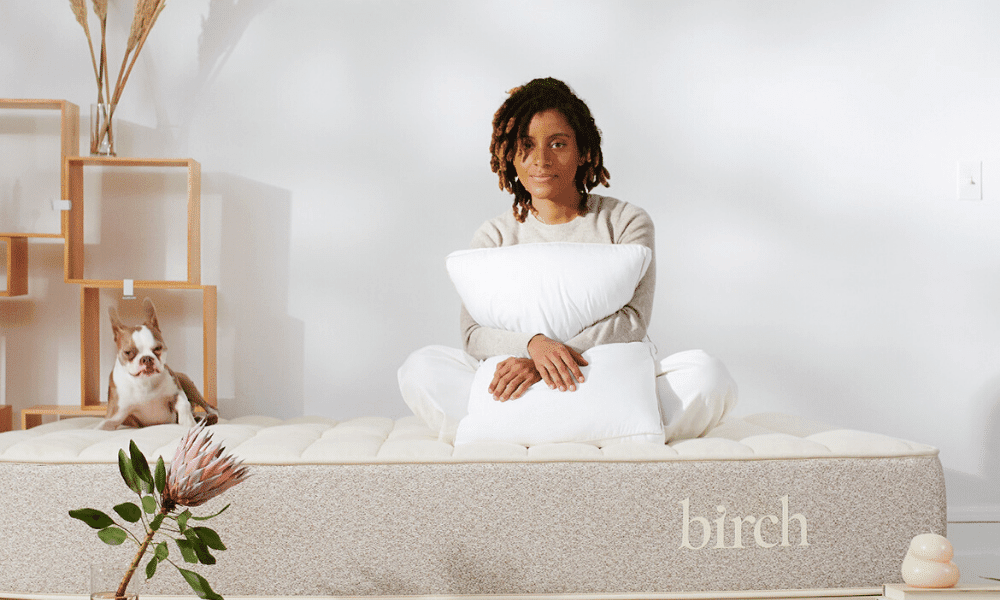 Best Organic: Birch by Helix (Price Retail: $1,499) – Poor quality materials don't make for a good mattress. If you're concerned about safety as well as comfort, you might be considering an organic mattress. Organic materials may reduce your risk of waking up with a headache, plus they are good for the environment.
The Birch mattress from Helix is made with natural materials including organic cotton and wool as well as natural Talalay latex. This mattress features a breathable cotton cover with a layer of organic Birch wool for comfort and temperature regulation. Natural Talalay latex provides cushioning for pressure point relief with hundreds of individually wrapped steel coils for support and motion isolation. Get a restful night of sleep on a mattress that cradles the body and supports spine alignment.
Pros: Made from premium and organic materials, luxury hybrid design, optimized for pressure relief
Cons: May have too much bounce for some sleepers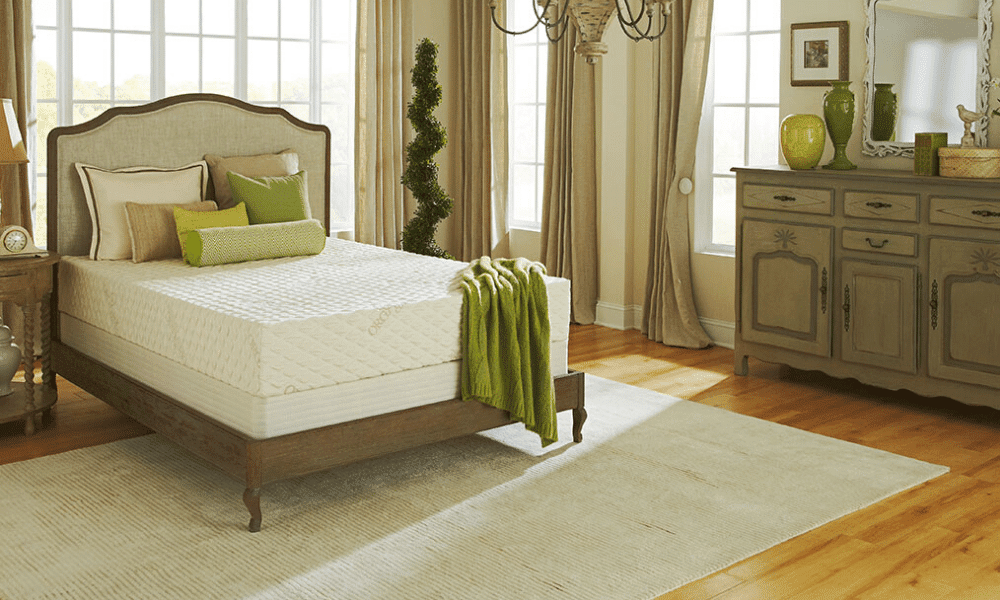 Best Latex: PlushBeds (Price Retail: $2,699) – Memory foam is great when it comes to comfort and pressure point relief, but there's some concern about volatile organic compounds (VOCs) and some people simply don't like how much it sinks. Latex has a little more bounce to it but still provides the support and pressure point relief you need.
The Natural Bliss mattress from PlushBeds is made from 100% natural latex. This 8-inch mattress features five layers including an organic cotton cover and an orthopedic foundation crafted from spruce wood for pressure-absorbing support. In between, you'll find the proprietary Eco Fire Barrier made from plant fibers followed by two inches of 100% natural Talalay latex and 6 inches of 100% natural Dunlop latex. These layers work together to relieve pressure and provide support for optimal spine alignment.
Pros: Made from natural and organic materials, absorbs pressure and provides support
Cons: Significantly more expensive than many models, latex may have too much bounce for some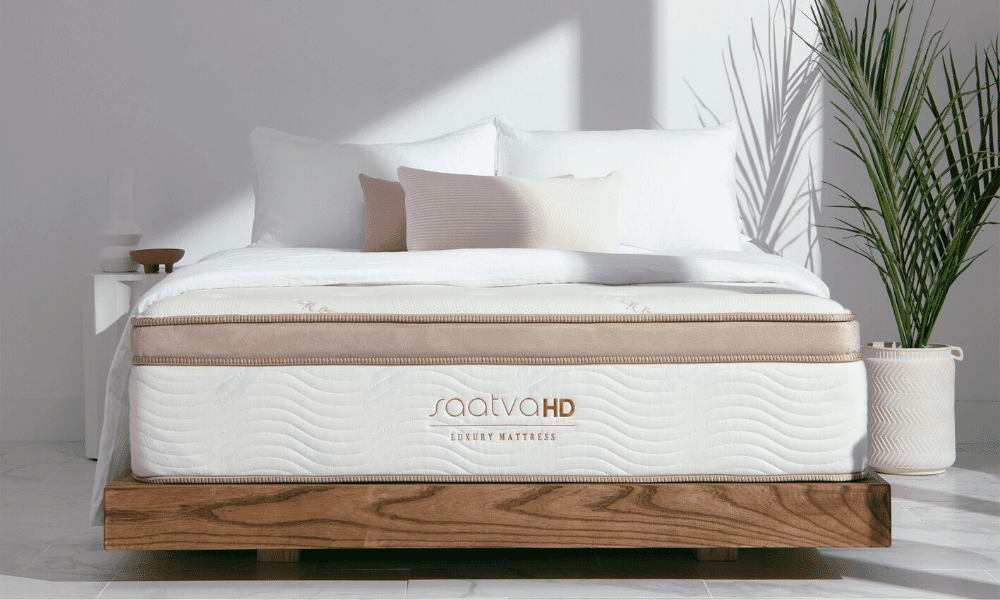 Best Hybrid: Saatva (Price Retail: $1,299) – If you're not sure whether you'll like the feel of an all-foam mattress or if you already know you need a little extra support, a hybrid like the Saatva Classic mattress could be a good choice. It performs well in motion isolation but also provides the contouring and pressure relief you need for optimal comfort.
This mattress features a luxury Euro pillow top tucked into an organic cotton cover with a double layer of individual coils. On the bottom you have 416 tempered steel support coils to provide a long-lasting foundation. On top of that sits 884 individually wrapped comfort coils that respond and contour to your body with an additional edge support system. No matter your sleeping style, this mattress will support your spine and neck so you wake up feeling refreshed and restored.
Pros: Three firmness levels, supports optimal spine alignment, hybrid design with coils and foam
Cons: Very heavy compared to some models, somewhat pricy compared to other options
Best Gel Foam: Aslan (Price Retail: $949) – Regular memory foam can sleep a little too hot for some. If you're a hot sleeper, you may want to consider something made with gel foam instead. The Aslan 10-inch gel memory foam mattress is our top pick for cooling nighttime comfort and support.
The Aslan mattress is medium-firm, made up of phase change material, gel memory foam, adaptive transition foam, and high-quality support foam to ensure optimal comfort for all sleeping styles. This mattress measures just 10 inches tall and is priced under $1,000, so it is an affordable choice as well. It comes with a generous 365-night sleep trial as well as fast, free shipping.
Pros: Cooling technology, support and pressure relief, generous trial period, free fast shipping
Cons: Only one firmness/thickness option, sleep trial requires 50-night break-in period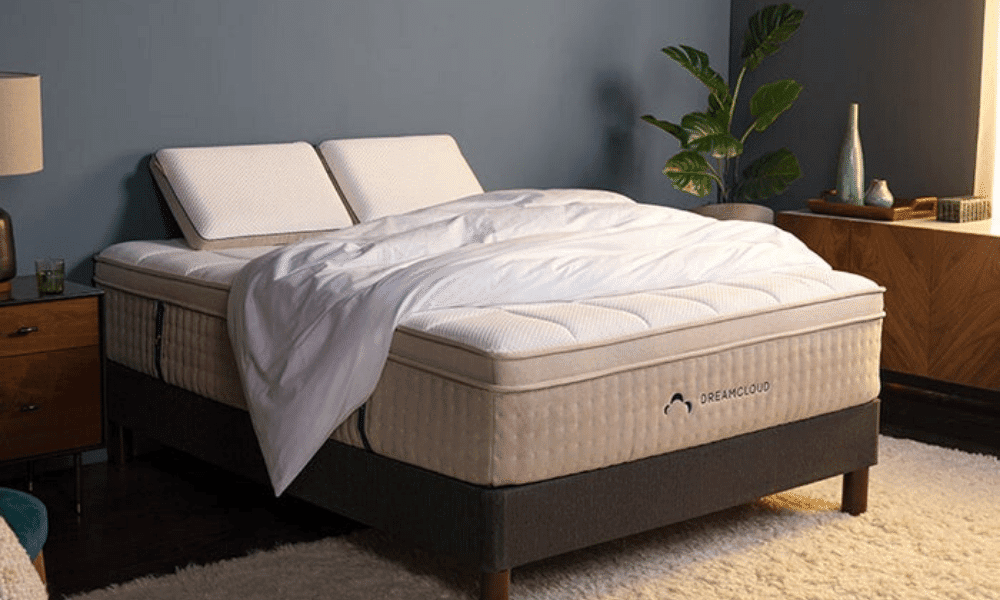 Best Pillow-Top: DreamCloud (Price Retail: $1,399) – Whether you're trying to recover from a migraine or prevent one, staying comfortable is important. Nothing is more comfortable than a plush pillow-top mattress, especially if you're doing your best not to move for a while. The DreamCloud is a great choice because it is a luxury hybrid mattress that works well for all sleeping styles and it is made from premium materials.
The DreamCloud offers the best in comfort and support thanks to the combination of high-density memory foams and a 5-zone pocket coil system. This mattress stands 15 inches tall and is made up of 6 total layers. On top you'll find the Cashex cashmere blend cover quilted into a TrueLoft euro top. Next, you'll find several layers of premium memory foam with the high-gauge Edge Shield system of individually encased coils for core stability, contouring pressure relief, enhanced edge support, and increased air flow.
Not only does the DreamCloud deliver comfort and support to keep your neck and spine stable, but it comes with a 365-night trial period so you have plenty of time to decide if it's the right choice for you. You can try it out during the worst of your headache days and when you're feeling fine.
Pros: Hybrid design with foam and encased coils, comfort and support, luxury materials and design
Cons: Hybrid mattresses tend to be fairly heavy, may be too tall for some (15 inches)
Best Flippable: Layla (Price Retail: $999) – Preferences change over time but, unfortunately, most mattresses don't. Rather than running the risk of having to buy a completely new mattress in a few years if you find yours is too soft or too firm, consider a flappable mattress like Layla. The Layla memory foam mattress has a soft (4/10) and a firm (7/10) side so you can change your mind without having to start over.
Crafted from copper-infused memory foam, the Layla mattress offers excellent temperature regulation to keep you cool and comfortable at night. Both the firm and soft sides offer variable support for deep compression areas, giving you pressure point relief while supporting optimal spine alignment. At the center you'll find a 4-inch layer of support core foam for motion transfer control and durability. The mattress has a fabric cover made with Thermo-Gel cooling technology and a zipper for removal.
What makes this mattress unique is also what makes it a great choice for migraine sufferers. The copper gel foam is better than typical memory foam because it reacts to increased pressure with a firming response. This means it provides the support you need in areas of high pressure, so it reacts to your sleeping position. It also helps keep you cool by carrying away body heat faster than memory foam.
Pros: Flippable two-sided design, copper-infused memory foam for cooling, comfort and support
Cons: Slow response foam may make it tough to change positions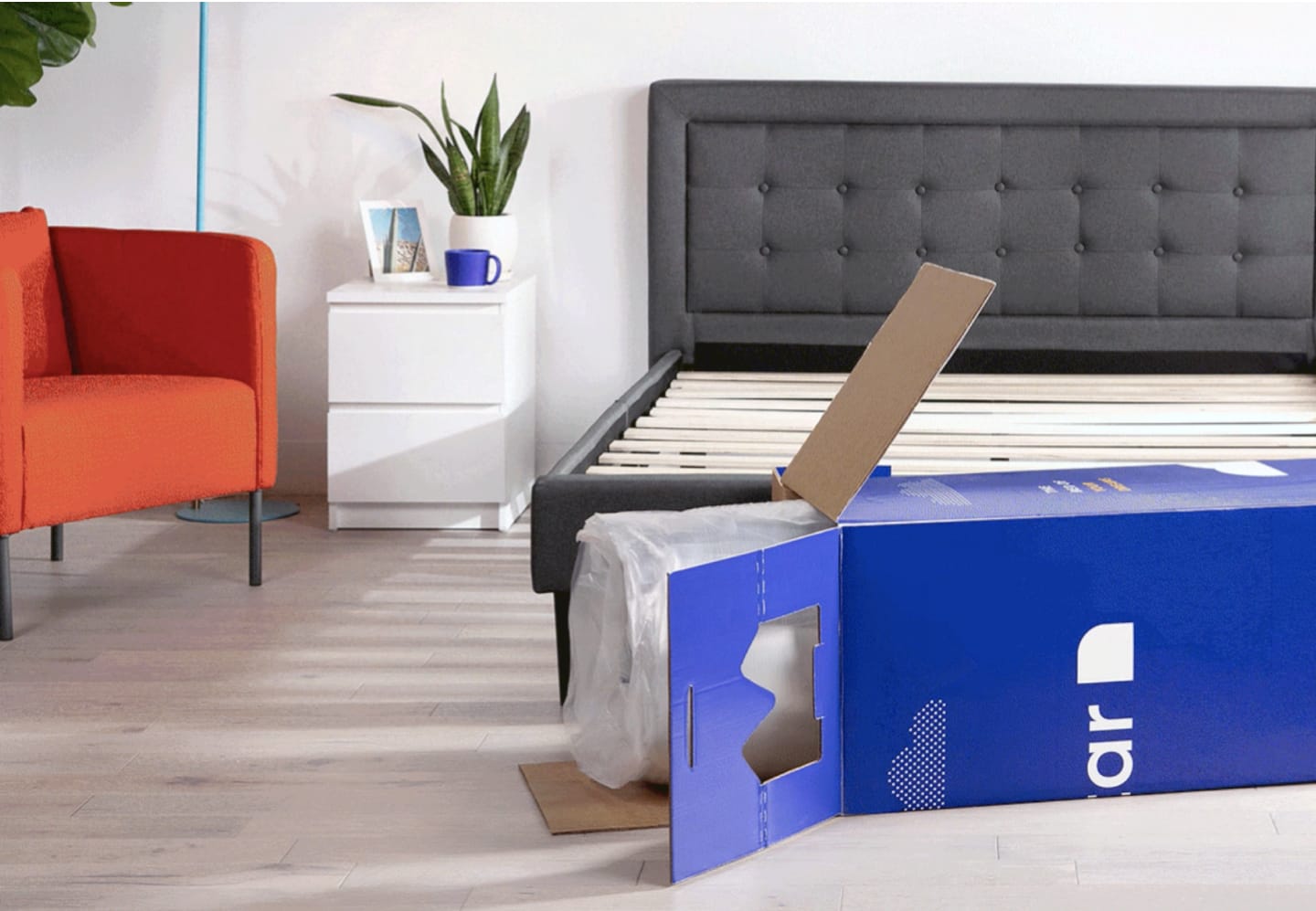 Best Medium-Firm: Nectar (Price Retail: $1,198) – It may seem like a softer mattress would be more comfortable than a firmer mattress, but that may not be the case. Firmness is correlated with support in a mattress, and support is essential for proper spine alignment. If you sleep on your stomach or back, a medium-firm or even firmer mattress may be a better choice than a plush mattress to prevent stiff joints and soreness.
The original Nectar mattress is our top choice for the best medium-firm mattress. This all-foam mattress features an all-foam construction with a quilted memory foam mattress cover for added comfort. It has a layer of gel memory foam to distribute body heat and a support layer of adaptive hi-core memory foam that keeps you from sinking too deeply into the mattress. It's all set on top of a base layer of stabilizing foam for support and optimal spine alignment.
Pros: Long 365-night trial period, multi-layer foam construction, comfort and support
Cons: May not be firm enough for heavy sleepers, foam may be slow to respond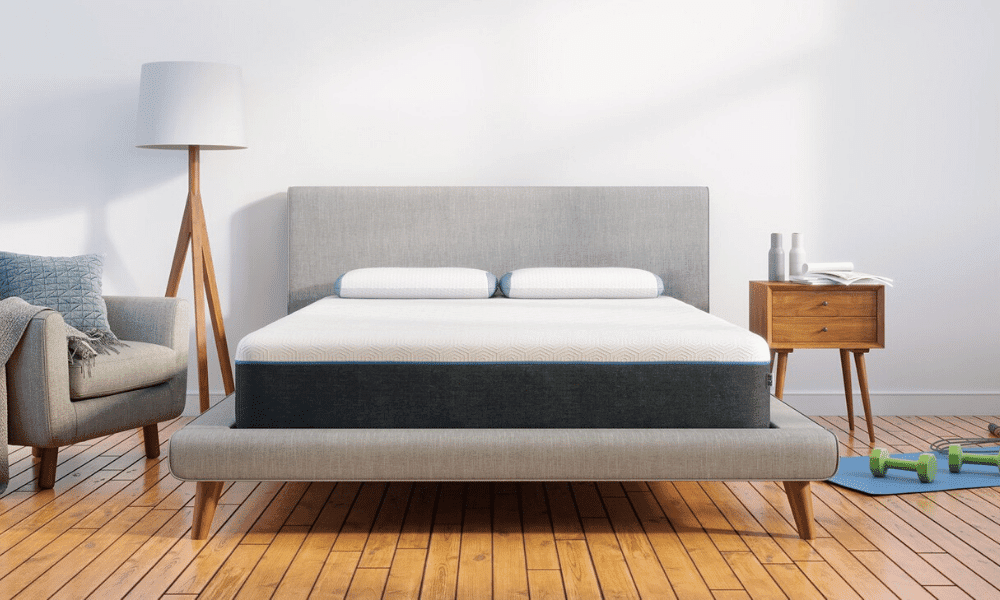 Best for Muscle Pain: Bear (Price Retail: $1,090) – Nothing is worse than waking up sore and stiff. On top of that pain, you also have to worry about the impending migraine it might trigger. If you're an active person and find yourself dealing with sore, tired muscles, the Bear Pro mattress might be a good option for you.
The Bear Pro mattress is one of three models Bear has to offer and it's their most advanced cooling, pressure-relieving model. This mattress features a four-layer foam construction with a breathable Celliant cover to help speed muscle recovery. The top foam layer is made from copper-infused foam for a cooler, cleaner sleep, followed by gel memory foam to wick away unwanted body heat. Next comes a responsive transition layer for support and pressure relief with a high-density support foam layer for long-lasting durability. Every mattress comes with a 100-night risk-free trial and free shipping.
Pros: Copper-infused foam for cooling comfort, medium-firm feel, compatible with all foundations
Cons: May be too firm for some sleepers, may not be supportive enough for very heavy sleepers
If you've ever experienced a migraine, you know that it's more than just uncomfortable – it can be downright debilitating. For those with chronic migraines, it can affect your ability to function normally and decrease your quality of life.
At the end of the day, all any of us really want is to get a good night's sleep. Waking up with a headache is a bad start, so why not do something about it?
Changing your mattress may not miraculously make all of your migraines go away, but it could certainly help. Take what you've learned here to determine if upgrading your mattress is something worth trying and, if it is, consider our recommendations above.
Frequently Asked Questions
Can a bad mattress cause migraines? – If you often wake up with a headache, it could have something to do with your mattress or your pillow. Interrupted sleep is a common cause for morning headaches and poor sleep can be linked to a bad mattress. A good mattress and pillow will provide the support your body needs for optimal spine alignment – this prevents excess pressure on the neck and back which reduces tension and headaches.
What is the best pillow for migraine sufferers? – Many people who suffer from migraines prefer contoured neck pillows made from memory foam. Memory foam conforms to the shape of your head and neck to relieve pressure without compromising on support. A contoured pillow is shaped to support the neck and head, enabling the spine to stay in proper alignment while you sleep.
How can I prevent morning migraines? – One of the best ways to prevent morning migraines is to improve the quality of your sleep. Engage in good sleep hygiene by going to bed and getting up at the same time each day. Get into the habit of winding down about 30 to 60 minutes before bed with a soothing nightly routine and make sure your bedroom stays cool, dark, and quiet at night. If you're sleeping on an old memory foam mattress, headaches could be related to lack of support or bad materials, so you may want to look into an upgrade. Depending on your preferred sleeping position, a latex or hybrid mattress might work well.
Do memory foam mattresses cause headaches? – There is no scientifically proven connection between memory foam mattresses and headaches, but migraine sufferers have been known to notice a link. It may have something to do with the materials in the mattress, especially for older memory foams. For migraine sufferers who switch to a latex mattress, headache issues may become less frequent as long as the latex is natural. Make sure you choose a mattress that is certified for safety and quality.
What sleeping position is best for migraines? – If you're wondering how to sleep with a headache, the best thing you can do is find a position that keeps your head and neck in a neutral position. A supportive mattress and pillow combination is essential and you may find that lying on your back is the most comfortable.