They say with age comes wisdom. Unfortunately, age also comes with a handful of health concerns ranging from aching joints to cognitive decline. There are certainly upsides to getting older, but on days where you wake up feeling stiff and sore you may have trouble thinking of any.
Budget Friendly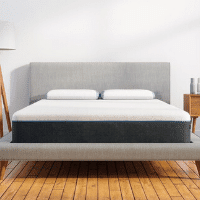 Bear Mattress

Medium-firm feel
Compatible with all foundations
Overall Best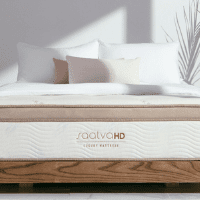 Saatva Mattress

Luxury hybrid construction
Breathable and supportive
Best Luxury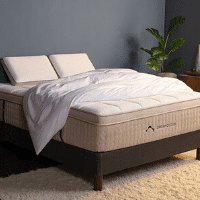 Dreamcloud Mattress

Comfort and support
Luxury materials and design
As you get older, you find yourself less willing to waste your time on things that don't really matter. Your time is valuable and you've come to see what's really important in life.
Though your values and your priorities may have changed over the years, there's one thing that hasn't – your need for sleep. Sleep is essential for people of all ages and without it, your body simply won't function at its optimal level, and neither will your mind. The trouble is, as you get older, health problems tend to pop up that interfere with your ability to get a good night's sleep.
In this article, we'll talk about some of the most common health problems in seniors, particularly those that are likely to affect your sleep. We'll talk about the potential benefits of upgrading your mattress and provide tips for choosing a new one. You'll also see our top picks for the best mattresses for older adults.
[alert type="success" icon-size="normal"]
Which are the Best Mattresses for Older Adults?
[/alert]
What Are the Most Common Health Issues in Seniors?
It's no secret that your body tends to break down as you get older. When you were in your twenties, you could spend two hours at basketball practice after a full day of school and still have the energy to run around with your friends all evening – all without being sore the next day. In your thirties, a particularly strenuous workout might leave you a bit sore, but it didn't take long for you to recover.
Now that you're over the hill, it doesn't take much to make your body complain. Some days all it takes is a walk around the block or an extra trip up and down the stairs for your joints to start aching.
If you're lucky, that's the most you have to deal with. Unfortunately, your risk for serious health issues increases as you get older. Common health problems in older adults include cognitive decline, osteoarthritis, respiratory diseases, and hearing or vision loss. Seniors also have a higher risk for developing problems that affect sleep.
These are some of the most common issues affecting sleep in older adults:
Arthritis – Easily one of the most common issues seen in older adults, arthritis refers to the swelling and tenderness of the joints. It typically worsens with age and the two most common types are osteoarthritis and rheumatoid arthritis.
Back Pain – Though often caused by arthritis, back pain can also be related to scoliosis, osteoporosis, ruptured disc, or age-related conditions like spondylosis. Low back pain in particular is a common cause for sleep issues.
Fibromyalgia – A chronic pain condition, fibromyalgia causes widespread musculoskeletal pain thought to be related to oversensitive nerves or an abnormality in the way the brain processes pain. This condition doesn't seem to be age-related but the constant pain and discomfort can make it very difficult to fall asleep or stay asleep.
Dementia – The most common forms of dementia are Alzheimer's and Parkinson's, both of which cause more mental than physical disturbances. Insomnia is, however, a common issue among people with dementia.
Bladder Issues – As you get older, there's some risk for bladder and prostate issues that may lead to an increased need to urinate, especially at night. Having to get up to use the bathroom one or more times during the night can greatly impact your quality of sleep.
Sleep Apnea – Your risk for sleep apnea increases as you get older and this condition makes it very difficult to get a good night's sleep. Sleep apnea is characterized by pauses of breathing throughout the night and it can lead to serious complications if left untreated.
Getting a good night's sleep is important, no matter your age. Seniors need at least 7 but up to 9 hours of quality sleep each night, but it can sometimes be difficult when the issues listed above become a factor. Sleeping on the wrong mattress can make matters worse, as lack of support can increase pressure on the hips and shoulders or throw your spine out of alignment.
There may not be a singular best mattress for seniors, but some mattresses certainly seem to be better than others when it comes to support and pressure relief. Read on to learn why you might want to consider upgrading your mattress as you get older.
[alert type="info" icon-size="normal"]
Read Also:
10 Best Mattresses for Snoring in 2022
[/alert]
Why Older Adults Should Consider a New Mattress
After a lifetime of working hard, you don't want to waste your money on something you don't really need. A new mattress may seem like a luxury, but the truth is, it may be more of a necessity. An old or unsupportive mattress has the potential to create pressure points and worsen joint pain, making it even more difficult for you to get a good night's sleep.
You spend roughly one-third of your life sleeping, so isn't it worth it to make sure that sleep is comfortable? Here are some of the benefits of upgrading your mattress:
Experts typically recommend getting a new mattress every 7 to 10 years – if your mattress is 7 years or older, it may not be providing the support you need.
Mattresses tend to accumulate dust and other allergens which can aggravate your allergies – modern mattresses are often made with hypoallergenic materials and a new mattress gives you a fresh start for a cleaner sleep.
Improving the quality of your mattress can improve the quality of your sleep which will benefit your overall health, not to mention your cognitive clarity in the morning.
Upgrading your mattress to something more supportive or more appropriate for your sleeping style may help relieve pressure on your joints and support your spine.
Many new mattresses are surprisingly affordable, especially if you shop online – you save a lot of money by skipping over the middleman and buying directly from the company.
[alert type="warning" icon-size="normal"]By now you understand the benefits of getting a new mattress, but where do you even start? There are too many options to sift through them all. Luckily for you, we've reviewed the top mattresses on the market to bring you some targeted recommendations. Keep reading to see them![/alert]
What to Look for in a Mattress for Seniors
When you're ready to buy a new mattress, you might be tempted to hop into the car and drive down to the mattress dealer. The trouble with that option is, while you may be able to try before you buy, you'll likely end up spending more and you might miss out on some of the newer materials online mattresses have to offer. Materials aren't the only thing to consider, however, when shopping for a mattress.
Here are some tips for choosing a new mattress:
Factor in your sleeping style to determine the right firmness level. Back and stomach sleepers may require a slightly firmer mattress than side sleepers. Pressure relief is particularly important for side sleepers to relieve pressure from the hips and shoulders.
Don't be afraid to explore new materials. Innerspring mattresses are the traditional option but modern materials like memory foam and latex offer unique benefits. You might also consider a hybrid mattress that combines two or more materials.
Look for a mattress made with a supportive base. For innerspring and hybrid mattresses, pocket coils are preferable to continuous springs. For foam and latex mattresses, high-density foam generally provides more support than lower density foams.
Choose a mattress that delivers pressure relief to help keep your spine in proper alignment while you sleep. A mattress too firm or too soft may actually create pressure points.
Think about temperature regulation, particularly if you sleep hot. Memory foam can absorb heat which may be a problem. Gel foam, latex, and hybrid mattresses may be a cooler option.
Now that you know what to look for in a new mattress, it's time to start shopping! Check out our recommendations in the next section to get started with your search.
[alert type="info" icon-size="normal"]
Read Also:
11 Best Mattresses for Osteoarthritis & Rheumatoid Arthritis
[/alert]
The Best Mattress for Older Adults
No matter how old (or young) you are, a good mattress makes a difference. If you're having trouble sleeping, your mattress could be part of the problem. You don't necessarily need to spend a fortune to get the best mattress for seniors with arthritis, back pain, or other health issues, either!
We've put together a list of our top picks for the best mattress in different categories to help you narrow down the options and find the perfect mattress to suit your needs.
Here are our top picks for the best mattress for seniors: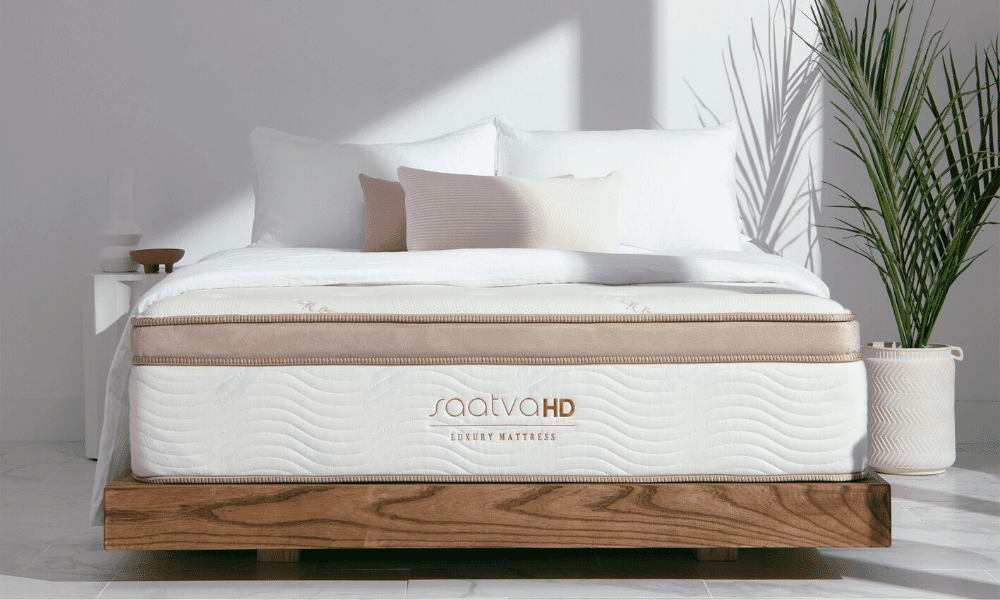 Best Overall: When considering the best mattress for older adults, there are many things to consider. Ultimately, we all have our own preferences, however, so it's important to have options. The Saatva Classic is our top choice because it is a luxury hybrid mattress that incorporates a supportive pocket coil base with a pressure-relieving pillow top and integrated Lumbar Zone support technology. It checks all the boxes.
What we really love about the Saatva Classic is that it comes in two different heights and three firmness levels ranging from Plush Soft to Firm so you can choose the option that best suits your needs. This model features an innovative coil-on-coil design with excellent edge support and the added comfort of a luxury Euro pillow top. The Saatva Classic is both breathable and supportive, but it offers the pressure relief you need to sleep comfortably. Plus, you get free delivery and setup!
Pros: Three firmness levels to choose from, luxury hybrid construction, breathable and supportive
Cons: Hybrid mattresses tend to be fairly heavy, less contouring/hugging than foam mattresses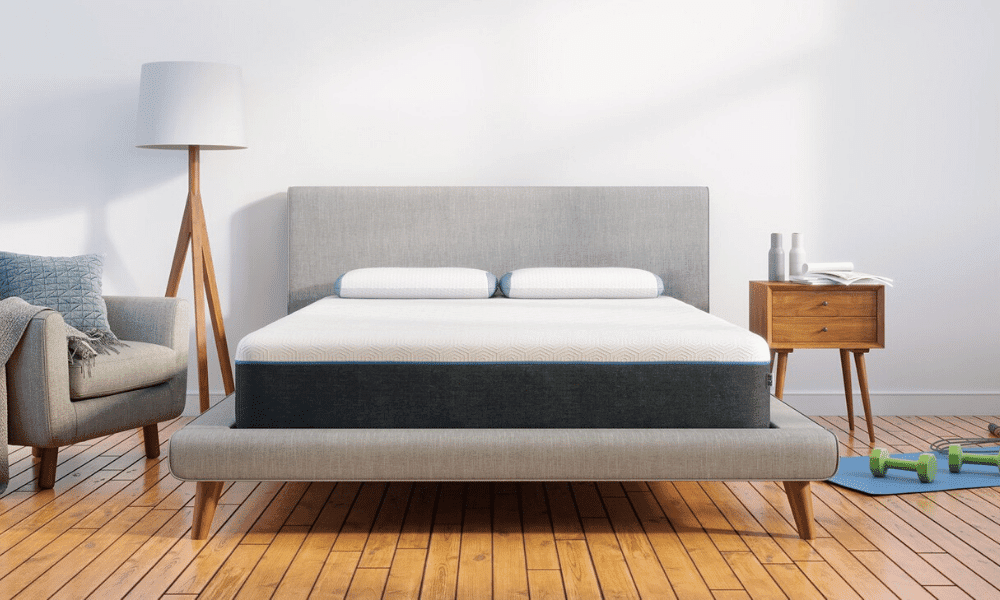 Best Budget-Friendly: You don't necessarily need to spend a fortune on a new mattress, even to get a good one! Bear is an affordable mattress company that doesn't cut corners when it comes to quality and we think the Pro model is one of the best mattresses for seniors. This mattress delivers cooling comfort with optimal pressure relief without compromising on spinal support.
The Bear Pro mattress features four layers of foam with a breathable Celliant cover. In addition to sleeping cool, this mattress helps relieve pain and speed muscle recovery. The top layer is made of copper-infused foam for a cool and clean sleep, followed by a layer of gel memory foam to remove unwanted body heat. Next comes a layer of responsive transition foam for pressure relief and balanced support with a supportive layer of high-density foam as the base.
Pros: Copper-infused foam for cooling comfort, medium-firm feel, compatible with all foundations
Cons: May be too firm for some sleepers, may not be supportive enough for very heavy sleepers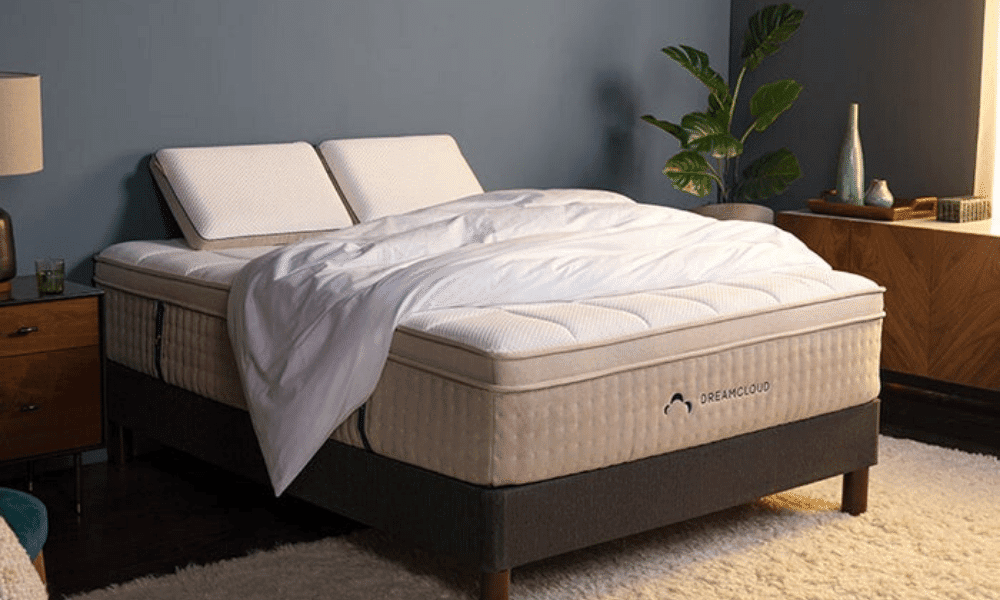 Best Luxury: You spend roughly one-third of your life sleeping, so it's worth spending a few dollars extra to make it comfortable. If you're looking for a luxury option, our top pick is the DreamCloud mattress. This hybrid mattress features a combination of encased coils and memory foam to deliver the optimal combination of comfort and support you need to feel like you're sleeping on a cloud.
The DreamCloud comes with a generous 365-night trial period so you can try it for a full year with hassle-free returns if you don't love it. The mattress features a luxurious cashmere blend cover and quilted Euro top for luxurious softness and breathability. Inside the mattress, you'll find several layers of high-density memory foam set over a pocketed 5-zone innerspring coil system for targeted support. No matter your sleeping style, the DreamCloud mattress will cradle you in comfort all night long.
Pros: Memory foam and encased coils, comfort and support, luxury materials and design
Cons: Hybrid mattresses tend to be fairly heavy
Best for Arthritis: Arthritis is a common condition that affects older adults and it can make sleeping very difficult. To make matters worse, sleeping on the wrong mattress can rob you of the healing benefits of sleep, leaving you even more sore and stiff when you wake up in the morning. Our pick for the best mattress for seniors with arthritis is the Layla memory foam mattress.
The Layla memory foam mattress is unique in several ways. Not only is it made with copper foam for cooling comfort, but it features a flippable design so you can choose between two firmness levels. This mattress has 4-inch middle of support core foam, surrounded by layers of Max Airflow support foam and copper gel memory foam on either side. These materials wick body heat away and provide the airy pressure relief you need to stay comfortable. One side is rated Plush (4) and the other firm (7).
Pros: Flippable two-sided design, copper-infused memory foam for cooling, comfort and support
Cons: Slow response foam may make it tough to change positions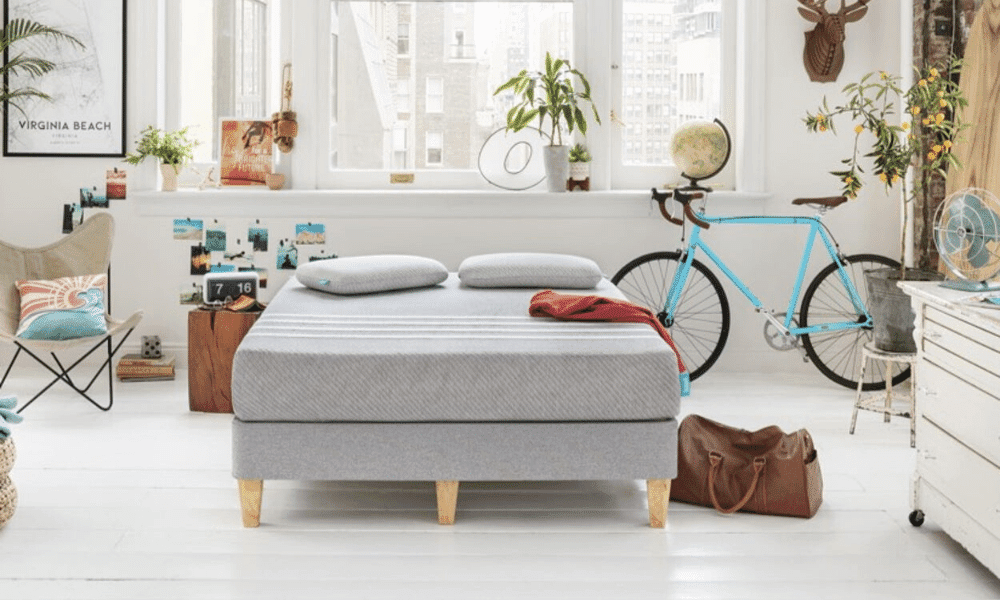 Best for Back Pain: Many people who suffer from back pain fear that their mattress might be too firm when, in fact, the opposite may be true. Especially if you sleep on your back or stomach, a soft mattress might not support proper spine alignment and that's a recipe for back pain. A medium-firm mattress like the Leesa Hybrid is the optimal choice for back pain sufferers and it is great for all sleeping positions, even side sleeping.
The Leesa Hybrid mattress combines layers of responsive memory foam with active response pocketed springs to deliver the perfect combination of support and pressure relief. This mattress offers excellent edge support so you won't feel yourself sinking too much, and you'll enjoy excellent motion isolation as well. The Leesa Hybrid is made with a seamless cover and the top foam layer is hole-bunched for breathability, so you don't have to worry about overheating at all.
Pros: Designed for comfort and support, luxury hybrid design, stabilizing pocket coil base
Cons: More expensive than all-foam mattresses
Best for Hip Pain: If you suffer from hip pain, the last thing you need is a mattress that makes your pain worse. The wrong materials or firmness level can actually create pressure points and may not deliver the support you need for proper spine alignment. Our top pick for the best mattress for hip pain is the Puffy Lux. The Puffy Lux is a particularly good choice for side sleepers or combination sleepers, and it comes with a 101-night sleep trial and a lifetime warranty.
The Puffy Lux is an all-foam mattress made with four layers of premium foam materials, including an exclusive layer of Body Adapting Dual Cloud Foam. It is rated medium-plush, about 5 to 7 on a 10-point firmness scale. Not only does this mattress excel in relieving pressure, but the innovative materials are climate-adaptive to keep you cool and comfortable all night long. Plus, this model is upgraded from the original with a luxury fabric cover. If Puffy doesn't end up being the perfect fit for you, simply return the mattress for a full refund.
Pros: Designed for cooling comfort and support, climate-adaptive materials, strong pressure relief
Cons: Significantly more expensive than many models, may not be firm enough for stomach sleepers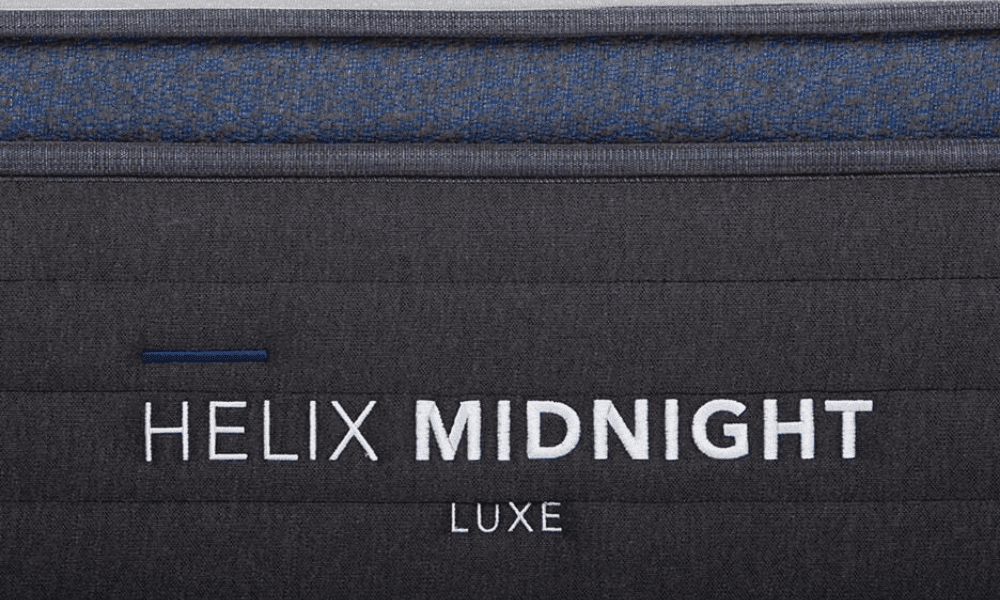 Best for Shoulder Pain: Shoulder pain is a particular problem for side sleepers, as the wrong mattress doesn't relieve pressure as much as you might need. The Helix Midnight Luxe is our top pick because it is uniquely designed for pressure point relief, especially for side sleepers. This mattress is rated Medium in firmness, so it might not be firm enough for sleepers above average weight, but most sleepers find it comfortable.
The Helix Midnight Luxe is built on a base layer of DuraDense foam topped with a Zoned Body Shape layer consisting of over 1,000 individually wrapped coils. These coils respond to individually to pressure and motion, cradling the body for advanced lumbar support and motion isolation. You'll also enjoy layers of high-grade polyfoam, gel visco foam, and memory plus foam that conform to the contours of your body, relieving pressure from the shoulders for maximum pain relief.
Pros: Luxury hybrid design, medium firmness level, comfort and pressure relief, 100-night sleep trial
Cons: Fairly expensive compared to some brands, may be too soft for heavy sleepers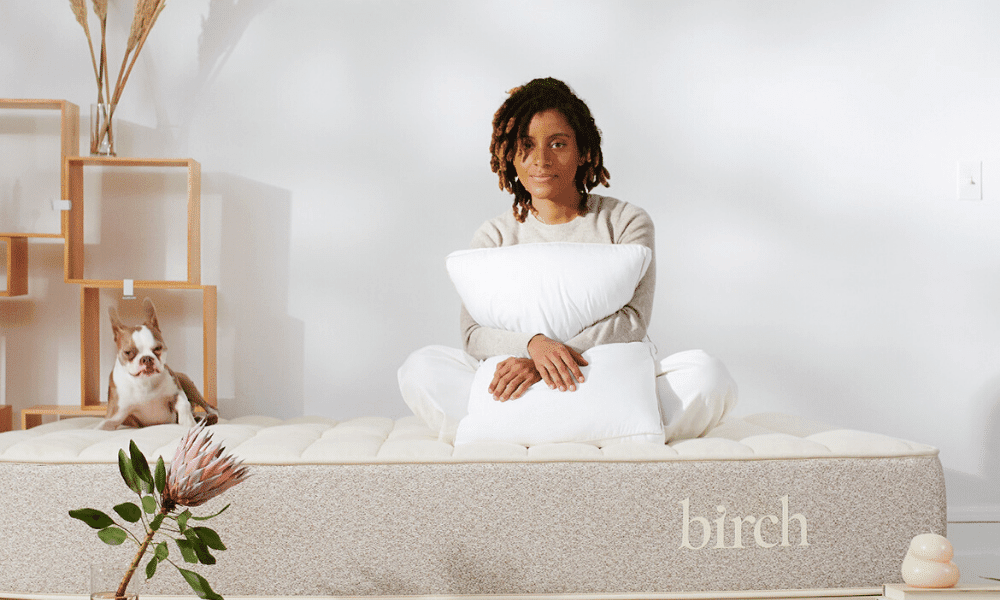 Best for Circulation: Poor circulation can lead to a whole host of health problems, particularly in older adults. Though a new mattress won't solve your issues completely, it could certainly help. Circulation problems can be made worse by spending the entire night with your spine out of alignment – it can also contribute to worsening pain as well as stiffness or soreness in the morning. Our top pick for the best mattress for circulation is the Birch mattress by Helix.
The Birch mattress is all-natural, made with premium materials like natural cotton, Talalay latex, and hygroscopic wool. This mattress is optimized for pressure relief, so it conforms to the contours of your body to support the spine while reducing pain. It is completely free from polyurethane-based foams and harsh chemicals as well, so you'll enjoy a clean sleep as well as a comfortable one. Plus, the Birch mattress ships free and comes with both a 100-night sleep trial and a 25-year warranty.
Pros: Hybrid construction for support and pressure relief, less sinking feeling than memory foam
Cons: Some may not like the bouncy feel of latex materials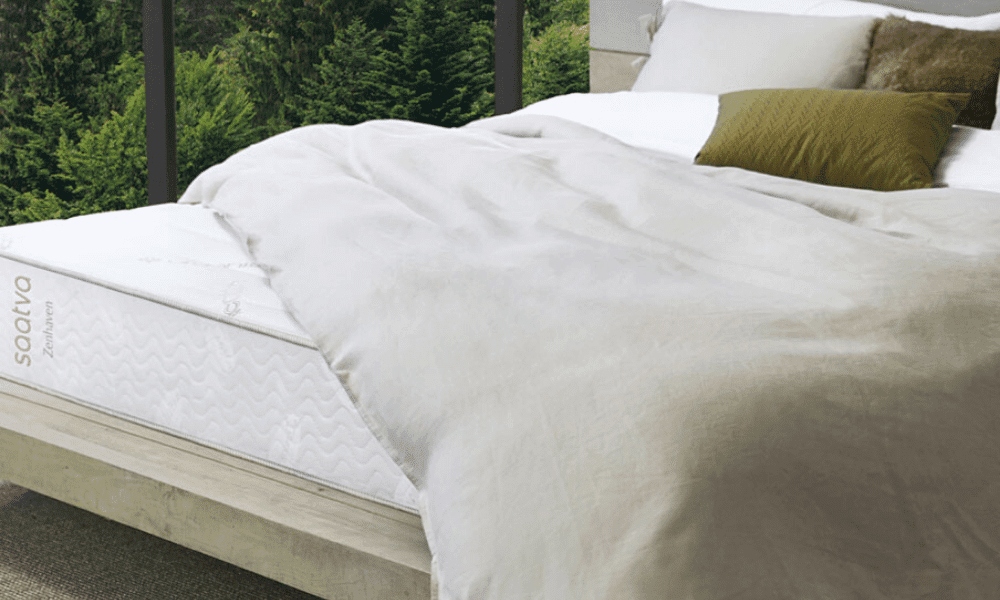 Best for Allergies: When you suffer from allergies, you find yourself paying a lot of attention to the materials from which things are made. With the Zenhaven mattress by Saatva, you have nothing to worry about. This mattress delivers natural comfort and breathable sleep as well as targeted support for your spine. Plus, it comes with a 120-night home trial and free white glove delivery as well as a 20-year warranty.
The Zenhaven mattress is naturally hypoallergenic, antimicrobial, and free from harmful chemicals. It features premium latex materials with an organic wool layer and an organic cotton cover, designed as much for comfort and support as for durability and peace of mind. This mattress incorporates a 5-zone comfort layer to deliver firmer support in the lumbar region where you need it most with maximum pressure-point relief everywhere else.
Pros: Made from natural and organic materials, flippable design with 2 firmness levels, no off-gassing
Cons: Significantly more expensive than many models, neither side may be ideal for side sleepers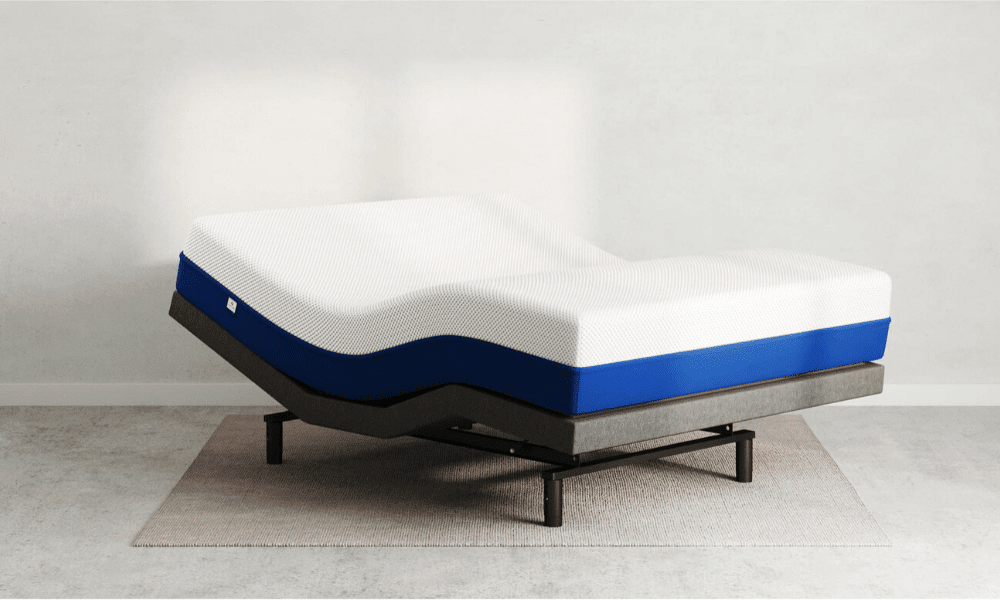 Best Soft: If you suffer from fibromyalgia, severe joint pain, or other chronic pain issues, a firm mattress simply might not be comfortable for you. It's important to choose a mattress that isn't too soft, but there's nothing wrong with wanting something plush. If you're looking for a mattress on the softer side of the spectrum, we recommend the Amerisleep AS5. This mattress will wrap you in plush comfort to relieve pressure and pain, but it has just enough bounce that you'll never feel stuck.
The Amerisleep AS5 mattress is made with open-cell Bio-Pur foam which wicks away moisture to keep you cool all night long. It incorporates a contouring comfort layer for optimal pressure point relief, and it is crafted for quality and durability. This mattress features four foam layers including a Bio-Core base guaranteed not to sag or develop soft spots, so you never have to worry about support. The AS5 is rated 5-6 on a 10-point firmness scale and comes with free delivery and a 100-night sleep trial.
Pros: Relieves pressure and pain, bounces back more quickly than memory foam, soft breathable cover
Cons: Somewhat pricy compared to other models, may be too soft for stomach sleepers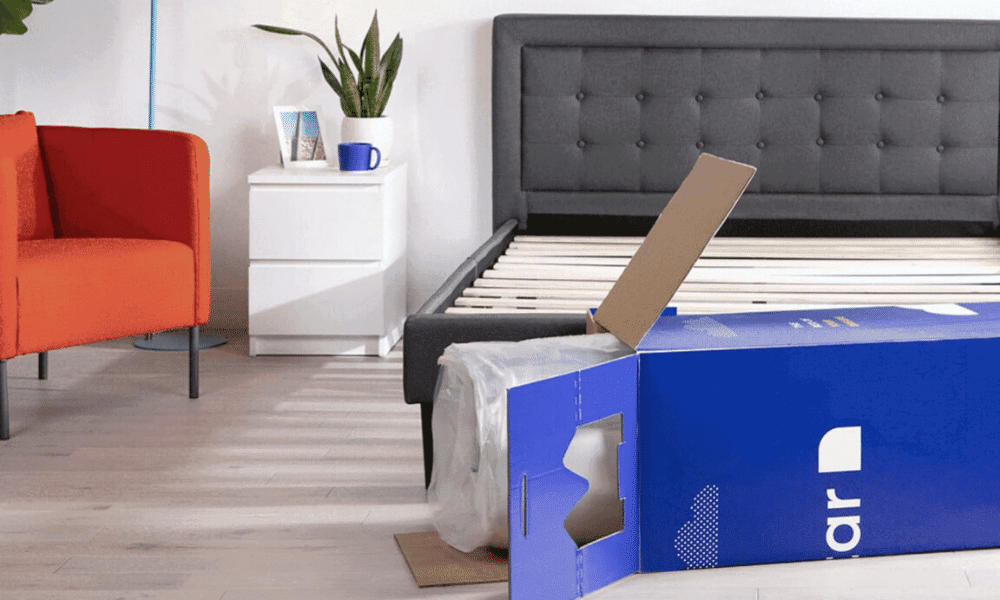 Best Medium: Experts agree that a medium-firm mattress is generally the best option for support, especially if you suffer from back pain or sore joints. Sleeping on a mattress too soft or too firm may create pressure points, causing you to wake up stiff and sore. Our top pick for the best medium mattress is the Nectar foam mattress which ships free and includes the Forever Warranty. It also comes with a generous 365-night trial period so you can test it for a full year with hassle-free returns.
The Nectar mattress was designed with all the latest advances in mattress and fabric technology. It features two layers of gel memory foam to keep you cool while distributing your body weight to disperse pressure. This mattress comes with a quilted memory foam cover as well for an added degree of comfort but still has a stabilizing base layer for reinforced support. The Nectar mattress minimizes motion transfer which is important if you sleep with a partner and it is compatible with adjustable bases as well. It is rated 6.5 on a 10-point firmness scale.
Pros: Long 365-night trial period, multi-layer foam construction, comfort and support
Cons: May not be firm enough for heavy sleepers, foam may be slow to respond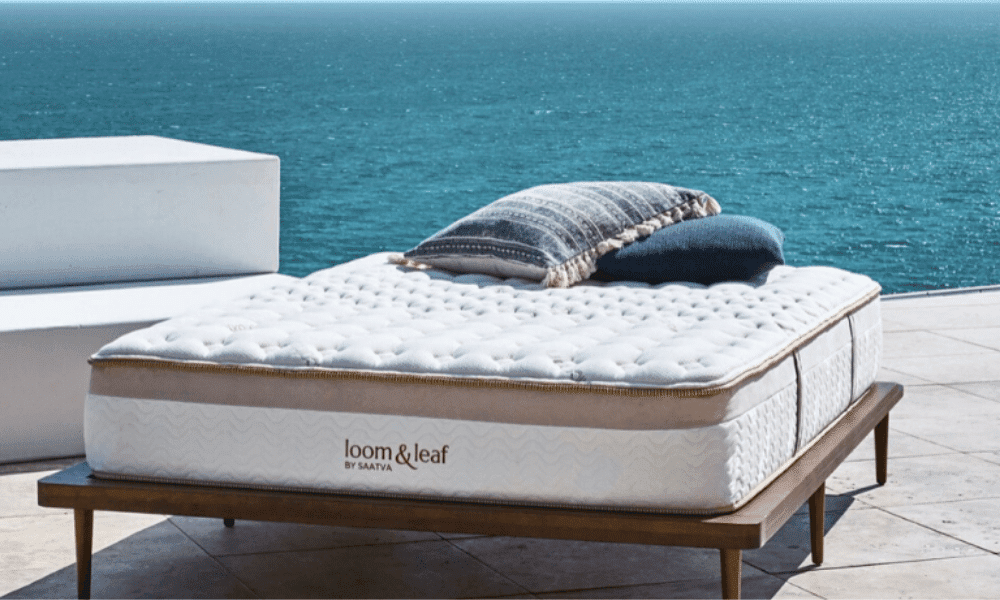 Best Firm: Some people simply prefer a slightly firmer mattress, and there's nothing wrong with that. In fact, a firmer mattress might be ideal if you prefer to sleep on your back or stomach, or if you are a little on the heavier side. What it really comes down to is finding the mattress that offers the best support for your body. If you think that's a firm mattress, we recommend the Loom & Leaf by Saatva.
The Loom & Leaf mattress starts with a multi-layer base of breathable support foam to deliver deep contouring benefits. Next comes a transition layer of premium foam topped with the proprietary Spinal Zone Gel that offers optimal lumbar support while keeping you cool all night. This mattress comes in two firmness levels (Relaxed Firm and Firm), both backed by a 120-night sleep trial. You'll also be glad to know it is handcrafted from premium materials with an organic cotton covering.
Pros: Made with premium materials, two firmness levels to choose from, designed for adjustable bases
Cons: Fairly expensive compared to many models, may be too firm for some users
You're never too young or too old to invest in a high-quality mattress. A good night's sleep is well worth the cost and you may not even know what you're missing until you wake up after the first night on a mattress that actually supports your body.
Whether you're concerned with pressure relief for arthritis pain or support for back pain, there's a new mattress out there just waiting for you. We've done our best to provide you with the tips you need to make a smart choice and some recommendations to get you started. Good luck!
Frequently Asked Questions
What is the best mattress for seniors with arthritis? – The best mattress for seniors with arthritis is one that provides support without increasing the pressure on your sensitive joints. Responsive materials like memory foam and latex work very well to relieve pressure because they conform to the contours of your body. It's important to choose a mattress that is neither too soft nor too firm as well to ensure your spine is properly supported for optimal alignment.
Is memory foam good for back pain? – Yes, memory foam is a great mattress for back pain, and many find it to be the best mattress for seniors with back pain. Memory foam conforms to the contours of your body, relieving pressure from the joints and supporting your spine for proper alignment. This combination of features may be the key to relieving your back pain, so you sleep better and wake up feeling refreshed.
What is the best mattress for circulation? – Many people with poor circulation also have problems with sleep. Poor circulation can contribute to sleep disorders, and vice versa. Though there may not be a single best mattress for poor circulation, a mattress that supports proper spine alignment is recommended. When your mattress adjusts to your body shape and position, relieving pressure as needed, your spine is more likely to retain its natural contours which promotes healthy blood flow. If you struggle with edema or a specific circulatory issue, an adjustable bed that enables you to raise the foot of the bed might be helpful as well.
How high should a bed be for an elderly person? – When it comes to choosing the best mattress for seniors, you don't just need to think about the materials – you should also consider the height of the bed and the foundation. A mattress too high might cause you to fall as you struggle to get into bed while a mattress too low might put extra strain on your joints as you get in and out. Experts recommend a height of 20 to 23 inches for older adults. You should be able to sit comfortably on the edge of the bed with your feet flat on the floor.
Are adjustable beds good for older adults? – The truth is adjustable beds are a great option no matter your age. These beds make it easy to raise or lower the head and feet of the bed according to your comfort level. If you struggle with arthritis, you can adjust the bed to relieve pressure from the joints that bother you. Many seniors also struggle with edema, the accumulation of fluid, which typically occurs in the feet and ankles. An adjustable bed allows you to raise the foot of the bed to disperse fluid and relieve pain.