Only 14% of Americans are back sleepers, so it can be hard to find the best pillow for your needs if you fall under this small population set. Depending on the alignment of your back, neck, and shoulders, pillows for back sleepers can be incredibly difficult to get right.
With this in mind, we took a look at the best pillows to assist back sleepers comfortably sleep in supine position, assessing different shapes, designs, and materials so you don't have to.
Let's get to it!
Reviews of the Top Rated Back Sleeping Pillows
1. Slumber Core® All Down Pillow
The Slumber Core Down Pillow features an ergonomic design that provides excellent support for the head, neck, and spine of back sleepers. The two inner pillows inside have been ideally positioned to form a contour that tightly conforms to the curvature of your head and neck. This, as a result, takes pressure off pressure points that could otherwise disturb your spinal alignment when sleeping on your back. Pacific Coast pillows are known for their luxurious support and this one is no different.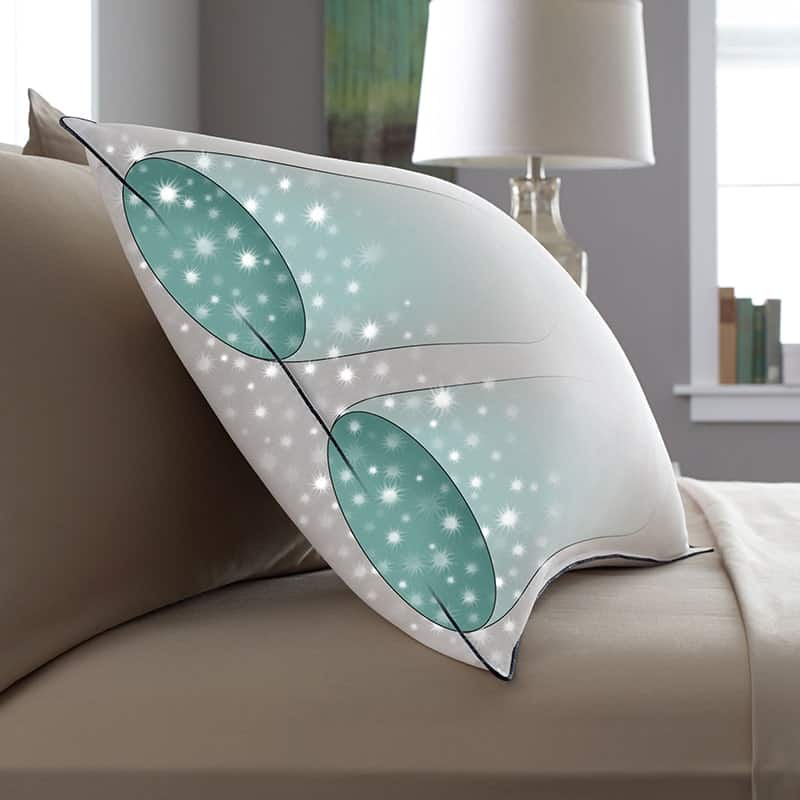 The pillow has a medium loft which is ideal to prevent neck flexion of back sleepers and keep them from waking up with a stiff neck in the morning. As the pillow supports your body's neutral position, it also offers slight elevation that reduces the chances of acid reflux as well as symptoms of GERD.
The 550 Fill Power Hyperclean® Down filling prevents the pillow from sagging or collapsing under the weight of your head and allows it to retain its fluffy shape for many years to come. To ensure the Slumber Core Down Pillow remains free from allergens, specks of dust, and mites, the proprietary Hyperclean down undergoes rigorous cleaning standards.
Back Sleepers can now enjoy sinking their head into the supreme soft and smooth surface of the Slumber Core Down Pillow as it features a stylishly soft 100% cotton sateen covering. The 500 thread count woven sateen cover ensures the pillow withstands long sleeping cycles while continuing to maintain its billowy smoothness.
Unlike most pillows in the market, the Slumber Core Down Pillow requires a simple and easy cleaning and washing process. It is both machine washable and dryable so there is no need to worry about the pillow seams and stitches coming apart.
2. Holiday Inn Express Soft Support Pillow
Part of the esteemed Holiday Inn Express ® collection, the Blue Cord Pillow by Restful Nights ® is luxuriously soft and supportive that stops the pillow from flattening under the weight of your head. Its ideal loft makes it a perfect choice for maintaining the spinal alignment of both back and side sleepers.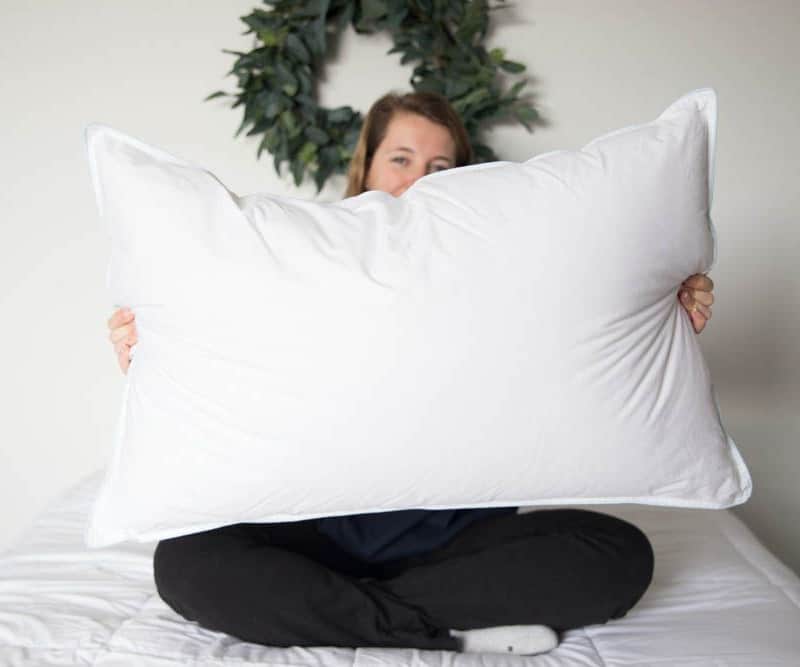 People who sleep on their back can give their beds at home a five star upgrade with the luxurious comfort of the idyllic soft Blue Cord Pillow. The reinforced blue stitching tightly holds the ample stuffing to maintain the pillow's original fluffy shape and firmness. By striking the perfect balance between soft and firm, the pillow keeps your neck parallel to the mattress to avoid neck extension and muscle strains.
With qualities of both poly-fill and down alternative, the Blue Cord Pillow mimics the softness of down but offers much superior heat resistant properties in its comparison. Down alternative filling ensures improved airflow which creates a cooler surface for the back sleepers to lay their heads on.
Long-lasting with high endurance, the polyester fiberfill ensures the longevity of the pillow to allow consistent use without experiencing short-term wear and tear. Just like the pillow, the 100% cotton exterior is also easy to care for. Both pillow and the cotton cover can easily be machine washed and dried without any problem.
3. Parachute Down Pillow
Made with an all-natural European white down filling, the Parachute Down Pillow tightly molds to the shape of your body and stops the neck from bending more than normal when you sleep on your back. The pillow's ergonomic design ideally frames your head in a comfortable position that avoids putting strain and pressure on your neck.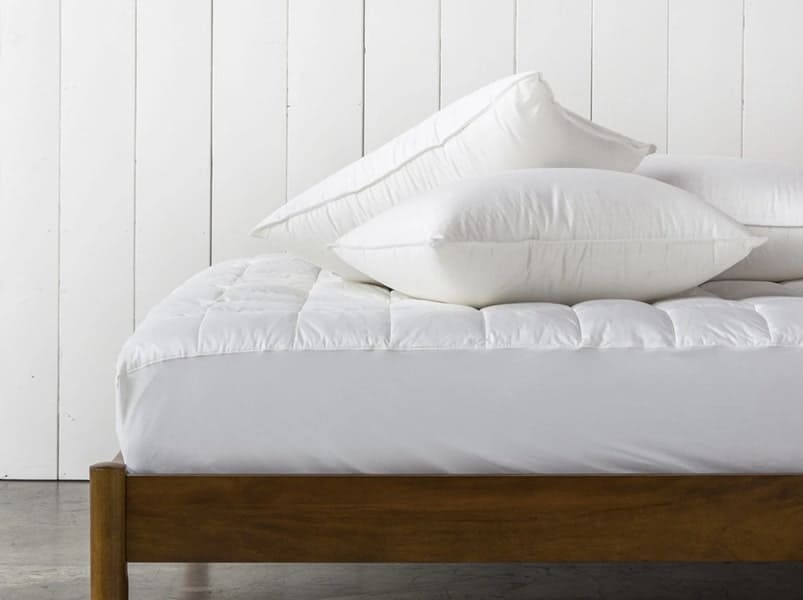 The ideal firmness of the pillow keeps your head from sinking in and helps relieve strain on your overworked neck, making it the most comfortable pillow for back sleepers with neck pain. By offering elevated support, the pillow prevents neck flexion of back sleepers and eliminates the risk of developing chronic neck and back pain because of muscle strain.
The 750 fill power European white down filling ensures the pillow remains fluffy and retains its original plump shape without sagging. The combination of 85% down and 15% down and feathers results in a supportive pillow that provides back sleepers with an opulent soft luxurious feel to improve their daily night rest.
Depending on your physique, you can choose a firmness of your choice ranging from soft to firm. Doesn't matter big or small, Parachute Home has got a pillow for everyone.
The down suppliers of Parachute pillows are Responsible Down Standard (RDS) certified. By following strict protocols of global animal welfare standards, the suppliers make sure that down and feathers are ethically sourced from geese and ducks.
When it comes to cleaning, the manufacturer recommends dry cleaning. However, if you need to machine wash, make sure you wash it in cold water using mild detergents to prevent the wear and tear of these pillows. You can then tumble dry on a low setting using wool dryer balls.
4. Plushbed Solid Natural Latex Pillow
Plushbed Pillow is a perfect blend of sustainability and comfort that offers a soft yet firm support system for back sleepers. The solid natural latex foam inside the pillow conforms to the shape of your head, neck, and shoulders to support your back sleeping position. As latex is more denser compared to both memory foam and down, the pillow offers additional firmness to keep both the neck and spine in alignment.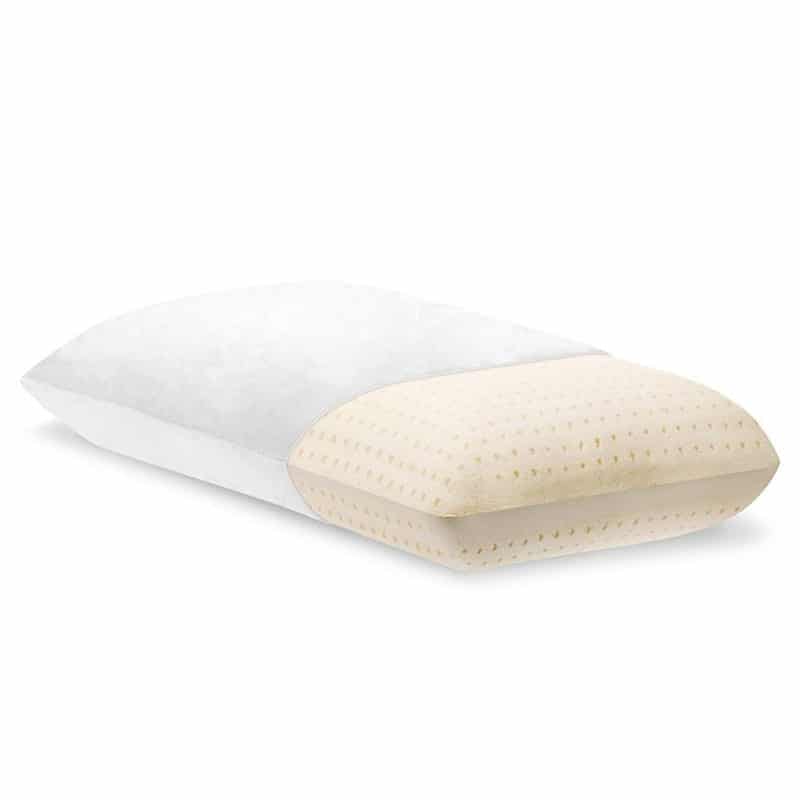 With a medium loft build, the Plushbed latex pillow offers ideal firmness and buoyancy while providing elevated support to your head, neck and back making it one of the best pillows for back sleepers with back pain. The latex material ensures the pillow continues to retain its shape and offer long-lasting support through many sleep cycles without risk of collapsing.
The soft yet resilient latex also allows the head to sink into proper alignment with the spine without creating problems of neck tension and stiffness. It also helps to distribute the weight of the back sleeper evenly without forcing pressure on the neck region. The solid natural latex has an open cell structure resulting in a well-ventilated pillow design that promotes excellent airflow and keeps the pillow breathable.
If you are a back sleeper sensitive to chemical dyes or under risk of triggered allergic reactions, you don't need to worry using this eco friendly pillow, since latex is sourced from natural renewable resources. This ensures it is naturally hypoallergenic, dust and termite-resistant as well making it an ideal organic pillow to help sleep on back comfortably.
5. Idle Sleep Gel Memory Foam Pillow
Offering soft contoured therapeutic support, the IDLE Sleep Memory Foam Pillow helps to relieve tension and pain in neck muscles that cause discomfort when lying on your back. The gel-infused memory foam further softens the pillow to offer cool plush support with medium firmness that releases the strain on pressure points affecting your daily sleep.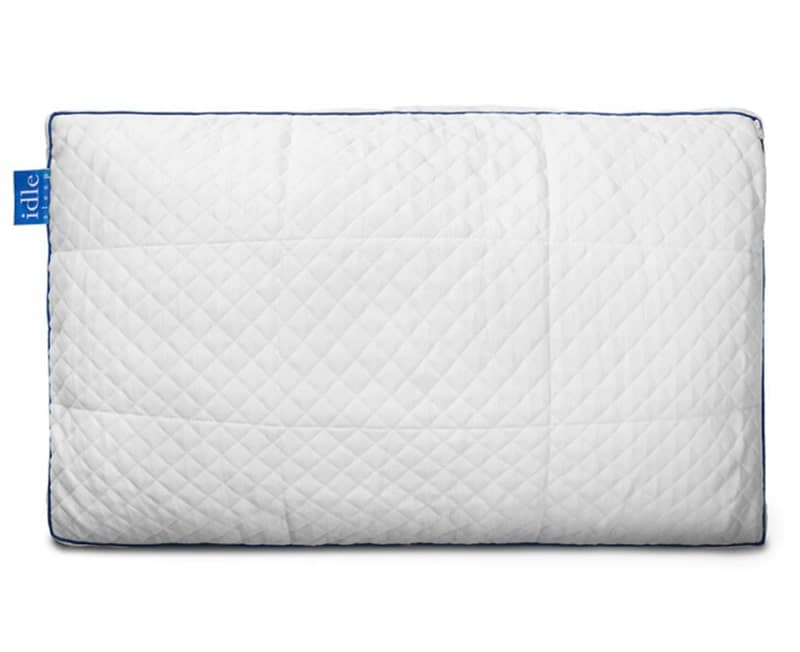 The Zoned memory foam creates personalized comfort for back sleepers by tightly conforming to the curves of your head and neck. The added strength of the memory foam stops the pillow from losing its shape and retaining its firm structure.
Using the trademarked Zones technology, the IDLE Sleep memory foam pillow is constructed with proper air circulation channels that offer high levels of ventilation. This is especially important for people who prefer to sleep in a supine position as they are likely to experience excessive sweating while lying on their back for prolonged periods.
The pillow ensures there is no trapped body heat that could create a hot sticky, uncomfortable environment when sleeping. With adequate ventilation and temperature regulating properties, the IDLE Pillow helps to dissipate body heat, prevents sweat-moisture from gathering and stops you from sleeping hot.
Soft and silky, the pillow's soft bamboo velour cover also promotes greater airflow and keeps the pillow breathable to help you sleep comfortably throughout the night. The natural bamboo rayon cover is also perfect for sensitive skin because of its natural breathable qualities and luxurious smoothness.
If you have always dreaded pungent chemical smell usually associated with memory foam pillows, fret not. These memory foam pillows don't have any bad odor and are ready to use when you take them out of the packaging which makes it the best memory foam pillow for back sleepers.
6. Layla Kapok Pillow
Layla Kapok Pillow is a good investment for any back sleeper suffering from terrible neck and shoulder pain. The combination of Kapok fibers and the reactive memory foam gives the pillow its body conforming capabilities. The highly moldable pillow snugly holds your head, so that it does not crane too far forward or backward causing pain and pressure in the neck.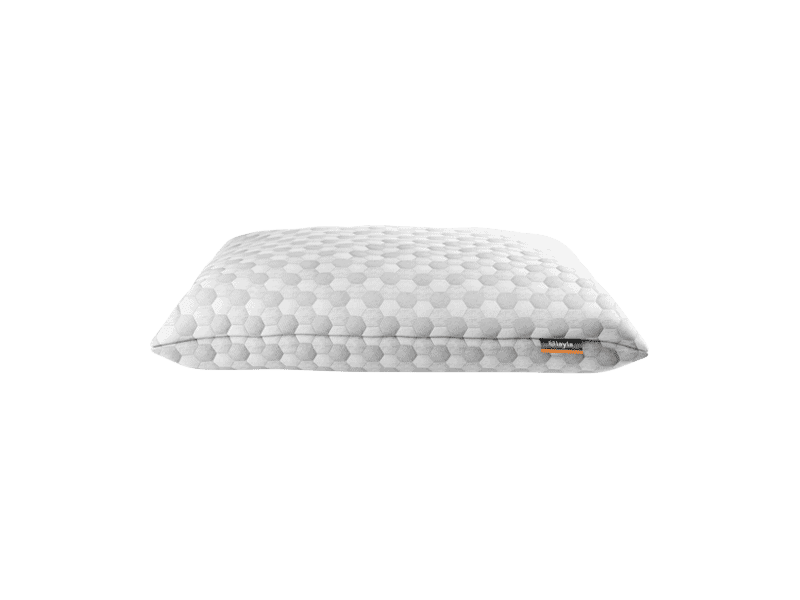 The kapok fibers inside have exceptional buoyancy and air-trapping qualities that are responsible for the long-lasting medium-sized loft of the pillow. With adequate height and support for your head and neck, the body also remains aligned without causing spine problems which makes it suitable for both back and side sleepers. However, stomach sleepers may find it a bit comfortable as it doesn't have a thin profile.
The malleable property of the shredded memory foam also allows the pillow to shape itself around the contours of your neck. It helps the pillow bounce back to its original shape once the pressure is lifted off the pillow. The fluffy lofty build of the pillow allows the head to comfortably sink in but not too deep as back sleepers would develop strained pressure points otherwise.
Woven from a copper infused yarn, the CuTEC® fabric of the Layla Kapok pillow cover is widely known for its odor removing characteristics to help promote better hygiene. Moreover, the CuTEC® yarn helps to rejuvenate and refresh skin by replacing dead skin cells. The pillow cover fabric prevents body heat from building up and provides a cooling effect to improve the quality of your daily sleep.
7. Beans72 Organic Buckwheat Pillow
The natural buckwheat filling of Beans72 pillow holds many advantages over traditional pillow fills for back sleepers. It remains springy despite pressure and offers great contouring support to sleepers by ensuring ideal neck and head positioning on the pillow. By easing neck tension and relieving other pressure points through proper spine alignment, these pillows have become popular sleeping aids among back sleepers, and for good reason. The Beans72 Organic Buckwheat Pillow is firm enough to provide excellent support to back sleepers. Buckwheat hulls are resistant to both heat and pressure so you no longer need to turn over your pillow during the night in search for a cooler surface to lay your head upon. The buckwheat filling does not trap heat and promotes better air circulation. All of which makes it an ideal addition to your hot and humid bed environment.
The specific shape of the buckwheat hulls do not allow it to stick together or clump up, so the pillow remains supportive. It evenly distributes the weight of your head throughout the pillow to stop it from collapsing under pressure. If back sleepers find the pillow too lofty for their personal choice, the buckwheat filling can easily be removed according to your preferred pillow thickness.
By adjusting to your head, neck, and body posture, the buckwheat hulls inside the pillow fill out the space between the contours of your neck and spine offering generous support that removes any stress on muscles and joints.
8. Parachute Down Alternative Pillow
If you are a back sleeper that appreciates the feel and support of down filled pillows but need a hypoallergenic alternative, Parachute Down Alternative pillows are your best bet. The ideal firmness of the pillow stops your spine from twisting as your head's weight is uniformly spread over the pillow so no uncomfortable pressure points are formed when sleeping on your back.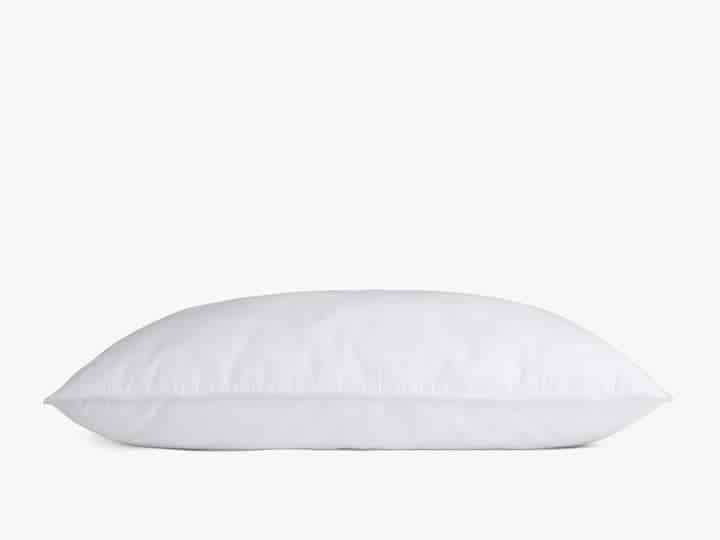 The ideal loft of the Parachute Down Alternative Pillow helps in dealing with severe back and shoulder pain often reported by back sleepers. It's adequate height is ideal for supporting your head and offers relief to the curving gap of your slightly arched neck in your back sleeping position. Compared to their down counterparts, these pillows not only offer the same luxurious soft, plush feel but are also much lighter on the pockets and therefore budget-friendly.
Resilient with firm support, the pillow is not too bulky to completely sink your head. By providing optimal neck support, the pillow ensures your chin is not pushed too much towards your chest resulting in neck pain. With just the right amount of fill, this pillow can easily be fluffed up again and restored to its original perfect shape even after continuous use.
The pillow's cambric cotton exterior provides better airflow compared to conventional pillows that are lined with other materials such as polyester. Tightly woven, the cotton covering also acts as an allergen barrier between the microfiber filling and the sleeper to provide restful undisturbed nights.
9. Coop Home Goods Original Pillow
Coop Home Goods Original Pillow is completely adjustable which means you can always add or remove the medium-firm density fill to make it suitable for your sleep position. The combination of microfiber and memory foam allows the pillow to mold to your head for your neutral neck and spine alignment. With this pillow, back sleepers no longer need to worry about pinched nerves and putting improper pressure on the rest of their body.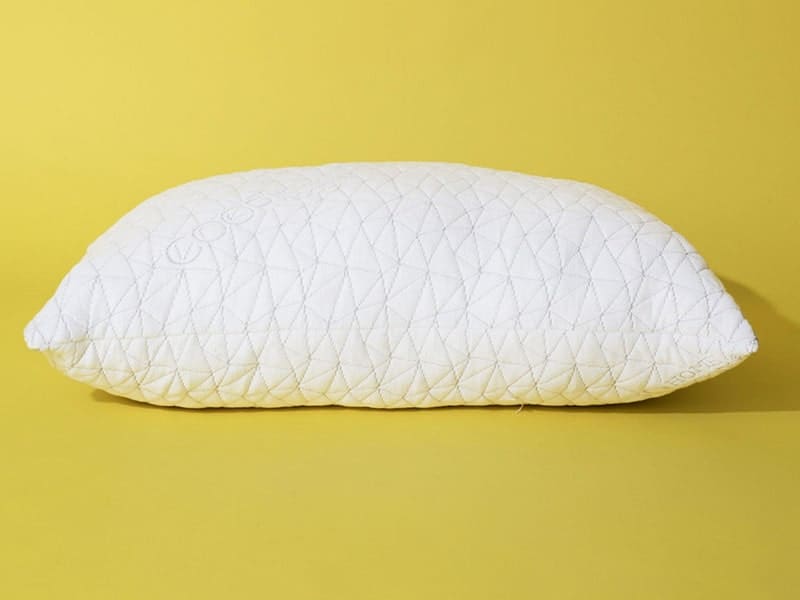 Offering medium firmness, the pillow evenly distributes the weight of your head across the surface to avoid strain on your neck muscles. The premium adjustable loft of the pillow refrains it from propping your head up too high when sleeping on your back. It prevents neck pain and helps you sleep comfortably through the night.
The high-quality shredded memory foam retains its medium firmness by preventing the pillow from flattening out under constant pressure night after night. It's CertiPUR-US® and GREENGUARD Gold certified which ensures the pillow strictly adheres to chemical emission limits and is completely safe for use.
The pillow comes with a whopping 100 night trial period. So if you find it uncomfortable and not suitable for your supine sleeping position, you can return the pillow for a full refund.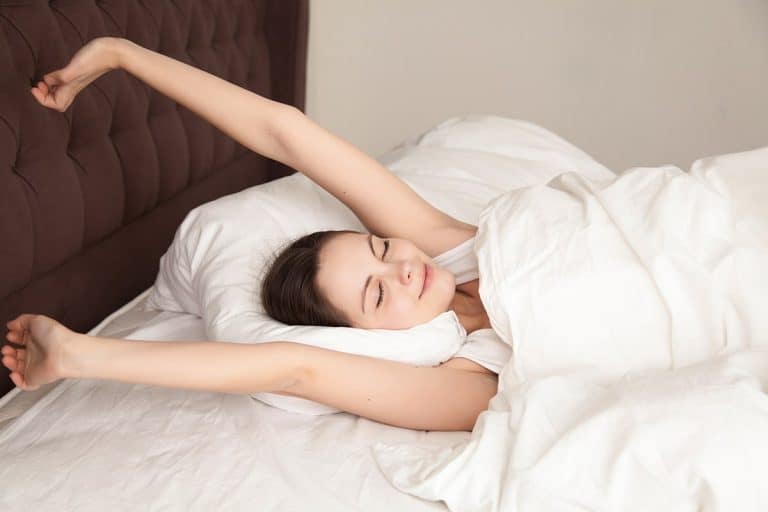 What Type of Pillow is Best for Back Sleepers?
Back sleepers ideally require a medium firm pillow that offers enough support and conformity to keep their neck and head from bending forwards or backwards. Such head tilting movements are cautioned against as they lead to pinched nerves in the neck that can cause numbness and pain in the rest of the body.
Besides firmness, the pillow must also possess an ideal height depending on your build. This is especially important since your body's spinal alignment is not only under the mercy of your pillow's firmness but also its height. Back sleepers ideally require a loft that is higher than pillows for stomach sleepers but lower than pillows for side sleepers.
Therefore, a medium loft pillow is able to fill out any space between the curves of your neck and ensures your head remains parallel to the mattress and not propped up too high neither sinked in too deep to disturb your overall spinal alignment.
Also, when it comes to pillow material, memory foam is a preferred option for people who sleep on their back. This is because foam has the ability to maintain its shape for a long period of time giving you a pillow that doesn't go flat.
Another way to comfortably sleep on your back is to place a cervical knee pillow under your knees to maintain the nature curvature of your spine. This cervical pillow is especially helpful for people who experience lower back pain. You can also place a lumber pillow under your lower back for additional support.
Frequently Asked Questions
1. Is it ok to sleep on your back without a pillow?
Sleeping without a pillow is not recommended for back sleepers. A pillow makes sure that your head rests properly without the neck extending backward or forwards when sleeping at night.
Pillows are important to keep the neutral spine alignment when sleeping on your back. If your spine or neck is not in a neutral position when you sleep at night, you are likely to wake up with a cricked neck.
2. How high should a pillow be for back sleepers?
Back sleepers require a pillow height of 4 to 5 inches. This height is sufficient enough to provide support for the neck and head preventing it from bending too far upwards or downwards. The ideal pillow height offers relief to all pressure points without posing any threat of pain or stress to your spine ensuring a good night's rest.
3. What firmness is best for back sleepers?
Medium-firm pillows that are soft yet resilient offer adequate support and comfort that encourages ergonomic posture when sleeping on your back. A too-soft pillow may sink your head and tuck your chin towards your chest. Such positioning will cause harm to your spinal curve and develop pressure points all over the body while disturbing your sleep.
SPREAD THE WORD