You may be asking yourself what happened to Royal Velvet sheets? Royal Velvet made a name for themselves, along with sister brands Fieldcrest and Cannon, over 60 years ago, first with towels, and then branching out into sheeting with their large variety of colors, styles, and indulgent comfort.
Finding the iconic Royal Velvet sheets that are known for quality, color and elegance may be a bit tricky these days. Like carefully walking a labyrinth path in the dark, Royal Velvet sheeting has gone through re-branding many times, as well as several ownership transfers. Along the way, Royal Velvet Sheets became a mainstay at Kohl's, an exclusive at "JC Penney Home Sheets" and are now called the "Wrinkle Guard Brand" which is sold at JC Penney.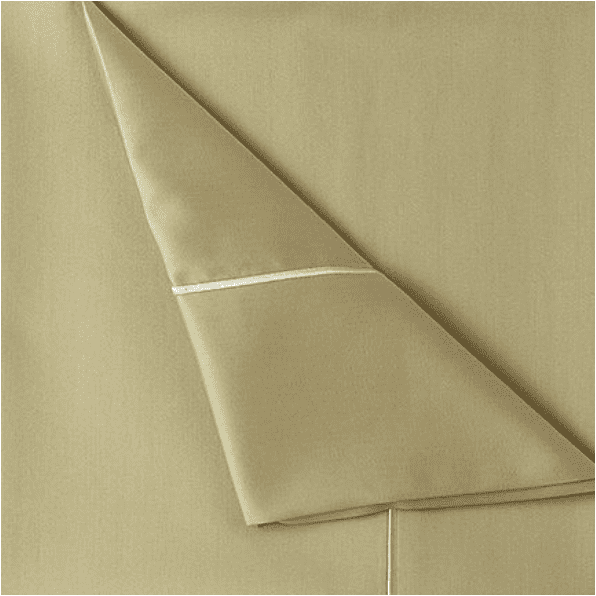 These are the new name of "Royal Velvet" sheets! They have the same lush, relaxing softness that made Royal Velvet a household name for decades.
This Sage color is so unique, and is exactly why Royal Velvet had the coveted reputation of having the best sheet colors and styles!
These are machine washable and fit for your dryer on a low setting.
Many colors are available in every bed size with a beautifully embroidered hem
Made of 100% cotton, they are woven into a silky sateen which is strong and durable
They are deep-pocket to fit mattresses up to 18 inches
Get these today at JC Penney!
Navigating the Royal Velvet Labyrinth
The Iconix Brand Group, Inc. company bought out remaining brands from Pillowtex in the early 2000s, acquiring such names as Royal Velvet, Cannon, Charisma, Fieldcrest, and Waverly. Royal Velvet fell under the umbrella of a Fieldcrest line of sheets. Iconix was hoping to reinstate the brands in a more modern arena and increase their popularity.
Royal Velvet was transitioned in 2019 from a direct-to-consumer brand to a wholesale brand, starting with JC Penney being the exclusive purveyor. Iconix and its partners will highlight the timeless aesthetic appeal of Royal Velvet while keeping with its heritage of quality, style, and comfort.
These sheets still hold true to the original Royal Velvet name, as one site had close to 3,000 customer reviews and a set of sateen sheets rated 4.6/5-stars. Reviewers noted that they washed easily and did not pill, were very soft, and they liked the all-around elastic of them. Many reviewers were thrilled that the sheets were almost wrinkle-free time and again out of the dryer!
Professional reviews of Royal Velvet sheets, a.k.a. Wrinkle Guard Sheets, list them as a top pick and said that true to their history, the sheets outperformed much more pricey sets when it came to durability, softness, and construction.
The Wrinkle Guard 400 thread count sateen sheets are low-maintenance sheets, being machine washable with no need to iron them after drying in your dryer! Another notable factor was that the sateen was warm in cooler, drafty rooms and cold climates.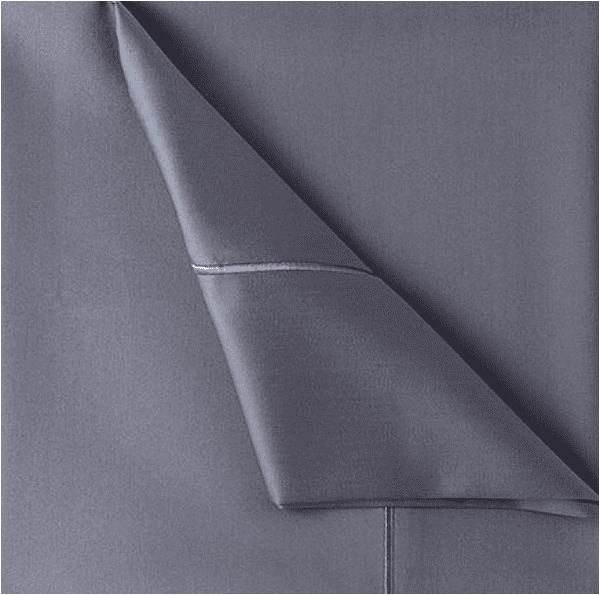 This is a very popular sheet set with various colors to choose from and an elegant embroidered seam detail in a shiny color that matches the sheet.
I like the deep pockets that fit up to 18-inch mattresses.
One of my must-have most favorite features of bottom sheets is an elastic that goes all the way around for a perfect fit each time!
Only 100% pure Cotton, with a 400 thread count.
Less work for me! Finished with a special procedure that is done on the fibers to ensure the sheets are wrinkle-free and need no ironing.
Woven in a sateen method, this equates to a soft, silky feel and a slightly thicker fabric.
Use as a stand-alone for warmer nights, and with a blanket for cooler evenings. Reviewers noted these sheets were appropriate for "hot" and "cold" sleepers alike.
These luxurious sheets can be found at JC Penney under the "Wrinkle Guard" brand.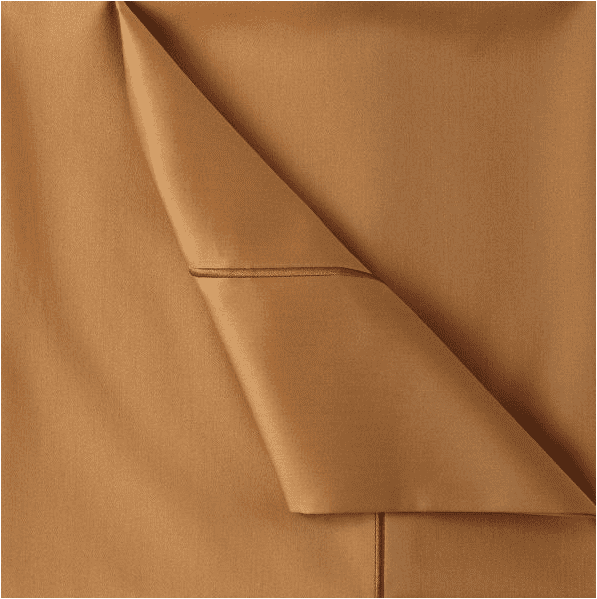 The gorgeous colors that are available from the Royal Velvet line, which is now the Wrinkle Guard line at JC Penney, are simply magnificent!
No wrinkle sheets that are machine washable and dry friendly make these sit at the top of the list for most popular sheets.
The elastic on the bottom is all the way around and provides a tight, taut fit for mattresses up to 18-inches.
Sheets sets come with one pillow for twin and two for Queen and King sizes.
These sheets come in Full size, which used to be the standard decades ago, but now is relatively uncommon – so this is a bonus in my book!
Rich and bold, dynamic and supreme, they ring true to what the Royal Velvet name is all about.
Style is first with quality and durability being the unspoken assumptions. Known for trendsetting design and bright lasting color, Royal Velvet was and is considered an elegant name to have in your home.
Get these today at JC Penney!
The Bottom Line on Buying Royal Velvet Sheets
Fieldcrest and Cannon were the same make of sheets as Royal Velvet, differing only in their style. They all came from similar quality textile mills and used the same materials. Very much alike in most ways, these names all converged at one point. financial hardships suffered by the Pillowtex company which owned the Mills.
According to multiple sheet experts, the names Fieldcrest and Cannon live on and are more commonly sold and available to customers today than is Royal Velvet. All three of these names have become almost synonymous with one another for quality, softness, durability, and style with color. Kohl's, Home Depot, and Macy's are a few of the places you can still find Royal Velvet comfort under the names of Fieldcrest and Cannon.
Here is an example of how to experience the enduring softness and elegance of Royal Velvet Sheets with its counterpart, Cannon.
A Brief History of Royal Velvet and Colleagues
Cannon Mills was started in 1887 by James Cannon in Kannapolis, NC. Fieldcrest bought Cannon Mills in 1986 and it became Fieldcrest-Cannon. It is now known as Fieldcrest.
The Fieldcrest Textile business was started in 1910 by Marshall Field and Company in Chicago. Field then created a separate company in the 1950s and their home was in Eden, NC. Fieldcrest created a gem in 1954 when they introduced the brands Royal Velvet and Charisma which were the textile industry's first real 300-thread-count premium sheets. Royal Velvet was "famous" in textile land and was immediately associated with luxury.
The almost extinct Royal Velvet line had been reintroduced by JC Penney and marketed as a premium "vintage" brand that has 125-year-old roots in the American Textile Mills, but yet has undergone another change, being renamed "Wrinkle Guard" sheets. You can find them at JC Penney, as well as finding some discontinued "Royal Velvet" branded sheeting at various other marketplaces.
The Wrinkle Guard sheets have gotten immensely positive reviews, both by customers and professional reviewing teams alike. Fieldcrest branded sheets can be readily found at JC Penney and other vendors, and give you the same premium luxury that the Royal Velvet line did. Sister brand Cannon has sheets available at Kohl's and Bed, Bath and Beyond. Like Fieldcrest, the Cannon name is synonymous with high quality and style.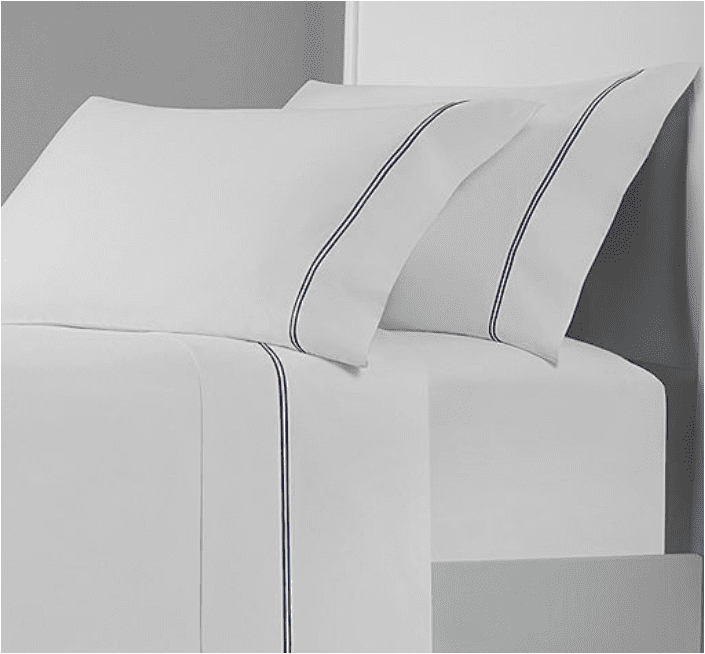 These are some of my favorite sheets! They are so elegant and refined, look so cool and inviting. I just want to get in that bed!
It is polished detail, Fieldcrest Luxury Line, and only available at JC Penney
The material has been verified and certified by OKEO-TEX to Standard 100
Glamourous and terribly soft, made with 100% supple Egyptian Cotton in a 500 thread count
These are Made In Green which means they have been manufactured in environmentally friendly areas, with safe and socially responsible methods
There are many different sheet colors and border stitching colors available!
Coordinating bedding by Fieldcrest is offered by JC Penney!
These can be found at JC Penney!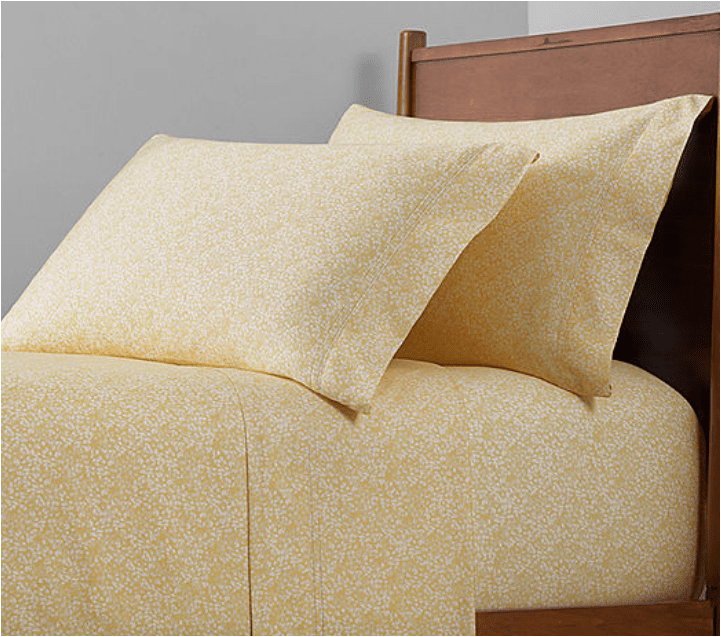 These great sheets and more can be found at JC Penney under the Fieldcrest name.
This 100% cotton brushed fabric is OKEO-TEX certified and continues the quality and style legacy of Royal Velvet sheets under the umbrella of the Fieldcrest name.
Cool, crisp, and soft cotton percale creates an inviting bed to slip into. The airy feel and the substantial fresh feeling of the fabric lulls you into a sound sleep.
The signature style of all the Royal Velvet brand comrades is evident in the bright and cheery yellow floral pattern that becomes more enticing the longer you look at it!
This comes in 10 different styles and colors, making it hard to choose only one! For the price point, you can afford to pick two or more!
A Royal Velvet Sheet Conclusion
Royal Velvet, Cannon, and Fieldcrest are all blessed with a similar heritage and no brands are more well known than these three. Paired together, used as collections of each other, marketed as umbrella brands for each other – all were intertwined with the same commitment to quality, style, color, and durability at an affordable price for the American family. Their bloodline is the same, so if you are buying Fieldcrest or Cannon, you are by default also getting what Royal Velvet stood for, and what is getting harder to find these days when shopping for sheets!
Being rebranded as Wrinkle Guard sheeting by JC Penney does not appear to have decreased Royal Velvet's association with quality. Garnering top reviews for the best sheets in 2022 by independent agencies, and having more than a four out of five-star rating from customers maintains the sought-after legacy of these sheets. One independent reviewer stated that he has chosen the Royal Velvet name and the Wrinkle Guard name for 7 consecutive years as the best buy for the money. Citing a silky drape, and their temperature regulation ability, this reviewer said that Wrinkle Guard sheets outperformed pricier sets every time. Softness, durability, and construction were tops. It's nice to know that while things change, some of the more important things don't!
Wrinkle Guard, Fieldcrest, and Cannon are your one-stop shopping for sheets! Shop confidently knowing that the only choice you will have to make when buying sheets is whether to buy a soft sateen or microfiber fabric (that keeps you warm) or a soft, crisp percale that keeps you cool. Oh, and don't forget about all those colors!