Having grown up in the duvet era, I have been watching the development of the weighted blanket phenomenon with great interest. Finally, while staying at a friend's house, I had the opportunity to try one out for the night. Wow! What a difference!
In essence, a weighted blanket is a blanket that is heavier than others. This weight is often achieved by giving the blanket a filled core. The comfort factor comes in with how the blanket seems to "hold" you while you sleep. Some weighted blankets are warming while others are cooling, giving you thermal control as well. Which is best?
I decided to turn to my usual go-to store—Walmart—for answers, options, and guidance. Join me on this journey under the covers of the best Walmart weighted blankets.
The Workings of a Weighted Blanket
While it may seem simple enough to understand that a weighted blanket is just as its name says—weighted—the mechanics of how and why it works are somewhat more intricate. Our bodies respond to touch.
When we are sleeping under a weighted blanket, we are effectively swaddled like a baby, which creates deep tissue pressure that stimulates the central and autonomic nervous systems. As a result, your brain associates the pressure with comfort and happiness.
Once your brain feels happy, it produces serotonin, which makes you feel good. The result of this is that your brain becomes lulled and produces the hormone melatonin, which helps regulate your circadian rhythms. You will feel tired and naturally want to sleep. This is the beauty of a weighted blanket: it improves your sleep patterns and boosts the quality of your sleep.
Different Kinds of Weighted Blankets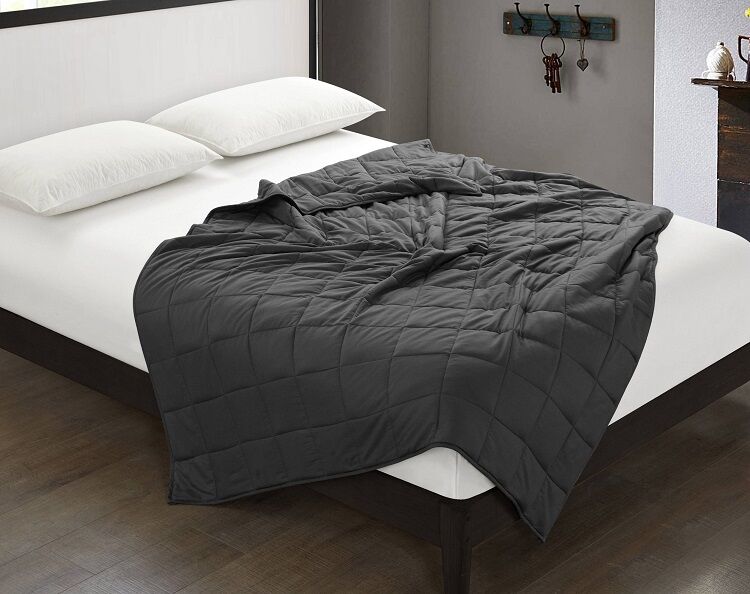 There are different kinds of weighted blankets that are commercially available. Most are classed according to the blanket weight and the quality it has. You may also consider the outer material that the blanket is made from, whether it has a secondary cover to protect the blanket, and what materials are used for the internal weighting.
The more expensive weighted blankets are filled with glass beads, while the more economical blankets are made with plastic beads.
How Do You Choose a Weighted Blanket for Yourself?
When choosing a weighted blanket, you need to weigh yourself. That's right; you need a weighted blanket that is about 10% of your body weight. This will be warm and deep enough to apply the required deep pressure to ease and soothe your body and mind.
For older people (who have lost weight) and younger children (who are still growing), you can add one to two pounds to the final blanket weight. So, if you weigh in at 140 pounds, then your blanket should weigh 15 pounds. For your young child who weighs 25 pounds, you should get a blanket that weighs 3.5 pounds.
If you choose a blanket that is too heavy, you will feel uncomfortable, and it may strain your joints while sleeping. A too-light blanket may not have the same healing benefits as a heavier blanket. However, choosing a lighter blanket over a too-heavy blanket is better.
At the end of the day, the choice in blanket weight is still yours. You should ideally try out a blanket in the weight class you are considering. While a 15-pound blanket may be perfect according to your weight, you may prefer an 18-pound blanket to really swaddle you or a 12-pound blanket to help you breathe easier.
Considerations When Choosing Your Weighted Blanket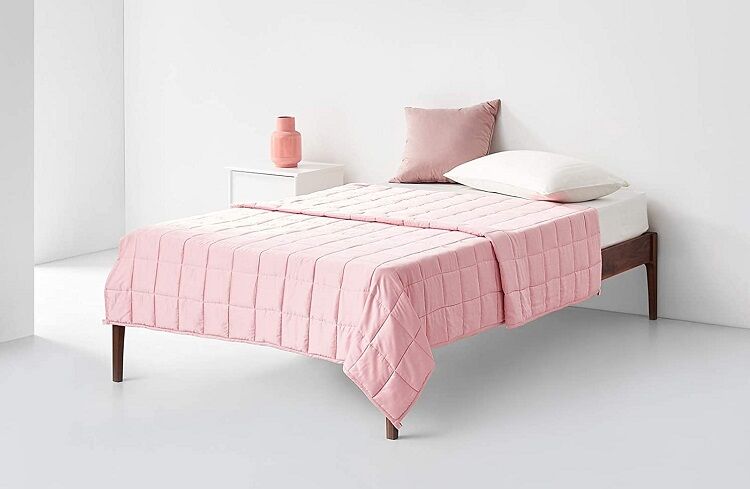 When browsing online for a weighted blanket, it can be somewhat overwhelming. All blankets have lovely visual appeal, and you may find that the pictures of peacefully sleeping people on the packaging can tempt you more than a blanket's specifications. Choose wisely.
Consider the following while choosing your weighted blanket:
Don't take the first best blanket that pops onto your screen when you enter "weighted blankets." Instead, read the actual reviews. It's what I did in my selection, as well as the many other consumers who have purchased a particular product, that can give you a clear picture of what the product performs like. This is more valuable than a four-star rating but no reviews.
Don't settle for an inferior quality product to save a few bucks. While you may want to save costs, you need to ensure you buy the best quality. Look for a product backed by a guarantee or a returns feature, which will let you try the blanket out and get a refund or exchange if the quality is poor.
Cheap is usually not the best, but smaller companies may offer great discounts to contend in a tough market. This means that a more pricey item is not necessarily the best. Weigh up quality and reviews before you dismiss a cheaper blanket. Don't let gasp-worthy prices sway you into believing it must be the best product.
The weighted blanket is more than just a square of warm material. Therefore, it needs to be effectively designed. Consider whether the blanket design will ensure longevity and effective functionality or if it is poorly conceived.
Buyer's Guide: My Criteria for Choosing a Walmart Weighted Blanket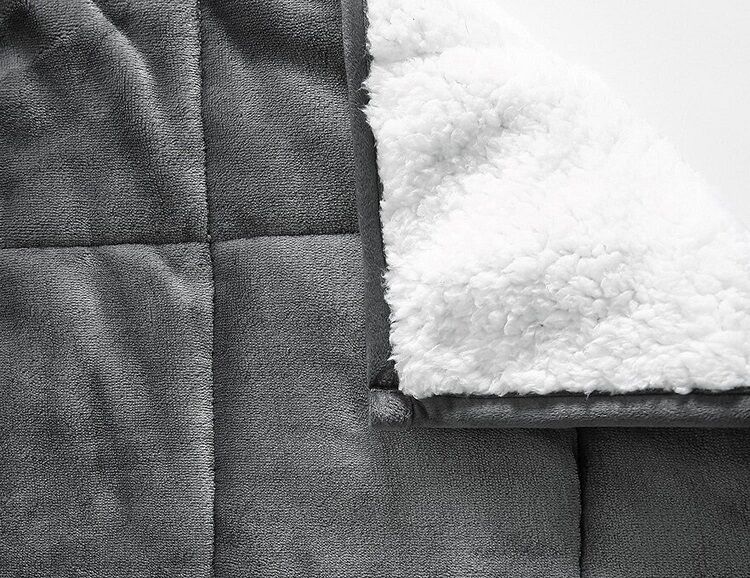 While I considered the above four characteristics, I also kept the following in mind:
When considering a weighted blanket, every pound of weight makes a difference. A 15-pound blanket will sleep very differently from an 18-pound blanket. Sometimes, it is that extra pound that makes the difference between a good night's sleep or an anxious tossing and turning under a blanket that smothers you.
While most blankets would be classed as hot blankets, some weighted blankets are designed to share their weight but not excessive heat. These cooling blankets are thick and plush, but they don't make you feel as if you are boiling in warmer weather. This makes them perfect for hot sleepers.
There is no point in buying a blanket that you can never clean correctly. So I look for a blanket that has been designed to help you keep it clean. This means it comes with a second layer or cover that can be removed and washed.
Since many of the blankets that are weighted contain plastic, it helps me sleep better if I know that plastic has been sourced responsibly. Weighted blankets offer a great way to recycle plastics into the plastic balls that weigh the blanket down. Even some of the fibers are made from recycled plastic, producing a soft-touch fabric.
The blanket will be fitting over your body like a second skin, and while this is intended to be comforting, it can also cause anxiety. Be sure to check whether it's a comforting contact or if the blanket feels uncomfortable. You need a weighted blanket to feel like a soft and comforting hug, not someone squeezing the life out of you.
The Best 5 Walmart Weighted Blankets Choices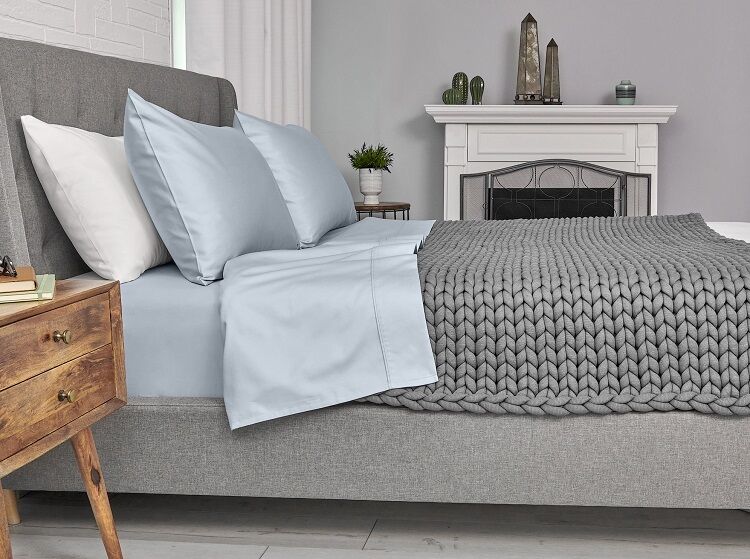 Cost is often a huge factor, so we've marked the prices for you as follow:
$ = Under $50
$$ = Under $70
$$$ = Under $100
Best Basic Walmart Weighted Blanket – Well Being Weighted Blankets Traditional Gray Solid Polyester Bed Blanket
Well-made with individual pockets to keep beads evenly spread.

Fairly priced

Large enough size to be used as a full blanket

Rating: 4.3
Price Point: $$
Most Effective Temperature Balancing Weighted Blanket – Tranquility Temperature Balancing Weighted Blanket with Washable Cover
Separate layers that add softness, weight, and climate control with the cover that negates excess heat

The removable outer cover is washable.

90-day returns policy

Rating: 4.1
Price Point: $$
Best Brand Weighted Blanket – Sealy Weighted Blanket with Removable Cover
Comes with an outer cover

Available in two weight sizes

Lifetime guarantee

Rating 4.8
Price Point: $$$
Best Knitted Weighted Blanket – Tranquility Knitted Weighted Blanket, 12lb
Knitted for even weight distribution

Soft and cuddly

No glass beads that move unevenly

Rating: 4.7
Price Point: $$$
Best Wearable Weighted Blanket – Sutton Home Fashions Weighted Blanket with Hood, 10lbs Velvet Throw with Sherpa Fleece Lining
Wearable

Non-weighted hoodie

Sherpa lining

Rating 4.3
Price Point: $$
The 5 Best Walmart Weighted Blankets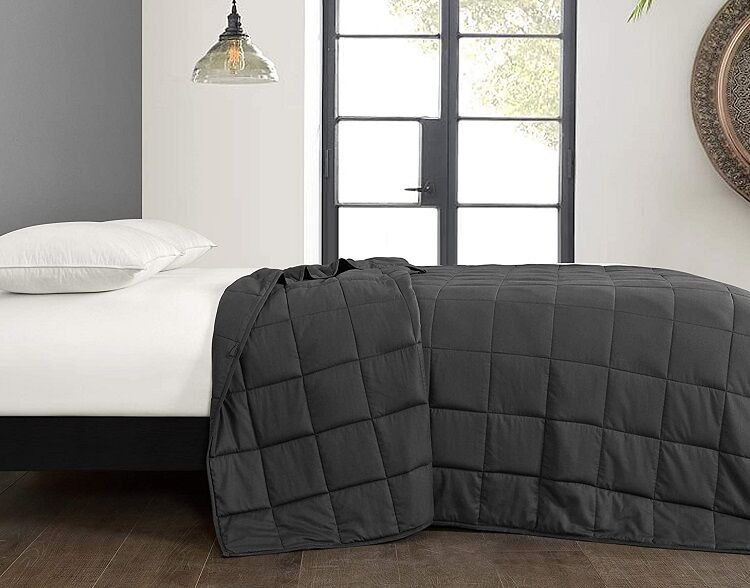 If you're looking for a basic entrance into the world of weighted blankets, then the Well Being Weighted Blankets Traditional Gray Solid Polyester Bed Blanket is the ideal option for you.
Pros
Affordably priced

Cubed pockets ensure even weight distribution

100% polyester, which is wipeable for spot treatment

The filling is high quality at 64% glass beads with 16% polyester padding, ensuring a healthy ratio of beads to padding

The choice between 12 and 20 pounds weight

Comfortable

Soft to the touch

Double-stitched and taped edge to ensure no glass beads are lost during use

Soothes and alleviates anxiety, ensuring peaceful rest
Cons
After some use and fabric stretching, some reviewers found the pockets had worn through, and glass beads fell out

12 pounds weight only available in smaller size blanket

The size is not full-size as indicated, though it still covers the top of the bed

Not washable, which can be a problem if you don't use a second cover
I rather enjoyed the feel of this weighted blanket, and while you can definitely sleep under it as is, I would recommend adding in a blanket cover to protect it and prevent unnecessary wear and tear to the blanket.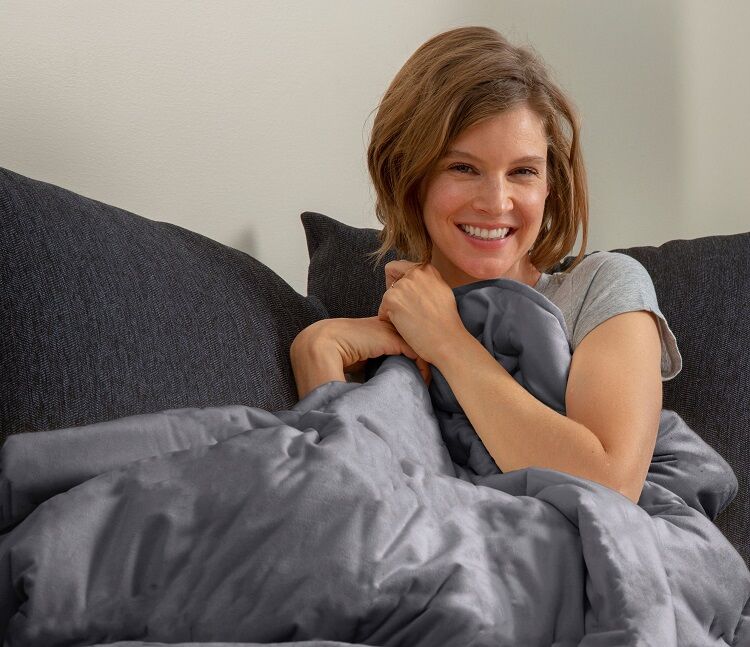 The whole point of a weighted blanket is comfort and relaxation. It's hard to be relaxed if you are sweating and uncomfortable, which is why having a weighted blanket that is temperature balancing is such a good buy.
The Tranquility Temperature Balancing Weighted Blanket with Washable Cover is both practical and offers climate control with the unique polyester fabric cover.
Pros
Microplush fabric that is soft to the touch and balances temperature is used for the easy-clean cover

The outer cover is machine washable

The inner blanket has loops to secure it in the cover

Inner is 93% glass beads and 7% polyester batting for softness and weight

Inner is only cleanable with spot treatments and shouldn't be washed, dry cleaned, or tumble dried

Available in four weight categories: 12, 15, 18, and 20 pounds

Well-priced
Cons
Not suitable for children

No individual pockets for beads, which leads to uneven weight distribution

Loud when the sleeper turns, which can keep a partner out of sleep

When the blanket becomes unevenly weighted, it places strain on the seams and ties
While this blanket comes highly recommended, there are definitely some issues I picked up on. Yes, the microbeads do collect on one side of the blanket when you turn over. For me, this was an asset as I could comfortably wedge my back against this lumpy roll that had formed. However, the next morning, I had to try and balance the blanket again, which was hard.
With a washable cover, the Tranquility blanket has a leg up on the Well Being blanket. I had a few other blankets to try, so I didn't give up just yet.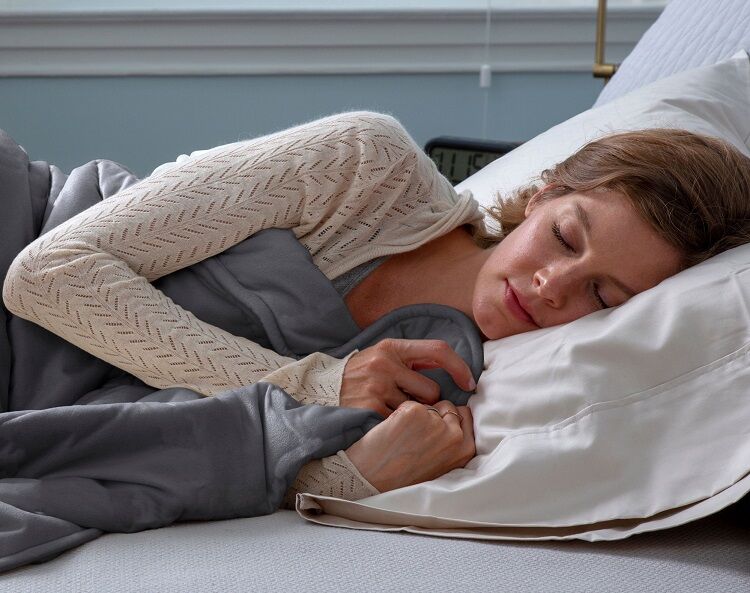 We all know that Sealy means quality, and the Sealy Weighted Blanket with Removable Cover doesn't disappoint. It is well-rated, well-made, and well—it just does the job. I loved my night's rest under the Sealy weighted blanket, and here's why:
Pros
Quilted inner ensures even weight distribution

Glass beads remain in place in the quilted pockets of the inner

Washable outer cover included

Inner is protected by an outer cover

The outer cover is easily removed for cleaning

Available in 15 and 18 pounds weight capacity

One review noted that the blanket "comforts your body as needed," which sums up what a weighted blanket is all about
Cons
The microbeads do move, which can be unsettling

Animals and small children may find the blanket unsettling with the bead movement

With the soft outer cover, the blanket can be quite hot and is best suited for cold weather
Like many consumers, I trust a brand I know, and with Sealy's lifetime guarantee, I am quite enamored with their weighted blanket. It's comfortable and well-made. The only issue I have is that it's only available in two weight categories, which is a problem if you're not the right weight for those.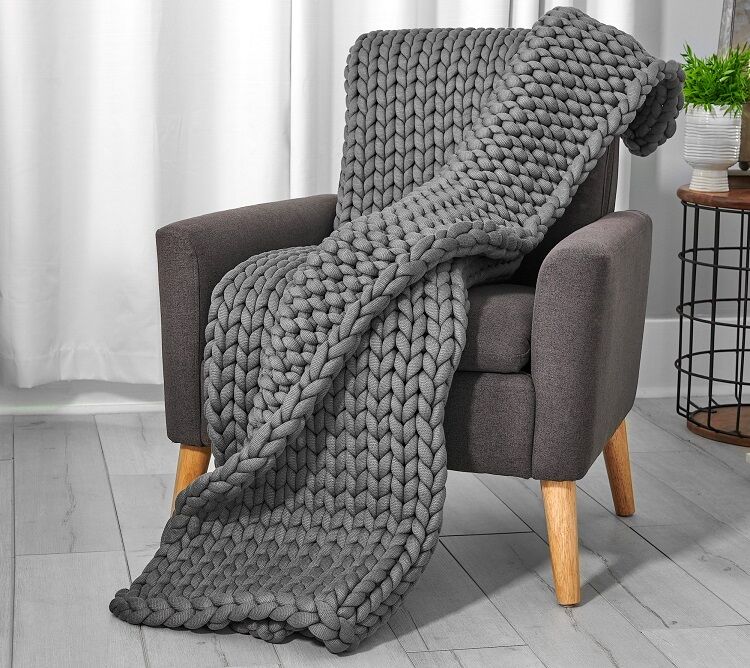 If you're not keen on all these shifting "sands" that the glass beads weighted blankets offer, then a different option is the Tranquility Knitted Weighted Blanket, which is knitted for extra weight.
Pros
Large cable knitted pattern is visually appealing

A knitted blanket distributes weight evenly

Large and luxurious

Warming without overheating sleeper

The warm and comforting feeling of being held when wrapped in this blanket
Cons
Limited weighting, which may not suit heavier sleepers

Only spot cleaning is allowed, which can be a problem since there's no outer cover

Knitted texture can hook and snag on objects, which can lead to pilling

Sized for a single sleeper; a couple would need a larger one or two
Maybe I'm a bit old-fashioned, but I really like a knitted blanket. It makes me feel held and loved, as if grandma made it.
So I really liked this knitted weighted blanket. It may not provide as much weight as the woven ones, but the additional comfort of the soft-touch texture makes it well worth it; plus, it looks great when you drape it on your bed during the day.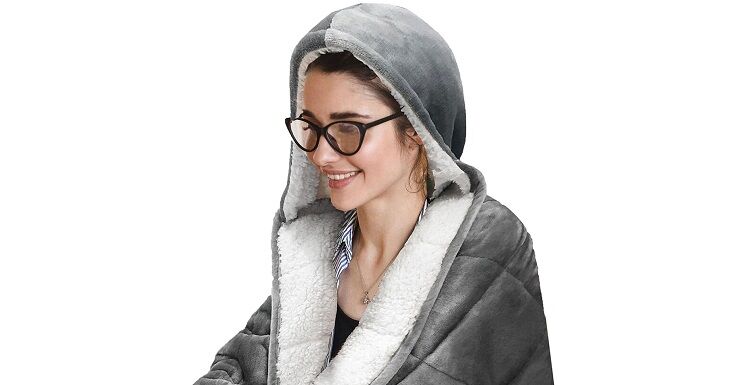 Okay, let's face it, a blanket isn't just for covering your bed. Most of us also lounge about under it, wrap up in it, and even wear it when it's cold, or we need that extra comfort. The Sutton Home Fashions Weighted Blanket with Hood, 10-pound Velvet Throw with Sherpa Fleece Lining is the ideal mix of blanket and hoody.
Pros
Combines the comfort of a 10-pound weighted blanket with a wearable hoodie, totaling 12.08 pounds

Sherpa lined for extra comfort

50 x 60 inches in size

Ideal for a throw or bed blanket

No pressure on the hood, which is not weighted

Glass beads are sewn into quilted pockets for even weight distribution

Comfort and warm support on the move

Ideal for someone who works from home
Cons
The weight can be inconvenient when you're moving around a lot

Hoodie needs sleeves to keep weight in place

Not washable; spot clean only
This is a weighted blanket with a twist: you can wear it. The only problem is that if you wear a blanket, you would need to clean it more frequently. If you tend to overheat quickly, this blanket-hoodie won't work for you. It makes an excellent gift, though.
Weighing in With the Final Verdict
All of these weighted blankets have something appealing to consider. Which weighted blanket would you choose?