Quality bedding is not something you can skimp on. Sure, you might be able to find a set of sheets for $20 at a discount store, but how long are they going to last? How long before the color fades and the seams start to separate? Cheaply made sheets may suit your budget but they're not durable and they definitely aren't as comfortable as sheets made from quality materials.
If you're in the market for new bedding, skip the home goods store and head online. Direct-to-consumer companies like Boll & Branch and Brooklinen are changing the game. Using high-quality materials and thoughtful construction processes, these companies deliver comfort and quality.
Because you spend roughly one-third of your life in bed, we understand wanting to make an informed decision about your bedding. In this guide, we'll take an in-depth look at two of the top bedding companies on the market, Boll & Branch vs Brooklinen. You'll learn everything you need to know to determine which option is best for you and why.
Boll & Branch Overview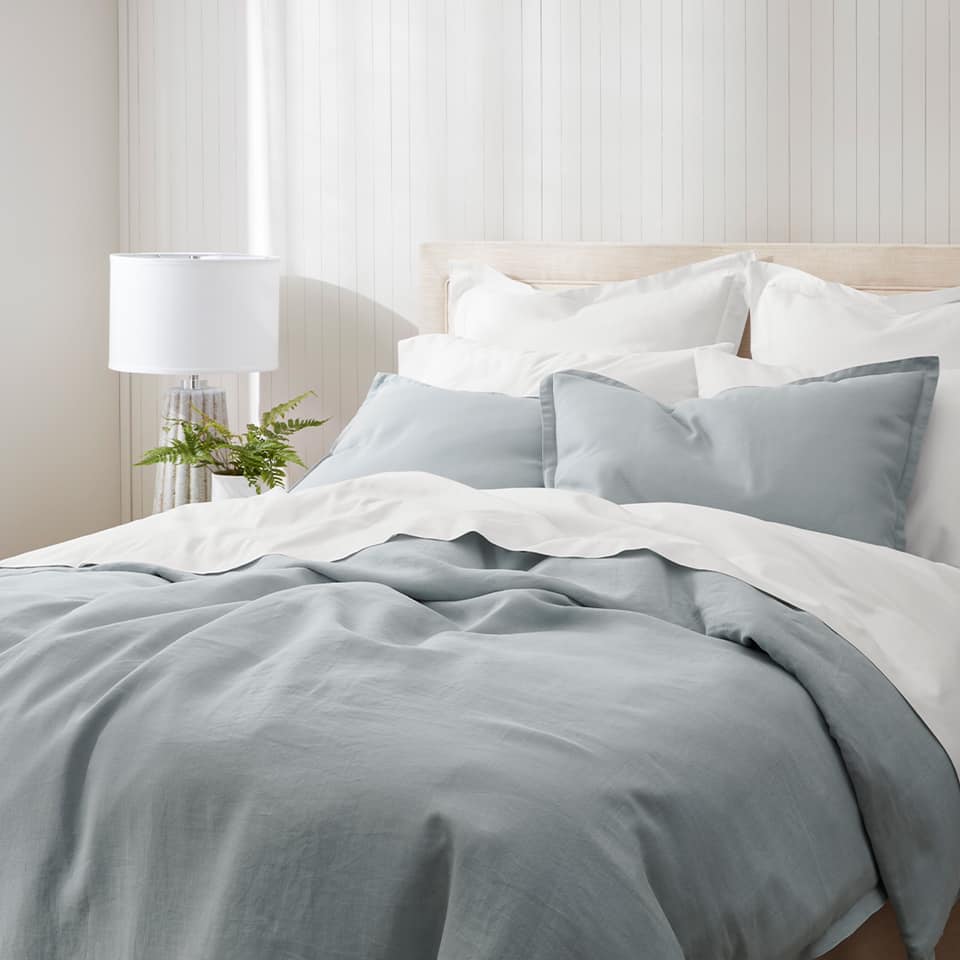 Crafted for the common good, Boll & Branch was founded by Scott and Missy Tannen in 2013. This brand prioritizes quality, using only 100% organic cotton and other OEKO-Tex Certified materials in their bedding. All materials are verified by third parties, and they only use Fair Trade cotton, ensuring that farmers and factory workers receive living wages.
If transparency is just as important to you as comfort and quality in a bedding brand, Boll & Branch is one to consider. When it comes to their sheet sets, Boll and Branch currently offers five product lines. These lines are divided into the following five materials:
Signature

Percale

Flannel

Luxe

Chambray
One of Boll & Branch's most popular products is their Signature Hemmed Sheet Set. Lightweight, super-soft cotton gets an upgrade in comfort with a smooth, sateen weave. If you're a hot sleeper, you might prefer the crisp and cool feel of percale. It's smooth and structured by very lightweight.
For four-season comfort, consider the chambray material which delivers the ideal balance of softness and structure all year-round. Flannel is perfect for cooler weather while the Luxe line brings together the luxury of premium organic cotton with a timeless aesthetic and a silken feel.
Brooklinen Overview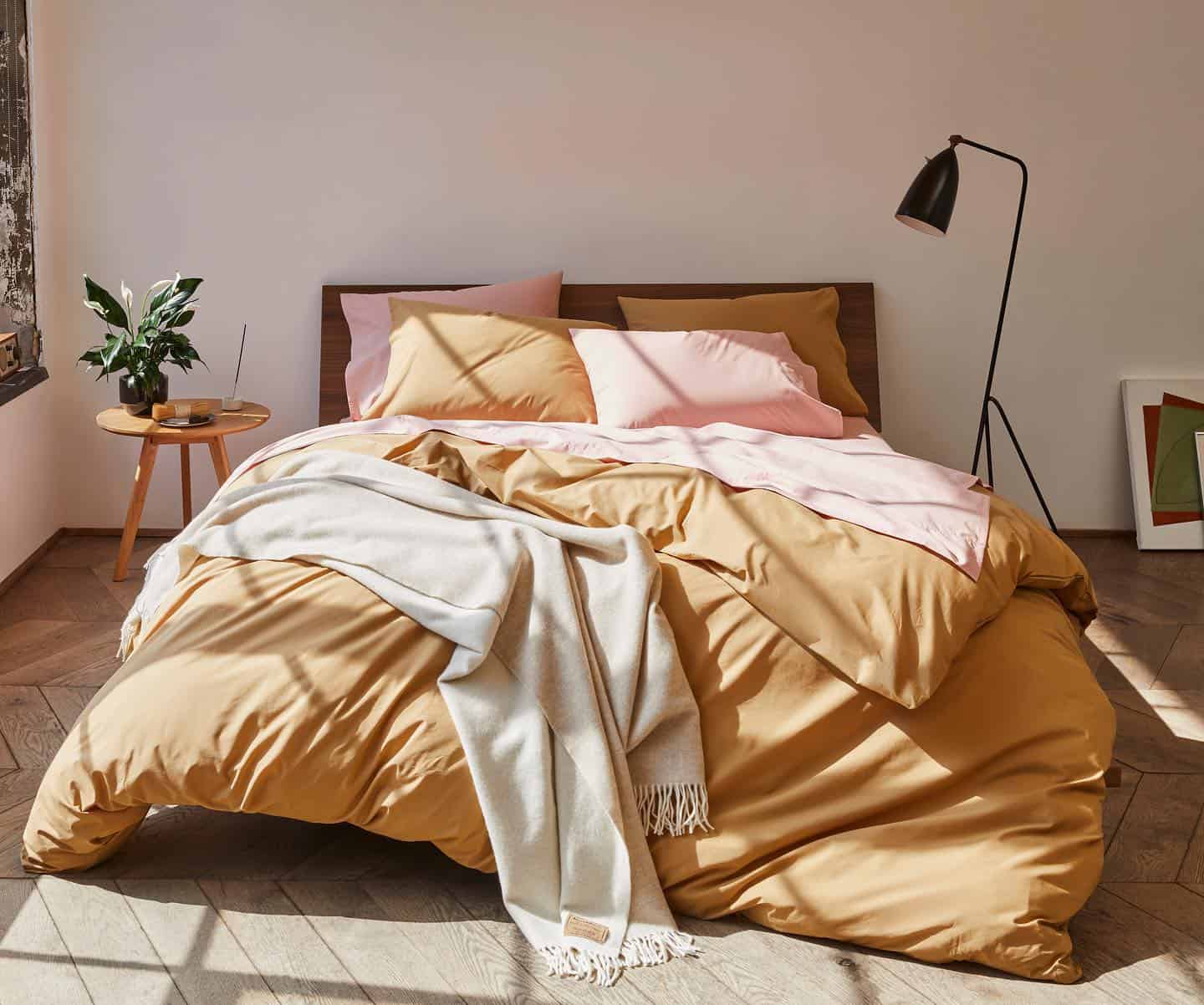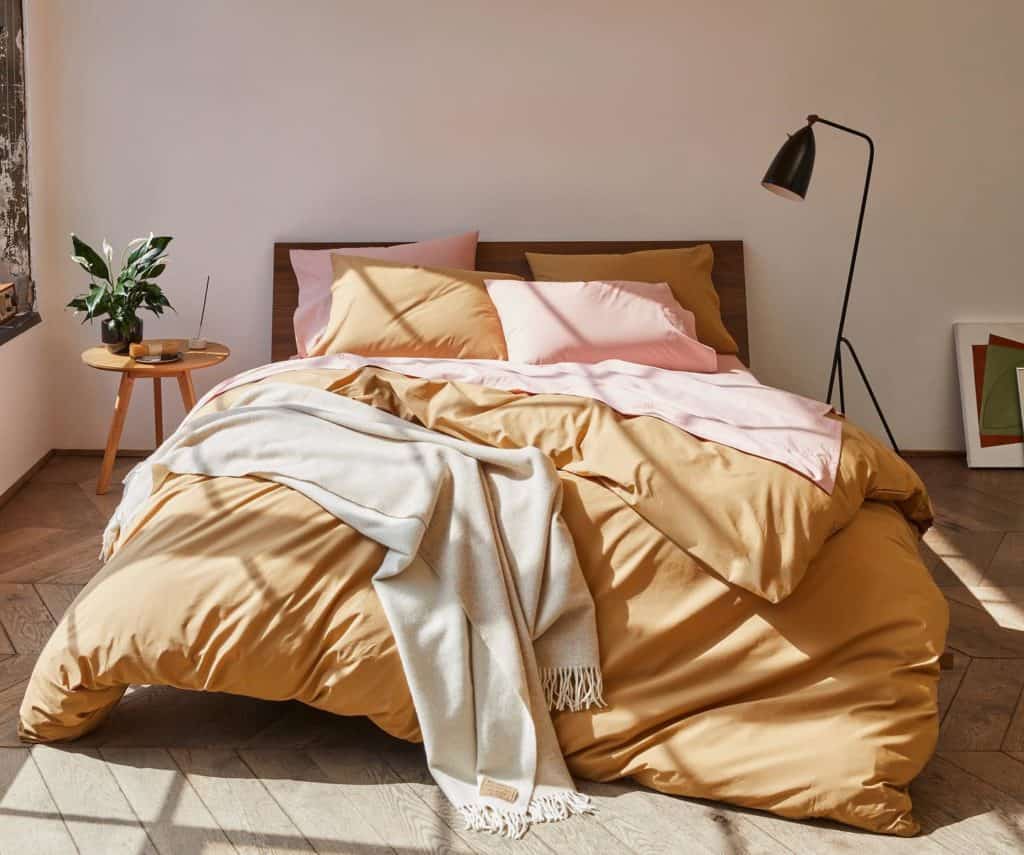 Like Boll & Branch, Brooklinen was founded by a husband-and-wife duo. Rich and Vicki Fulop set out with a goal of creating an affordable bedding brand that offered both style and comfort to their customers. Brooklinen seeks to offer simplicity without compromising on quality and style. By cutting out the middleman and selling directly to consumers, they're able to offer competitive pricing.
Brooklinen founders Rich and Vicki searched the globe for high-quality materials and trustworthy manufacturers. Rather than chasing trends, they've curated a collection that is timeless but with products that work within a wide range of personal preferences.
When it comes to their products, Brooklinen offers an impressive variety of bedding solutions as well as loungewear, shower curtains, beach towels, and more. Their sheet sets come in the following materials:
Classic percale

Luxe sateen

Washed linen

Heathered cashmere

Brushed flannel
Classic Percale is perfect for warm sleepers, designed to keep you cool all night long. If you're looking for a touch of luxury, the smooth buttery feel of Luxe Sateen might be up your alley. With a 480-thread count, these sheets are rich and lustrous.
For those who sleep cool, the Heathered Cashmere line might be appropriate. These materials are lightweight, combining the comfort of cashmere with the breathability of cotton. Finally, the Washed Linen line gives you that comfy "lived in" look but is sure to keep you warm in winter.
How Do They Compare?
If you're looking for high-quality, luxurious bedding, both Boll & Branch and Brooklinen are likely to strike your fancy. Both use high-quality materials and focus on thoughtfully designing and carefully crafting their products. Whether you're looking for something that delivers timeless appeal or something a little more unique, you'll find options available from both brands.
The Materials
One of the primary differences between Boll and Branch vs Brooklinen is in the materials they use. Boll & Branch uses only 100% organic cotton. It is largely sourced from Orissa, India, though the cotton for their flannel line comes from Turkey. While Brooklinen uses cotton as well, it is not organic.
Brooklinen offers a little more variety in terms of materials than Boll & Branch, though both offer classic options like percale and sateen. Brooklinen offers a lightweight, casual washed linen fabric made from 100% Belgian and French flax as well as brushed flannel.
Comfort and Feel
Because both companies use high-quality fabrics, you can expect their products to be exceedingly comfortable. That being said, your personal preferences will come into play when choosing a specific material. All of Brooklinen's materials are breathable, but some sleepers may find them a little heavier in terms of feel than Boll & Branch sheets.
Boll & Branch sheets may sleep a little warm for some and they may not hit the mark on comfort as much as Brooklinen, depending which material you choose. There is something to be said, however, for the fact that their materials are 100% organic.
Variety and Value
If you're looking to create a unique and personal aesthetic in your bedroom, both Boll & Branch and Brooklinen have options for you. Boll & Branch offers classic colors as well as more flamboyant prints and their flannel line includes options like vintage plaid and buffalo check. Brooklinen's color choices and prints are a little simpler, but they still offer variety.
Which Brand is Right for You?
Now that we've taken a closer look at Boll and Branch vs Brooklinen, you should have a better idea which one suits your style and preferences. Both bedding companies sell directly to the consumer, so you can conveniently shop online, and both offer free returns. Brooklinen's return period is significantly longer at 1-year compared to Boll & Branch's 30-day period. Brooklinen also offers a lifetime warranty.
Boll & Branch Might Be Right for You If…
You're looking for organic materials and are willing to pay for them.

You want a wide variety of designs and color choices.

You sleep cool and want something warm but breathable.

You're confident in your choice and don't need a long return window.
Brooklinen Might Be Right for You If…
You like the feel of heavier sheets – some materials are heavier than others.

You tend to sleep cool and want lightweight, breathable fabrics.

You want the protection of a lifetime warranty and 1-year return period.

You're looking for designs and color options that are out of the ordinary.
Bottom Line
Both Boll & Branch and Brooklinen offer high-quality bedding, so you really can't go wrong with either brand. That being said, there are some significant differences in terms of materials, pricing, and return flexibility. Boll & Branch offers organic luxury with a classic aesthetic while Brooklinen goes for softness and warmth as well as competitive pricing.
When choosing bedding, the final decision is yours to make. We've covered the basics about these two brands to help you understand the differences, so use this information combined with your personal preferences to determine which is the right fit.