The long lifespan of tempurpedic pillows comes from excellent quality and durability of the materials used to produce them. However, it also depends on how well they are maintained.
With proper care and maintenance, tempurpedic pillows can last for much longer. They are designed to be flexible and robust and their sturdiness does not wear off so easily. To better understand how to get the most from your tempurpedic pillows and make them last longer, we have compiled this information that you will find useful.
How Long Do Tempurpedic Pillows Last?
Tempurpedic pillows can last for five years or longer. The Tempurpedic pillow lifespan depends largely on its quality and maintenance. It does not matter how expensive it is; if used carelessly, your pillow will break or clump within only a few months or less.
Improper handling of tempurpedic pillows will affect their longevity and the average five-year warranty will not matter if your pillows have been manhandled. TEMPUR pillows all come with a minimum of five-year lifespan. This includes pillows such as essential support pillow, cloud pillow and symphony pillow.
Although tempurpedic pillows cost much more than regular synthetic and memory foam pillows, they offer excellent comfort and support while you sleep at night. This is precisely why they are designed to last longer.
Tempurpedic pillows, like TEMPUR Cloud® Pillow, have also grown in popularity recently after their several health benefits were known. Users claim that with adequate care, these pillows can last much longer than just five years without losing their shape and impeccable quality.
In comparison, synthetic pillows and ordinary memory foam products may be of use for only two to three years at most. They lack the same density and malleability of tempurpedic pillows. They also lack the same health benefits and comfort levels; thus, they are manufactured to only last a couple years or less.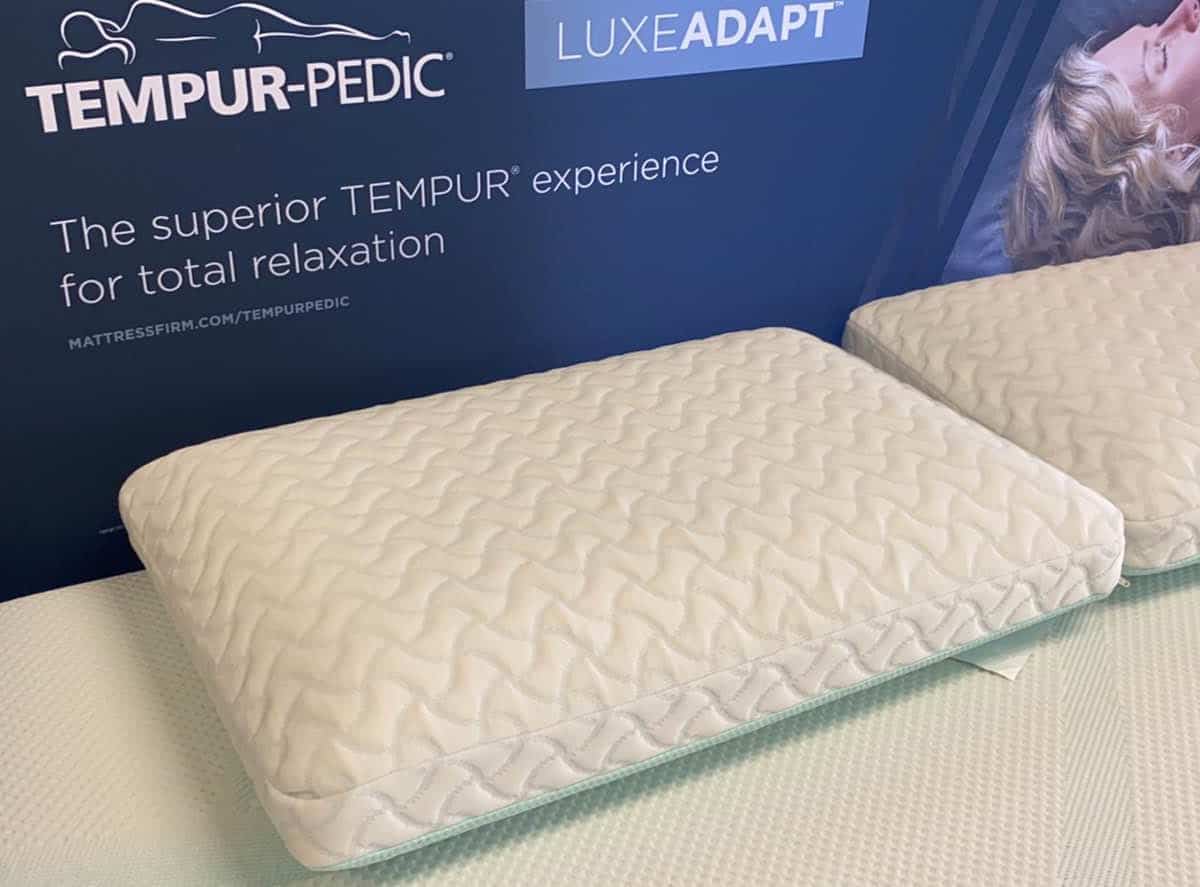 How to Care for Your Tempurpedic Pillows to Increase their Lifespan
Although tempurpedic pillows are resistant and long lasting, they are easily damaged if not handled correctly. Therefore, it is crucial to follow a proper care routine for TEMPUR pillows in order to reap all their benefits to the fullest.
Several pro-tips can be followed to keep your pillows in good shape for years. The most basic thing to increase the longevity of your tempurpedic pillow is using zip-up or buttoned pillow covers to prevent accumulation of dust mites, bacteria, and other allergens.
The purpose of pillow covers is to keep the pillow insert clean and mildew-free. Tempurpedic material and filling cannot be washed, or it will disintegrate. Therefore, it is strongly recommended to always use zipper pillow covers to maintain the proper quality of these expensive pillows.
By preventing the growth of dust and bacteria, the pillow cover protects you from harmful germs and keeps the insides clean and hazard-free.
You should be careful when storing away or traveling with your TEMPUR pillows as well. Incorrect storage method can easily destroy the tender fiber filling and your pillow will no longer hold its shape. Most people do not think that storage of a tempurpedic pillow has a significant impact on its lifespan, but we are here to inform you that this is a common misconception!
Never pack away your tempurpedic pillows in plastic bags. These pillows need ventilation and proper air flow. Plastic does not allow sufficient air to flow through the fibers and traps all traces of moisture and dirt within, damaging the pillow. You should also avoid vacuum space saver bags as they may deform the filling of the pillow.
Lastly, the most important step to remember when washing and cleaning your tempurpedic pillows is implementing the proper cleaning techniques. Washing them in the machine will completely break down the foam filling, so spot-cleaning is the next best alternative.
To ensure the longevity of your special pillows, use a damp white towel to press on any stains. This will soak up the spill without the need for a wash. Be sure to always air dry tempurpedic pillows after you have cleaned them.
Another important step to keep in mind is to always be gentle! Tempur pedic pillows do not respond well to harsh twisting or scrubbing. Simply place your pillow outside for a few hours on a warm, sunny day. Use your hands to roll and unroll it like a sleeping bag to enhance ventilation and air flow.
Never put tempurpedic pillows in the dryer. Air drying is the most effective way to rid them of any excess moisture. Caring for your special pillows means drying them properly so the filling does not become a breeding ground for bacteria and mildew.
You should carefully read any instructions provided with your tempurpedic pillows and tempurpedic mattresses and be sure to follow them as such to increase their lifespan.
Tempurpedic Pillow Warranty
Tempurpedic pillows come with a five-year limited warranty. These pillows are made with superior quality materials and unmatched standards so you can be sure that your tempurpedic pillow will be durable.
Despite these fantastic claims, things can always go wrong. To protect its users against defects, warranty is provided.
This product warranty guarantees that in case of any damage, your tempurpedic pillow can be replaced or repaired within the five-year period. Faulty materials or problems with workmanship, subject to the limitations of the warranty, also makes you eligible to get a replacement.
Warranty for TEMPUR pillows usually covers physical flaws that may cause cracking or crumbling of the material despite proper usage. It also covers disintegration of the internal cell structure of the delicate material that keeps the pillow from going back to its original shape.
Frequently Asked Questions
How often should you replace a Tempurpedic pillow?
With proper care and maintenance, tempurpedic pillows won't require replacement for at-least 5 years. However, there are signs that tell it is time to replace your pillow.
Firstly, you should replace your tempurpedic pillow as soon as you notice that their ability to contour and mold to the shape of your neck and shoulders is no longer functionable. This is normal as after extended use you may find that the tempurpedic pillow has begun to lose its shape. This may cause you to struggle to sleep and you know that a new pillow is definitely what you need.
Avoid replacing your tempurpedic pillow if it passes the folding test. Place something heavy on top of your pillow and observe if it returns to its normal shape after a few minutes. If it does not, then you can benefit from purchasing a new tempurpedic pillow.
If none of these problems seem apparent, then there is no need to spend money on a new pillow!
Do TempurPedic pillows get softer over time?
Tempurpedic pillows do get softer over time. In fact, to fit the shape of your neck, head, and shoulders, they start to lose their firmness within the first thirty to sixty days. This is not a bad thing at all, as new tempurpedic pillows can be too firm for some users.
The memory foam reacts and adjusts to your body shape. Once the pillows have settled according to the contour of your neck, they will remain as such for some time. Depending on the usage, they will begin to soften as the years go by.
Excessive heat from electric blankets or other such contraptions can quicken this process. Memory foam is reactive to heat and may soften or collapse if exposed to high heat for long periods of time. When using electric blankets, limit the usage time to keep your tempurpedic pillow from getting deformed.
If you find your tempurpedic pillow too firm or hard, do not worry! After the initial adjustment period, these pillows get softer and more comfortable.
Are TempurPedic pillows worth it?
Tempurpedic pillows are definitely worth every penny! While maintaining them might be a bit of a taxing chore, they do offer superior comfort and last you a long time.
Tempurpedic pillows are impeccable for odd aches and pains around your head, neck, and shoulder areas. They are sturdy and bacteria free with the protection of the pillow cover.
They are durable, aesthetically pleasing, and provide solutions for a variety of problems such as headaches, sleep apnea and breathing difficulties, etc. Tempurpedic pillows also last for five years or more, which is far more than other memory foam offerings and cheap synthetic pillows.