At the end of a long day, nothing feels better than flopping down on the bed and pulling the sheets up to your chin. If you're still sleeping on cheap, scratchy sheets, however, that feeling may not be quite so satisfying. If you've found yourself looking to upgrade to something better you may have come across these two luxury brands, so we dive into Parachute vs. Buffy here.
Online bedding companies like Parachute and Buffy make it easy to find high-quality bedding solutions without leaving home. These companies sell directly to the consumer, and you have the flexibility to shop by style, material, or price. Whether you're looking for a company that values sustainability or you have a particular aesthetic in mind, one of these companies might be the right pick.
Choosing a bedding brand can be tough, so we've done the work to make your choice a little bit easier. We've evaluated two of the top bedding companies on the market to bring you a simplified breakdown. In this guide you'll find the details about Parachute vs Buffy so you can easily decide if one of these brands is the right pick for you.
Parachute Overview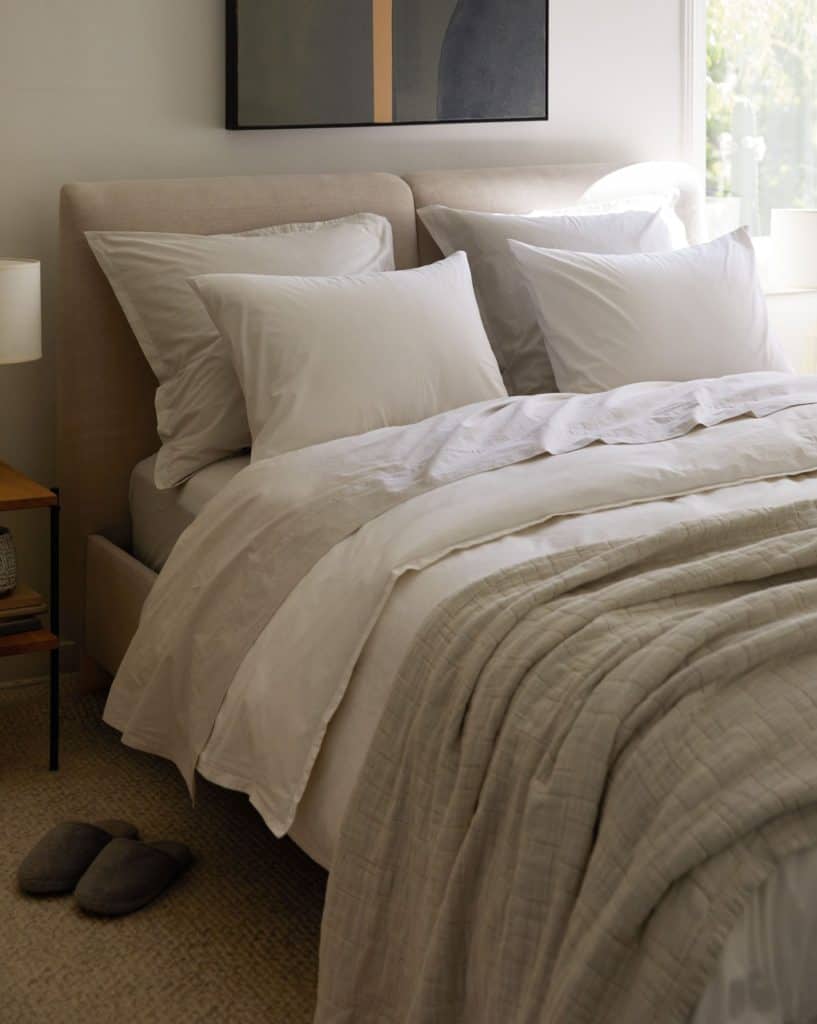 The founder of Parachute, Ariel Kaye, believes that when you take care of your home, it takes care of you. That's why the brand focuses on premium quality. Ariel Kaye founded Parachute when she noticed a lack of convenient, competitively priced bedding options on the market. With her background in advertising and brand development, Parachute blossomed into life in 2014.
Parachute offers a wide variety of products for bed and bath. In addition to sheet sets and separates, they sell duvets, towels, robes, and loungewear. Parachute even offers their own line of mattresses so you can outfit your entire bedroom in one go.
When it comes to their bedding, Parachute uses the following materials:
Both derived from premium cotton, percale and sateen are classics. Percale sleeps cool with its smooth, structured feel while sateen adds a touch of luxury with a rich, lustrous finish. For cool sleepers, brushed cotton offers the cozy comfort of flannel. If you prefer something a little more casual, you might like the linen line of products which is just as soft and comfortable but has that lived-in look.
Buffy Overview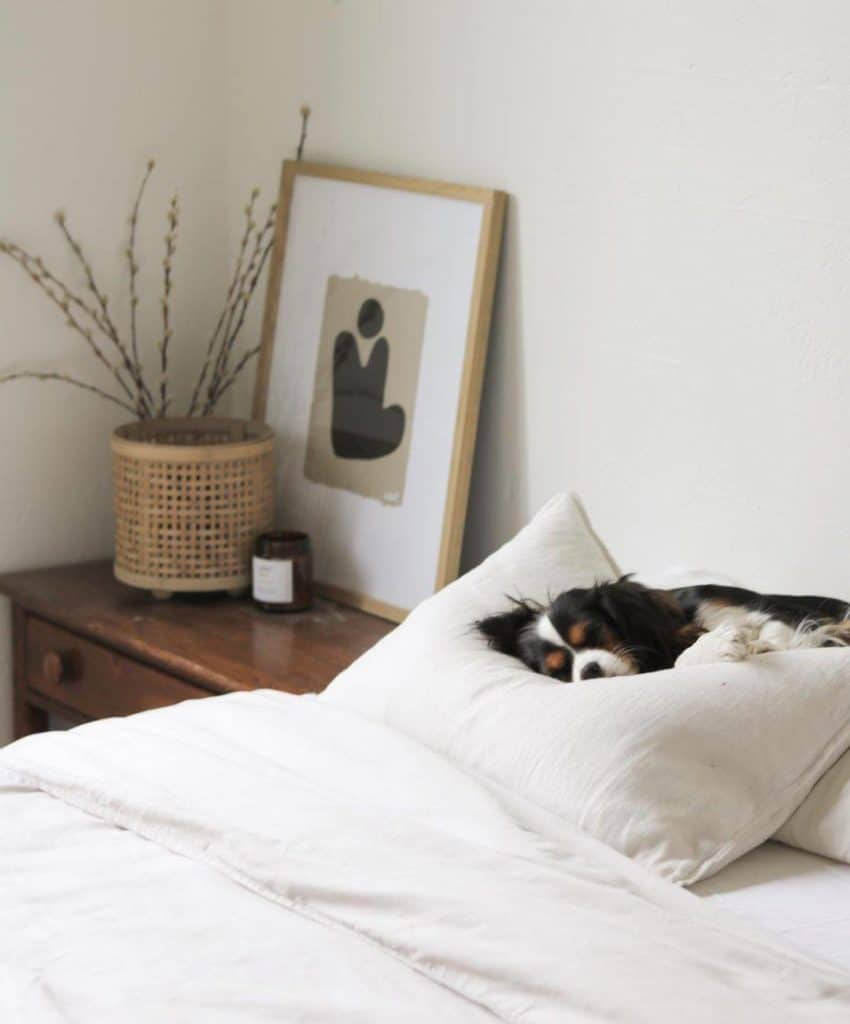 If you're in the market for bedding that's as good for the planet as it is for you, you may want to consider Buffy. Founded by Leo Wang, Buffy is a pro-planet company that uses only sustainable and eco-friendly materials. Their products use significantly fewer resources than cotton, but they still offer a cozy and comfortable feel that anyone can appreciate.
Buffy first entered the bedding industry with what they called the "world's most comfortable comforter." Today, their offerings have expanded to include multiple comforters and blankets as well as sheet sets, pillowcases and duvet covers. All of their products are made from thoughtfully chosen, sustainably sourced materials.
Here's a quick list of some of Buffy's eco-friendly materials:
When it comes to their bedding, Buffy's two primary textiles are hemp and eucalyptus. While hemp has become a popular material for bedding, eucalyptus is somewhat unique. This material is lightweight and naturally soft, making it a great choice for hot sleepers. It even absorbs moisture more efficiently than cotton to keep you cool and dry all night long.
How Do They Compare? Parachute vs. Buffy
Before deciding between Parachute and Buffy, it's important to learn a little more about their products. Think about the quality of the materials, the comfort and feel, the variety the brands offer and the pricing. We've put together a quick comparison of the two brands below in each of these categories.
The Materials
One of the major differences between Parachute vs Buffy is visible in their materials. Most of Parachute's materials are cotton-based, including classics like percale and sateen as well as cozy brushed cotton. The only departure from these materials is their linen which is made from flax. All of Parachute's materials are OEKO-Tex Certified and their products are made in Europe.
Buffy doesn't offer as much variety in their materials as Parachute because their primary focus is sustainability. Their bedding is made from one of two main materials: hemp linen or eucalyptus lyocell fiber. Both materials are much eco-friendlier than cotton but still offer a soft, comfortable feel.
Comfort and Feel
Parachute bedding really delivers in the comfort department. Whether you sleep cool or you like to bundle up in something cozy at night, there's an option for you. Buffy's bedding options are less varied, but they still sleep nice and soft. Both options are fairly lightweight as well, so they may be a better choice for people who sleep warm.
Neither Parachute nor Buffy use synthetic softeners, so their products will soften naturally over time with each wash. What it really comes down to is your personal preference for feel. If you prefer the classic feel of cotton, Parachute may be a better choice. If you're open to different textures, you might find that you like Buffy's hemp linen or eucalyptus bedding.
Variety and Value
When it comes to product variety, Parachute definitely has a leg up on Buffy. Not only does Parachute offer mattresses, loungewear and bath solutions, but they have four different materials to choose from with their sheet sets. Buffy's bedding only uses two textiles: hemp and eucalyptus. Buffy may be a bit more limited in terms of color options as well.
In terms of pricing, both Parachute and Buffy are supposed to be competitive. Parachute offers a wide variety of bedroom bundles to help optimize savings and Buffy sells "essentials" sets which include a sheet set, duvet cover and extra pillowcases.
Which Brand is Right for You?
Now that you have the details about how Parachute differs from Buffy, you should have a better idea which brand is a better fit for your style and preferences. Because both bedding companies sell directly to the consumer you can shop online without having to visit a store (though Parachute does offer that option, depending on where you live).
Both companies also offer free returns for a certain period of time. Parachute's return period is a little longer at 60 days compared to Buffy's 30-day period. If you're still not sure, check out some of the key points below that might help you make your decision:
Parachute Might Be Right for You If…
You don't mind paying a little bit more for comfort and quality.

You're looking for a bedding company that offers a variety of materials.

You appreciate a minimalist aesthetic with your bedding.

You want a company that offers a one-stop shop solution (including mattresses).
Buffy Might Be Right for You If…
You value eco-friendliness and sustainability above all else.

You're looking for bedding that is casual but comfortable.

You want competitively priced products without sacrificing quality.
Bottom Line
You can't put a price on a good night's sleep, but that doesn't mean you have to spend a fortune on bedding. That being said, it's well worth spending a few extra dollars for quality materials. If you're looking for a bedding company that puts a lot of thought into their products, we can heartily recommend both Parachute and Buffy.
What it really comes down to in deciding between Parachute vs Buffy is your own personal preference. Think about your sleeping style, your aesthetic preferences and your budget to make your own decision. Take what you've learned about these two brands combined with your preferences and you'll have no trouble deciding which option is the best fit.