Making highly durable, soft, and beautiful sheets at a modest price is the hallmark of Wamsutta and a very big reason why it remained the top choice for sheets for so many decades. Using the highest quality Pima Cotton from the United States, Wamsutta continues to merge classic techniques, tradition, innovative style, and progress in everything they do.
The largest sellers are Bed, Bath and Beyond (who own the Wamsutta brand in North America), Amazon, eBay, and Walmart. Check out eBay for great, unused Wamsutta sheet sets that are vintage and still in the packaging! These Wamsutta sheets really do last decades based on thousands of reviews from many different blogs and online stores!
Wamsutta Pros and Cons
It's hard to go wrong with a name like Wamsutta that has been proving itself in the bedding industry since the 1800s. Your grandmother and mother may have had Wamsutta sheets that you slept on as a child! Maybe you still sleep on them!
Long known for their lasting quality and variety of designs, it would be difficult to find anyone that did not know someone in their family that owned a set of Wamsutta sheets.
I am going to detail out the pros and (yes) cons of having Wamsutta sheets. There are literally hundreds of thousands of reviews out there from reputable sources that break down the characteristics of Wamsutta sheets. This is what I have found they all have in common.
Pros
Top Reviews for outstanding temperature regulation provided by all Wamsutta sheets!

Top Reviews for outstanding durability for all Wamsutta sheets!

It can be machine washed with a gentle detergent and cool water and air-dried or tumble dried on a low setting.

Bed, Bath and Beyond (the company that owns Wamsutta in North America and sells a huge amount of sheets) offers a 90-day return policy for the sheets.

Sizing is inclusive! Wamsutta offers twin, twin XL, full, queen, king, and California King sizes.

All fitted sheets are

fully

elasticized with a

wide

elastic and have

labels

to indicate the sides and top/bottom. That is creative!
Cons
Different sheet collections will fit different mattress sizes. What happened to only making sheets that fit up to 20-inch mattresses? Read the packaging carefully before buying as some pocket depths are up to a 13-inch mattress (Egyptian Cotton sheets), some will fit up to an 18-inch mattress (Striped Damask and PimaCott), and the Dream Zone Sheets will fit mattresses of 20-inches!

Bleach and Fabric Softener can not be used, as is the case with many high-end sheets.

Can be prone to wrinkles
You can rest assured that these 1000 thread count sheets are made with 100% pure Pima Cotton, as they are by Wamsutta and bear the name "PimaCott" on them.
This long-staple cotton has so many facets that contribute to the sheet's fantastic performance that it really does take Pima Cotton to the next level.

It is woven in a sateen pattern, which makes it softer and thicker by nature, and also it will drape over you in bed. Though it is sateen with an extra high thread count, thousands of reviewers agree that it accommodates a warm climate or a "hot" sleeper!

So, not just for winter and sleepers who are easily cold!

The sheen of the sheets is evident in the creamy gleam of this color, and the contrasting stripes add depth to the shine.

The bottom sheet fits mattresses up to 20 inches – with an all-around elastic.
Where Did the Name Wamsutta Come From?
Nearly everyone in the world has heard of Wamsutta Sheets. The other textiles and linens that the company has produced since 1848 are also as well known. That's because of the outstanding and consistent caliber with which Thomas Bennet Jr. (who established Wamsutta Cotton Mills in 1848) was determined to uphold.
Congressman Joseph Grinnel (who was a primary investor from New Bedford) stipulated that the Mills be built in his hometown.
New Bedford is the first American city to make fine cotton! And by 1892, along the banks of the Acushnet River, the Wamsutta Textile Company was the largest in the world to produce cotton fabrics that were used for shirts, sheets, and other items.
Wamsutta is a name that has spanned centuries, and Bennet named his company that when it began. Wamsutta was the eldest son of the Native American New England Tribal King, Massasoit.
Massasoit ruled with peaceful methods in the 1600s in times that were anything but peaceful, and his eldest son, Wamsutta, led the Native Americans for a year prior to his death related to land ownership.
Today, the name is still associated with quality, pride, and time-consuming methods for high-standard results. The Wamsutta textile mills in New Bedford, MA, started out with a commitment to durable fabrics that could be used for all kinds of different reasons.
Shirting and ship sails were known worldwide as being the best in the early decades of the company, and through the Civil War, the company kept the high quality that it had become known for.
Now, Wamsutta is owned by Bed, Bath, and Beyond for North America, and for South America, Wamsutta is owned by a Brazilian company, Springs Global, which also produces textiles with the brands Springmaid, Regal, and Beaulieu.
What to Look for When Buying Wamsutta Sheets
Thread Count Myths Debunked
I know I have been all about the thread count for years when choosing sheets – the higher, the better, right? Well, apparently not so simple, to my surprise.
Thread count is used heavily in marketing to espouse the benefits of buying a certain sheet set. It would appear to the shopper that the only thing that mattered in finding a good quality sheet set was the thread count!
Thread count is measured by the number of threads in one square inch. Something important to remember is that it doesn't matter how high your thread count is if the quality of the fibers and finishing process used is poor. No more will we think that thread count alone will determine how comfortable a night's sleep we get or how soft or long-lasting our sheets will be.
The true measure of sheet quality is up to the quality of the cotton used and the weaving process itself, not the thread count.
So, on a fundamental level, it is mostly about the raw materials used and the craftsmanship employed to weave the fabric.
Some Facts About Long-Staple Cotton
We keep hearing about "long-staple" cotton. What is it? The short answer is the "staple" is the cotton fiber's length.
Think of a cotton plant and the tiny, soft, white puffballs that are the "bolls." Each of these bolls has almost 300,000 individual fibers in them! (A single fiber is called a "staple").
There are three sizes that range from 1 1/8 inches to 2 inches long. The 2 inches long staples are called long-staple cotton. This small fiber length difference makes a GIANT difference in the quality of the fabric. Hard to believe, huh?
Short-staple cotton makes up 95% of all the cotton grown in the United States and is called Upland Cotton. This is good for jeans and flannel wear due to its strength and ease of laundering. The silkiness of cotton increases as its fiber length increases, allowing the yarn woven to have less exposed ends, less pilling, and shedding.
The two extra-long types of cotton are called Pima Cotton and Egyptian Cotton. These crops are more challenging to grow and take more care of than do other kinds of cotton. Only 3% of cotton grown in the United States is Pima Cotton.
Some manufacturers will take a percentage of Pima Cotton, weave it with other materials, and market it as pure Pima Cotton. Sure, about 10% of the material is Pure Pima Cotton!
Ensure you are getting 100% Pima Cotton by reading it on the label. PimaCott is a great name to see, as the company uses proven 100% Pima Cotton and tracks its cotton from the farm to when it gets sold.
Wamsutta has partnered with PimaCott for their products, and you can have peace of mind when you see this label that you are getting the highest quality, softest, and most durable fabric there is.
The Truth About Lower Quality Cotton
Shorter cotton fibers will be lower quality, coarser, and denser, and manufacturers will use several fibers to make a longer one that can actually be used to weave a material that won't come apart after the first washing!
Despite twisting several fibers into "one," these companies count each

small, coarse, short piece of fiber

that they twist into "one" as a separate "thread" and multiply the actual thread count by 2-4 times what it really is! This leaves you with an 800 thread count sheet set that isn't very comfortable and rips in the laundry! (I have experienced that, but I learned my lesson fast!).
Sometimes manufacturers will use another fiber, such as polyester, to compensate for the quality of the cotton. This will make the fabric more durable, but you will sacrifice other aspects, such as breathability and crispness.
One square inch of fabric will not hold an infinite amount of threads. The average maxing-out quantity for all weaves is a 500 thread count.
If it is 1000 thread count fabric from a trusted name brand, it has some seriously high-quality, extremely long length cotton that is able to be spun into very, very fine yarn to fit all those threads. And that will be a pillowy soft, enduring sheet set. It will also have a price-point to match – starting at several hundred dollars.
It just isn't possible to obtain the small supply of cotton that takes craftsmanship to grow, spin and weave without paying for the long hours and skilled artisans employed.
Look for "PimaCott," "Signature T Technology," and "Fiber Typing," which tells you your sheets have gone through a proven tracking process to guarantee they are 100% cotton and they are the type of cotton that is marked on the label.
You may be asking yourself, what does fiber, and finish have to do with my sheets? We all know that "feel" is something we look for. Many sleep study experts agree that the three things that determine if we will want to sleep in certain sheets are Fiber, Finish, and Feel.
Fiber
The quality of the fiber. When buying sheets, think about the

fibers

that are used to weave the fabric. If your sheets are cotton, know that the quality of the cotton depends on how long the

fibers

are. The longer, the better. The length will dictate how uniform, resistant and smooth the threads are.

Longer fibers mean stronger yarn that doesn't shed or unravel, creating holes. The yarn can be woven into a one-ply fabric that is stronger because the longer fibers are finer, and more can fit into a single inch. This is what makes a sheet incredibly light and airy yet still super durable and long-lasting.
Finish
The finish of the fabric. The silkiness of fabric is greatly enhanced due to the finishing process – it is not solely because of thread count. The quality of the finishing process will determine the quality of the finish! This process is a treatment done to the fabric to increase its durability or shine. After the main finishing process, there are additional finishing touches that include embroidery and lace, among others.

A "finishing" process is designed for a variety of reasons and purposes, including:

Improving how a fabric "feels."

How long the fabric stays true to its "feeling."

To avoid wrinkles

To increase durability and strength.

Maintain the brightness of color

Add a special kind of feeling to the fabric – crisp, silky, plush, etc.
Feel
The feel of your sheets. This refers to the weight and texture of the finished product and how soft it is on your skin.
Weave

The weave is important because, in some weaves, only one thread (one thread consists of one or two fibers) goes over one thread – and on and on, making it one thread deep. A "one over one" weave will be much lighter and cooler than one that has a "one over three" weave with higher thread counts.

On the whole,

regardless

of weave type, anything less than a 200 thread count probably won't be as soft or strong as others with a higher count. That being said, a thread count of 200 is considered the

minimum

requirement for sheets that are comfortable. (Again, depending on what fabric and procedures are used).
Finding the most comfortable sheets depends upon your body heat, the weather, and the surroundings (is there a fireplace, or are drafty windows in your bedroom?). Are you a hot sleeper that prefers the crisp, airy feel of cotton percale? Do you like to be surrounded by soft, silky sheets and a warmer sleeping environment that is provided by cotton sateen?
Please remember that the yarn quality, the production process, the type of weave, and other factors all contribute to the resulting product. For best results, look for sheets from a trusted manufacturer such as Wamsutta.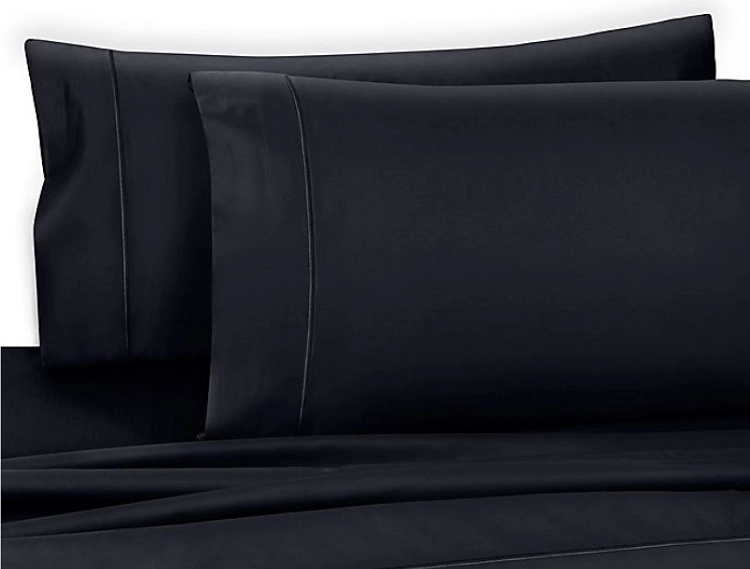 I absolutely adore this gorgeous navy color; it's like stepping into a deep pool of moonlit water, the liquid enveloping you with its silky drape!
This is my favorite sheet for a number of reasons:
The color melts you away in slumber.

The beautifully embroidered stitching gives added detail and elegance to this sheet's appeal.

The cotton is 100% pure Pima, grown in CA by a verified cotton grower, which ensures its long-lasting quality for durability, the brightness of color, and soft feel.

It is a sateen weave, which drapes a bit heavier but is so fine like gossamer that it regulates your temperature appropriately. Great for a "hot" or "cold" sleeper!

It has the Wamsutta signature wide elastic all the way around the bottom sheet with the labels stating

side

or

top/bottom

, so there is no guessing!
Types of Cotton Weaves
Percale sheets are known as having a plain weave pattern, and for this type of sheet, a 200 thread count is an average-quality sheet.
Sateen sheets have a tighter weave and, therefore, a higher thread count (300 – 500) just because of the type of fabric it is. To be called Sateen, it needs to have a higher thread count because that is how a Sateen sheet is constructed!
Poplin is a plain weave that is tightly woven, light and airy, has a slight sheen, and does not wrinkle easily. The thread count for a decent quality sheet set will be about 250 -400.
Jacquard weaving is known as "fancy" weaving and is different than the weaves that use traditional looms. Jacquard weaving is complex, using hole-punched cards on a special loom and allowing endless sophisticated patterns to be woven into the fabric, creating a heavier and higher thread count fabric.
Percale
A classic, crisp cotton sheet with a matte finish, 100% long-staple cotton. These are a bit likely to have some wrinkles if not taken out of the dryer while still damp. They are durable, easy to care for, cool to the touch, and fresh.
The feel is lightweight and smooth, making it great for summer weather and warmer temperature climates. Very breathable due to their weave type, much air can be let through the sheet and is typically considered to be the best choice for people who "sleep hot."
Sateen
A totally different feel than Percale, this is also 100% cotton, but it goes through an extra finishing process that makes it feel smooth and buttery. Sateen drapes nicely, and they are wrinkle-resistant.
They are a bit heavier due to the unique weave (usually one yarn under and 3 or 4 yarns over) and tend to trap more heat. It's a great choice for people who are cold in bed. It is a soft and lustrous fabric, having a silky smooth texture and sheen. When a Sateen weave is made with silk or nylon, it is called Satin.
Poplin
Due to the fabric weave of Poplin, it does not wrinkle quickly and washes and irons easily. It tends to mix both the crispness of percale and the smoothness of sateen. It has a plain weave structure that is comfortable and has remarkable brightness.
Linen
Linen is a natural material in which very fine fibers are carefully taken from flax, spun into yarn, and woven into a durable fabric. Because of its structure, it is capable of absorbing a great deal of water while not creating any humidity. Linen is an optimal material for anything that comes in close contact with skin, especially sheets.
Jacquard Damask
The Sleep Foundation gives us some basic thread counts for different materials:
Cotton: 200-400

Percale Weave: 200-400

Egyptian Cotton: 300-400

Sateen Weave: 300-600

Bamboo: 300-500

Linen: 80-140. Thread count is a less effective indicator for linen sheets.

Avoid higher

thread counts for linen sheets.
Notable Wamsutta Features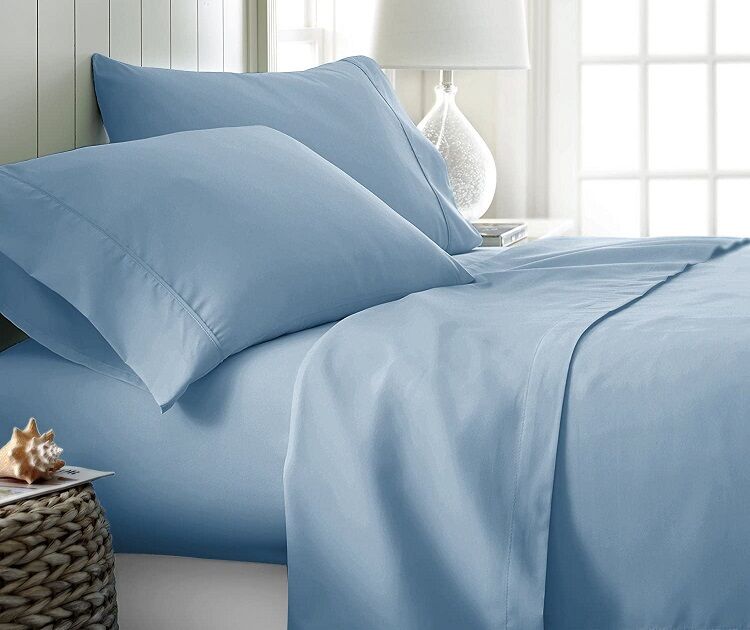 Some things most noted about sheets from Wamsutta are their durability, temperature regulation ability, and their price points. How they manage all this includes:
An enduring allegiance to high-quality cotton. It is long-staple Pima cotton from the United States, which is known for its high standards of growing and harvesting.

A must-have is the fully elasticized bottom sheet! That makes the fit perfect regardless of the depth of your mattress! And it really ensures that no bottom corners will creep up! Wamsutta uses an extra-wide gathered elastic that goes all the way around the bottom sheet. Now, that's my kind of sheet!

Time-proven and polished techniques have stood the tests of many wars and economic swings since 1846. Wamsutta really knows how to consistently produce quality products.

Labeled tags on the bottom sheet that let you know where the sides, bottom, and the top is! No more turning it around and around!

Reviewers repeatedly said there was very little pilling and shrinkage after being washed a dozen times.

Additional pillow security with envelope-style design (open end) to cover the half of the pillow that

could

be exposed or creep out
In Conclusion
This was a great review of Wamsutta sheets to write because Wamsutta not only represents high-quality sheets at an affordable price, but it is also a trip down memory lane to all the Wamsutta sheets I have ever slept on since I was a child.
I remember in my grandmother's attic, there were boxes of cards for every occasion and several sets of floral Wamsutta sheets in their plastic packaging, waiting to be used.
I highly recommend Wamsutta sheets because of their time-proven durability. I know my family has Wamsutta sheets in their attics that must be 30 – 50 years old! They are highly rip and tear-resistant.
Not many sheet brands can espouse their virtues with an almost infinite amount of glowing reviews from people who are 8 to 80 years old! These sheets have proven that they are so well made they stand the test of time.
Another reason I find Wamsutta sheets to be uniquely special is the sheer number of reviews that specifically noted Wamsutta had an excellent temperature regulation feature – and this was regardless of the type or collection of sheets that had been bought!
Many statements described a member of the family who was always "hot" or who couldn't get warm enough when they were in bed. They all said the same thing – they were pleasantly surprised at how easily and comfortably they slept in Wamsutta sheets! There was no sacrifice or compromise when it came to body heat – everyone had just the right amount!
A huge plus for me is one of pure convenience – immediately knowing which way to put the sheet on the bed! I am hopelessly turning it around and around, trying to find the right way it fits. You'd think after all these years, I would know! The thick white labels that are on all four sides of the bottom sheet are clearly (and largely) labeled "side" or "top/bottom."
Wamsutta sheets are a saving grace for me also because of the wide, wide elastic that goes the entire circumference of the bottom sheet—no more yanking and pulling and straining to get a flat, tucked-in fit! No more sheet corners sliding up and popping off in the night.