Hampton Inn takes pride in its excellent hospitality, but its star quality is allowing guests to choose between a different variety of pillows to create their custom sleep environment for maximum comfort. Their team understands that the best luxury hotel pillows vary by sleeper.
Soft, elegant, and durable, Hampton Inn pillows will enhance sleep quality, as well as elevate your bedroom's appearance. Now you can experience the same gentle comfort by purchasing a set of your own Hampton Inn pillows.
Shop Hampton Inn Pillows at Pillows.com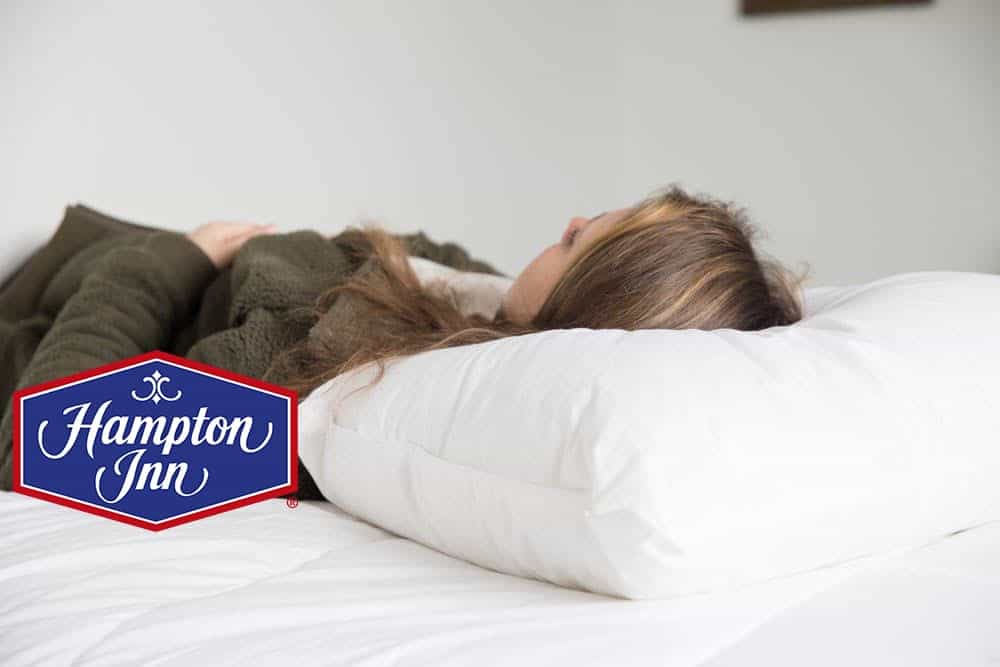 What Pillows Are Used at Hampton Inn Hotels?
The Hampton Inn uses three main pillows; the Envirosleep Dream Surrender Pillow, Pacific Coast Touch of Down Pillow, and Martex Brentwood Pillow. Each pillow comes equipped with varying comfort and support levels, depending on sleeper requirements and preferences.
I was pleasantly surprised when the Hampton Inn let me select the pillows from their diverse pillow menu. To suit my comfort needs, I could pick and choose the best option and customize my nightly rest.
The Hampton Inn hotels offer exceptional comfort and luxury to their guests. The pillows accentuate the feeling of calm and peace due to their excellent support and feel.
Envirosleep Dream Surrender Pillow
Nothing quite compares to lying on a plush bed at the end of a long, strenuous day at work. The tender embrace of a supportive and satin soft hotel pillow is the cherry on top! If you are anything like me, you will love the feeling of resting your head and shoulders on a fluffy pillow that helps you sleep well. This is why you should pick the Envirosleep Dream Surrender pillow; it is a popular choice among sleepers staying at Hampton Inn hotels.
Manufactured by Sysco® Guest Supply, the Envirosleep Dream Surrender pillow consists of a 100% hypoallergenic polyester filling. Several thousands of polyester puffs line the inside of the pillow to create the perfect blissful sensation and balance. Neither too soft, nor too firm, the Envirosleep Dream Surrender hotel pillow offers medium firmness to the sleeper. This makes it lofty and durable and good for most sleepers, regardless of their sleeping position.
Excellent for stomach, side, and back sleepers, this pillow offers something for everyone. Personally, I prefer thinner, softer pillows as it is hard to relax my neck on a firm style pillow, but the balance between softness and firmness in this pillow stood out and I felt incredibly relaxed and at ease when sleeping on it. You can buy it in standard, jumbo, queen, and king size. Talk about variety!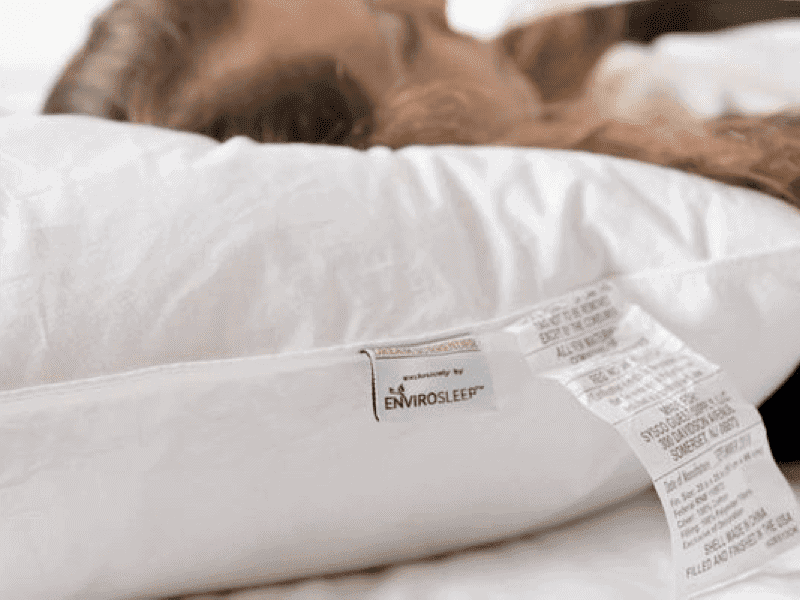 The Envirosleep Dream Surrender pillow is stuffed with hypoallergenic polyester clusters, which means that if you have sensitive skin or allergic reactions to certain filling materials, you are safe with this pillow. The hypoallergenic qualities of this special hotel pillow keep allergic reactions and skin conditions from acting up.
Additionally, you can easily wash this pillow in the machine, so you do not have to spend unnecessary time on pillow care. I recommend that you still read any information on the tags provided before giving it a wash.
Pacific Coast Touch of Down Pillow
If you enjoy a plush and satin soft pillow as much as I do, there is nothing like Hampton Inn's Pacific Coast Touch of Down Pillow. Soft, tender, huggable, and incredibly supportive, this pillow is the epitome of luxury and comfort.
The Pacific Coast Touch of Down Pillow offers excellent support and comfort all night long. This pillow features an inner chamber made of gentle duck feather and down supported by an outer layer constructed with approximately 75% goose down material.
This luxurious and unique pillow-in-a-pillow design and down-feather blend makes this pillow an outstanding addition to your bedroom. It is also what makes the Hampton Inn such a fantastic choice for travelers as these pillows provide excellent stress relief after a lengthy and hectic trip.
Ideal for all sleep positions, the Pacific Coast Touch of Down Pillow offers excellent support for stomach, side, and back sleepers. It provides a soft to medium pillow support level and ensures absolute relaxation through the night.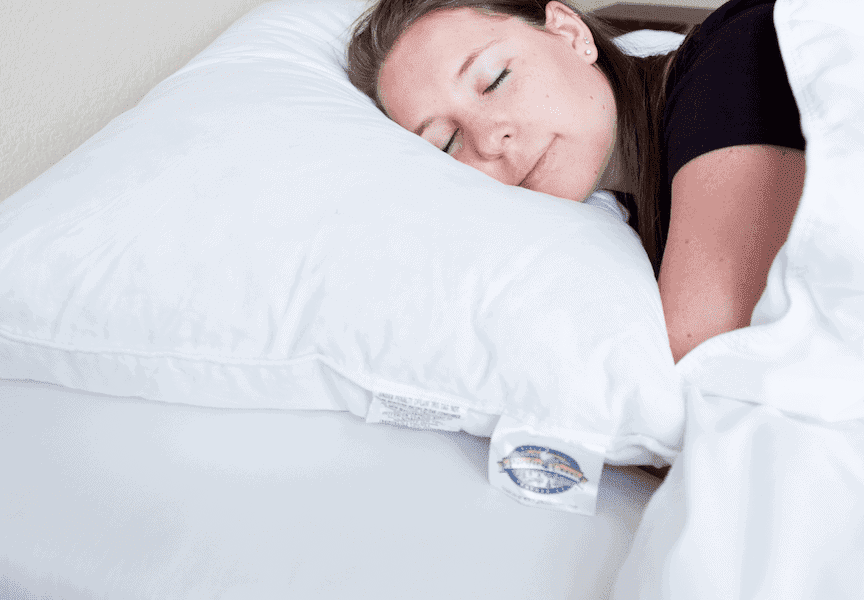 In addition to this, this Hampton Inn hotel pillow comes with a 230 thread count in 100% cotton fabric or barrier weave and down proof fabric. This makes cleaning the pillow a lot easier and convenient for those who do not have the time for excessive pillow care.
The Pacific Coast Touch of Down Pillow can also easily be machine washed, dried, and fluffed to retain its original shape. If you really want the true Hampton Inn experience with this pillow, fluff it well and often! I noticed that the more often I fluffed it, the better the comfort level and the more supportive it was for my back, shoulders, and neck.
I also recommend buying a pillow protector for this pillow just to keep from washing it too often as you want to maintain the original fluff and shape. At the Hampton Inn, these pillows are covered with a protector to keep the filling from flattening too quickly.
You can purchase your own incredibly comfortable and soft Pacific Coast Touch of Down pillow to get that luxurious and rich Hampton Inn environment in your bedroom! This pillow is available in standard, jumbo, queen, and king size to accommodate a variety of sleepers and bed space.
Want to dig more of hotel quality pillows by Pacific Coast? Check out our top picks reviewed here.
Martex Brentwood Pillow
When you are travelling around for business purposes, you might find yourself at a cheap motel with poor quality pillows that keep you from enjoying a good night's sleep. You have got to make do with the pillow available in the room, but at Hampton Inn, you get the choice to pick the pillow you want for your absolute comfort.
If you are not a fan of feather and down pillow or ones on the firmer side, you can ask the staff to bring you the Martex Brentwood Pillow instead! Unrivaled rest, cloud-like softness, and impeccable support for the neck and back, this pillow is for side and back sleepers than require that extra support to keep their body perfectly aligned during the night.
The Martex Brentwood Pillow is perfectly designed with 100% polyester fiber puffs which are hypoallergenic. If you have sensitive skin or allergic reactions to certain substances and surfaces, you can rest assured that this Hampton Inn hotel pillow will keep those reactions at bay. Its hypoallergenic qualities make it the safer bet for most sleepers.
Manufactured by Martex Westpoint-Stevens, the Martex Brentwood Pillow offers medium to firm support level, which means that it is ideal for those who need that extra support when sleeping to keep any pains and aches away.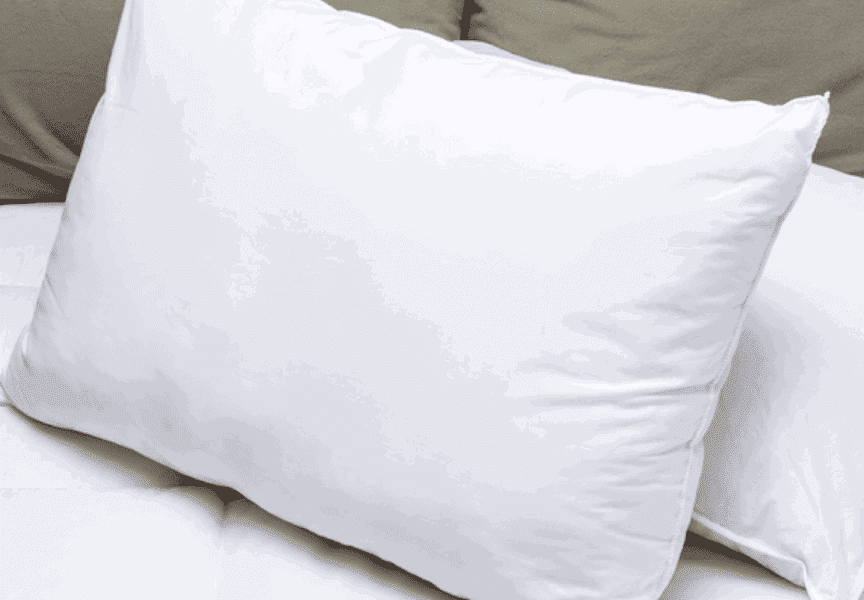 This fantastic pillow comes equipped with a unique cover made up of 50% white cotton and 50% polyester tick that makes its comfort levels unparalleled. You can also easily wash it in the machine which saves you a ton of time! No extra pillow care or tedious cleaning processes are needed.
It is available in standard, jumbo, queen, and king size to fit the needs of all sleepers and offer a blissful slumber that will give you the same lavish Hampton Inn experience.
The key to a peaceful slumber is a comfortable and suitable pillow that fits you right. So, if you are in the market to upgrade your bedroom to a luxury hotel room, I recommend investing in the hotel pillows used at Hampton Inn hotels.
Want to find out more pillows like these used in popular hotel chains? Check out our top picks.