At Marriott hotels, you do not just get excellent hospitality, but absolute comfort throughout the night as well thanks to the luxury Marriott pillow. Now you can enjoy the same five-star hotel-like comfort at home by purchasing these pillows and enhancing your sleep quality. Whether you are looking to buy these pillows for a luxurious sleeping experience for you or your guests, we have the inside scoop on how.
Marriott Hotels pride themselves for providing their guests with luxury and relaxation in the form of their special pillows. Suitable for most sleepers, the pillows at Marriott hotels are designed for all night long tranquility and adequate support.
What Pillows Does Marriott Use?
Marriott hotels use the Pacific Coast Down Surround Pillow (Down and Feather Pillow) that oozes premium comfort for all sleepers with its unique construction, and the Pillowtex Triple Core Lyocell Pillow that provides sleepers with strong body support. Each comes equipped with unique designs, features, and filling that maximize comfort and relaxation.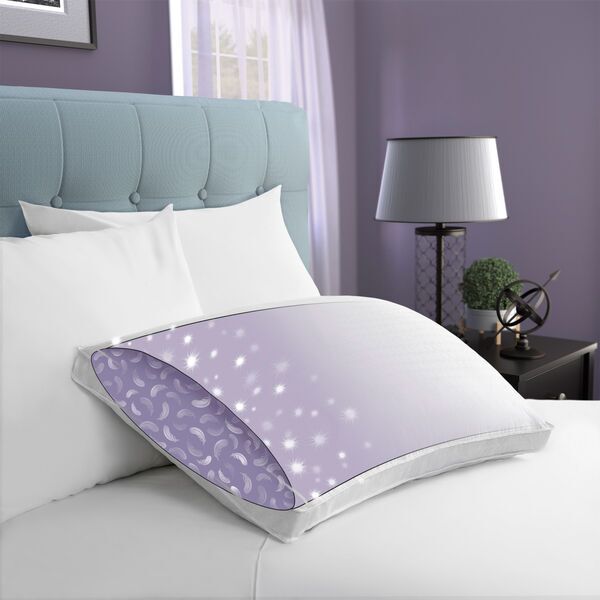 Manufactured by Pacific Coast (Hollander Sleep Products), the Marriott ® Down and Feather Pillow defines premium luxury standards. The unique dual-chamber design offers sleepers with a seamless mixture of supportive feather filling and cloud-like soft down. It also features an inner chamber that is laced with 90% waterfowl feathers and an outer chamber that is composed of 70% white down and 30% lyocell, maximizing comfort levels. This pillow features a 230 thread count, barrier-wave 100% cotton fabric that is soft to the touch.
This pillow can be purchased in standard, queen, and king size, depending on your needs and available bed space. This can be machine washed and dried, however, we reccommend always using a pillow protector to extend its life. Most luxury hotels keep their expensive down pillows encased in a protector to avoid frequent washing and maintain its fluff and shape.
If you're sleep is disrupted by pain or you wake up with dull aches, it is because your pillow lacks the right amount of support to relieve pressure when sleeping. The Pillowtex Triple Core Lyocell Pillow is specifically designed to keep pressure and stress buildup from weighing down on your shoulders, neck, and spine. Sleeping on your side or back can often put excessive stress on your shoulders and misalign the spine. A more supportive pillow is certainly necessary for relieving those issues.
Its unique filling consists first of an outer chamber packed with lyocell microfiber. Then the inner chamber is filled with 5% white duck down. This unique blend of filling and inner/outer layer maximize the sensations of satin softness and plushness. This special pillow also comes with a fabric encasing that is made of 230 thread-count 100% cotton. Therefore making the pillow easy to clean and maintain.
Want to find out more of the best hotel pillows? See what's used and popular in your favorite hotel chains? Check out our top picks.