Space is a luxury many people don't have enough of. If you're furnishing your first apartment or moving into a smaller home, you may be looking for ways to optimize the space you have available.
Overall Best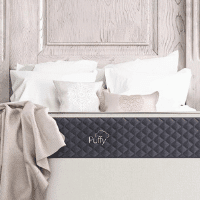 Puffy Mattress

Climate-adaptive materials
Strong pressure relief
Budget Friendly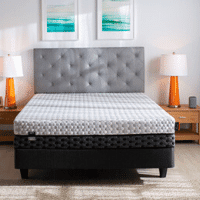 Layla Mattress

Flippable
Multi-layer foam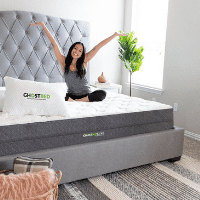 GhostBed

White glove delivery
High density foam
One of the best things you can do to optimize your space is choose furniture that serves more than one purpose. For example, instead of a standard footstool you might pick an ottoman that has a storage compartment inside. You might look for a coffee stable that comes with a bench or small seats that slide under it. When it comes to your sleeping arrangements, either for yourself or for guests, something like a sleeper sofa or day daybed is definitely something you should consider.
In this article, we'll explore the story behind daybeds and explore some of their benefits. We'll also provide helpful tips for choosing a daybed mattress and provide you with our top picks.
What is a Daybed, Anyway?
When you hear the word "bed" you probably think of sleep which generally implies an activity done at night. Putting "bed" and "day" together in the same sentence, let alone the same word, might seem a little odd. Daybeds are, however, becoming increasingly more common and are actually very popular.
A daybed is simply a small bed, usually a twin bed, that is framed in on three sides. This gives it the appearance of being a very deep couch, though it can also function as a bed. The average sofa has an 18" to 22" depth, while a daybed is usually 39" deep. You can also find large daybeds that are sized for a double or full mattress which may be up to 54" deep.
What makes a daybed so great for homes with limited space is that it provides a fully functional sleeping surface that doubles as a couch, but it doesn't take up significantly more space.
[alert type="info" icon-size="normal"]
Read Also:
11 Best Mattresses for Hip Bursitis in 2022
[/alert]
What Are the Benefits of a Daybed?
No living room would be complete without a sofa or couch. You need somewhere to sit when you're watching TV, reading, or working on your laptop. It's also important to have additional seating available for guests. If you're working with limited space and you want to get the most bang for your buck, consider choosing a daybed instead of a couch so you gain the benefit of extra sleeping space.
Here are some of the benefits of having a daybed:
A daybed works well as a couch (especially with throw pillows or cushions added) but can also be used as everyday or backup sleeping space.
Many daybeds come with a second sleeping space in the form of a trundle bed which slides out from under the frame.
Some daybeds come with built-in storage solutions such as drawers under the bed or shelves built into the frame.
Daybeds come in a wide variety of designs and styles so you can easily find one that works well for your space – you can customize it easily as well by adding bedding and cushions.
A daybed provides seating the same way a couch or sofa would, but it has a little extra depth which is great for lounging, napping, and cuddling.
The framed-in design of a daybed provides a little more back support than the average couch or sofa – you can customize the level of support by adding cushions.
If you've come to the realization that a daybed is something you must have, there are two things you need to do: choose a daybed and choose mattress. Some daybeds come with a mattress included, but many don't. Fortunately, most daybeds work well with standard twin mattresses.
[alert type="info" icon-size="normal"]
Read Also:
11 Best Luxury Mattresses on the Market in 2022
[/alert]
Tips for Choosing Daybed Mattresses
Shopping for a daybed mattress doesn't need to be difficult. In fact, it could be as simple as running an online search for the best twin mattress. After all, most daybeds work with standard twin mattresses. If you have a larger daybed, however, you may need a full or double mattress.
While determining the right size for your mattress is nonnegotiable, many of the other details are. You have plenty of options when it comes to choosing the type of mattress as well as other features like the firmness, construction, and even the quality. It's important to have some idea what your preferences are before you start shopping and to form an understanding of what options are out there.
Here are some things to think about when shopping for a daybed mattress:
Materials – Modern mattresses are made from a variety of materials including memory foam, latex, encased coils, and more. The materials you choose affect the comfort and durability of your mattress, so think about how you're going to use the daybed in making your decision.
Firmness – Generally speaking, a medium level of firmness works well for both daytime use and sleeping at night. If you're going to use the daybed as your primary sleeping surface, however, you may want to customize it more to that purpose than general comfort.
Price – You don't necessarily need to spend a lot on a daybed mattress. Fortunately, you'll find the lowest prices for twin mattresses, so you may be able to get something of high quality without spending a fortune. Have some kind of budget in mind when you start shopping.
Durability – If you're going to invest in a new piece of furniture, you want to make sure you get your money's worth. Durability becomes even more important if you're using the daybed for both daytime lounging and sleep at night. Consider the quality of the materials because they impact durability.
Warranty – Using your daybed as a couch increases the likelihood of spills and other accidents, so be sure to check the warranty for whatever mattress you choose. Some warranties are voided by stains, so consider buying a waterproof mattress cover.
[alert type="warning" icon-size="normal"]Now that you have some idea what you're looking for, let's take a look at some of the best mattress for daybed options out there. Read on to see our top picks. [/alert]
The Best Daybed Mattress
Shopping for the best daybed mattress doesn't have to be a big ordeal, especially if you're primarily using the daybed as extra seating. That being said, you should put some thought and effort into the process to make sure you get a mattress that holds up well and that feels comfortable.
We've done our best to put together wide range of daybed mattress options in different categories to help you narrow down your options. Here are our top picks for the best daybed mattress:
Best Overall: If you're looking for a daybed mattress that is comfortable, supportive, and affordably priced you can't go wrong with Puffy. Choose from two models, the original Puffy 10-inch mattress or the Puffy Lux 12-inch mattress, each constructed with multiple layers of premium foam. The original Puffy may be the best option for daybeds, simply because it isn't as thick and because it is slightly firmer than the Lux.
The Puffy mattress is made with three layers of foam starting with a base layer of Firm Core Support foam. On top of that you'll find a layer of Puffy's temperature-stabilizing Climate Comfort foam, topped with a layer of Cooling Cloud foam. This mattress delivers the optimal combination of comfort and support whether you're sleeping, sitting, napping, or lounging. Plus, it comes with a 101-night sleep trial, a lifetime warranty, and free shipping and returns.
Pros: Three layers of premium foam, cooling comfort and support, excellent pressure relief
Cons: Could be stronger in edge support, foams may be somewhat slow to respond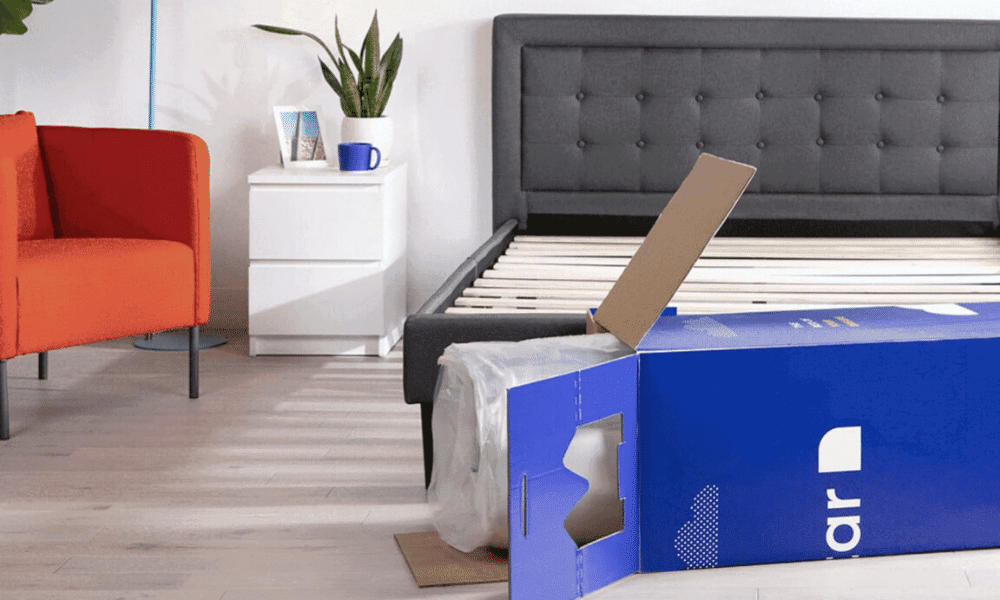 Best Budget-Friendly: Mattresses can be expensive, but you don't necessarily have to spend a fortune. If you're shopping for the best daybed mattress, you'll save money by choosing the twin size versus buying a larger bed for your bedroom. When it comes to budget-friendly choices, we recommend Nectar.
The Nectar mattress features a multi-layer foam construction topped with a quilted memory foam mattress cover. This mattress is built on a base layer of stabilizing memory foam topped with adaptive hi-core memory foam and gel memory foam. Nectar mattresses are affordably priced but offer excellent value due to the fact that you get to test it for a full year with free returns. In terms of firmness, Nectar is rated 6.5/10 which works well for most sleepers and is just right for daybed use as well.
Pros: Affordably priced, long 365-night trial period, multi-layer foam construction, comfort and support
Cons: May not be firm enough for heavy sleepers, foam may be slow to respond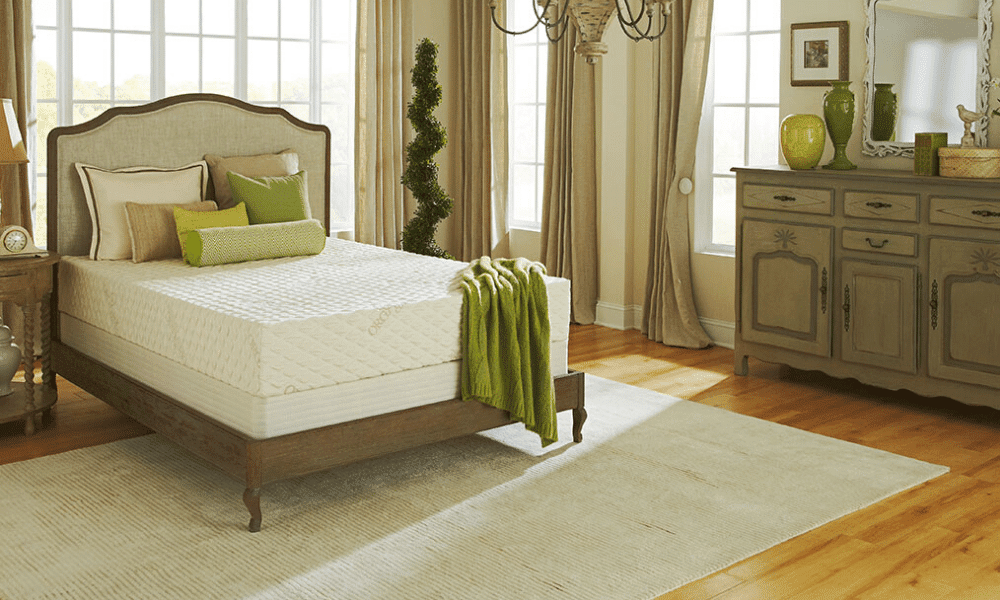 Best Luxury: If nothing but the best will do, we recommend PlushBeds. The Botanical Bliss mattress is a luxury, natural mattress made with 100% natural latex. It is available in two levels of firmness (medium or firm) and three thicknesses (9, 10, or 12 inches). This mattress is great for daybeds because it offers so many options for customization and because it is made for quality, durability, and comfort.
The PlushBeds Botanical Bliss mattress is built on multiple layers of organic Dunlop latex topped with a layer of organic New Zealand wool for breathability and support. On top you'll find a soft knitted organic cotton cover. This mattress doesn't contain any harmful chemicals and, because it is organic and all-natural, it is anti-microbial and resistant to mold, mildew, and dust mites. This is great news if you plan to use it in your living room and you want to accommodate guests with allergies.
Pros: Made from natural/organic materials, absorbs pressure, provides support, three firmness levels
Cons: Significantly more expensive than other models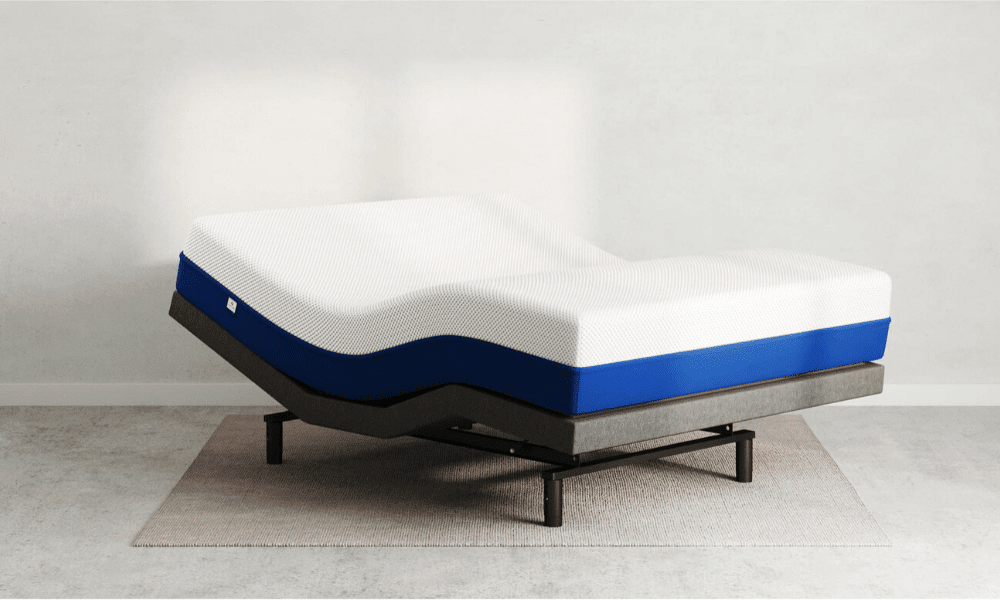 Best Memory Foam: Memory foam is an ideal material for a mattress whether you're sleeping or sitting – the trick is finding the right firmness. Amerisleep offers 5 different models for their standard mattresses and the AS1 is their firmest option – it also is the only 10-inch model which should work well with a daybed.
The Amerisleep AS1 mattress features a two-layer memory foam design that includes a durable supportive Bio-Core base layer topped with Bio-Pur open-cell foam. This open-cell foam contours to the body but wicks away heat better than standard memory foam. The combination of these foams ensures optimal comfort and support whether you're sitting or sleeping. Plus, Amerisleep mattresses come with a 100-night trial with free shipping and returns.
Pros: Standard 10-inch profile fits any bed frame, sleep-promoting layers, open-cell design for cooling
Cons: May be too firm for some preferences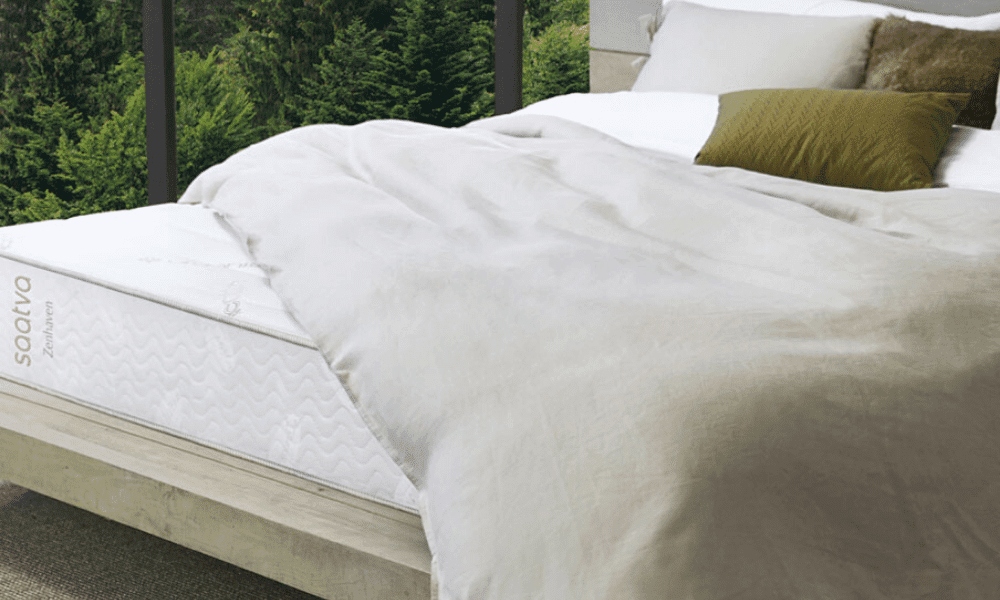 Best Latex: Memory foam offers excellent pressure relief, but some people find it sinks a little too much for their comfort. If you're primarily using your daybed for daytime sitting and lounging, you may want something a little more responsive so you don't have trouble getting up. Latex is a great option and we recommend the Zenhaven mattress by Saatva. It comes in two firmness levels, Plush and Firm.
The Zenhaven mattress is constructed with 5-zone comfort layers made from 100% natural Talalay latex to deliver firm support where you need it for optimal spine alignment. Each layer has pinholes for breathability and the mattress is wrapped in an organic cotton cover with an organic wool layer just underneath for breathability and flame retardance. Like other Saatva mattresses, the Zenhaven comes with a 120-night sleep trial and free white glove delivery.
Pros: Made from natural and organic materials, flippable design with 2 firmness levels, no off-gassing
Cons: Significantly more expensive than many models, neither side may be ideal for side sleepers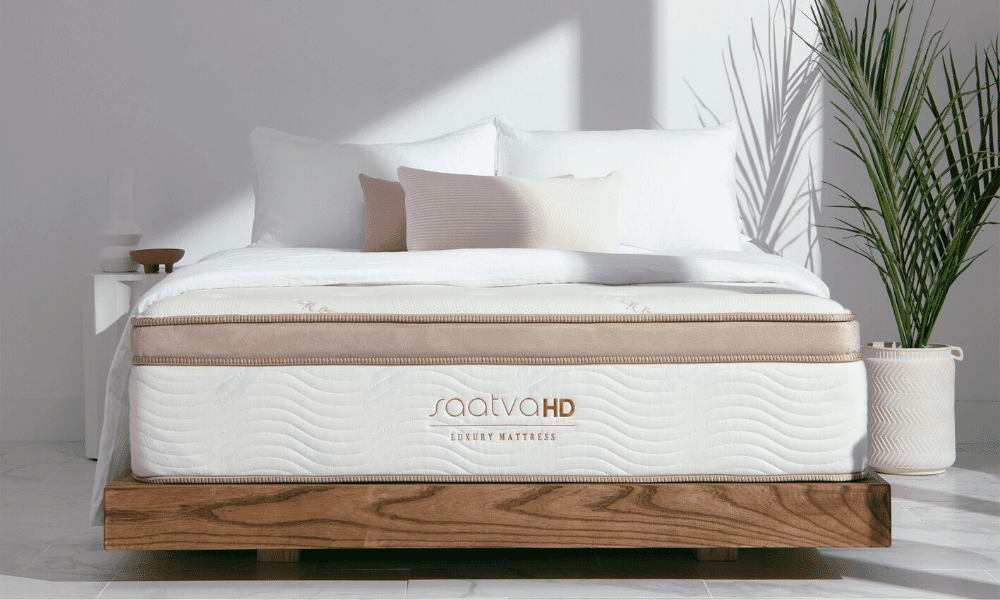 Best Innerspring: If you're looking for a daybed mattress with the classic innerspring feel, we recommend the Saatva Classic. This mattress features a coil-on-coil design with the unique Perimeter Edge Support system to prevent sagging, no matter where you are on the mattress. The Saatva Classic is highly durable, built on a steel coil support system with over 800 individually wrapped coils on top.
The Saatva Classic mattress comes in all six standard US sizes and three different firmness levels. Choose fromPlush (3/10), Luxury Firm (5-7/10), or Firm (8) according to your preferences and whether you plan to use the daybed primarily for sleeping or seating. The mattress incorporates Lumbar Zone technology to ensure optimal spine alignment during sleeping with an organic cotton cover and tufted Euro pillow-top for 24-hour comfort. Plus, you'll enjoy free white glove delivery.
Pros: Three firmness levels to choose from, luxury hybrid construction, breathable and supportive
Cons: Hybrid mattresses tend to be fairly heavy, less contouring/hugging than foam mattresses
Best Dual-Sided: Daybeds offer versatility like other pieces of furniture can't. Not only does a daybed function as daytime seating and a space for lounging, but it can also be used for sleeping. If you're looking to double down on that versatility, consider a dual-sided mattress like the Layla Memory Foam mattress.
The Layla Memory Foam mattress is a two-sided mattress that offers a soft, plush feel on one side and a firmer feel on the other. This gives you the ability to switch the mattress according to your level of comfort for daytime use or sleeping, or to change it according to the preferences of your sleepover guests. The Layla mattress features copper-gel memory foam which wicks away body heat as well as a Thermogel cooling cover with body heat-activated cooling action. The cover also has a zipper so you can remove the cover for easy cleaning.
Pros: Flippable two-sided design, copper-infused memory foam for cooling, comfort and support
Cons: Slow response foam may make it tough to change positions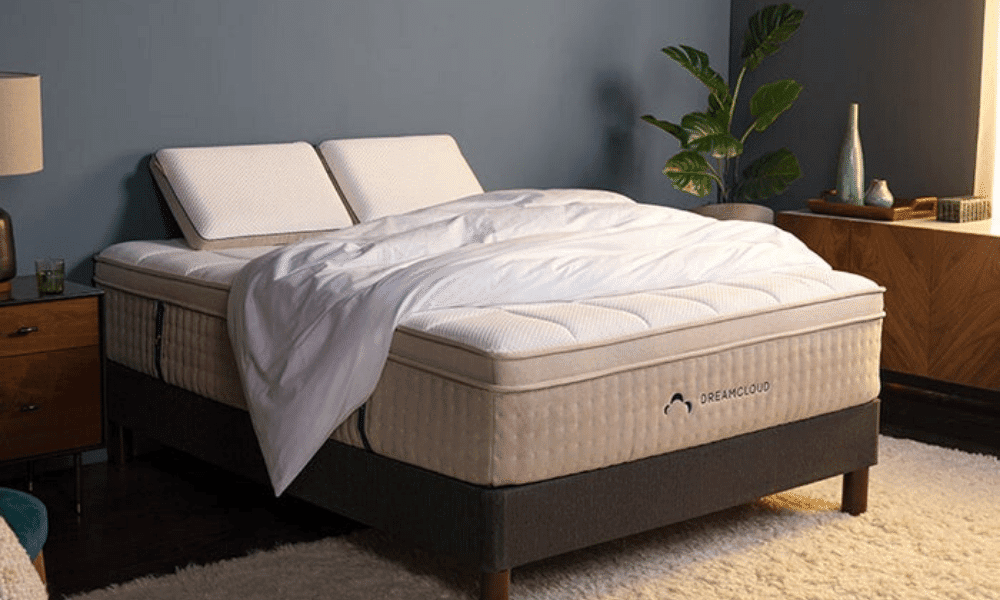 Best Hybrid: Modern mattresses come in a wide variety of different materials which can be a little overwhelming. If you're not sure about trying something unfamiliar but you want to give yourself the chance to enjoy something new, the DreamCloud hybrid mattress might be the right choice. This luxury mattress combines the comfort and familiar support of a coil base with the pressure relief of foam.
The DreamCloud mattress is constructed on a thin base layer of foam topped with the Targeted-Support Coil layer of individually wrapped coils that adjust to your body. Next comes the Sink-In-Just-Right layer of foam topped with a pressure-relieving comfort layer of gel memory foam. It's all wrapped in the luxurious softness of quilted foam and cashmere blend fabric. The DreamCloud ships free and comes with a full 365-day trial so you can be sure you love it.
Pros: Memory foam and encased coils, comfort and support, luxury materials and design
Cons: Hybrid mattresses tend to be fairly heavy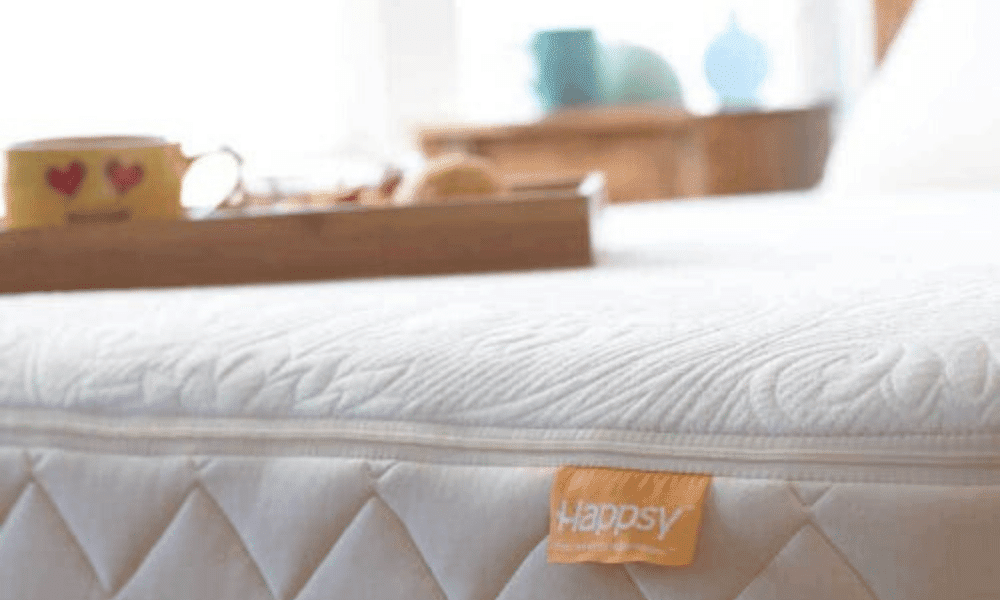 Best Organic: If you're going to invest in a new daybed mattress, you want to be sure it's a good one – especially if you're using your daybed for sitting and sleeping. Unfortunately, cheap mattress companies often use poor-quality materials that negatively affect the longevity of the mattress and may even release harmful chemicals into the air in your home. If you're looking for a safe, organic option, consider Happsy.
The Happsy mattress features organic materials like GOTS-certified organic cotton, GOLS-certified organic latex, and GOTS-certified organic wool. This mattress features a supportive base of individually pocketed springs, not chemical-laden foams held together with glues and adhesives. It is naturally flame retardant and comes with the reassurance of a 20-year warranty. Try it for 120 nights with free shipping, free returns, and a money-back guarantee.
Pros: Organic certified materials, hybrid construction for comfort and support, individual springs
Cons: Latex materials have a little more bounce than memory foam, may not be ideal for heavy sleepers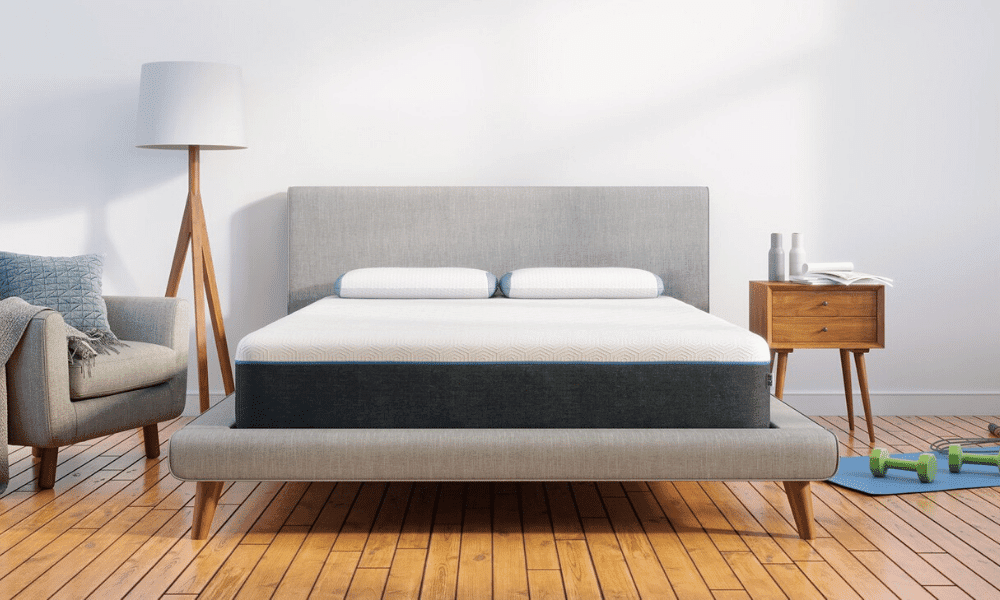 Best for Cooling: Comfort is always a priority, whether you're lounging during the day or sleeping at night. If you're looking for a daybed mattress that will keep you cool AND comfortable, the Bear Original is the way to go. This three-layer foam mattress is uniquely designed using environmentally friendly materials and it adjusts to your position to deliver the support and pressure relief you need, day and night.
The Bear Original mattress starts with a thick layer of high-density support foam for long-lasting durability and unerring support. Next comes a responsive layer of transition foam for pressure relief, topped with a cooling layer of graphite-gel memory foam that removes unwanted body heat. It's all wrapped up in a breathable Celliant cover and comes with a 100-night risk-free trial.
Pros: Three-layer foam construction, optimal support and pressure relief, environmentally friendly
Cons: May not be firm enough for heavy individuals, some off-gassing at first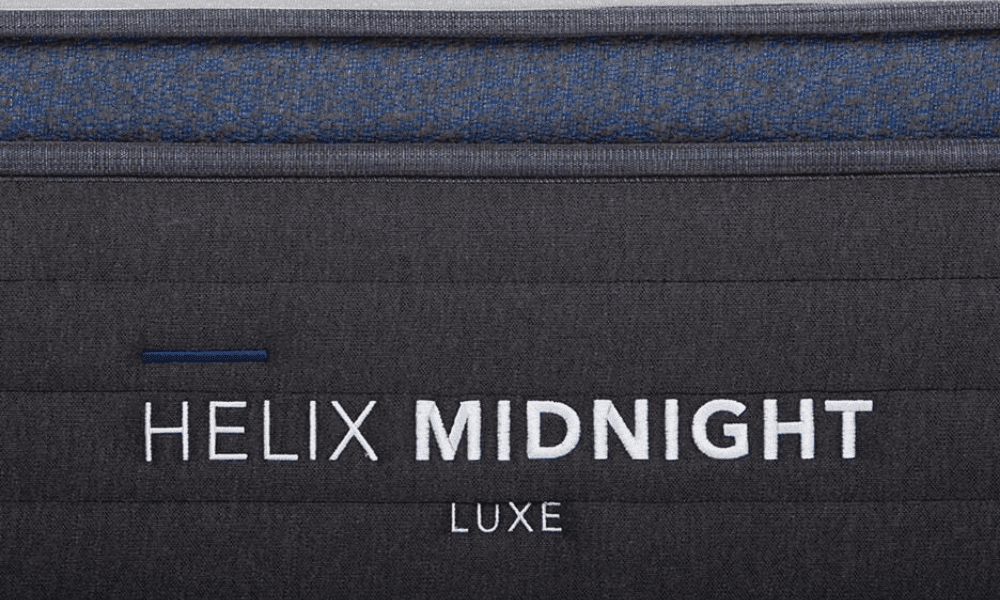 Best Customizable: The beauty of a daybed is that you can use it any time of day. When it comes to choosing the best mattress, however, you need to think about how you're going to use the daybed. With a company like Helix, you can find the perfect mattress customized to your preferences. We personally like the Helix Luxe because it offers excellent quality and durability but comes in three levels of firmness.
The Helix Luxe mattress comes in soft, medium, and firm with special features upgraded from the original Helix model. All three firmness levels then come in another two models, one for side sleepers and another for back/stomach sleepers. Helix Luxe mattresses feature a premium hybrid design that combines a supportive base of individually wrapped coils and DuraDense foam topped by layers of high-grade polyfoam and Memory Plus foam for the optimal combination of support and comfort.
Pros: Premium hybrid design, premium quilted top for comfort, ergonomic support and pressure relief
Cons: Luxe model may be too tall for some daybeds (2" taller than original)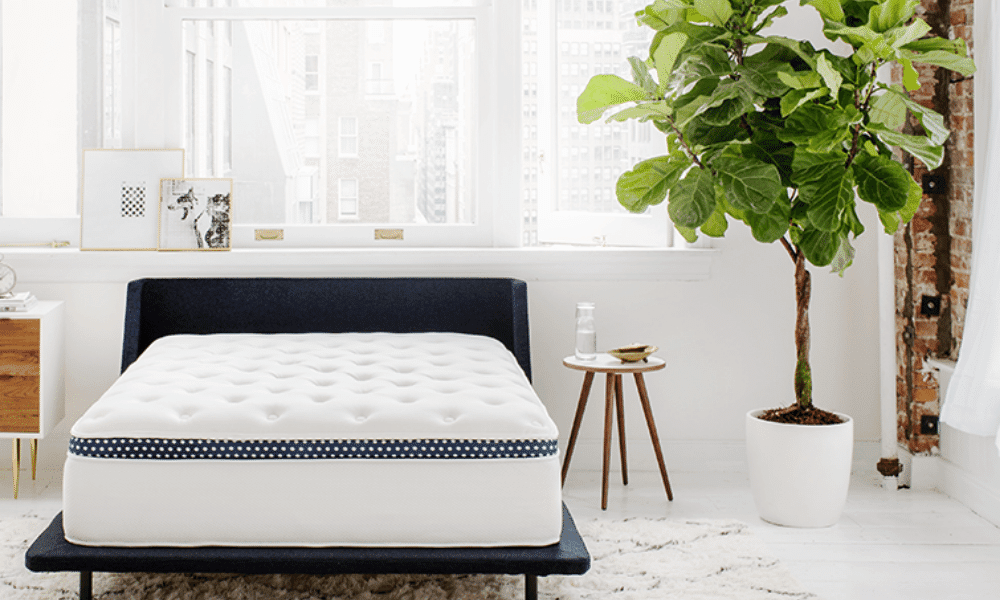 Best Heavy-Duty: Whether you're relaxing during the day or sleeping at night, an unsupportive surface won't be comfortable. If you weigh a little more than the average person, this may be a problem you experience frequently. Fortunately, WinkBed offers a specific mattress model available in the perfect daybed mattress size and it is rated 8/10 on the firmness scale.
The WinkBed Plus mattress features a 7-zone support layer made up of individually wrapped coils with the Extra-Edge support system to prevent sagging. This mattress also incorporates a two-layered Euro pillow-top quilted with gel-infused foam for cooling comfort. It's all wrapped up in a Tencel cooling cover to keep you comfortable all day and all night. The price for the WinkBed Plus may be a little higher than you'd expect for a twin mattress, but it's worth it. To prove it to you, WinkBed offers a 120-night trial period with free shipping and returns.
Pros: Uniquely designed for individuals over 300 pounds, 7-zone support layer, maximum heat transfer
Cons: May not sink as much as traditional foam mattresses, some find it too firm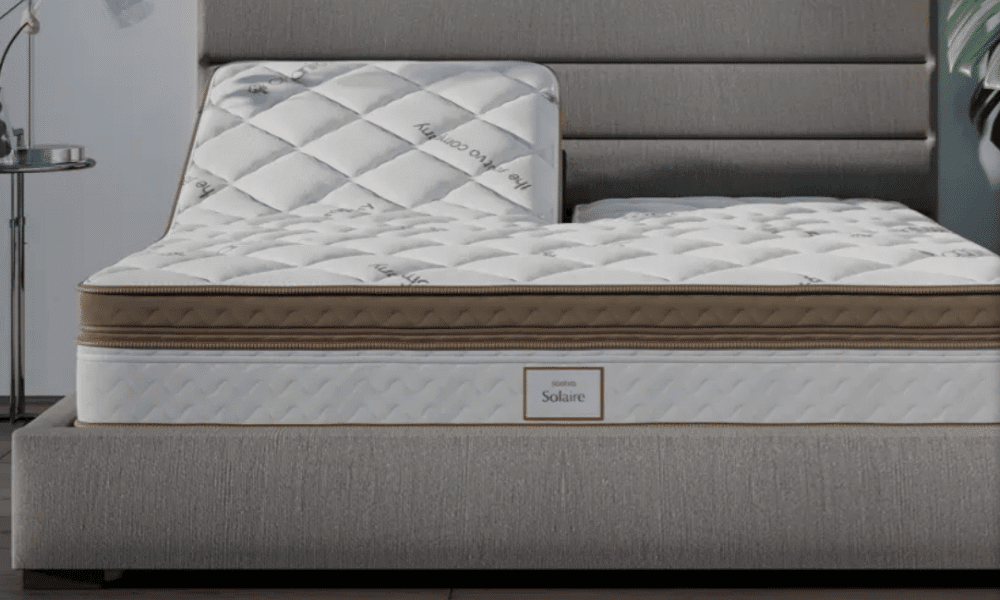 Best Adjustable: What many people like about daybeds compared to traditional couches and sofas is their versatility. A daybed works perfect well for daytime seating and lounging, but it also provides plenty of sleeping space. If you like having guests over, it's the ideal solution, especially if you don't have a designated guest room. Whether you're buying the daybed for yourself or for guests, if you want the option to adjust it according to your preferences, try the Saatva Solaire.
The Saatva Solaire is a completely unique mattress that incorporates luxury materials like organic cotton, Talalay latex, and gel-infused foam with an adjustable air system. With the touch of a button, you can adjust the mattress to 50 precise firmness levels, making it easy to change the mattress according to your comfort level for daytime or nighttime use. With the Power Edge Enclosure you get all the durability you need while vulcanized air chambers support adjustability.
Pros: Made with 5-zone Talalay latex, 50 adjustable levels of firmness, organic cotton pillow-top
Cons: Smallest size available is Twin XL, significantly more expensive than other options
Whether you're using your daybed during the daytime hours as a couch, at night for sleep, or both, you should take your time choosing the perfect mattress. You don't necessarily need to purchase a mattress specifically designed for daybeds, either. In fact, you'll have more options to choose from if you don't and they might be of higher quality.
If you're not sure where to start your search for the best mattress for daybed use, consider some of our recommendations above. We've done our best to assemble a varied list of options to think about.
Frequently Asked Questions
What is the best size mattress for a daybed? – In most cases, a daybed uses a standard twin mattress which is 39×75 inches. In some cases, however, you'll find larger daybeds that take full or double mattresses which measure 54×75 inches. To find the right daybed mattress size for your daybed, you'll need to take some measurements.
What's the difference in a daybed mattress vs twin mattress? – For the most part, there is no difference between a daybed mattress and a twin mattress – they are both usually the same size. If you're shopping for a daybed, however, you may want to consider the thickness of the mattress – especially if you're going to use it primarily for daytime sitting and lounging. Daybed mattresses tend to be a little thinner than mattresses for sleeping, though it really comes down to a matter of preference which mattress you choose.
What type of mattress is best for a daybed? – Most mattress types work well on daybeds, so you don't necessarily need a model specifically designed for the purpose. It really comes down to what feels comfortable for the purpose. If you're going to busing the daybed for sleep, choose the mattress that is most comfortable and supportive for your sleeping style. If you're primarily using it for daytime sitting and lounging, you might want something a little firmer. Memory foam is popular for sleeping but may have too much sink for regular use, unless you choose a memory foam mattress on the firmer side of the spectrum.
Can you sleep on a daybed? – Yes, many people choose daybeds because they work well for daytime use as a couch and as bed for sleep. If you're planning to sleep on your daybed, you should choose a mattress that is designed for sleep but consider the firmness that will be comfortable for sitting or lounging. Most people find a medium or medium-firm daybed mattress works well.
How thick should a daybed mattress be? – The average mattress is between 8 and 12 inches thick, with 10 inches being the standard. When it comes to a daybed mattress, however, you may want to stick with something a little bit thicker. Daybed mattresses are usually 6 to 8 inches thick. The mattress thickness you choose may depend on the specific daybed. For example, if you have a daybed with a trundle, you may need an even thinner mattress for the trundle bed – many won't slide in and out if the mattress is thicker than 4 inches.