How We Tested
We recommend these products based on an intensive research process that's designed to cut through the noise and find the top products in this space. Guided by experts, we spend hours looking into the factors that matter, to bring you these selections.
Click here for testing insights >

11
Models
Considered

125
Consumers
Consulted

90
Hours
Researched
Buying guide for
Best Organic Pregnancy Pillow Options on the Market
Going organic is more than just a buzzword – a lot of people are making the switch wherever possible for themselves and their family. Organic food is often a healthier choice because it doesn't contain pesticides. Organic beauty products are clear from harmful chemicals your body can absorb. You can even find organic bedding and organic pregnancy pillow options made from safe high-quality, organic materials.
When you're pregnant, you want to make a healthy choice for yourself and your baby, but you also want to be comfortable. An organic pregnancy pillow fits the bill perfectly and we've rounded up three of the top choices on the market to make your search as hassle-free as possible.
Benefits of Organic Pregnancy Pillows
A pregnancy pillow is specially designed to ergonomically and comfortably support a pregnant woman's body. After a certain point, it's recommended that you stop sleeping on your back and only sleep on your side. While this position is better for the baby, it can create stress in the knees, hips, and shoulders. That's where a pregnancy pillow comes in.
Pregnancy pillows comes in several shapes, all designed to deliver support while helping you find a position comfortable enough for sleep. The ones intended for general use will support your whole body, while those targeting a specific area will help you if you're experiencing discomfort in a particular spot and relieve stress in those target areas.
In addition to offering all the benefits of a regular pregnancy pillow, an organic maternity pillow is a much more eco-friendly option, and it may be higher in quality as well. Organic pillows aren't made from synthetic materials that can give off harmful chemicals. They are environmentally friendly and completely safe for both you and your developing baby. Some people find they sleep better on organic pillows. Because they are made from organic materials, organic pillows don't harbor allergens – this makes them a great choice for people with allergies.
What to Look for in a Pregnancy Pillow
Pregnancy can take a toll on future moms-to-be, and getting a good night's rest is definitely on the top of the priority list. Finding an ideal sleeping position can leave many sleep-deprived expecting moms searching for a solution. Pregnancy pillows also referred to as maternity pillows, are designed to support your growing baby bumps and reduce aches and pains for getting that good night's rest.
With so many options on the market, it can be challenging to choose the one that will suit your needs best. So, first, think about what you're looking for from a pillow.
Here are some features to consider:
Size
When it comes to size, it's best to assess the situation by asking yourself some basic questions – How big is your bed? Do you share it with your partner? And where do you intend to store your pillow? Once you have your answers ready, it's time to start shopping. Luckily, with a huge range of sizes, you can get everything from a wedge that's no bigger than a standard pillow (good for storage) to a U-shaped body pillow that hugs your back and front (but takes up more bed space).
Shape
Besides size, there are also many shapes to choose from. Wedge and bean-shaped options are best to wedge underneath whatever part of your body needs support. The C, U, and J shaped-ones run parallel to your body and are perfect for complete support, depending on how you sleep. A C-shaped pregnancy pillow is curved at both ends so you can tuck it between your knees and hug it to your body. A U-shaped pregnancy pillow cradles your entire body and takes the place of your normal bed pillow.
Materials
Cotton and polyester have to be among the top choices, but it's up to you what you'll choose in the end. Cotton provides breathability and softness, while polyester has good stretch. You may also consider bamboo blends for a material that is natural, breathable, and cool. Of course, as a mom-to-be, you'll also want a pillow that is easy to clean – machine washable and dryer safe.
Price
Last but certainly not least is the price you'll consider investing when shopping for this sleeping accessory. These pillows can vary anywhere from $50 for a well-made pillow on a tight budget to over $100 for a full-body pillow if you want to splurge.
In-Depth Reviews: Our Top Organic Pregnancy Pillows
Finding the right pregnancy pillow isn't just about comfort and support – the materials from which the pillow is made matter, too. Certain materials can harbor dust and allergens which is the last thing you want when you're pregnant.
We've scoured the internet for the best organic pregnancy pillow and have found the best options. Check them out below:
1. Organic Restorology Pregnancy Pillow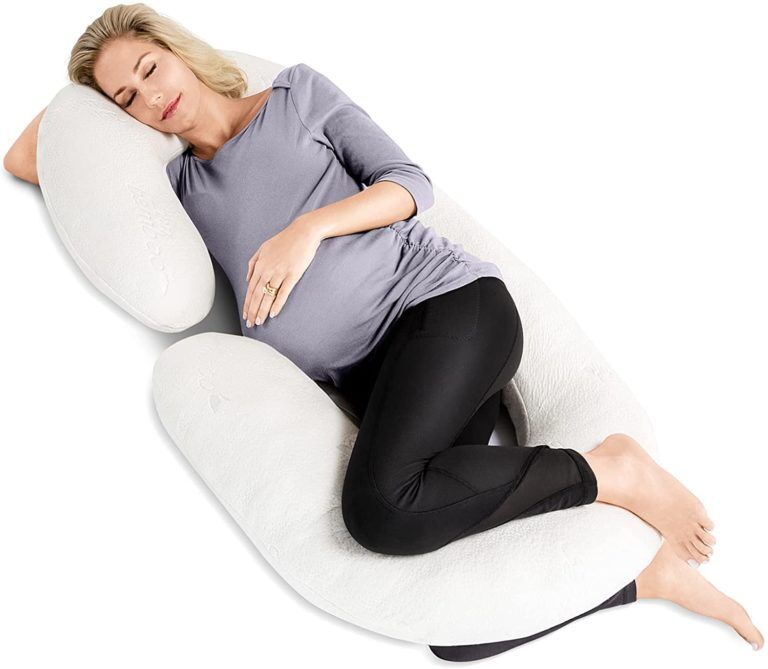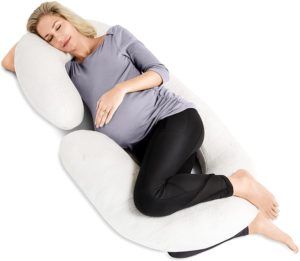 Shape: C-Shape
Materials: Cotton
Cover: Organic Cotton
The Restorology Pregnancy Pillow is designed to follow the natural contours and shape of your body for full support. It's simply one of the best we've seen at reducing the hip and back pain that comes with pregnancy. It is great for expectant mothers that are battling sciatica pain and heartburn.
Space-conscious, this pillow takes the place of several pillows on your bed, meaning your partner won't have to sacrifice their space. The zippered cover can be easily removed to be machine washed and dried without any hassle. Restorology is so sure this is the perfect pillow for everyone that they offer a satisfaction guarantee.
2. Organic Non-Toxic bbhugme Pregnancy Body Pillow
Shape: Adjustable
Materials: Polystyrene beads
Cover: Jersey cotton
The Organic Non-Toxic bbhugme Pregnancy Body Pillow was developed by Scandinavian health professionals and comes highly recommended by midwives for all stages of pregnancy. Filled with TOXPROOF-certified and food-grade expanded polystyrene (EPS) beads, this pillow is plush enough for comfort but molds to the shape of your body for customizable support.
Not only is this pillow filled with lightweight, non-toxic materials, but it comes in a Jersey cotton cover. These breathable materials help keep you cool at night and they are machine-washable for convenience. Another benefit this pillow offers is that you can adjust its shape to get support right where you need it.
3. Yana Organic Bamboo Pregnancy Pillow
Shape: U-shape
Materials: Memory foam
Cover: Organic cotton and bamboo
Relax in the lap of luxury with this U-shaped pregnancy pillow made with an organic cotton and bamboo velour cover. What makes this pillow unique is that the cover is two-sided. One side is smooth and breathable to keep you cool while the other has a soft velour texture to help keep you warm.
The Yana Organic Bamboo Pregnancy Pillow is filled with contouring foam materials which adjust to the size and shape of your body, relieving pressure from your joints and is perfectly sized for sharing your bed with a partner. You'll get the comfort and support you need without taking up the entire bed.
Shape: U-Shape
Materials: Fusion fiber-fill
Cover: Organic cotton
This eco-friendly pregnancy pillow is generously stuffed with fusion fiber-fill, a synthetic down stuffing. Unlike real down, this material won't trigger allergies and it does a better job retaining its shape and fluffy texture for 360-degree support. It also contains an extended polymer that helps air flow through the pillow.
The Comfort-U Full Body Pillow is wrapped in an organic cotton pillowcase which protects the pillow but also helps keep you cool. The cover is washable as well. In fact, you can throw the whole pillow into the washing machine, so there's no hassle involved at all. It's a great way to re-fluff the pillow.
Though there are plenty of pregnancy pillows on the market, they aren't all created equal. In fact, many are made with low-quality materials that won't hold up over time. Organic is the way to go and we've rounded up the top three options for you to consider.

Other Products We Considered
The Pillow Insider editorial team researches hundreds of products based on consumer reviews, brand quality, and value. We then choose a shorter list for in-depth research and testing before finalizing our top picks. These are the products we considered that ultimately didn't make our top 5.