How We Tested
We recommend these products based on an intensive research process that's designed to cut through the noise and find the top products in this space. Guided by experts, we spend hours looking into the factors that matter, to bring you these selections.
Click here for testing insights >

11
Models
Considered

210
Consumers
Consulted

45
Hours
Researched
Buying guide for
Fluffiest Down Comforters
If you've ever stayed in a luxury hotel before, you can probably attest to just how fluffy and comfortable the comforter was. And if you're looking to recreate the five-star hotel experience at home by looking for a similar fluffy down comforter, well, you've come to the right place.
Here, we've founded up our favorite fluffy down comforters so you can stay cozy and relaxed all year long.
What Are the Fluffiest Down Comforters?
First, let's take a look at what makes a fluffy down comforter, and what qualities to consider during your search.
Filling Materials
When it comes to the materials of your down comforter, you have a few options. Goose down has to be the most popular since goose feathers produce bigger down clusters, perfect for cooler climates and added warmth. Goose feathers are soft, fluffy, shapeable, have great heat-trapping qualities and are very resilient (specifically Hungarian goose down). This is why goose-down comforters are so popular (and also more expensive than lesser quality duck down).
On the other hand, duck feathers are more accessible and affordable than geese. They have smaller clusters and provide less insulation, perfect for warmer climates. Duck down is an excellent choice for those on a budget.
Construction
How your comforter is constructed will greatly impact how the warmth distributes throughout the comforter. Traditionally, a baffle box provides more strength and allows the down to loft to its fullest while maintaining even distribution within the boxes.
Then, there's the gusseted stitch, where an extra strip of fabric connects the front and back sides. Sewn-through stitching is similar to the baffle box without the extra material strip.
Finally, you can opt for diamond quilt stitching that creates compartments for filling and prevents clumping. When shopping for a down comforter, make sure to review the product features to see what kind of construction was used in the making of your potential future comforter.
Fill Power
Down comforters also come with a label that marks the percentage of down fill. This is an important feature that marks the warmth of your comforter, as the number on it will directly correspond to its quality. The higher that power, the more fluffiness, and insulating properties your comforter may have.
Usually, 500-600 fill power is a good quality comforter for those who live in warmer climates. The ones between 600-700 provide optimal warmth, while the fill power of 700+ is something you don't see on your shelves every day. They are best suited for very low temperatures and have a heftier price tag because they are made from molting geese.
Thread Count
The thread count refers to the number of threads per square inch of fabric in a down comforter. The higher the thread, the more tightly woven, finer, and long-lasting the comforter will be. You can section standard thread count into low, high, and luxury qualities. Low is usually under 200, high is 200-400, and luxury goes above 400. Most materials with a higher thread count are not durable, so choosing a comforter with a thread count of 250 to 500 will be your best option as an all-season down comforter.
Size
Your decision on choosing the size of your comforter will depend on whether you want a comforter to sit perfectly on top of your bed or if you want one that drapes off the sides. In general, if your comforter is not as long as your mattress, you may be exposed in the middle of the night. On the other hand, it will drag across the floor if it's too long.
Color
Down comforters usually range from white to gray. White ones are the go-to choice for most shoppers since they blend better with other materials. However, color doesn't overtake quality, so let this be a secondary consideration when browsing.
Price
Before following through with a purchase, decide on your budget. Comforters can usually range from low-budget options like duck down at around $80 to pure, white, hypoallergenic goose down comforters at about $800. We suggest looking into special sales if you're set on a particular comforter because the purchase will pay off in the long run.
FAQ
Q. Do hotels use comforters or duvets?
A. Hotels generally go for comforters rather than duvets. These comforters are then sandwiched between two layers of sheets, which adds to the already lofty feel of the comforter and provides ultimate comfort to the guests. Comforters are generally easier to maintain as compared to duvets which can only be dry-cleaned and not machine washed. Comforters are therefore preferred over duvets.
Q. Do hotels wash the comforter?
A. Hotels typically sandwich the comforters between two layers of extra sheets, which is why the comforter rarely gets dirty. The guests who use the comforters generally come in contact with these sheets instead of the comforter itself. This is why hotels do not really wash comforters regularly. However if the comforters get visibly stained or dirty, they are sent to the laundry where they are thoroughly cleaned. Most often however, it is the comforter sheets which are regularly washed after being used by guests.
Q. What kind of comforter does Marriott use?
A. Marriott hotels use luxurious down comforters that are filled with 90% down and 10% duck feathers. They are allergen free and the filling is enclosed in a 100% cotton shell which is very soft to the touch. These are light weight and free of any sort of allergens.
Q. What comforters does Hilton use?
A. Hilton hotels use SuperLoft™ Tufted Design comforters made by Pacific Coast. These comforters feature a unique Baffle Box Comfort Lock ® design which keeps the down fill intact keeping you warm. With a 600 fill power and 400 Thread Count 100% cotton shell, this comforter is the epitome of luxury for guests staying in Hilton hotels.
Q. What kind of comforter does Holiday Inn use?
A. Holiday Inn hotel uses hotel bedding made by Downlite. The comforter they use is EnviroLoft down alternative comforter which brings you the comfort of down in a polyester alternative. This non-allergenic comforter could be a great addition to your bedroom especially if you are allergic to down or other natural filling materials.

Other Products We Considered
The Pillow Insider editorial team researches hundreds of products based on consumer reviews, brand quality, and value. We then choose a shorter list for in-depth research and testing before finalizing our top picks. These are the products we considered that ultimately didn't make our top 5.
Our Top Products

Best of the Best
Sleep Restoration
Down Alternative Comforter
bottom line
The Sleep Restoration down alternative comforter, is the perfect companion for all seasons. We stopped looking for reasons to dislike it and made it our new #1 pick.
Beckham Hotel Collection
1300 Series
bottom line
As if this brand's pillow didn't make sleeping comfortable enough, Beckham Hotel Collection's comforter made us want to hit snooze over and over again.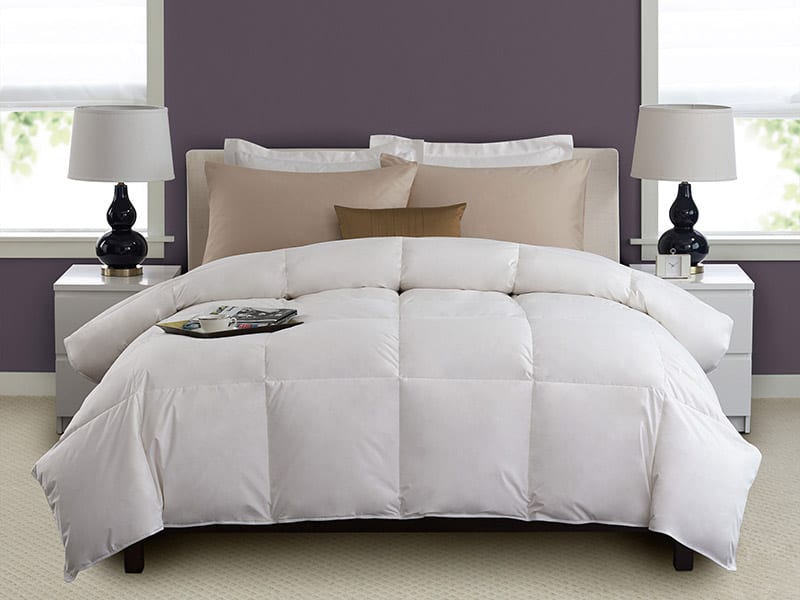 Pacific Coast
Hotel Down Comforter
bottom line
The Hotel Down Comforter by Pacific Coast is ideally designed for people looking for the fluffiest down comforter available, which also allows them to sleep comfortably in a moderate climate.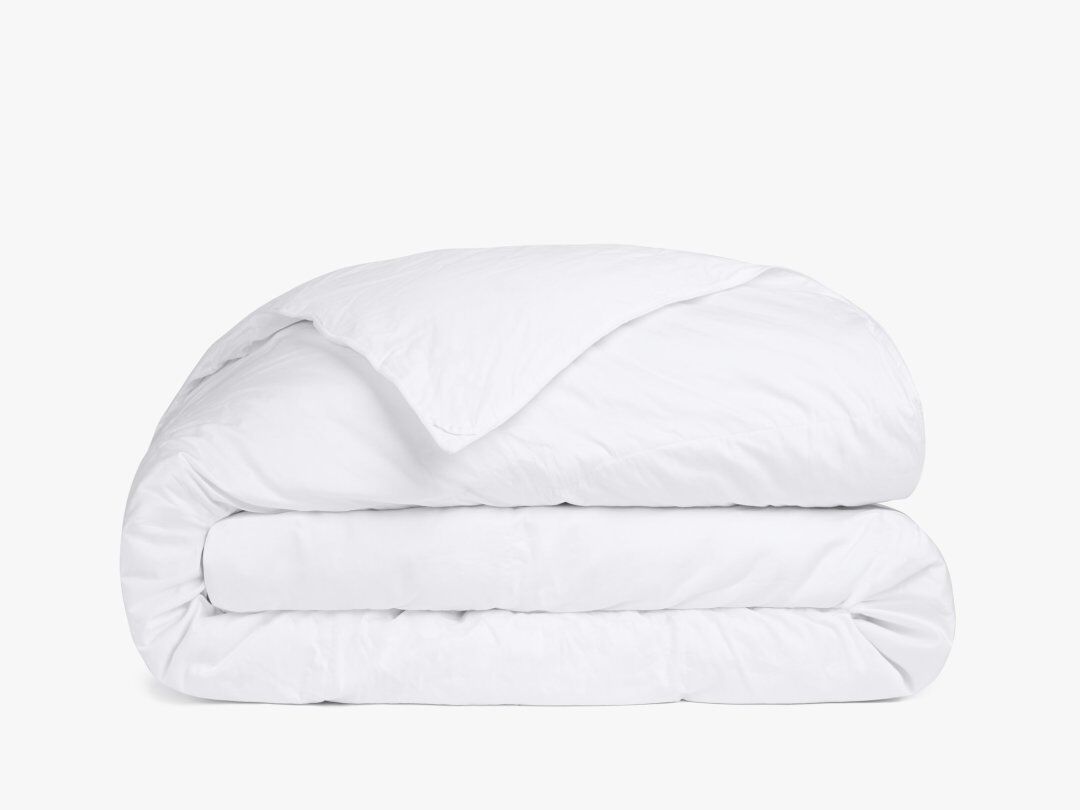 Parachute
Down Duvet Insert
bottom line
With its superior 750 fill power European white goose down, Parachute down comforter allows you to sleep every night in the luxury of a fluffy cumulus cloud.