How We Tested
We recommend these products based on an intensive research process that's designed to cut through the noise and find the top products in this space. Guided by experts, we spend hours looking into the factors that matter, to bring you these selections.
Click here for testing insights >

11
Models
Considered

314
Consumers
Consulted

39
Hours
Researched
Buying guide for
Warmest Comforters for Winter
A warm comforter is the best companion for getting through cold nights. You'll appreciate the warmth and insulation it provides over the cloud-like feeling you get from sleeping with one on cold nights. However, not all comforters can keep you as warm as you crave to be, and you'll have to find some extra warm comforter to avoid shivering in bed on those chilly winter nights.
If you're considering buying a warm comforter for winter, you're in luck as we've compiled a list of the warmest comforters below. These comforters will keep you warm through the coldest nights and make leaving your bed impossible.
Pacific Coast Ultimate Extra Warmth Comforter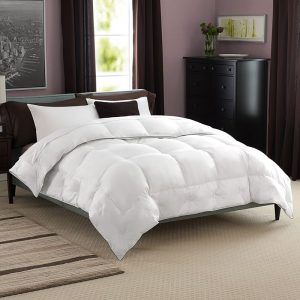 This extra warm comforter is made using hyperclean goose down, and the outer fabric is made from 100% cotton. The material and the feel of the comforter is great, and it is super warm yet lightweight. It features a baffle box design that separates the layers by forming a three-dimensional box with no shift borders. This ensures that its filling stays in place and does not move to the edges.
Sleeping with this comforter not only guarantees a warm cozy night but also provides a hug-like feeling while you sleep. Its filling can be adjusted for maximum loft as it comes with 600 fill power Hyperclean® White Goose Down.
This is the best comforter for winter and is ideal for winter use and colder climates because of it's high TOG rating.
We don't recommend using this for summer or spring season, as it is extremely warm and may result in night sweats if used in hot weather.
Besides being one of the warmest comforters in the market, this comforter is ideal for people with allergies as it's made with hyperclean goose down. It also comes with duvet loops, which makes it easy to be inserted in a duvet cover. This way, you can keep it clean for longer periods without having to wash it.
Pacific Coast Extra Warmth Down Comforter
This comforter is fluffy and gives you the cloud-like feeling with extra warmth. It's made with organic goose down and 100% cotton fabric, which is soft and cool on the skin. The cotton fabric is Barrier Weave® and down proof, which prevents the down filling from shifting to the edges and ensures that you get maximum warmth across the comforter.
Unlike the super warm comforter discussed above, this comforter does not have a baffle box design but has a sewn-through box design and shift-free comfort lock, which equally keeps the down evenly distributed.
The fill power is 550, which makes it very fluffy and comfortable to sleep with. Also, this comforter is slightly on the heavier side with higher density and weight on the edges. Thus, you can be sure that there will be no cold spots when using this comforter.
Down Etc.® Winter Weight Down Comforter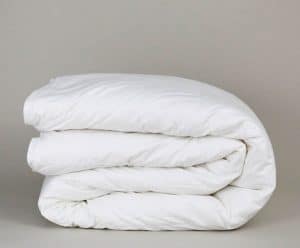 If you want a thick heavy comforter for winter but don't have the budget to spend on Pacific Coast comforters discussed above, you should opt for this one. The winter weight down comforter is specially constructed to keep the weight on the edges and keep you warm on cold nights. There's no room for the cold to slip in with the weighted edges, ensuring that you stay warm all night.
It's made with goose down filling, and the outer fabric is 100% cotton. It also has 650 fill power, which makes it fluffy and very insulating. Its baffle box design also prevents the down from shifting too much, making sure it maintains its loft and that the weight is evenly distributed to prevent cold spots. Filled with 35 ounces of down, this comforter is very insulating and can keep you cozy in bed on the coldest of nights.
This is the warmest comforter produced by Down Etc.®. The goose down filling used is white and hypoallergenic, which makes it suitable for people with allergies. Maintaining this warm comforter is also not much of a chore as it is machine washable, though dry cleaning is a preferable option.
APSMILE Heavyweight Goose Down Comforter
The APSMILE heavyweight goose down comforter has proven time and again to be one of the most affordable options to combat chilly winter nights. You would find its extra warm and snuggly attributes quite irresistible as you lay down on your bed. This cloud-like softness stored within a beautiful duvet cover is a must have to survive harsh winter nights.
If you desire all-natural bedding products, and you also tend to live in an icy cold region, this comforter is definitely made for you. The comforter's premium quality comes from the natural materials used for the construction of it's fabric as well as for the filling. With the APSMILE comforter, you get to enjoy 100% organic cotton comforter, along with the silky smooth feeling that it brings.
That however is not all. This comforter makes use of hypoallergenic Siberian Goose Down, which is practically known for its superior down clusters. With the 750 fill power down fill, it's no wonder that the comforter manages to keep you warm amidst the chilly nights. Moreover, the box design keeps the down evenly distributed so you never find your feet freezing because the down filling slipped from its place.
This is a heavyweight comforter with 61 Oz fill weight in king size which is precisely what enables you to stay cozy underneath. The APSMILE comforter hugs you unconditionally at night to deliver a night of superior warmth and ultimate comfort.
C&W Luxurious Siberian White Goose Down Comforter
If you're looking for an affordable winter weight comforter, this luxurious Siberian White Goose Down comforter by C&W is an ideal option to keep you ultra warm even during the coldest of nights. When used in combination with the high quality Egyptian cotton covers, there is little that can compete with the resulting softness, smoothness and coziness delivered by your comforter.
First off, the Siberian white goose down used in the filling is completely Hypoallergenic, and therefore eliminates the risk of developing allergies. Moreover, once you snuggle into the 750 fill power down comforter, you stay warm no matter how cold the temperature of your bedroom is. The 1200 Thread Count Egyptian cotton cover, on the other hand, offers a touch of luxury giving the comforter its silky smooth feel upon contact with the skin.
Does your comforter keep slipping from your duvet, to leave you at the mercy of the chilly winter in the middle of the night? The superior warmth by this C&W siberian goose down comforter would never cease to exist, thanks to its 8 corner loops that tend to attach to the corner ties in your duvet, thus keeping it in place.
Moreover, the baffle box design tends to keep the down filling in place. You won't have to get up in the middle of the night and shake your comforter to redistribute the down fill. The C&W down comforter therefore provides a nightlong comfort with a promise to deliver an uninterrupted sleep.
Globon Winter White Goose Down Comforter
Looking for a luxurious warm comforter to recreate the comfort you experienced at some five star hotel you stayed in? This warm winter comforter by Globon offers exactly that and more. It gives your room the turn of the century luxe you so desire, while keeping you cozy during the harsh winter nights.
What makes it different, and better, from most other down comforters is the moisture repellent nature of the goose down used in its filling. Globon's white goose down is specifically texcote nano-treated, which means it dries up faster after a wash. The moisture repellent nature of the comforter tends to prevent your comforter from getting all sticky and clammy during the night, thus delivering on a nightlong uninterrupted comfort.
Like most down comforters, the Globon Winter white down comforter also makes use of a baffle box design to keep the filling evenly distributed. It is however the 100% cotton sateen cover that seals the deal by lending a lustrous feel and look to the comforter.
Since the comforter's fabric is down-proof, you can rest assured that no down clusters can ever leave the cover to reduce the comforter's fluff and loft. Your premium white goose down warm comforter is therefore guaranteed to last you a long time, before you would feel the need to have it replaced.
Warmest Comforter Materials
When it comes to buying a warm bed comforter, it's important that you choose one that provides adequate warmth to get through those chilly winter nights especially if you live in colder climates. If you're wondering what materials to look out for when shopping for super warm comforters, here's a breakdown of some of the warmest materials used in making comforters.
Down
Down is one of the most extensively used comforter filling materials mainly known for its high insulating properties. Down is often sourced from goose, ducks, and swans that have been killed for their meat. However, there are companies that unethically source down as well, and it's advisable to ensure that the manufacturer of the down product you want to buy observes ethical standards.
The level of warmth you get from a down comforter depends on the quality of down fill as well as TOG rating. TOG stands for Thermal Overall Grade which is a unit used to measure the warmth of bedding materials. The higher the tog rating, the warmer the comforter will be.
Down is a natural comforter material that is breathable and prevents sleepers from overheating. Although down comforters are slightly expensive, they are among some of the fluffiest comforters and the warmth they offer makes it worth the price.
Polyester
Polyesters are synthetic or rather human-made materials specifically made as an alternative to natural comforter filling materials. It traps moisture, and this makes it very insulating. Polyester comforters offer as much warmth as down comforters, are cheaper, and a lot easier to maintain.
However, the breathability is significantly less and incomparable to that of natural materials like down. This makes you sweat when the warmth is more than required.
Polyester may not also be skin-friendly and is not ideal for people with allergies due to the synthetic material. However, if you're not a fan of animal products, it's an excellent alternative to down comforters.
Wool
Wool is another natural material that is great for keeping the cold away. Wool is insulating because it traps air and contains keratin, which regulates body temperature in animals.
However, wool is not recommended as a comforter material for a couple of reasons. One of the reasons is that it does not warm up fast. However, heat retention is great once it does, but people living in moderate climes may find it too warm. Wool is also heavy.
Nowadays, many wool comforters are made using advanced technologies and a combination of materials to overcome these setbacks. But this makes the wool comforters pricey at the end, especially for good quality wool products.
Silk
Silk material is very soft and lightweight and still provides warmth and has a luxurious feel. It is insulating as it traps air between its threads. However, it is not recommended for use in regions where winters are harsh as it does not trap heat entirely like down, polyester, or wool. Silk can, however, be used in moderate winters or any other season.
Silk is entirely natural and 100 percent hypoallergenic, which makes it ideal for people suffering from allergies. However, only original and high-quality silk can guarantee anti-allergy. This further increases the price of the product as most manufacturers combine synthetically manufactured silk with original silk.
FAQ
Q. How do I choose a warm comforter?
A. You'll have to consider a combination of several factors when selecting a warm comforter. The TOG rating plays a significant role in the selection process. For summer comforters, you need to choose comforters with a TOG rating of 5-7. If you live in colder climates, opt for a comforter that has a 10+ TOG rating to make sure you comfortably make it through those chilly nights. Other than TOG rating, the material used is also essential. Down is the most preferred material for warm winter comforters, but there are some other alternatives as well discussed above.
Q. Are comforters warmer than blankets?
A. Some blankets may be warmer than comforters but not as effective for keeping you warm completely. Blankets are made with a single layer of fabric, while a comforter contains multiple layers - the inner layer acting as an insulating material and stuffed between the outer layers. Blankets made from wool provide a lot of warmth and are ideal for frigid regions. However, wool's warmth retention capacity might cause sweating and discomfort when using these blankets in moderate climates. Comforters provide appropriate warmth because of the insulating layer between them, which traps the air and lets it go at regular intervals. This makes them perfect for different climates and is not restricted to just winter or extremely cold climes.
Q. Are Down Comforters warmer than Down Alternative?
A. Down alternative comforters, mainly polyester, provide as much warmth as down comforters. The weight, warmth, feel, price are all similar or somewhat better than down comforters. However, the down alternative comforters have breathability problems. Despite various advancements in the production technology of down alternative comforters, they are still not as breathable as down. This results in sweating at night if the temperature is higher than expected. Air entrapment in the down alternative comforters is the leading cause of lower breathability. Natural down alternatives may be more breathable but do not provide as much warmth as down comforters. This is why down comforters are known as some of the most comfortable comforters.
Q. Are microfiber comforters warm?
A. Microfiber comforters are warm enough to be used in colder climates. However, they are less warmer than down comforters, but considerably and comparatively warmer than other natural materials used as a comforter filling material. Microfiber is a little on the heavy side and also not as fluffy as down. However, it is one of the best materials in terms of durability, price, and maintenance. Its only setback is that it is not as breathable as down comforters but it is a good alternative.
Q. Why do fuzzy blankets feel warmer?
A. Fuzzy blankets feel warmer because of their layers caused by the uneven and frizzy nature of the material. Like comforters, the outer layer of fuzzy blankets provides additional insulation as the outer materials are not directly in contact with our body. Besides the fuzziness and warmth, these blankets are incredibly soft and lightweight, making them portable and comfortable. However, they cannot be compared to comforters as comforters provide more warmth and comfort.

Other Products We Considered
The Pillow Insider editorial team researches hundreds of products based on consumer reviews, brand quality, and value. We then choose a shorter list for in-depth research and testing before finalizing our top picks. These are the products we considered that ultimately didn't make our top 5.