How We Tested
We recommend these products based on an intensive research process that's designed to cut through the noise and find the top products in this space. Guided by experts, we spend hours looking into the factors that matter, to bring you these selections.
Click here for testing insights >

11
Models
Considered

289
Consumers
Consulted

30
Hours
Researched
Buying guide for
The Best Lumbar Support Pillows
Proper posture is extremely important, but many people who have poor posture don't even realize it. Take a moment to examine how you're sitting right now. Are your shoulders hunched forward? Is your chin dropping into your chest?
Poor posture puts a great deal of strain on your body, especially your lower back, and it can lead to chronic back pain. Making an effort to be more mindful of your posture is a great first step, but you may need some additional help to correct your posture and support your spine – that's where a lumbar support pillow comes in.
A good lumbar support pillow relieves pressure on your spine while supporting its natural curvature. We've done a great deal of market research to bring you a shortlist of the best lumbar support pillows on the market. Check them out below.
The Benefits of Lumbar Support
According to the National Institute for Occupational Safety & Health (NIOSH), more than 1 in 4 working adults suffers from lower back pain. Low back pain can happen suddenly as a result of strain or injury, but it can also develop slowly over time from repetitive movements or poor posture. Making sure your spine is supported can reduce pressure on the lower back and support the spine's natural curve.
In addition to reducing low back pain, lumbar support provides the following benefits:
It helps support the spine to prevent further damage.
It may help you correct poor posture, reducing strain on the neck, back, and shoulders.
It can make it more comfortable to sit for long periods of time.
It helps support circulation which can keep the muscles from getting stiff and tight.
It keeps your spine in proper alignment during the day so you rest better at night.
When shopping for a lumbar support pillow, it's important to look for a pillow specifically designed for your intended use. There are subtle differences in lumbar pillows made for office chairs and pillow made for other purposes like driving or camping. The pillow should be thicker at the bottom and tapered at the top, ideally with an adjustable strap so you can place it exactly where you want it on the chair.
As with mattresses and bed pillows, everyone has their own unique preferences for firmness when it comes to lumbar support pillows. It's important, however, to find a pillow that has a little bit of give so it contours to the shape of your body, but it should be firm enough to support the natural curvature of your spine. We recommend considering the quality of the materials as well and it's worth looking for a lumbar pillow with bonus features like a removable washable cover.
Lumbar Support Pillow Reviews
Whether you spend long hours working from home or in the office, proper lumbar support is the key to preventing or reducing lower back pain. You can even use a lumbar support pillow in the car.
There are many lumbar support pillows on the market and they are not all created equal. We've done the research to determine what qualities are important in a lumbar pillow to bring you a list of our top five recommendations.
Here are our top 5 picks for the best lumbar support pillows:
This memory foam lumbar support pillow offers ergonomic support for your office chair or car seat. The pillow features a wide, thick base that relieves pressure from the base of your spine, tapering toward the top to follow the natural curvature of the spine. Thick memory foam materials contour to the shape of your body, delivering custom support and comfort.
With an integrated fastener strap, this lumbar pillow can easily be adapted for use in the car or on your office chair. Simply adjust the length of the strap and fasten it around the chair, adjusting the height as needed to provide the desired degree of spinal support. When not in use, the pillow can be kept in the included carrying case and you can remove the stain-resistant mesh cover for easy cleaning.
This lumbar support pillow is affordably priced but still made from non-toxic, high-quality materials that comply with Oeko-Tek Standard 100. Customers seem to appreciate the adjustable strap and contouring support, though it's worth noting this pillow is over 5 inches thick at the base, so you'll need to use it with a chair that has a deep seat.
Best for Travel: Fern and Willow Twist Memory Foam Travel Pillow
Whether you're traveling by car or plane, extended periods of sitting can put a great deal of strain on your neck and back. This memory foam travel pillow is designed to be used in a variety of shapes to support the neck, legs, waist, arms, or back. Simply twist the pillow into the desired shape and the memory foam material will conform to the contours of your body to relieve pressure.
This lumbar pillow is very lightweight which makes it perfect for travel, and the cover is removable and machine washable for convenience. The cover is made from plush velour fabric which is soft against the skin but still breathable, so it won't cause you to overheat. Because it is so versatile, its uses aren't limited to travel – the pillow can be used for reading or napping as well.
The Fern and Willow Twist Memory Foam Travel Pillow is affordably priced and its versatility delivers excellent value. It is designed with a snap closure so you can easily secure it to your belongings during travel and it is small enough that it won't take up much storage space between uses.
Best Back Cushion: Purple Back Cushion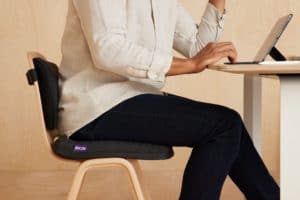 Many lumbar pillows are large and unwieldy, covering the entire back of your chair or car seat. If you're looking for a pillow that relieves pressure on the lower back but doesn't push your upper back forward, this Purple Back Cushion could be a good fit. Its adjustable strap wraps around your chair to keep it in place and you can adjust the height to deliver pressure-relieving support exactly where you want it.
What makes this back cushion unique is that it is made with 100% Purple Grid. This material is specially engineered to conform to the shape of your body, providing contouring support with just enough bounce back that you don't sink too far. Plus, the grid-like design creates hundreds of air channels that support temperature neutrality – you won't overheat when using this pillow.
In addition to offering strong lumbar support, this back cushion is non-toxic and hypoallergenic. It ships free and comes with a 30-day trial with free returns. You're also covered by a 1-year warranty.
Best for the Office: Coop Ventilated Orthopedic Lumbar Cushion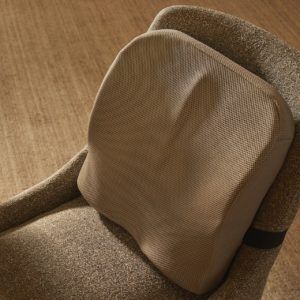 Whether you're in the office or working from home, you probably spend a significant portion of your day seated. Without proper support, your back can succumb to pressure and you may find yourself feeling stiff and sore at the end of the workday. This ventilated orthopedic lumbar cushion from Coop is specifically designed to relieve spinal pressure and support proper posture.
Memory foam is a responsive material that conforms to the shape of your body. In a lumbar pillow, this means that the materials support your back and help keep your spine in proper alignment. The memory foam in this lumbar cushion is unique, however, in that it is infused with bamboo charcoal which helps improve airflow through the cushion to keep you cool.
This lumbar cushion is designed with an extra-long strap so, while it is ideal for use with your office chair, it can be adapted to your car seat or even a plane seat. The only downside is that the cushion itself is not washable and the cover is best washed by hand, not by machine.
Best for the Car: Xtreme Comforts Lower Back Cushion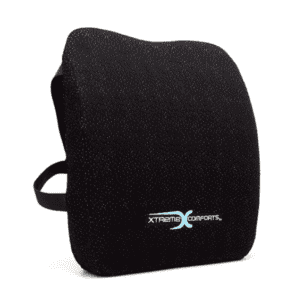 When shopping for a lumbar support pillow for the car, it makes sense to purchase two – one for the driver and one for the passenger. This Xtreme Comforts Lower Back Cushion makes your job easy by including two cushions in the set (though you can also purchase them singly). The adjustable strap makes it easy to install in your car and the uniform density foam is durable enough for long car trips and extended wear and tear.
This Xtreme Comforts back cushion is made from 100% memory foam, so it conforms to the shape of your body to deliver a custom degree of support and pressure relief. Because the materials are so responsive, this cushion works well for all body types – plus, you can adjust the height and position of the cushion using the attached strap.
If you only plan to use this cushion for long car trips, you'll appreciate that it comes with a carry bag for easy transport and storage. You can also remove and wash the cover between uses.
Why You Should Purchase a Lumbar Support Pillow
Even if you're not currently suffering from back pain, you should consider getting a lumbar support pillow. Most people have poorer posture than they realize and it's only a matter of time before it catches up to you. A little bit of support goes a long way in relieving pressure from the lower spine and supporting its natural curvature for long-term pain relief.
Purchasing a lumbar support pillow is, however, only half the battle – you also need to know how to use it properly. Place the lumbar pillow across the back of your chair or car seat and strap it in place. When you sit down, you should feel the curvature of the pillow fitting into the small of your back, supporting the arch of your lower spine.
When the pillow is positioned properly, you'll find that you can draw an invisible straight line through your ears, shoulders, and hips. If the pillow is pushing you too far forward, try lowering it a little bit.
FAQ
Q. Do lumbar support pillows really work?
A. Yes, when used properly. A properly placed lumbar support pillow helps relieve pressure on the lower spine while supporting its natural curvature. This helps reduce pain and prevent soreness and stiffness.
Q. How deep should a lumbar support pillow be?
A. Lumbar support pillows generally range from 2 to 5 inches thick, depending on the design. A lumbar cushion is generally designed to be placed behind the lower back while a full lumbar support cushion covers the entire back of the chair, being deeper at the base and tapering toward the top.
Q. What firmness is best for a lumbar support pillow?
A. Firmness is largely a matter of preference when it comes to lumbar support pillows, though people with higher BMI may need a pillow that is firmer (and taller) than smaller individuals.

Other Products We Considered
The Pillow Insider editorial team researches hundreds of products based on consumer reviews, brand quality, and value. We then choose a shorter list for in-depth research and testing before finalizing our top picks. These are the products we considered that ultimately didn't make our top 5.