You remember the story of Goldilocks and the Three Bears. It's the story of a young girl who, faced with a choice of three mattresses, chooses the one that isn't too hard or too soft but just right.
We all want a mattress that's "just right." The trouble is personal preferences vary, so the mattress you find perfectly comfortable may not be comfortable at all for someone else. This generally isn't a problem because you're shopping for yourself and, at the most, one other person. Either you and your partner come to a compromise or one of you decides to let the other have their way.
Most Popular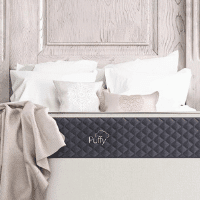 Puffy Mattress

Climate-adaptive materials
Strong pressure relief
Budget Friendly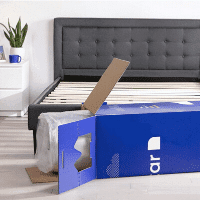 Nectar Mattress

365-night trial period
Multi-layer foam
Best Overall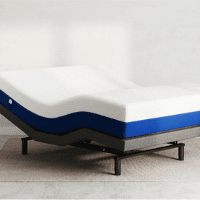 Amerisleep Mattress

Plant-based Bio-Pur
Targeted pressure relief
When it comes to choosing a mattress for your guest room, however, what's the best option?
Like the story of Goldilocks, your best bet is probably to choose a mattress that's not hard and not soft – it should be somewhere in the middle of the firmness spectrum. The best guest bed might not be the "best" for all guests, but a medium or medium-firm mattress will work for most sleepers.
In this article, we'll talk about the characteristics to look for in a guest room mattress. We'll talk about the different kind of mattress materials you have to choose from and provide you with some tips for making a smart choice. You'll also see our top picks for the best mattress for your guest room.
[alert type="success" icon-size="normal"]
What are the Best Mattresses for Guest Rooms?
[/alert]
A Mattress That Works for Everyone
You can't expect all of your guests to agree when it comes to what kind of mattress they prefer – you might not even care if they did. After all, you're offering them space to stay and a bed to sleep in, so you may not think they're entitled to much of an opinion about the mattress itself.
You don't necessarily need to call up everyone you plan to host in the next few years to ask their opinions on mattresses, but you should choose a mattress that most people will find comfortable. It doesn't hurt, however, to think about the specific guests you plan to host most often, just in case there are some special requirements to consider. Think about your own preferences as well.
Here are some questions to help you figure out what kind of mattress to choose:
What kind of guests will be using the mattress?
Do any of your anticipated guests have special needs?
Will certain guests be using the guest room more frequently?
Do you have any frequent guests with severe allergies?
How much are you willing to spend on a guest mattress?
How long do you expect your guest room mattress to last?
If you're furnishing your guest bedroom with a specific guest in mind, or you plan to host the same few guests the majority of the time, it's a good idea to think about what they might prefer in a mattress. The biggest factor to consider in this case is sleeping position.
When it comes to choosing the best mattress, it really comes down to a matter of support. Sleeping on your back is generally the best position for maintaining optimal spine alignment. The key it to choose a mattress that doesn't sink too much but it shouldn't be so hard that it doesn't cushion your joints. Back and stomach sleepers generally prefer slightly firmer mattresses while side sleepers need a little extra cushion and pressure relief to avoid sore hips and shoulders.
Now that you have a little better idea what to think about when shopping for a guest bed, you may be wondering what the options are. Read on to learn about the different types of mattresses.
[alert type="info" icon-size="normal"]
Read Also:
10 Best Mattresses for Sleep Apnea Sufferers in 2022
[/alert]
What Types of Mattresses Are There?
All mattresses are not created equal. When you start shopping for a mattress, you might assume it's just a matter of choosing the right firmness. What you'll come to find, however, is that there are many different materials from which mattresses can be made and that affects more than just the firmness.
Here are some of the most common types of mattresses to consider:
Memory Foam – Also known as viscoelastic foam, this material compresses under weight and conforms to the contours of the body to relieve pressure. Because it tends to be fairly dense, memory foam sometimes traps heat and it may not be as responsive as other materials.
Latex – Similar to memory foam, latex offers some contouring properties but it is firmer and bouncier than memory foam. Natural latex is hypoallergenic and may sleep cooler than foam.
Innerspring – Invented in the 1800s, traditional innerspring mattresses consist of a continuous coil base with a fabric cover. Modern innerspring mattresses use different numbers, types, and configurations of individual coils, often with layers of foam for cushioning.
Hybrid – These mattresses incorporate two or more types of mattress materials. In many cases, hybrid mattresses are built on a coil base for support with foam or latex for pressure relief.
Air Mattress – This type of mattress generally involves a number of air chambers that inflate to give the mattress structure. The level to which the mattress is inflated determines the firmness.
Understanding how mattresses are made is only half of the equation. Now that you know more about the materials inside a mattress, it's time to think about how those materials affect the qualities of the mattress – things like firmness, support, and pressure relief.
What to Look for When Shopping for a Mattress
Because you're not shopping for a mattress you plan to personally sleep on every night, the qualities you find important may be different. We recommend starting by thinking about your budget. Think about how much you're willing to spend but be prepared to shop within a range instead of limiting yourself to a specific dollar amount. Remember, price affects quality as well as durability and you may want to think about your guest bed as a long-term investment.
After establishing a range for your budget, think about what type of mattress you prefer. You want to choose something that is supportive but unless you're furnishing the room for a specific guest, you may want to leave some room to accommodate different sleeping positions. Sticking to something in the medium or medium-firm range will help that regard as well.
[alert type="warning" icon-size="normal"]Another factor to consider is the quality of the mattress – the construction and the durability. The last thing you want to do is buy a low-quality mattress for the sake of saving money just for it to wear out after a year or two. Worse yet, you don't want to waste your money on a mattress your guests don't find comfortable. Look for a mattress with a sturdy base (like coils or high-density foam/latex) and consider additional factors like reinforced edges to prevent sagging.[/alert]
The Best Mattress for a Guest Bedroom
There may not be a perfect mattress for every guest bedroom. Our advice is to choose a mattress that is medium or medium firm but, other than that, you have some wiggle room. Your choice for the type of mattress may be affected by the guests you plan to host as well as your budget. We've done our best to compile a list of varied options so you can see some examples and start to narrow down your choices.
Here are our top picks for the best mattress for guest rooms: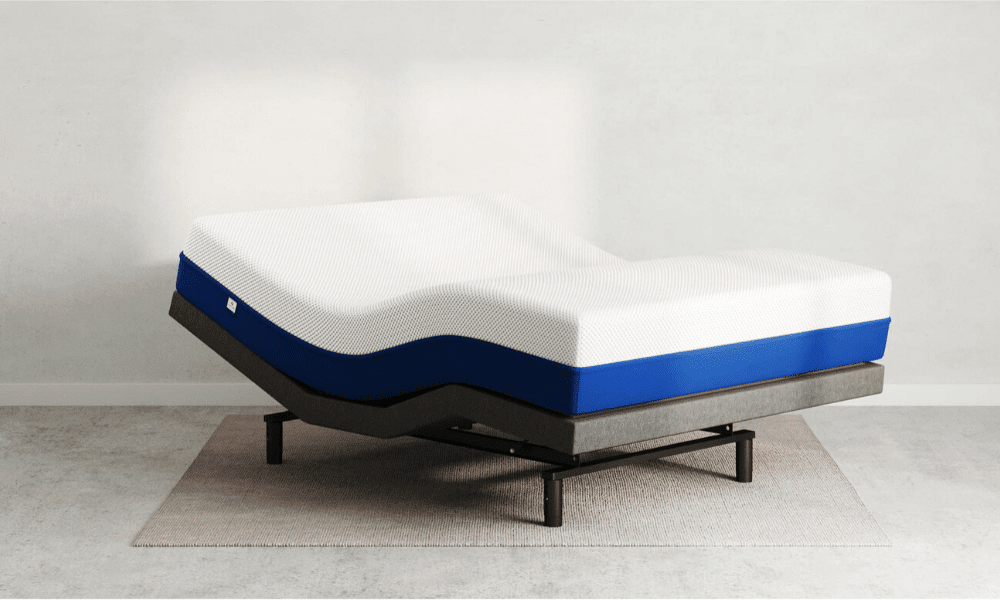 Best Overall: When it comes to finding a mattress that feels "just right" for your guests, it's a fine line to walk. You want to make sure your guests are comfortable, but you don't want to spend a small fortune on a mattress that won't be used every night. Our top overall pick is the Amerisleep AS3. It is affordably priced, rated at a medium level of firmness, and offers a good combination of support and pressure relief. If you don't love it, there are four other models to choose from and several hybrids.
The Amerisleep AS3 is crafted for lasting comfort, made with open-cell Bio-Pur foam which sleeps cool but offers plenty of support and pressure relief. It is more responsive than traditional foam as well, so it may be a good choice for guests who aren't used to an all-foam mattress. This model comes with a 20-year warranty against sagging and soft spots, so it's a great value, and you can try it risk-free for 100 nights. If your guests don't love it, simply return it for a full refund.
Pros: Five models to choose from, plant-based Bio-Pur materials, targeted pressure relief system
Cons: Could be stronger in edge support, may not have enough bounce for some sleepers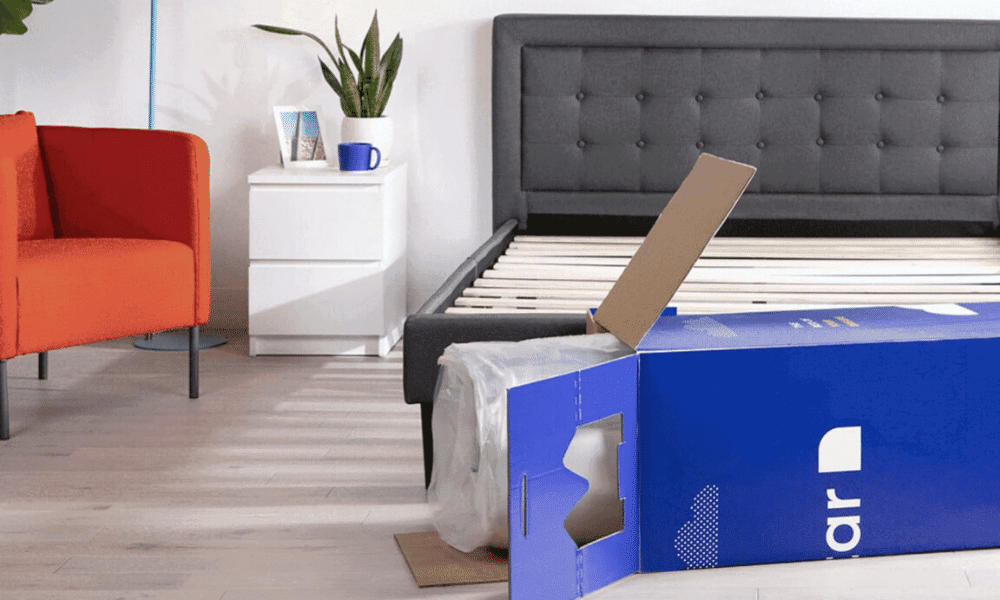 Best Budget-Friendly: You want your guests to be comfortable, but you also need to be comfortable with how much you spend on a guest bed. If you're looking for something that won't break the bank but still checks all the boxes for support and comfort, we recommend Nectar. This all-foam mattress is well made and rated medium-firm, plus it is covered by a 365-night trial period so your guests can try it for a full year risk-free – you can even sleep on it for a few nights (or weeks… or months…) yourself.
The Nectar mattress is made with a multi-layer foam construction. It features a quilted memory foam mattress cover for added comfort with a layer of gel memory foam to help distribute body heat. It also has a support layer of adaptive hi-core memory foam that keeps you from sinking too deeply into the mattress. The Nectar mattress is constructed on a base of stabilizing foam for support and optimal spine alignment, making it a good option for all sleeping positions.
Pros: Long 365-night trial period, multi-layer foam construction, comfort and support
Cons: May not be firm enough for heavy sleepers, foam may be slow to respond
Best Luxury: If you want your guests to feel like your home is their home, you might be willing to spend a little more on a guest bed mattress. You don't necessarily have to spend a fortune to enjoy luxury, however, and the Puffy Lux is proof of that. This mattress is made using premium materials including a luxury cover and climate-adaptive foam to provide the optimal combination of comfort, support, and pressure relief.
The Puffy Lux mattress is durably constructed on a base layer of Firm Core Support foam topped with a transition layer of Climate Comfort foam. The next layer is made of Plush Dual Cloud Foam, exclusive to the Puffy Lux, which helps minimize strain on pressure points. This layer is topped with Cooling Cloud foam and it is all wrapped up in a luxury fabric cover. The Puffy Lux is rated medium-plush, between 5 and 7 on a 10-point firmness scale and it comes with a 101-night sleep trial and lifetime warranty.
Pros: Designed for cooling comfort and support, climate-adaptive materials, strong pressure relief
Cons: May be more expensive than many models, may not be firm enough for stomach sleepers
Best Memory Foam: When it comes to a mattress that appeals to a wide variety of sleepers, memory foam is a good material to consider. It offers excellent pressure relief no matter your sleeping style and it is very affordable. If you're looking for a medium-firm mattress and you don't want to spend a lot, you'll be glad to see our top memory foam choice is priced under $1,000 – the Tuft & Needle Mint mattress.
The Tuft & Needle Mint mattress is a luxury foam mattress designed for cooling comfort and pressure relief. It features a multi-layer foam construction combining premium materials like graphite and gel to draw heat away from the body. The cozy knit cover is super-breathable as well, so you don't have to worry about this mattress sleeping hot. The Tuft & Needle Mint mattress comes with a 100-night sleep trial and a 10-year warranty with free returns, plus it ships for free.
Pros: Affordable price tag, luxury three-layer construction, breathable cooling materials, 100-night trial
Cons: Somewhat lacking in edge support, may be too firm for some side sleepers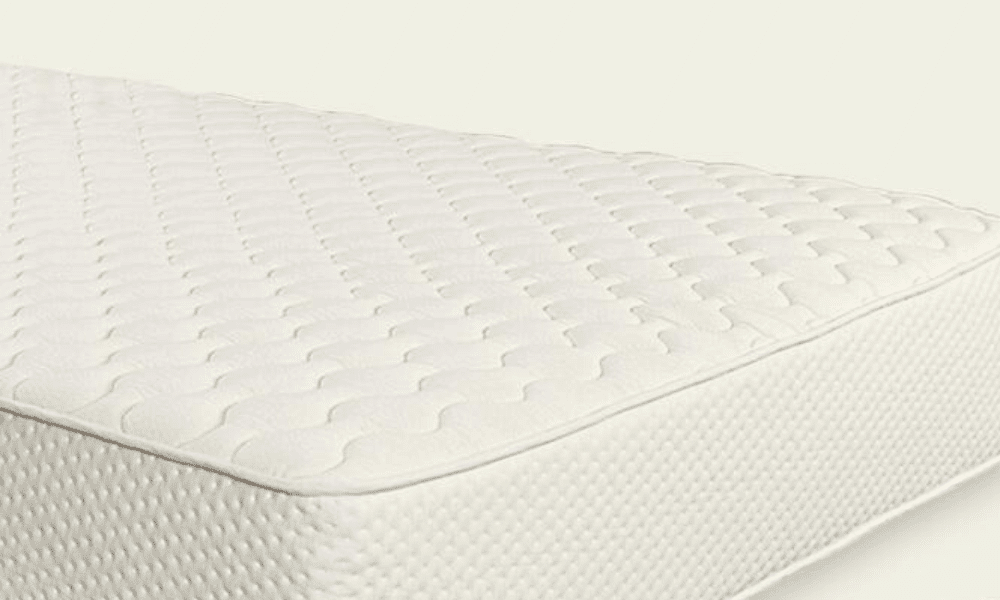 Best Latex: Though memory foam has its benefits, not everyone is used to the way it feels. Some people find that memory foam sinks too much, making them feel trapped by the mattress or giving them the feeling that they are sleeping "in" rather than "on" the mattress. For something with a little more bounce to it, you might consider latex. Our top choice for the best latex mattress for guest rooms is the Latex for Less mattress. It comes with a 120-night trial and ships free in a small, convenient box.
Made with 100% natural latex and organic cotton, the Latex for Less latex mattress also offers the convenience of being double-sided. This mattress comes in a 9-inch and 7-inch height with a "medium" side and a "firm" side. If your guests have a preference for a certain firmness level, all you have to do is flip the mattress over. Whichever side you choose, your guests will enjoy the responsiveness and support of natural latex with the breathability of an organic cotton cover.
Pros: Made from premium natural materials, choose from medium or firm side, handcrafted in the USA
Cons: May be too soft for some sleepers, doesn't offer as much contouring as memory foam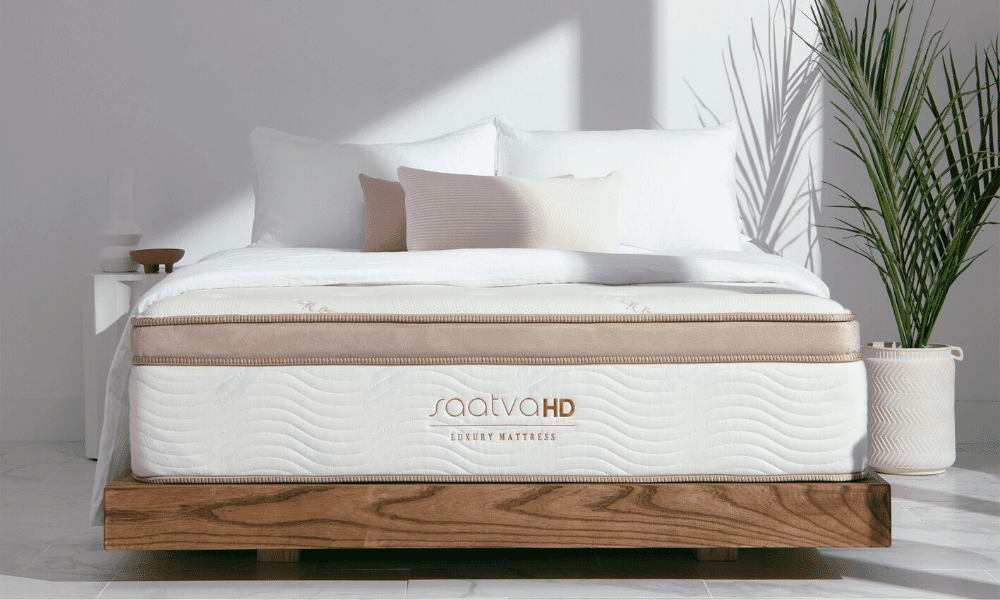 Best Innerspring: Depending the age of the guests you plan to host, you might anticipate them being used to traditional spring mattresses versus memory foam. If you want to give them a mattress that feels familiar without subjecting them to the downsides of the old continuous coil design, consider an upgraded innerspring mattress made with modern pocketed coil technology. Our top pick for the best innerspring mattress is the Saatva Classic. Choose from three levels of firmness (Plush, Luxury Firm, or Firm) and two heights (11.5 or 14.5 inches) to completely customize your guest bedroom.
The Saatva Classic innerspring mattress is constructed on a base of over 400 tempered steel support coils to provide a long-lasting foundation. On top of that sits over 800 individually wrapped comfort coils that respond and contour to the body, not to mention an additional edge support system. This mattress adjusts to any sleeping style and it comes with a 120-night home trial. Did we mention it also ships for free and includes white glove delivery at no charge?
Pros: Three firmness levels to choose from, luxury hybrid construction, breathable and supportive
Cons: Hybrid mattresses tend to be fairly heavy, less contouring/hugging than foam mattresses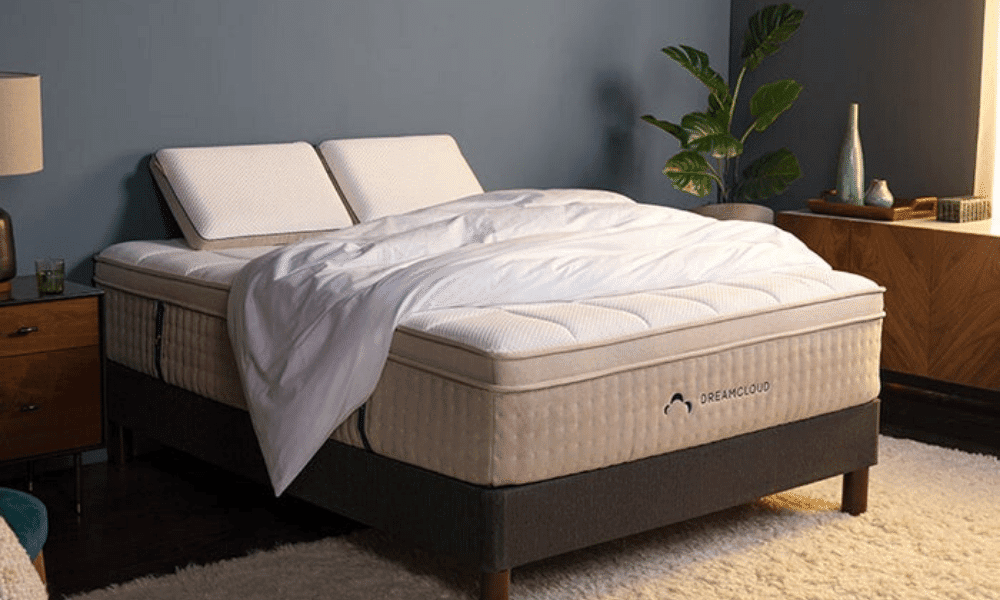 Best Hybrid: When you can't decide which type of mattress to choose for your guest room, you may not have to choose at all. A hybrid mattress gives you the best qualities of different mattress materials all wrapped into one. Our top pick for the best hybrid mattress is the DreamCloud.
Inside the DreamCloud you'll find several different layers of high-density memory foam to deliver the ideal level of support in every sleeping style. These layers are set over a pocketed 5-zone innerspring coil system which provides a little extra bounce while isolating motion. The DreamCloud mattress is very durable, considering its hybrid design, but it is surprisingly affordable as well, considering the quality. You'll also be glad to know it comes with a full 365-night sleeping trial. Whether you want to have a guest come and stay with you for a few months or try it out yourself, you're covered for a full year!
Pros: Memory foam and encased coils, comfort and support, luxury materials and design
Cons: Hybrid mattresses tend to be fairly heavy

Best Air Mattress: When you think of an air mattress, you probably picture a flimsy blow-up mattress you'd sleep on inside a tent. Modern air mattresses have come a long way and, in some cases, you may not immediately be able to tell the difference. The benefit of an air mattress is that you can adjust it to your guest's preferences. Our top pick for the best air mattress is the Saatva Solaire.
The Saatva Solaire is unlike any air mattress you've ever seen. It offers 50 increments of firmness that quietly release or inflate with no more than the touch of a button. Plus, the mattress is designed with dual air chambers so you can adjust each side of the bed separately. No matter what level of firmness your guests prefer, this mattress can accommodate. The price tag is pretty high, but you'll have the peace of mind knowing your guests are comfortable and you'll enjoy long-lasting durability.
Pros: Adjustable to 50 firmness levels, free white glove delivery, incorporates gel foam and latex
Cons: Significantly more expensive than many models, may lose some air overnight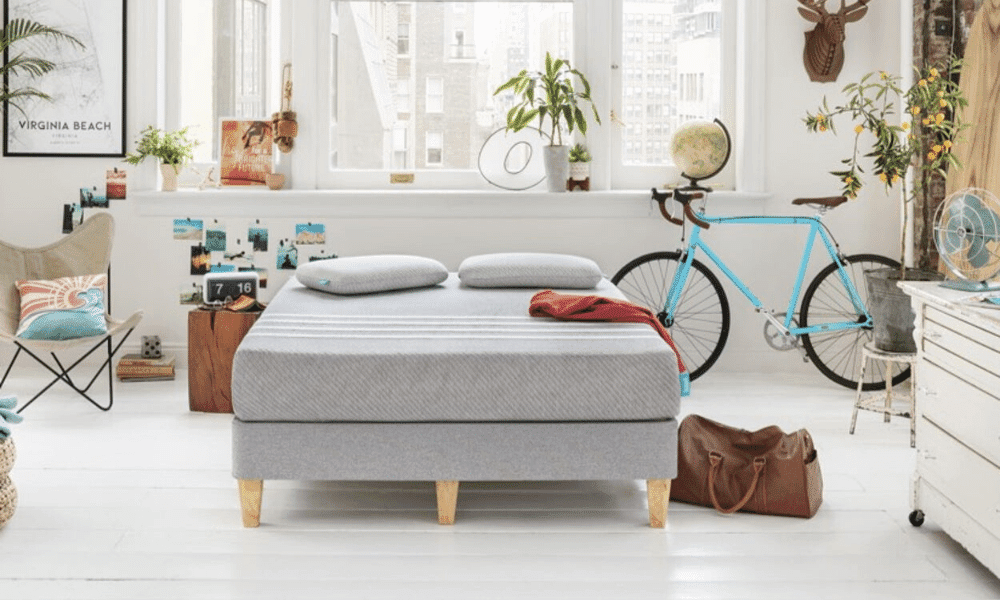 Best for Couples: Having a guest bedroom means you can accommodate guests whenever you want, but the number of guests may be limited to the amount of bed space you have. If you're planning to accommodate couples, you'll need to take that into account when choosing a mattress. We like the Leesa Hybrid mattress for couples, especially in a guest bedroom.
The Leesa Hybrid mattress features a luxury design with a number of award-winning features. It is built on a base of over 1,000 active-response pocket springs which deliver the optimal combination of durability and stability for all types of sleepers. A top layer of hole-punched foam ensures breathability as well as hug and bounce for pressure relief. Plus, it comes with a 100-night sleep trial, free shipping, and a 10-year warranty for added value. What more do you really need to know?
Pros: Designed for comfort and support, luxury hybrid design, stabilizing pocket coil base
Cons: More expensive than all-foam mattresses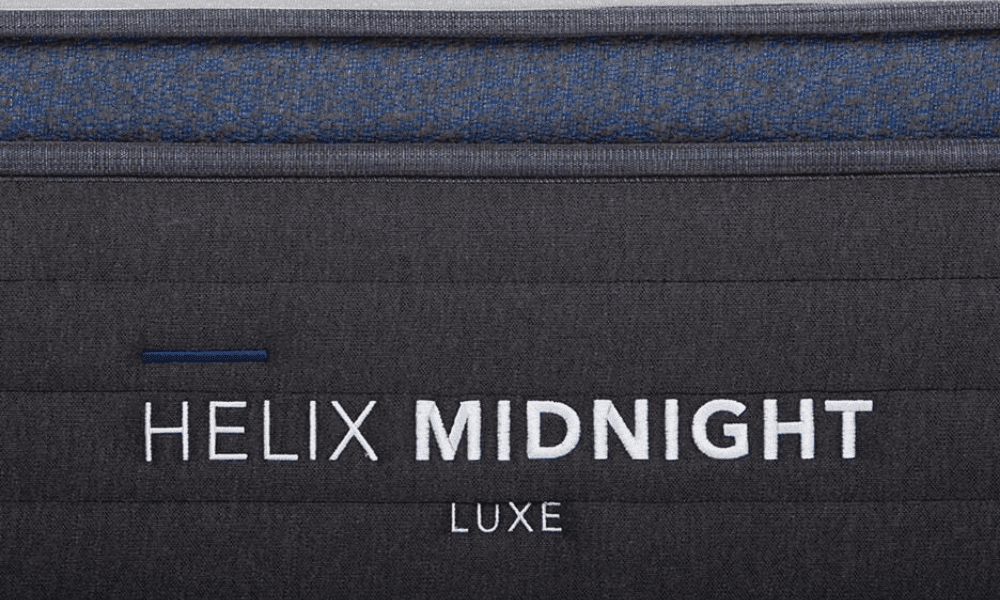 Best for Durability: You don't want to invest in a new mattress for your guest room only to replace it a year or two later. If you're looking for a mattress that offers good durability but isn't super expensive, we recommend the Helix Midnight. This hybrid mattress is affordably priced under $1,000 but the hybrid design offers enhanced durability over an all-foam mattress. You can also upgrade to the Luxe model, if you like.
The Helix Midnight features a hybrid design comprised of an individually wrapped coil base over a layer of DuraDense foam for stability. The top layers are made from high-grade polyfoam and Memory Plus foam to provide pressure relief and ergonomic support. This mattress is rated a medium level of firmness between 4 and 7 on a 10-point scale – it is particularly recommended for side sleepers.
To increase the durability of your mattress, consider upgrading to the Helix Midnight Luxe. For $1,799, the Helix Midnight Luxe offers zoned lumbar support for enhanced contouring with a premium quilted pillow top and a breathable Tencel cover. It is 2 inches taller than the original Midnight.
Pros: Hybrid design for support and pressure relief, medium level of firmness, good for side sleepers
Cons: May be too soft for back/stomach sleepers, more limited durability than the Luxe model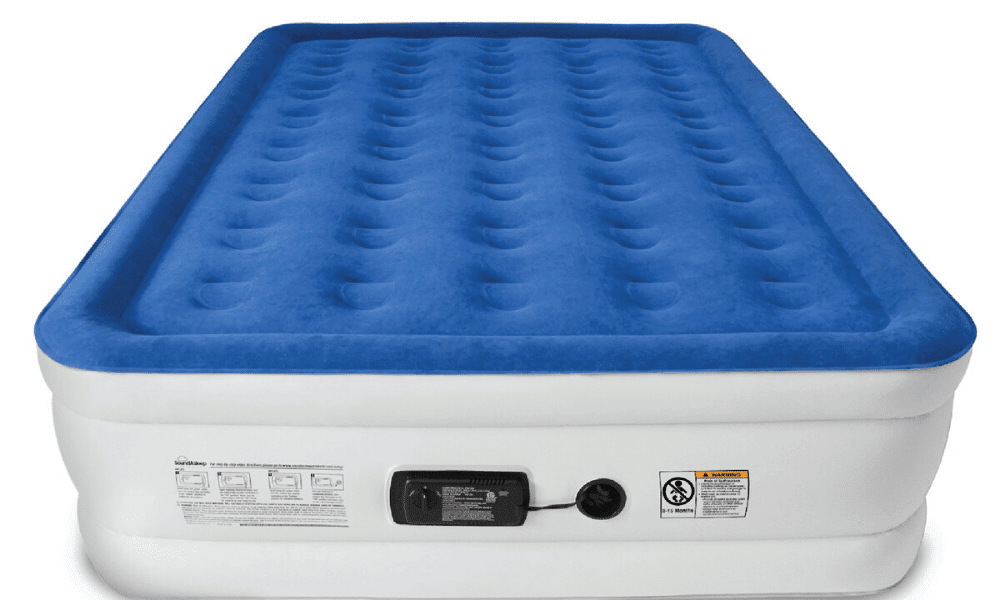 Best for Portability: Not all houses are designed to host guests, but you may still want to have the option to do so from time to time. If you're looking for the best guest bed that offers portability and affordability, an air mattress may be the way to go. Air mattresses are generally not designed for long-term use, but it gives you the option to only set up the bed when you need to use it and you won't spend hundreds of dollars on a bed that doesn't see regular use. Our top pick is the SoundAsleep Dream Series Air Mattress.
The SoundAsleep Dream Series Air Mattress is affordable priced under $200 but is well-liked by customers. This mattress features an industry-leading design that incorporates ComfortCoil Technology with a SureGrip bottom to ensure optimal firmness and stability. The mattress is made with 40 internal air coils to keep the bed firm and flat all night long, plus it has a patented 1-click internal pump that quickly inflates and deflates the bed for convenience. When you're finished using it, simply deflate it then roll it up and put it in the included carry bag for storage.
Pros: Internal pump for quick inflation, waterproof top, ComfortCoil technology with SureGrip bottom
Cons: May deflate to some degree overnight, not designed for long-term or everyday use
If you want to be able to have guests stay in your home, it's a good idea to have a dedicated guest room set up. Not all homes are large enough for this option, but if you're lucky enough to have the space it is definitely something you should consider.
Furnishing a guest room is not as easy as you might think. Not only do you need to think about making the best use of the space, but you also have to consider your budget, personal style, and the comfort of your guests. This is particularly important when it comes to choosing the best mattress for a guest room.
We've done our best to give you some things to think about when shopping for a guest bed and to share some advice to help you make your decision. If you're still not sure where to start, check out our recommendations above!
Frequently Asked Questions
How much should I spend on a guest room mattress? – If you're wondering how much to spend on a guest room mattress, there is no definite answer. It depends on your budget as well as a number of other factors. Some things you want to consider include the size of the mattress, the durability/construction, and how often it will be used. If you're furnishing the guest room with a specific guest in mind, you may want to take their preferences into account. Generally speaking, however, you're probably safe spending somewhere between $750 and $1,750 on a guest room mattress. Just remember, price doesn't always equate with quality and vice versa.
What is the best type of mattress for a guest bed? – When it comes to choosing the best guest bed, you want to think about what most people will find comfortable. Generally speaking, most people are used to a traditional spring mattress, but more people are making the switch to memory foam. Memory foam works well for guest rooms because it is affordable and it adjusts well to different sleeping styles. If you're more concerned with durability or you want something with a more traditional feel, an innerspring or hybrid mattress might be the way to go.
How firm should the mattress in my guest room be? – Thinking back to the story of Goldilocks, you'll remember that she ended up choosing the bed that was neither too firm nor too soft. Comfort is largely a matter of preference, but when it comes to your guest room you want to choose something that will appeal to the widest variety of guests. A mattress that lands somewhere in the middle of the firmness spectrum, generally between 5 and 7 out of 10 should be fine. These mattresses are usually described as medium or medium-firm.
Is an air mattress a good option for a guest bedroom? – If you're looking for an inexpensive, portable option for your guest bedroom you might be considering an air mattress. Air mattresses have the benefit of deflating and folding up out of the way, but they aren't always the most durable or the most comfortable option. If you have a dedicated guest bedroom in your home, you should really think about putting a real bed with a real mattress in it.
How long can I expect a guest bedroom mattress to last? – For the most part, experts suggest you replace your mattress after 7 years. These recommendations are made based on the assumption that you're sleeping on the mattress every night, however. If you're furnishing a guest bedroom, you may not expect the bed to get much use. That doesn't necessarily mean the mattress will last longer, however. Low-quality materials may lose their strength or tension sooner, limiting the lifespan of the mattress whether it's being used or not. Think about how many years you want to get out of the mattress when choosing a type and budget.