The best air mattresses can be a great temporary sleeping solution for camping trips or overnight guests because they're so easy to inflate. While setup is a breeze, you may struggle to get your instant bed deflated and compact enough to fit back into its storage bag.
In this guide, we'll show you how to deflate an air mattress and share the different techniques you can try for quick deflating and storage.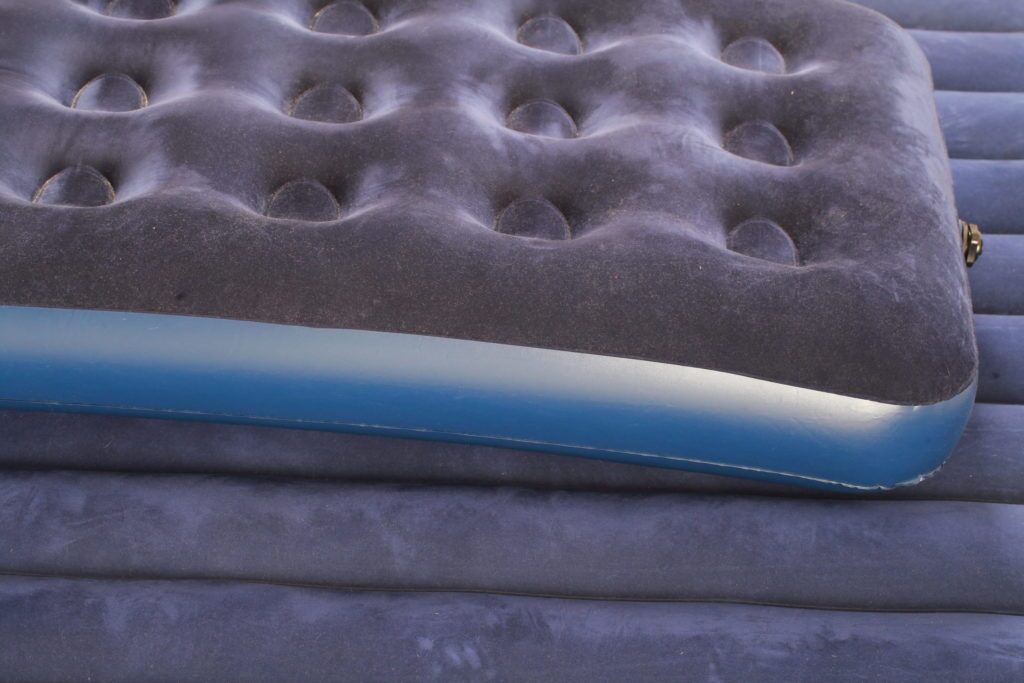 Prepare the Air Bed Before You Start Deflating
Start by removing all linen items like pillows, cushions, toppers and sheets from the mattress.
Then, move your fully-inflated mattress onto a clean, flat surface. A floor or putting your air mattress on a bed frame is ideal. This is also a good time to give your air mattress a quick clean if there are any loose pieces of dirt or grass clinging to the surface. The mattress should also be completely dry before you start.
Once your inflatable mattress is clear of debris and bedding, you can start deflating the mattress.
How to Deflate an Air Mattress With an Air Pump
The easiest way to deflate an air bed is by using the pump that you used to inflate it with. There are quite a few types of air mattresses and these can come with a built-in pump, a separate pump or a loose pump.
In the following sections, we'll take a look at how to deflate an air mattress with each of these different air pump types.
Deflating a Mattress With a Built-in Pump
Built-in dual pump air mattresses are the easiest to deflate because their air pumps are designed to effortlessly inflate or deflate the mattress with the click of a button.
Here's how to deflate an air mattress with an automatic pump:
Once your mattress is laid out flat, simply flip the switch to deflate. Different brand mattresses will have a different inflate and deflate setting, but they function on the same main principle. Some electric air pump types will have an (O) and (-) or (+) and (-) sign on them to represent inflating and deflating.
When you press the deflate (-) button, the internal pump will instantly start extracting the air from the mattress.
After that, all that's left to do is wait. Your mattress should be fully deflated in less than five minutes. You may not even have to supervise the deflation because these electric pump types usually come with auto-off functions.
Deflating a Mattress With a Separate Pump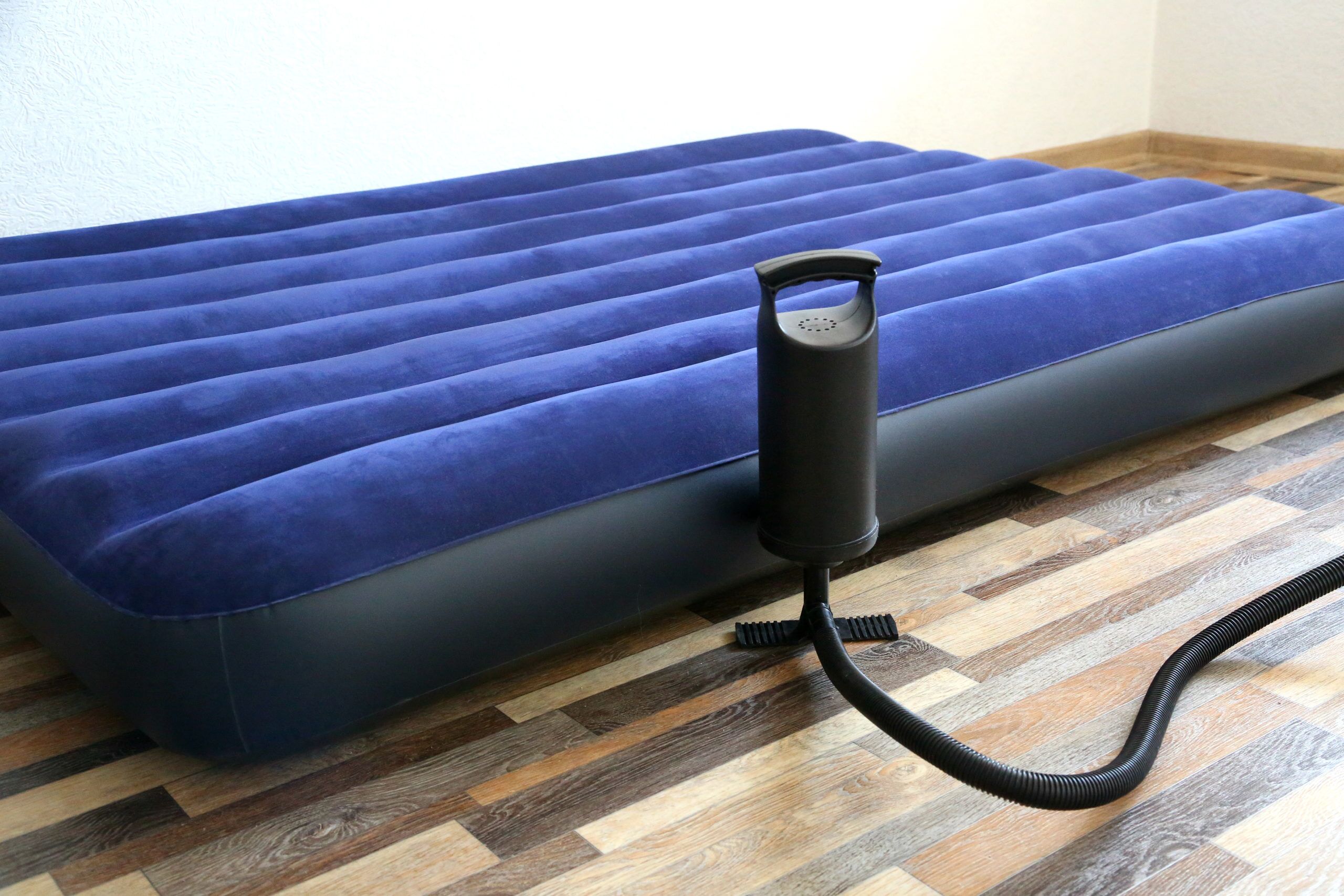 Mattresses that come with an external pump are also pretty easy to deflate.
Here's a step-by-step deflating guide for this type of mattress and electric air pump:
Step 1
First, you'll need to check the pump nozzle. It should include a wide-opening nozzle and a narrow-opening nozzle. The narrow-opening nozzle is used for inflation, but for deflation, you'll need to attach the wide-opening nozzle to the airbed fitting.
Step 2
Next, switch the pump on and the mattress will start to deflate. Check to see if the mattress valve is connected properly so the air can be extracted without any hiccups.
Step 3
If the pump is deflating too slowly, you can lay down on the mattress while the pump is operating to speed up the process. The bed should be air-free within a handful of minutes.
Deflating a Mattress With a Manual Pump
Some air mattresses are sold with a manual foot pump that you can use to extract air from the bed.
Here's how to use a foot pump to deflate your mattress:
Step 1
First, you'll need to place the nozzle you used for inflating the mattress into the mattress opening. Attach the nozzle to the deflate valve on the foot pump.
Step 2
Step on the foot pump the same way you would when inflating your mattress. The pump will draw air out from the mattress and release it into the open air.
Step 3
To speed up the deflation process, you can ask a friend to apply gentle pressure on the deflating mattress.
How to Deflate an Air Mattress Without a Pump
Deflating your air bed without a pump isn't quite as quick and easy as the above methods, but you can still properly deflate it by simply using your body weight.
Here are the quickest steps to deflate your air mattress without a pump:
Step One
Open the deflation valve on the mattress as wide as possible. The air should start gushing out immediately.
Step Two
Use your hands and knees to gently press down on the mattress so it can deflate faster. Keep applying pressure and be patient while the air squeezes out of the mattress.
Step Three
To remove the last bit of air, roll up the mattress from the end towards the mattress nozzle. The air should pool up towards the nozzle and will leak out until all of the air has been removed. You can now unroll it again for compact folding.
How to Deflate an Air Mattress With a Vacuum Cleaner
Did you know that you can use a vacuum cleaner to deflate your inflatable bed?
This isn't the best method for everyone, but it certainly gets the job done much faster than when you're just applying pressure to the mattress.
Here's how to use a vacuum cleaner to deflate your air mattress:
Step 1
Open the mattress air valve and place the vacuum cleaner nozzle around the air valve. You can secure the nozzle to the mattress by using duct tape to create an air-tight seal.
Step 2
Turn on the vacuum so it will suck the air out of the mattress. Keep an eye on the mattress so you can switch off the vacuum when the mattress is fully deflated.
Once your mattress is deflated and all of the air has been sucked out of the mattress, you can then roll it up and safely store your air mattress.
Bottom Line
It's best to use the mattress pump to deflate your air bed but you can still get the job done even if you don't have a pump available to you. We hope that our guide for how to deflate an air mattress has made it a little easier for you to deflate and store your mattress.