Cold winter nights. Will they ever end? Despite how it may feel, spring will eventually return, along with the sun. But until then, there's not much to do but to bundle up with a good book, or watch the latest season of your guilty-pleasure reality dating show. At least they're enjoying the sun… Meanwhile, you're in bed wondering what is the warmest blanket for winter and why don't you have it already?
On these cold nights, only the warmest blankets will do the trick. And if you're anything like us, there's no such thing as too warm or too soft when it comes to our favorite blankets. That's why we've rounded up our most coveted covers, putting some of the warmest blankets for winter all in one place.
The Warmest Blanket for Winter
Even with your heating system running, the winter season can send you running for any additional source of warmth. And a warm blanket could be just the thing to help you run that heat less. Your investment in a soft, warm blanket could prove to be an actual investment, as wintertime energy consumption could be costing your household hundreds of dollars. Even a one-degree Fahrenheit reduction in your thermostat setting could help you save money, according to the Department of Energy.
But what is the warmest blanket? You'll want to find a balance of insulation and breathability. Depending on your personal preference, you'll also want to consider the warmest blanket material that you find comfortable. After all, it won't matter how warm the blanket might be if you never reach for its scratchy surface. The good news is that all the warmest types of blankets are within reach, thanks to the internet. You don't have to rely on your grandparent's knitting or quilting anymore. So whether you prefer a puffy down comforter, a fuzzy woven throw or a timeless spun-wool classic, you can't go wrong with these warm blankets for winter.
If you like your warmest blanket to also be the biggest and puffiest, you should take a look at this super-soft comforter. Down is known for being one of the warmest types of blankets, as the thousands of soft, lofty feathers trap heat effectively. Synthetic down alternative performs in a similar way, while also being allergy-friendly, lighter, cheaper and kinder to animals.
Down alternative, like the kind used by Sleep Restoration, is one of the warmest types of blankets for winter. Members of the 'always cold' club will love wrapping themselves up in this marshmallow-soft comforter. It's available in a range of two-tone colors, and is fully machine-washable for easy care and cleaning. This warm blanket's brand updates pricing regularly, which you can follow on Amazon.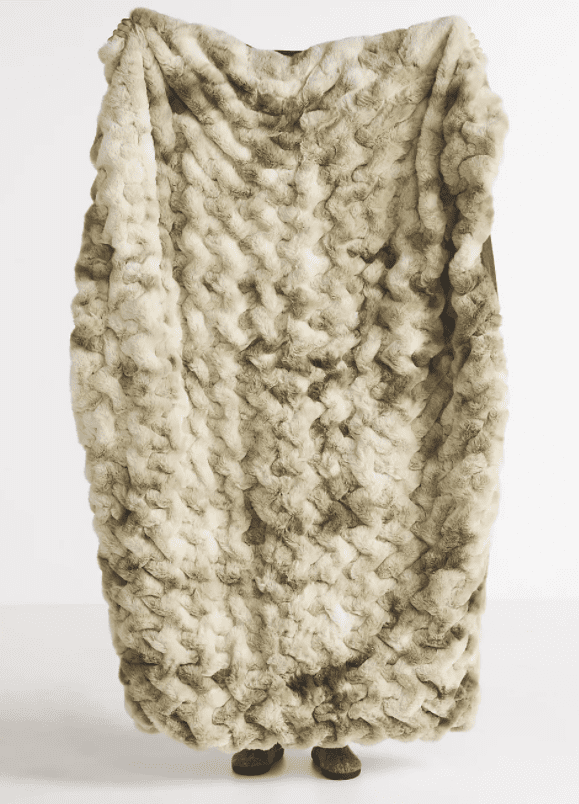 Anthropologie has built their brand's reputation on stylish pieces, and this throw fits the bill. Want your living room to look like it jumped right off of your Instagram feed? This warm blanket feels like soft fur, and we love the added texture embellishment. Trust us, you'll be running your hands over it nonstop. Taking a cue from cold-weather animals' trusty fur, every single fiber of this faux fur blanket traps your body heat. Available in either a natural cream or a stunning, swirled blue, it looks as good as it feels. No matter how cold it gets outside this winter, this warm blanket will help keep you cozy.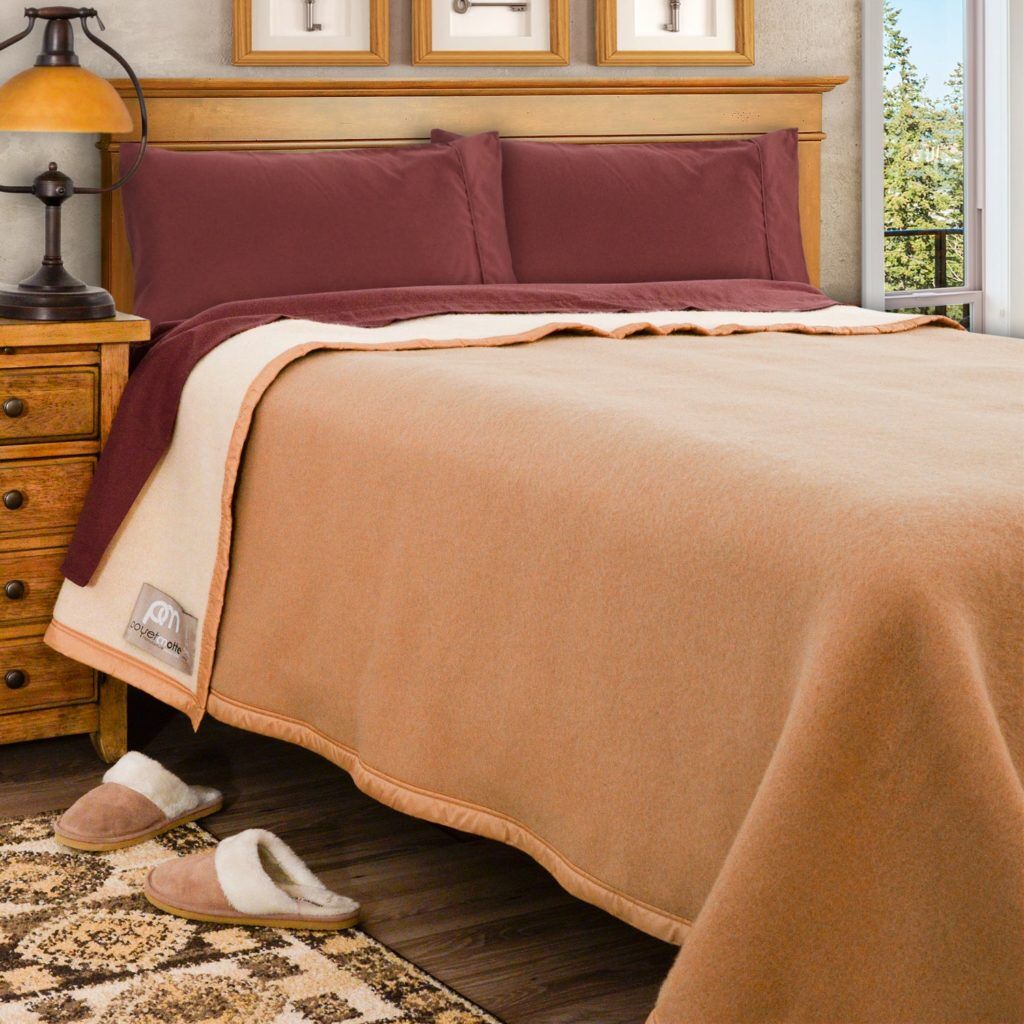 Is a wool blanket the warmest for winter? Wool is a truly amazing natural material, and the family-owned Poyet Motte Woolen Mill have been crafting some of Europe's most-prized warm blankets since 1839. Wool is an excellent insulator, and actively wicks moisture and sweat away from the skin. Poyet Motte spins their 100% virgin wool to a 500 GSM (grams per square meter) thickness for a premium feel.
These artisan blankets feature details of craftsmanship like a double-stitched satin binding and a smooth non-pilling surface. These wool blankets are available in a range of colors, weights and sizes, and are sure to last for years to come. Some may find wool to be a bit scratchy at first, but once broken in, there's no denying these are truly some of the warmest blankets you can buy.
This may just be the softest blanket on our list. With a microfiber velvet side and a faux sheepskin interior, you can choose your favorite side to snuggle with. Imagine wrapping yourself up inside a giant slipper, and you won't be far off. This warm blanket is available in 24 different colors and a wide range of sizes. But even at the largest 102 x 90 inch size, we doubt you'll want to share this warm blanket with anyone else. Instead, give them one of their own — reviewers love giving and getting these as gifts.
Weighted blankets are becoming more and more popular, and this version by Quility is a great option. Filled with thousands of polished glass beads, Quility's gentle pressure has been shown to help calm anxious feelings, and fall asleep both faster and deeper. We also like them for reading or watching TV on a cozy night in.
As an added bonus, the warm microfiber cover is removable and machine washable. Reviewers say that wrapping up in this warm winter blanket feels like a warm hug. And you can feel it for yourself, since Quility provides a 90-day sleep trial. These warm blankets are available in a wide range of sizes, colors, and calming weights from five to 30 pounds.
Bottom Line
Searching for the warmest type of blanket can feel a little overwhelming, so we hope you take advantage of our list to get you started. A warm blanket is one of life's simple luxuries, and can save money and reduce greenhouse emissions. These blankets are warm enough for winter, and breathable for year-round use. There are lots of great options out there, from puffy comforters to furry throws. Whichever you choose, be sure to compare and get the best deal possible.