What could be cozier during these long, cold months than snuggling under your new black comforter with a hot drink in your hand? We're excited to go over what materials make for the best black comforter and what to look out for when buying one.
We'll also give you our top 7 recommendations for the best black comforters based on their quality of material, overall design, and price. Then, we'll show you how to style your room with a statement piece like a black comforter. Ready to begin? We are!
Top 3 Picks
Though we have seven amazing black comforters to show you later in the article, we'd like to start by introducing you to these 3. These are our favorite black comforters for their pattern, reasonable price, and best overall features.
Any of these black comforters would make a luxurious and comforting addition to your bedroom.
Comforter vs Duvet vs Coverlet
If you're unsure about what makes a comforter different from a duvet and a coverlet different from both of those, you aren't alone. We're going to break down the differences between these three items in this quick chart so no one will have any more confusion about what makes each one unique.
Comforter
No extra purchases are required; everything you need is in one piece

Harder to wash

Less expensive

Most common

Thick
Duvet
Requires you to buy the filling and a separate cover

Easier to wash

More expensive

Not as common as comforters

Thick
Coverlet
Between the duvet or comforter and the flat sheet

Easy to wash

Not expensive

Thinnest
What is the Best Material for a Comforter Set?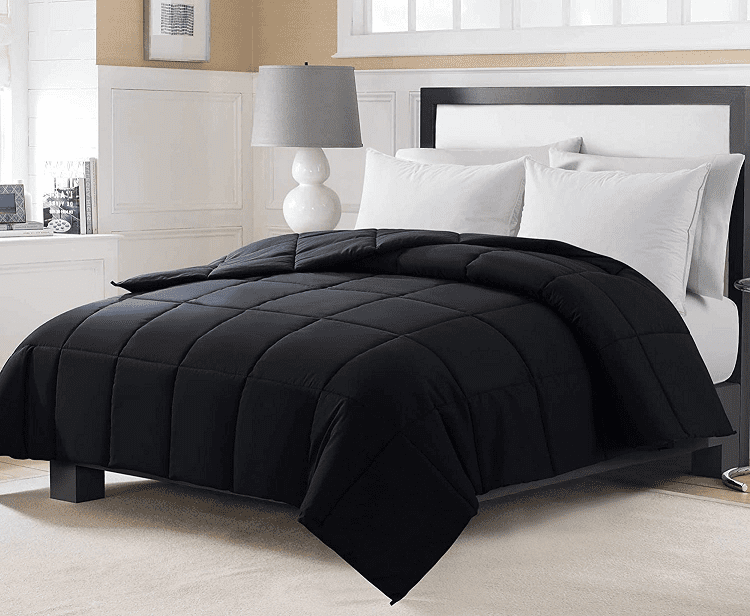 This is largely based on your personal preferences. Do you get hot easily throughout the night? If you do, we recommend a microfiber comforter lightly filled with polyester.
If you have a hard time staying warm, then a cotton comforter stuffed with down might be worth looking into. Microfiber is an all-around good choice because it is soft, and it won't make you too hot or too cold.
What to Look for in a Black Comforter Set
Next, we'd like to pull out our magnifying glasses and show you what specifics to look for in a quality black comforter. Almost all black comforters have the packaging to make it seem as if they are the best one, but we know better.
With this simple guide, you'll know how to pick out the perfect black comforter for you.
Sizing
Picking out the right size comforter for your bed is very easy! Bed sizes, and therefore comforter sizes, are available in the following types:
Sometimes, full/queen is listed together, and these comforters would fit either a full or a queen-sized bed. You can measure your bed to determine its size to make sure you're buying the right comforter if you're unsure which type it is.
Buying comforters too big or too small will look awkward or bulky, so the size is important.
Material
Great black comforters can come in many different material types. For people who get hot easily and don't enjoy sleeping with heavy blankets, we recommend polyester for how lightweight and breathable it is.
Microfiber is a wonderful choice for people who want a really soft material to snuggle up in. If you're the type of person who gets cold easily, consider trying a heavier material that is designed to keep in the warmth.
Fill Type
Most black comforters have either microfiber or polyester filling. Either of these types of filling makes for a great comforter, and it really depends on your preferences for materials when choosing the best one.
It is important to make sure the black comforter you're buying is sewn in a way that the filling will not spill from one pocket to another, or else it could become bunched up. No one wants that.
Quality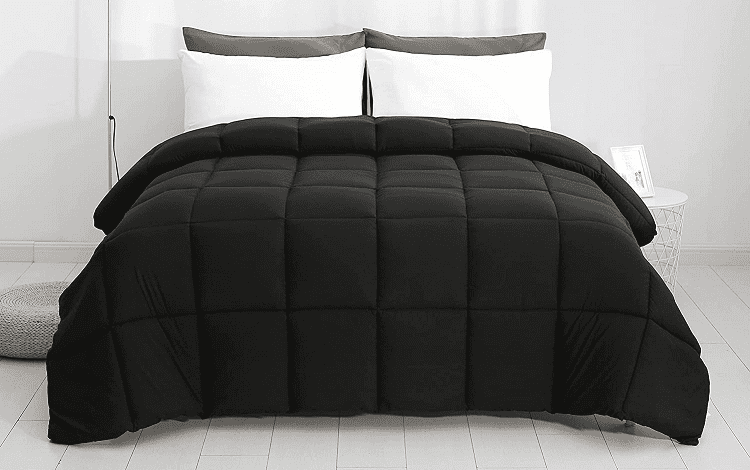 Do you want to know a really easy trick for determining if a comforter is high-quality or not? Apart from checking the brand of the comforter, check the product reviews. If there is a pressing issue with a particular comforter, people are bound to have said something about it.
On the flip side, a lot of people who really love their comforter will want to express why and give you specific details about the comforter that may not be listed in the product description. When in doubt, check what others have said.
Price
The price of your black comforter is going to vary based on a few different factors. What we mean is:
How big do you want your comforter to be?

What material do you want your comforter to be made from?

Do you want a complete set or just a comforter?

How many pieces in a set are you looking for?
The answers to all these questions will play a role in how expensive your black comforter is going to be. Not to mention, black comforters vary in price based on quality. We wouldn't pay less than $20, and we wouldn't pay more than $300.
Comes with All Parts
It wouldn't be much of a comforter "set" without the other pieces! It should specify in the product description of the black comforter you're looking at whether or not it comes with other parts. These included parts should be:
Pillowcases

Fitted sheet

Flat sheet
Sometimes, black comforter sets will come with pillow shams in addition to pillowcases. Not all sets will provide this, but we appreciate the ones that do so you can have a luxurious, matching aesthetic across your bed.
How to Wash a Black Comforter
A lot of comforters can be washed like normal by putting them in the washing machine with a gentle detergent and drying them in the dryer. For the best results to make sure the filling doesn't bunch itself up, we always wash comforters on the delicate cycle.
Also, since comforters are so thick, it is easy for the detergent to stay trapped inside of them after one wash. Wash your comforter a second time without using detergent to make sure it is actually clean and not filled with the same soap you used to wash it.
The Best Black Comforter Sets
Drumroll, please! This is the moment we've been waiting for! We get to show you our 7 top recommendations for the best black comforter sets.
All these sets would make a wonderful addition to your room, and we believe there is bound to be an option you enjoy. Without further ado, let's dive into these seven gorgeous black comforters!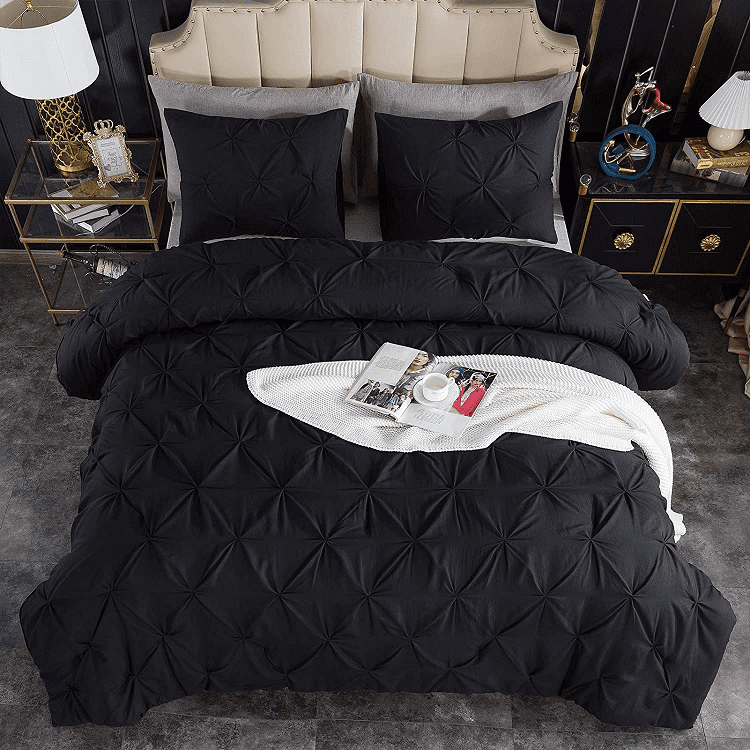 Best for: Classic Style
If you want a classic, elegant style for your room, this black comforter was made for you. It has an elegant, pleated style you can find on the comforter and two pillowcases.
The comforter and pillowcases are made from microfiber, which is what gives this set its softness. Microfiber is loved for how cozy it is, and black comforters themselves are a bold statement. What more could we ask for?
Material: Microfiber, down alternative microfiber

Price Range: $40-$50

Warranty: Please contact the seller directly

Best Feature: Pleated design
Care
Since this black comforter set is made from microfiber, it is safe to put all of it in the washer and dryer. To make sure your comforter stays in peak condition for a long time to come, we recommend washing it on delicate and then re-washing it without soap to make sure any residue comes out of the filling.
Pros
Beautiful pleated design

Dark black color

Extremely soft
Cons
It doesn't come with any sheets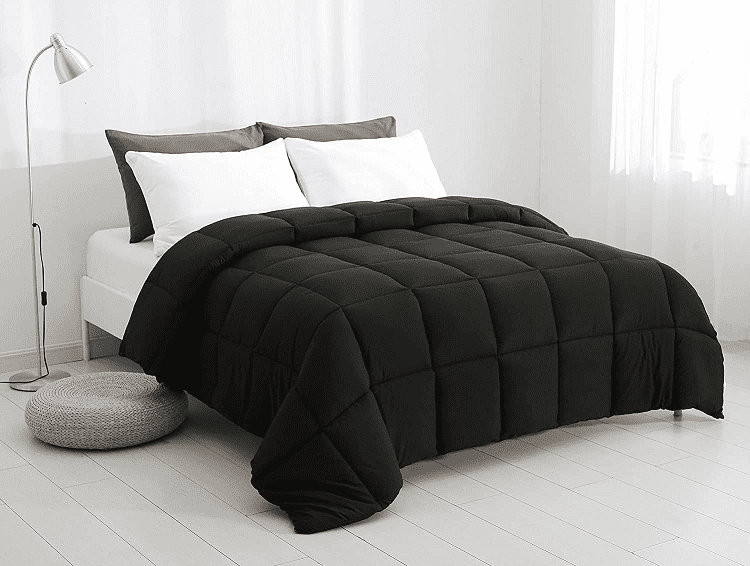 Best for: Contemporary Style
If you want a contemporary style for your room, a bold statement piece in black like a black duvet with a minimalistic design is for you. This is that duvet. The simple block pattern from the quilting makes it both cozy and precise with even geometric shapes.
Unlike some of the others on our list, this is actually a duvet cover that will require you to buy filling for it. This cover does not come in a set.
Material: Microfiber polyester

Price Range: $25-$35

Warranty: Satisfaction guarantee

Best Feature: Contemporary style
Care
You don't have to be as careful washing duvet covers as you do comforters. Duvet covers are thinner and aren't full of filling, so it is easy to take them off the filling and wash them in the washing machine once.
There's no need to re-wash a duvet cover without soap as you do with a comforter.
Pros
Cons
Duvet covers require filling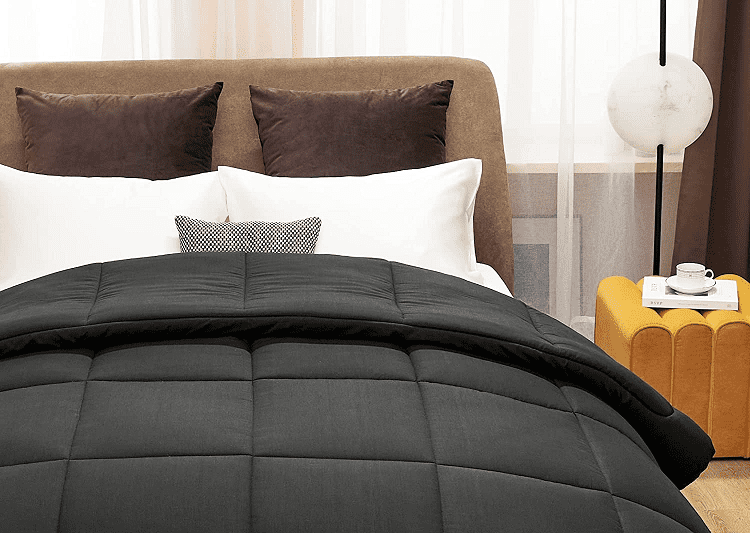 Best for: College Dorms
If you or someone you know is about to go off to college, this is a great style of comforter! Being black, it will fit in with the rest of the room's style.
It is easy to wash compared to many other comforters, and though we give the price for the queen-size, this comforter can be bought in twin and twin-XL, too. Keep in mind; you'll have to buy separate pillowcases since this comforter doesn't come in a set.
Material: Microfiber

Price Range: $30-$40

Warranty: Please contact the seller directly

Best Feature: Simple design
Styling Ideas
While you're styling this comforter with separate pillowcases and sheets, try these combinations:
Black comforter, white sheets, one black pillow, and one white pillow

A black comforter, lilac sheets, floral pillowcases

Black comforter, maroon sheets, white and marron pillowcases

A black comforter, olive sheets, white pillowcases
Pros
Soft

Easy to take care of

It fits with most styles
Cons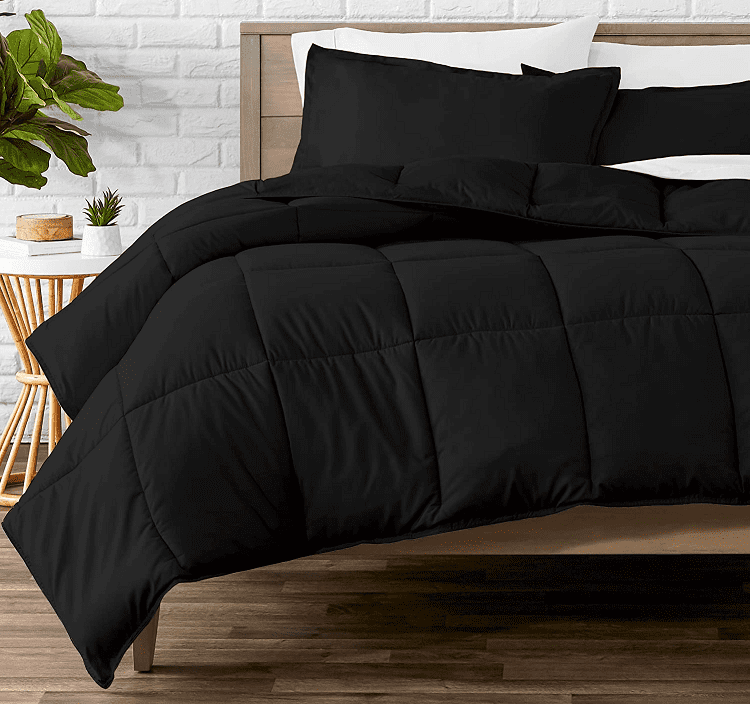 Best for: Kids
This is a twin-sized comforter set that is perfect for a kid's room! Black doesn't have to be a bleak-looking color when paired with other brighter colors or natural tones. This comforter is intentionally long so that some of it hangs off the edge of the bed.
It is made from microfiber with a polyester fill, so it won't get too hot at night. In this set, you'll get one black comforter and one black pillow sham.
Material: Microfiber with polyester fill

Price Range: $30-$40

Warranty: Please contact the seller directly

Best Feature: Extra long
Why Polyester Filling?
Polyester is a light material that is good for people who get hot easily. Polyester is a man-made material, so scientists were able to make it in a way that was perfect for comforters.
Pros
Lightweight

Perfect for kids

Soft
Cons
It only comes with one pillow sham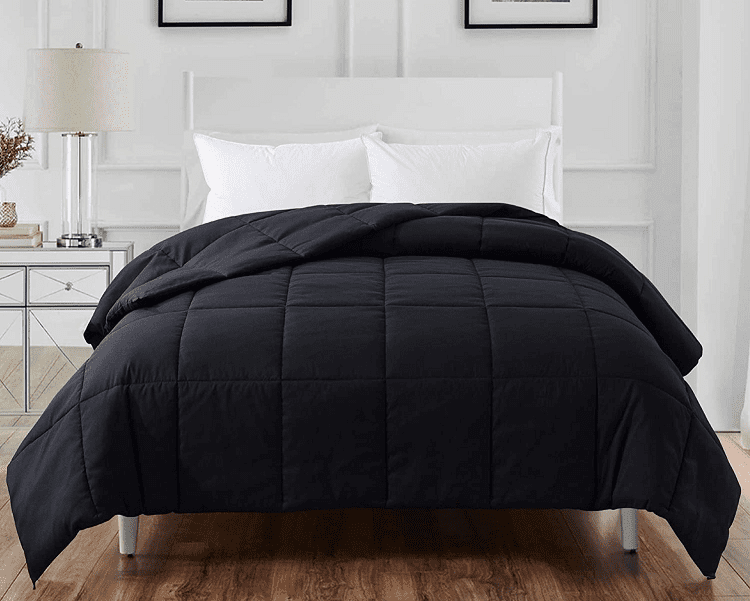 Best for: Bargain
This may be the least expensive black comforter on the list, but it certainly isn't cheap in quality. We love that this is another microfiber blanket that was built to be soft and cozy. This comforter has a square quilted pattern that goes with many room styles.
It was made to be lightweight, so it is a wonderful product if you get hot easily.
Material: Microfiber polyester

Price Range: $22-$32

Warranty: Please contact the seller directly

Best Feature: Lightweight
Care
This is another comforter that is safe to machine wash. When it's time to clean it, simply pop it in the washer, turn on the delicate cycle, and wash like normal. Then, rewash with just water. Dry in the dryer.
Pros
Inexpensive

Soft

Lightweight
Cons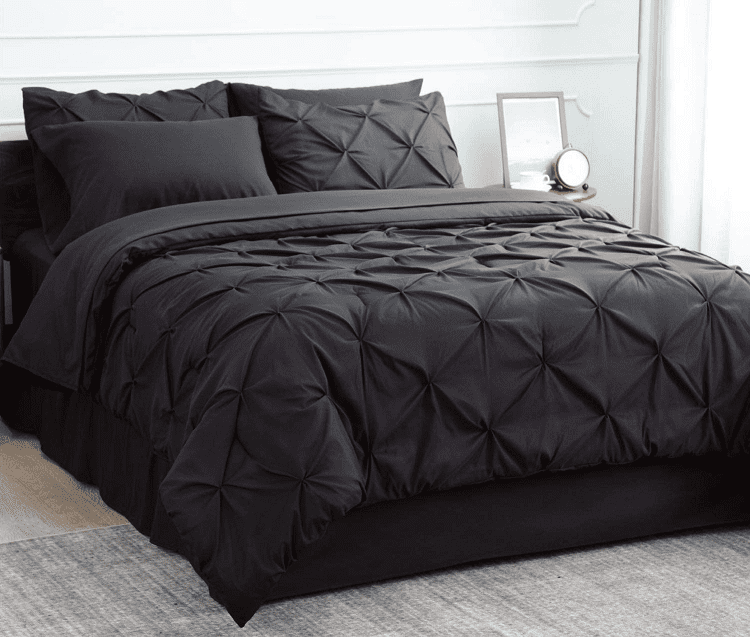 Best for: Overall
This is our absolute favorite black comforter set. Listen to this; you'll get a comforter, a flat sheet, a fitted sheet, a bed skirt, two pillowcases, and two pillow shams. This comforter set gives you the works to have a complete look for your bed done in one go.
We love the pleated design, which we've said earlier looks luxurious and elegant. Being made of microfiber, every piece in this set is very soft.
Material: Microfiber

Price Range: $67-$77

Warranty: Please contact the seller directly

Best Feature: Complete set
Pairing Black with Other Colors in the Room
Some colors that black is specifically known to look good with are:
Gold

Silver

Bronze

White

Green

Maroon
Pros
Complete set

Soft

Beautiful
Cons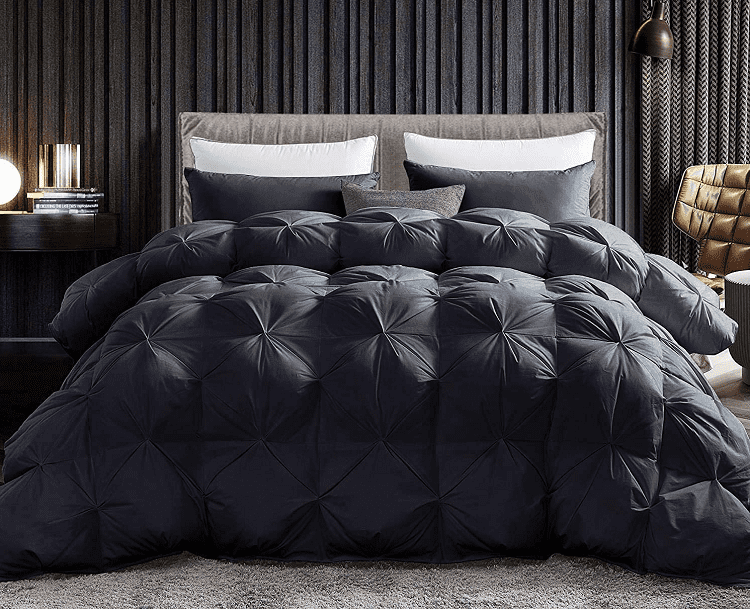 Best for: Pattern
This is a black comforter fit for royalty! This black comforter doesn't come in a set, but it is luxurious all on its own. The beautiful pleated outside design is made from Egyptian cotton. The inside is filled with down feathers. The details are beautiful.
Material: Egyptian cotton

Price Range: $150-$170

Warranty: Please contact the seller directly

Best Feature: Luxurious
Care
To make sure you preserve the fluffiness of the down filling as long as possible, it is recommended to buy a duvet cover for this comforter and wash that. This comforter even comes with loops that make it easier to secure a duvet cover on it.
Pros
High-quality material

Beautiful pattern

Luxurious feel
Cons
Style Your Bedroom with a Black Comforter
Cozy and
Natural Black and White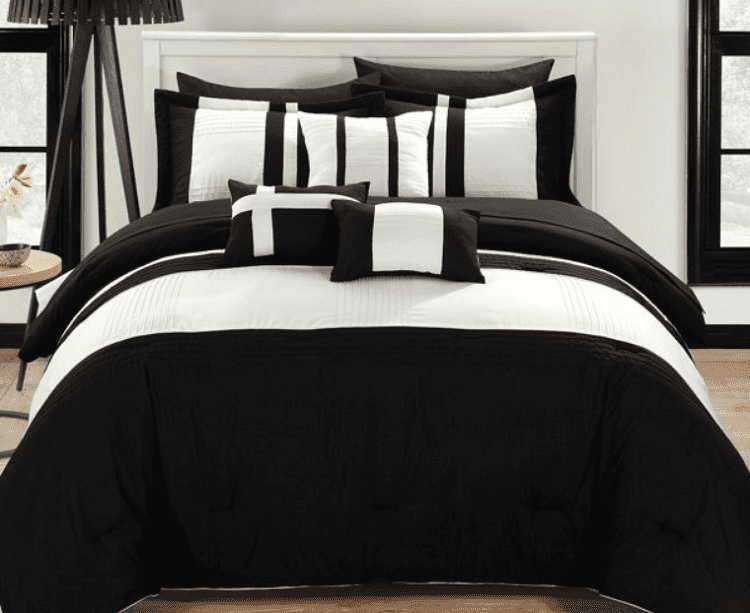 This is a natural, cozy bedroom design by BERNHARDT Restoration that utilizes black, white, and houseplants. The black and white make the pops of green from the plants stand out in the room for a natural splash of color. The black and white comforter with fringe on the side looks inviting and clean.
High-Class All in Black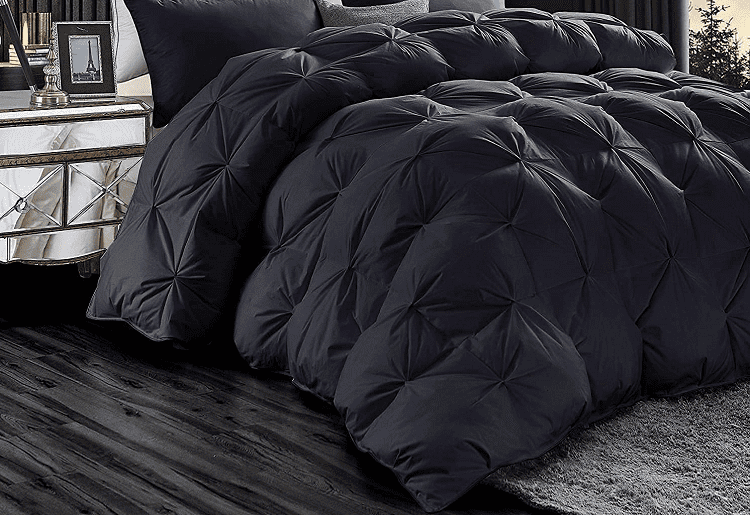 This is the room of a collector or a high-class individual. This unique and gorgeous style created by Tomas Frenes Design Studio showcases how an all-black bed can be such a bold statement piece.
Black is used in other parts of the room, as well, such as in some of the antiques on the wall and the black tables. Even the walls are black, which doesn't look grim in the bright lighting throughout the room.
Homey Black and White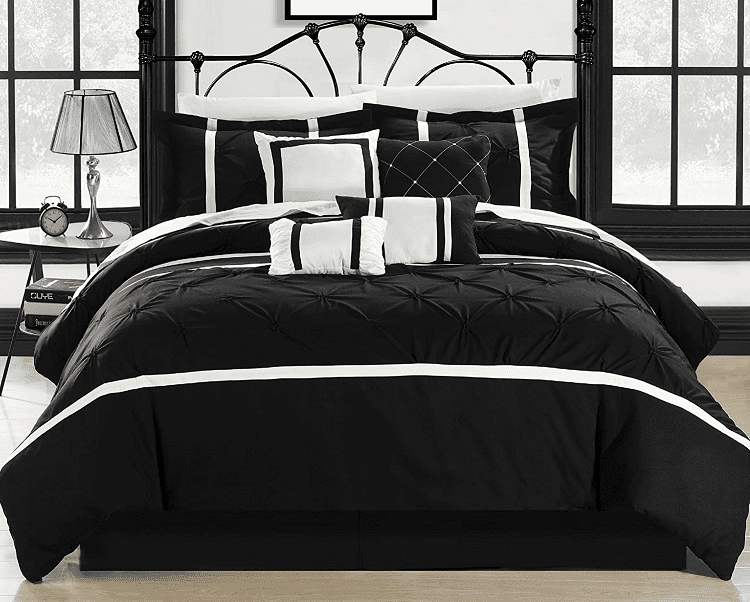 If you want a homey style, then this room created by Budget Blinds of North Winston-Salem is well worth checking out.
Every part of this room is inviting, from the use of a cozy-looking black comforter on the bed to the stark, contrasting white walls and cute accessories on the bedside table.
How to Style a Black Comforter
Black goes with everything, right? Not necessarily. Yes, it's easy to style and pair with various pieces of décor. But if you want to optimize the look of your black comforter, follow these tips.
Monochrome Décor
The safest bet is to go all black. Monochrome means that everything falls under the tone of black. SO, colors such as dark grey, charcoal, jet black, blue-black, etc. all work well in this case.
Go Witchy
The color black is often thrown in with the term witchy. But that doesn't mean you have to make your bedroom look like Halloween. Use your black comforter as an anchor in the room and add some witchy, or even spiritual décor.
Things like hanging plants, large gemstones, floating shelves with leather-bound books, candles, etc.
Black and Gold Décor
One color that always goes with black no matter what is gold. Whether it's in the tone of your linens, or in the form of metallic accents, gold is a great element to pair with a black comforter. Try adding it with things such as lamps, candle holders, wall art, etc.
What Bedroom Furniture Goes with a Black Comforter?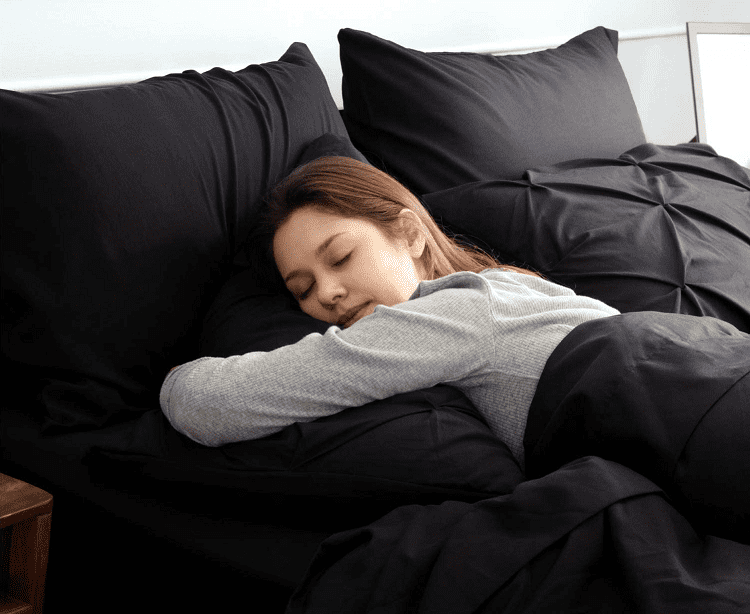 Dresser
If you're going with a monochromatic look, opt for a dark-colored dresser and nightstands.
Tip: Save money by painting your existing bedroom furniture!
If not, pick a dresser and nightstand that compliment the black comforter. Something lighter, perhaps with gold accents.
Bed Frame
You've got options here. If your bed frame is visible, such as a platform bed, go for one that's upholstered in a black or contrasting lighter color. If going with wood construction, pick something lighter such as maple or birch to make the black comforter pop.
Bench or Ottoman
Adding a bench or ottoman to your bedroom can only enhance the look and function. It can double as storage as well as offer comfortable seating. When pairing it with a black comforter, go with something in a leather finish.
The Finish Line
We've reached the finish line of our guide to black comforters! We've covered a lot, including what materials make the best black comforters and what to look for in a quality comforter.