Getting a good night's rest is essential, so it's important to invest in products that support sleep. A quality mattress and a comfortable set of pillows is a great start, but you should also be thinking about the sheets you sleep on each and every night. If you haven't chosen bedding to suit your specific sleeping style and aesthetic preferences, you might be missing out.
Now more than ever, it's easy to find high-quality bedding and you don't even have to leave the house to do it. Online bedding companies like Parachute and Brooklinen offer consumers competitive pricing and convenience, not to mention amazing bedding.
If you're considering shopping for bedding online, be sure to do your research. While many companies offer free returns, you want to avoid the hassle of purchasing a product you're not going to like. We've taken the time to evaluate popular bedding companies such as Parachute vs. Brooklinen to help you make an informed decision and to make sure you get the best sheets for your bed.
Parachute Overview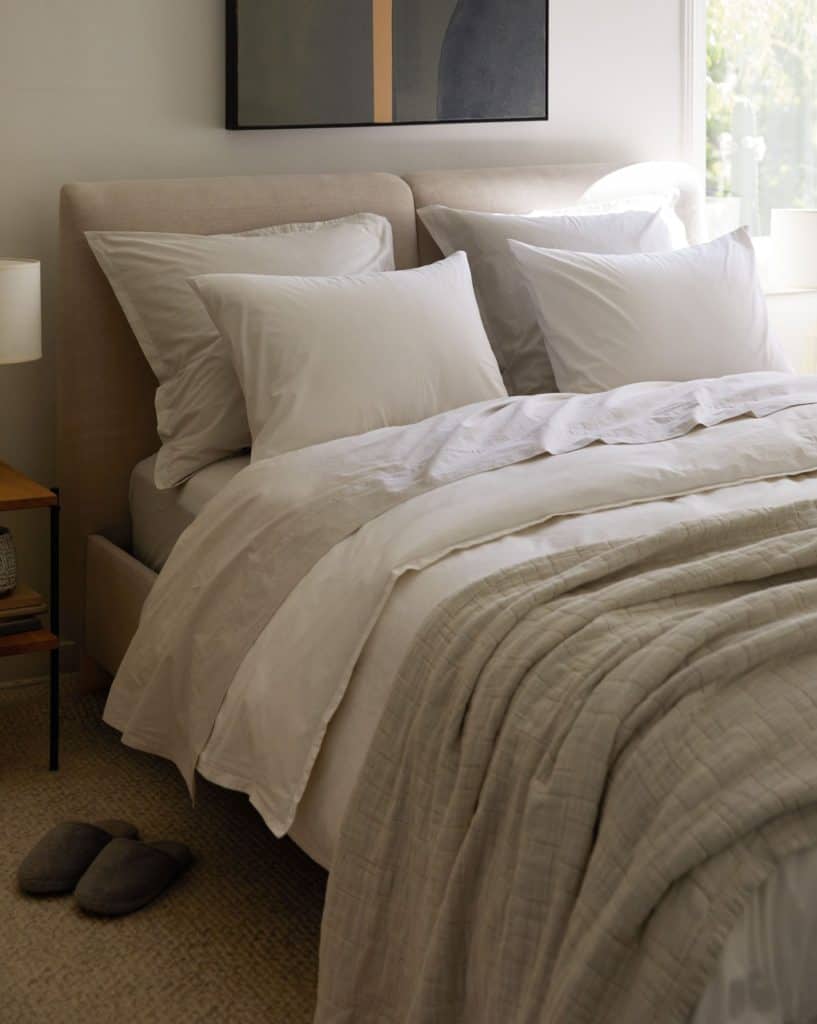 Parachute was launched in 2014 by founder Ariel Kaye. Before even starting Parachute, Kaye worked in advertising and brand development. So, when she noticed a hole in the market for bedding that was affordable, high in quality and easy to shop for, she jumped on the opportunity to create it herself.
Though Parachute began as a direct-to-consumer company, the brand has expanded into several brick-and-mortar stores. The majority of the business is still done online, however, making it easy to access. Parachute offers a variety of bedding solutions including mattresses, sheet sets and duvets as well as towels, robes and other loungewear. They even offer complimentary stylist consultations to help you choose the perfect products for your home.
When it comes to their bedding, Parachute uses the following materials:
Parachute's percale bedding offers a timeless aesthetic and a lightweight feel that sleeps cool. Sateen offers a smoother, more lustrous finish if you're looking for a bit of luxury. For something a little more casual that has that "lived-in" look, linen might be a more appropriate choice. Finally, the ultimate in cozy comfort, Parachute's brushed cotton sheets have the feel of flannel.
Brooklinen Overview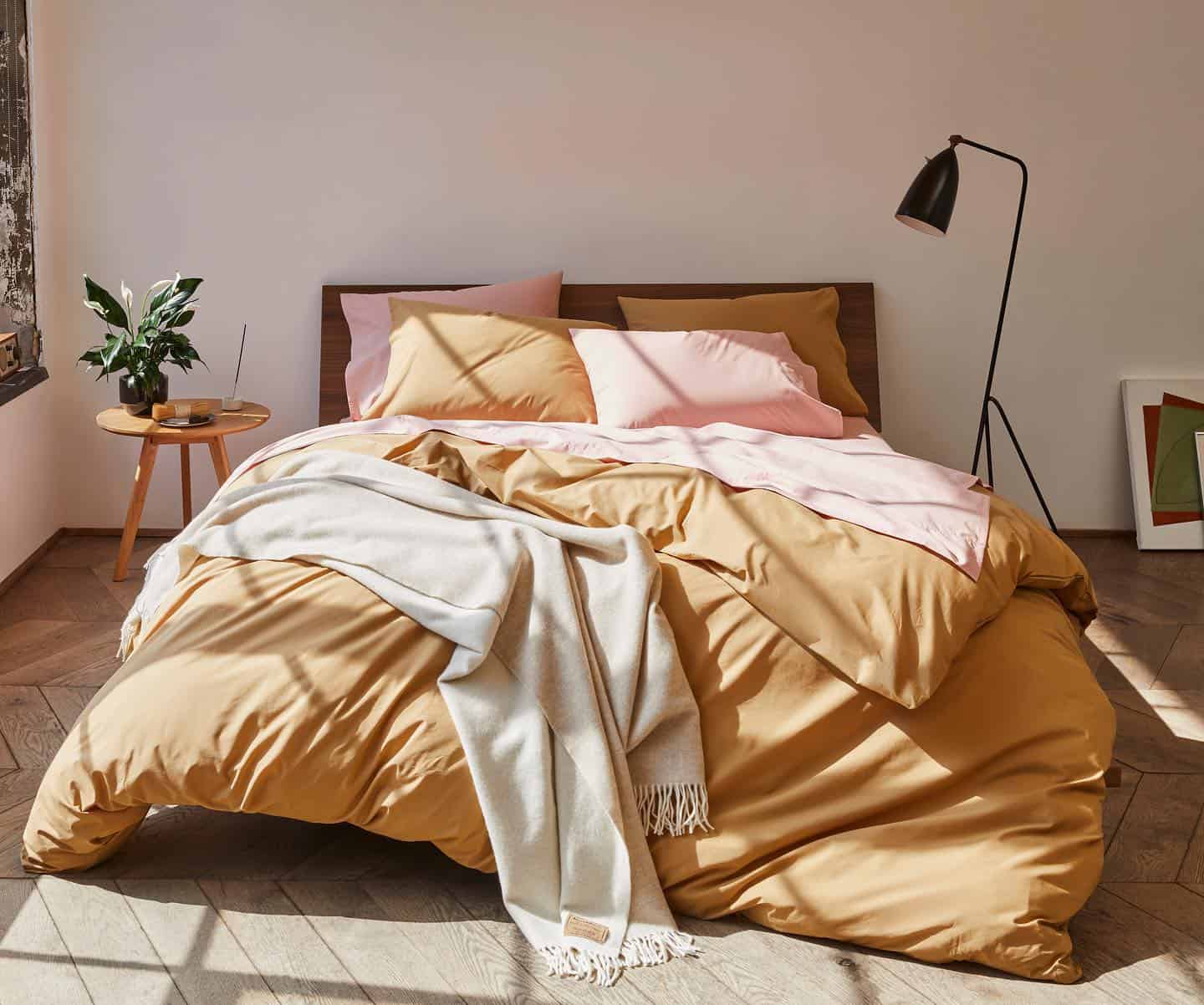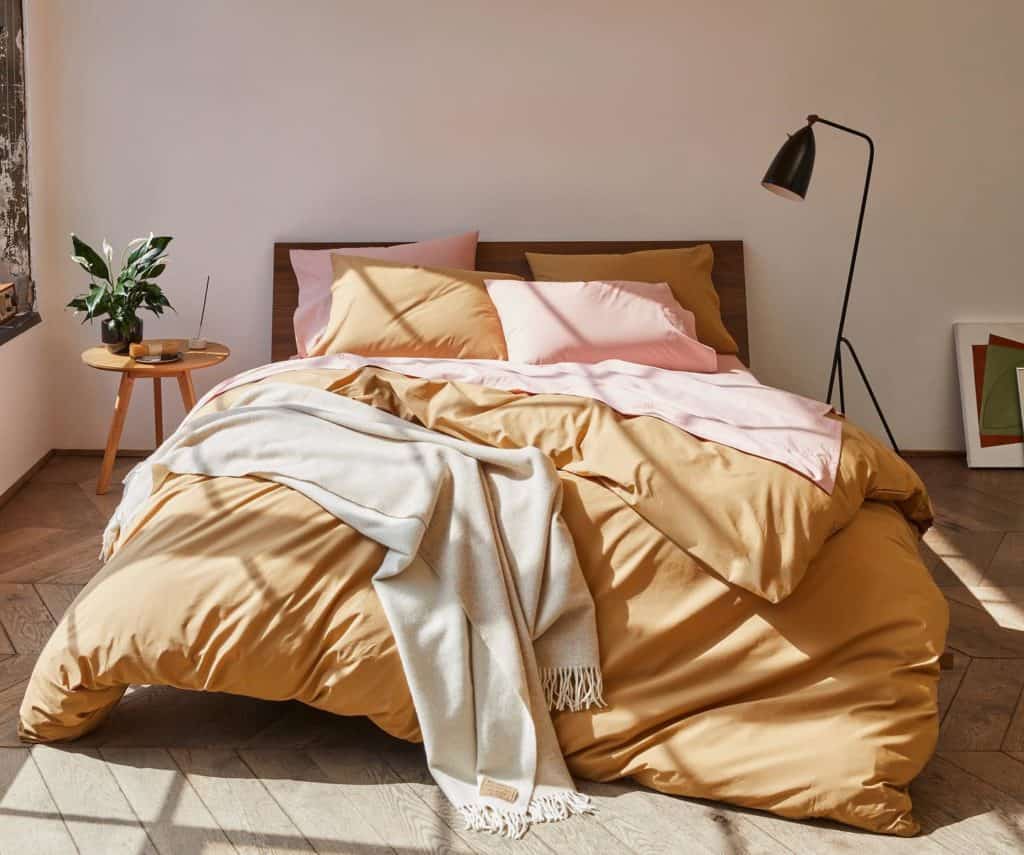 Developed to provide consumers with affordable access to high-quality linens, Brooklinen was founded by Rich and Vicki Fulop. By selling directly to consumers, the brand can control their pricing as well as the quality of their materials. They primarily use cotton and they offer a variety of bedding solutions that have a classic, timeless aesthetic to their design.
When it comes to their product selection, Brooklinen has plenty to choose from. On top of basic bedding solutions like sheets and pillowcases, they offer towels, loungewear and even home décor items. Their sheet sets come in the following materials:
Choosing bedding from Brooklinen really comes down to your preferences for feel. All of their products are thoughtfully designed for aesthetics, but there are different options for people who sleep hot, those who sleep cool, and those who prioritize comfort.
You can't go wrong with classics like percale or heathered cashmere. If you want to upgrade to a more luxurious material, the lustrous feel of sateen might be more your style. Brushed flannel delivers cozy comfort and washed linen has that casual, lived-in look.
How Do They Compare? Parachute vs. Brooklinen
You really can't go wrong with either Parachute or Brooklinen. Both companies seek to provide high-quality bedding that is thoughtfully designed for comfort as well as aesthetic appeal. To help you decide between the two options, we've made some direct comparisons below.
The Materials
Both Parachute and Brooklinen prioritize quality when it comes to their products. They are thoughtful about the sourcing of their materials and about their production methods. Brooklinen primarily uses cotton materials and, while it may not be organic, it is OEKO-Tex Certified. They have four different textures to choose from as well as a washed linen.
All of Parachute's bedding solutions are made in Europe from high-quality, OEKO-Tex Certified materials. Parachute offers three different styles in their cotton bedding along with a linen material. Like Brooklinen, they offer percale and sateen as well as the flannel-like brushed cotton.
Comfort and Feel
When it comes to comfort and feel, you won't be disappointed by either Parachute or Brooklinen. Both companies offer similar options with choices like percale and sateen and neither brand uses synthetic softeners. That being the case, most sheets with soften with each wash.
What it will really come down to is your specific preferences for sleep. If you tend to sleep hot, you'll probably prefer a cooler material like Parachute's percale or Brooklinen's heathered cashmere. Cool sleepers may seek something cozier like Brooklinen's brushed flannel or Parachute's brushed cotton.
Variety and Value
In terms of product selection, both Parachute and Brooklinen have just about everything you can imagine. From bedding and bath solutions to loungewear, their product lines are quite extensive. Brooklinen offers five different materials rather than four, but there are solutions for hot sleepers and cool sleepers alike. You can also shop by aesthetic appeal.
Both Brooklinen and Parachute tend to stick to simple, neutral colors with their bedding. One difference is that some of Parachute's top sheets are reversible, so you can create a custom look.
Parachute sheet sets start as low as $100, though you could easily spend over $3,000 on a premium bedroom bundle (which includes a mattress). Brooklinen's sheet sets start at a similar price point around $100 and go up to $500.
Which Brand is Right for You?
Now that you have the details about Brooklinen vs Parachute, you should have a better idea which brand better suits your style and preferences.
Both of these bedding companies sell directly to the consumer, so you can conveniently shop online. They both also offer free returns for a certain period of time. Parachute's return period is a little somewhat limited at 60 days compared to Brooklinen's generous 1-year return period.
Parachute Might Be Right for You If…
You're looking for a one-stop shop for bedding (including mattresses).

You don't mind paying a little more for quality materials.

You're looking for bedding that can be used comfortably all year round.
Brooklinen Might Be Right for You If…
You have specific preferences for weight and feel in your bedding.

You want a varied selection in style and material (five options to choose from).

You want the protection of a 1-year return period and unlimited warranty.
Bottom Line
While you might be able to sleep on cheap, discount store sheets, they won't be as comfortable as something from Parachute or Brooklinen. These companies put a great deal of thought into the selection of materials and manufacture of their products. So, while they might be a bit more expensive, you'll get what you pay for, and you'll enjoy long-lasting luxury and comfort.
If you're looking for a bedding company to outfit your entire bedroom, mattress included, Parachute is a great option. If you seek a larger variety in materials and color choices for bedding alone, Brooklinen might be more your speed. Either way, the choice is yours. We hope we've provided enough information to help you decide between the two.