Figuring out the right size of pillow insert according to the size of the cover is an important part of making sure your pillow looks proper and feels comfortable. A small pillow insert can make the cover look awkward, while one that's too big will make your pillow look misshapen. In this handy guide, we outline what size pillow insert for 20×20 cover is best, as well as other sizes to make your pillow insert shopping experience easier.
To make your choices easier, you can also check out this article on the best pillow brands of 2022.
What Size Pillow Insert for 20×20 Cover and More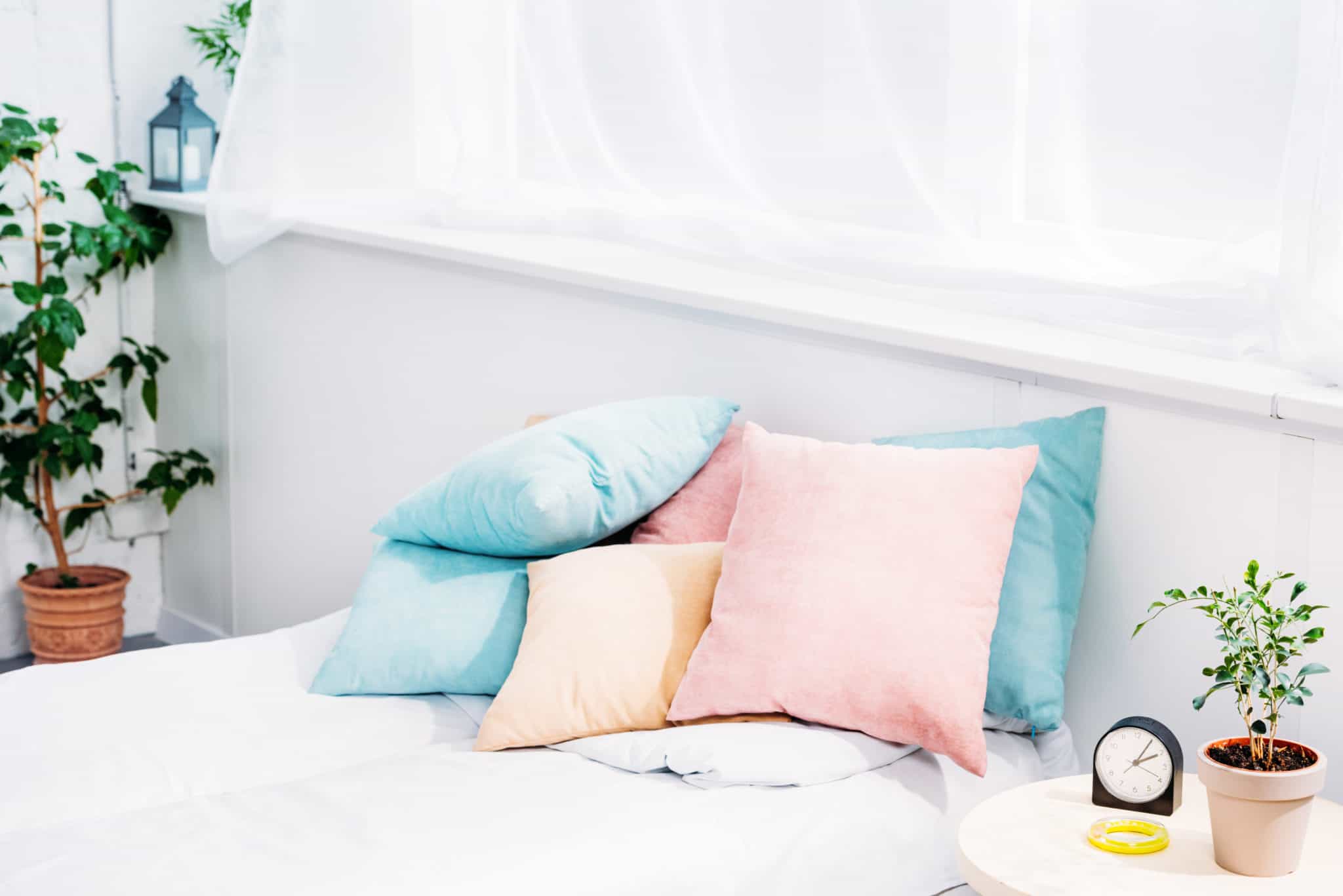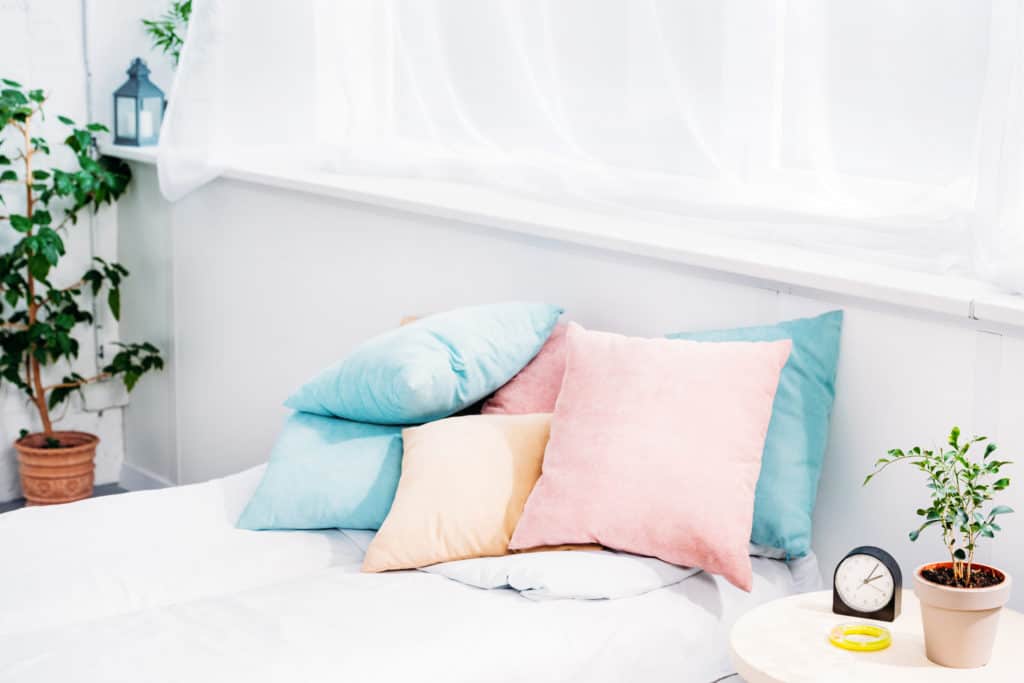 The size of your pillow insert should be slightly larger than the cover. While this might seem counterintuitive, you have to keep in mind that you need your pillow to have a full look. The pillow insert should not move around freely in the pillow cover.
Therefore, for the best possible look, feel and comfort, the pillow insert size for a 20×20 cover should be 22×22.
This rule can be used for other sizes of pillow covers as well. As a general rule, you should pick a size that is around 1 to 2 inches larger per side to ensure that your pillow looks good.
Based on this, here are the size options you should consider for your pillow inserts:
26×26 pillow cover – 28×28 or 29×29 pillow insert

25×25 pillow cover – 27×27 or 28×28 pillow insert

24×24 pillow cover – 26×26 or 27×27 pillow insert

23×23 pillow cover – 25×25 or 26×26 pillow insert

22×22 pillow cover – 24×24 or 25×25 pillow insert

21×21 pillow cover – 23×23 or 24×24 pillow insert

20×20 pillow cover – 22×22 or 23×23 pillow insert

19×19 pillow cover – 21×21 or 22×22 pillow insert

18×18 pillow cover – 20×20 or 21×21 pillow insert

17×17 pillow cover – 18×18 or 20×20 pillow insert
Which Type of Pillow Cover Should I Use?
Pillow covers come in a number of different fabrics. Here are some of the most popular options you have when it comes to covers.
Cotton Pillowcase
Cotton is easily one of the most popular fabrics when it comes to pillow covers, owing to its breathable nature. Cotton is also easy to wash, and you can just toss the covers into a washing machine to keep your pillow clean.
Linen Pillowcase
Similar to cotton, linen also gives you a breathable pillow cover. Linen is known to have antibacterial properties, which is good for people with sensitive and acne prone skin. However, linen can be slightly more difficult to clean than cotton pillow covers.
Velvet Pillowcase
If you want to opt for a more luxurious feel and add a splash of color to your room, you can use the elegant touch of velvet in your pillow covers. The soft feel of velvet is also an extremely comfortable option to lounge on.

Another advantage that you get from velvet pillow covers is its resistance to wrinkles and its elasticity. However, you might notice some color washing off and hair piling on the pillow.
Suede Pillowcase
Suede is another fabric that can give your pillows a rich feel. It's extremely durable even when it's quite thin, which means that your pillow covers will be protected from tears and rips even with heavy use.

However, cleaning suede might be a difficult task, as the material is prone to collecting dust and grime. If you have kids or pets in the house, you might not want to opt for suede pillow covers.
Wool
Choosing wool for your pillow covers would give you the best temperature regulation on the list. It will help your pillows stay warm in the winter and cool in the summers, offering a comfortable sleeping experience.
However, when it comes to sleeping on it, you might get a rather dense feel, and your pillow might not adjust to the shape of your head properly.
Which Type of Pillow Inserts Should I Use?
Similar to pillow cover types, there are many options for pillow inserts. You can either go for memory foam pillows or conventional pillows with stuffing.
Memory foam pillows
Memory foam pillows are comfortable and are great for providing support. They're also hypoallergenic and easy to clean, which makes maintenance convenient.

However, they can be slightly hard for someone used to conventional stuffed pillows and might take some time getting used to. Also, using them for couch decor might defeat the point of the memory foam if it's not being used in the same position every day.
Down pillows
Down pillows are made out of bird feathers and can last for a long time. It has a significant advantage over synthetic filling options because of this. It's also quite soft to the touch. However, it might retain a lot of body heat, leading to discomfort.
Polyester pillows
Polyester pillow inserts are extremely cheap, making them a good choice if you're shopping on a budget. They're also very easy to clean and are quite lightweight, making them a great choice for decorative pillows. However, they do not have a long life span and you might notice clumping.
The Bottom Line
Using the right pillow insert for your pillow cover can make all the difference in making your living room or bedroom look good and feel good. Picking a pillow insert size slightly bigger than the cover will give your pillow a full look without making it look misshapen. It will also make your pillow firm and more comfortable to use.
We hope that this article has helped you make the right choice about what size pillow insert for 20×20 covers – and more.