Hotels invest a significant amount of money in luxurious bedding to make sure that their guests wake up rejuvenated and well-rested. From designer hotel beds to signature mattresses and the best hotel pillows on the market, these hotels have made it their mission to help you get some much-needed shut-eye for a good night's rest decked out in full luxury.
Why are Hotel Beds So Comfortable?
Hotel beds stand out in some ways that's hard for most of us to figure out. They mirror a certain soft and luxurious feel that we fail to recreate within our beds at home.
Here are some of the tricks hotels use to create that comfortable five star sleeping experience.
Fluffy Duvets
Luxury hotels use goose down duvets that are lightweight and offer a fluffy cloud-like feeling. These super soft comforters feature a high loft which represents the fluffiness and the high-quality of the down filling inside. Higher fill power down results in a fluffier duvet that keeps the guests wrapped up in a soft cocoon of warmth.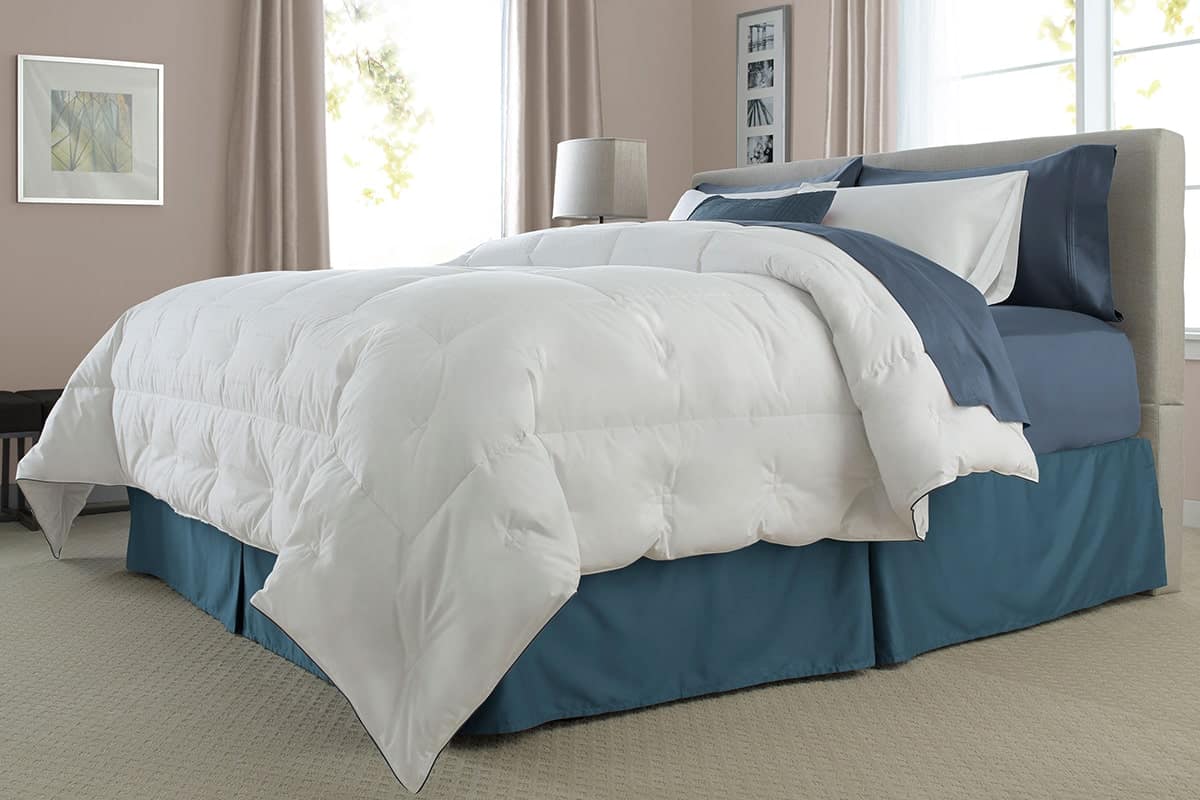 Moreover, the duvet cover is made up of cotton with a high thread count, which gives them a light and airy feel. Most of the fluffy comforters used in luxury hotels feature a baffle box design. This makes sure that the down remains equally distributed throughout the duvet without clumping in one area.
Hotel rooms are usually kept cold for a good night's sleep as cozying up under the fluffy duvet sounds much more appealing in colder temperatures. One of the advantages of goose down is its ability to regulate body temperature, keeping it warm in the colder temperatures and cooling it down when it becomes hot.
Softest Bed sheets
Hotels use premium quality bed sheets that are the epitome of quality and comfort. These sheets are made from either percale or sateen and tucked nicely into the mattress giving hotel beds a luxurious look and feel. Percale is closely woven and spun from both combed and carded yarns. It is mostly present in high thread count fabrics to give them a soft and silky feel. This material gives the bedsheets strength, allowing them to withstand multiple washes and making them ideal for use in luxury hotels.
On the other hand, sateen has a higher thread count on the top surface of its weave construction for enhanced softness. It also gives the bed sheet a sheen similar to that of satin. Cotton sateen sheets are softer than the percale woven ones, so it is a matter of preference, whichever suits the guests' needs.
Also, the hotel staff usually puts in a lot of time and effort to iron their sheets to give them a beautiful lustrous, soft, and very smooth feel.
Comfortable Pillows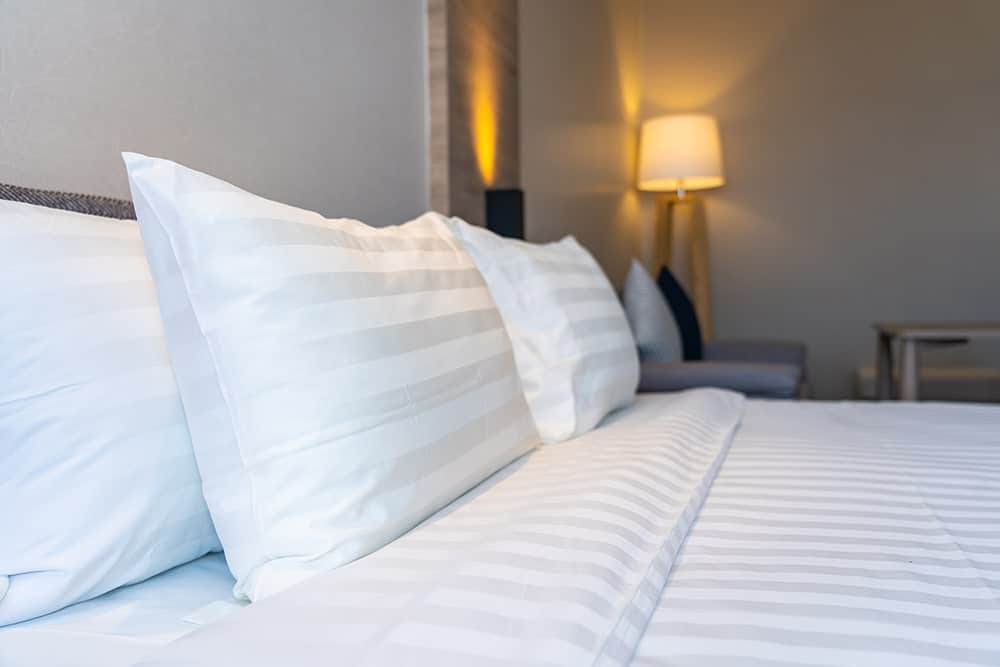 Five star hotels typically arrange four to five different sleeping pillows on each bed that provide different levels of support. Usually, there are two pillows each, for both firm and medium support to match every guest's sleeping needs.
Apart from their quantity on the bed, the fluffiness of the pillows is another important comfort factor for luxury hotel beds. Unless requested otherwise, luxury hotels use white goose down pillows for their beds since it is the best quality available in the market. The premium down filling makes the pillows breathable and also regulates the body's temperature while sleeping to avoid any discomfort of feeling too hot or too cold.
The best hotels are commonly known to provide an array of options, including down, fiber fill, and hypoallergenic pillows to suit different sleeping preferences. These pillows provide the desired cushioned support that is needed for a comfort-filled sleep.
Heavenly Mattresses
Hotels buy high-quality mattresses because they understand it is fundamental to the bedroom experience they offer. They recognize that the main idea behind an inviting bed is its comfortable mattress. Therefore, the best hotels will offer a variety of options, such as innerspring, memory foam, and hybrid mattresses accommodating different sleep preferences.
Innerspring mattresses are the most common mattresses used in hotels because of their durability. In contrast, memory foam mattresses are not as popular, specifically in the top rated hotels. It is because they are softer, and many guests do not prefer a soft bed. Instead, these mattresses are normally used in lower grade hotels.
The hybrid mattress is the most expensive option used by five star hotels, and it is also the most comfortable one. The added coil support in its structural design improves air circulation and prevents its breakdown. This is an important feature, especially since mattresses are used daily by guests and are most susceptible to the wear and tear.
How to Make Your Bed Like a Hotel?
There is no reason to dole out hundreds of dollars to experience a five-star night's rest. Replicating the hotel bedding magic is surprisingly simple. With a few simple tricks, you can now have the same blissful feeling of waking up in a hotel bed at home. Here's what you can do to make your bed like a hotel:
1. Invest in high quality bedding
The best part of vacationing at a hotel is unquestionably the bed. To match that luxury hotel bed feeling at home, invest in an excellent mattress, a fluffy duvet insert, down pillows and some high quality sheets.
Invest in a 300 thread count percale sheet made from long-staple cottons, such as Egyptian or Pima cotton for yourself. Percale sheets have a cool, crisp feeling, and they soften up over time. They feel lighter and more breathable, which makes them perfect for the hot summer months.
Hotels use percale sheets as they hold up well and get softer with more washes. However, if your preference is towards a silkier and smoother feel, choose sateen sheets instead. These sheets may be pricier but will last longer and feel better over time.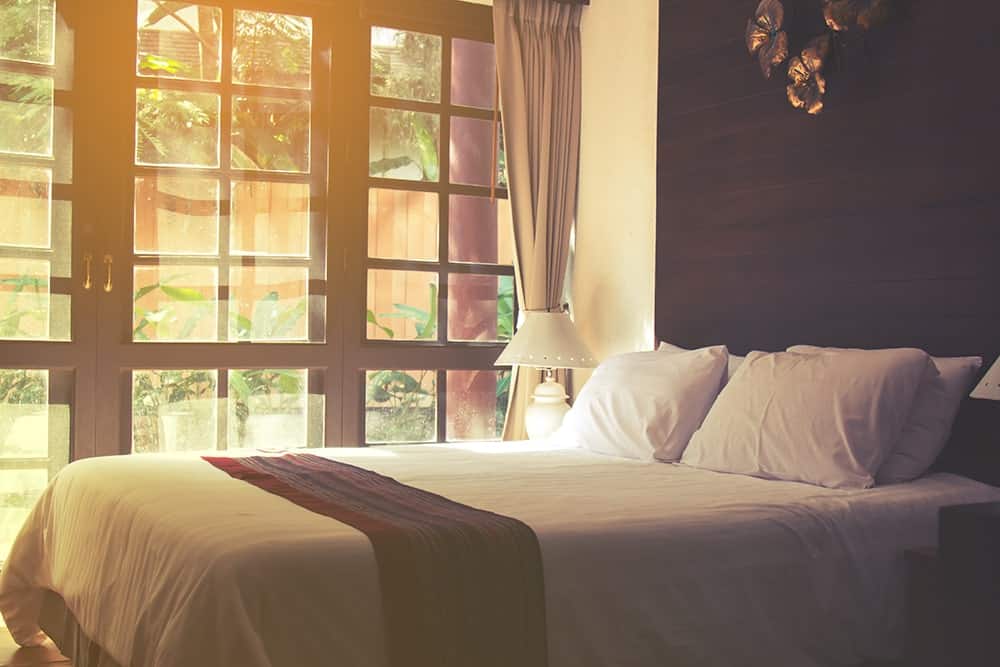 While a sateen sheet set includes good quality cotton pillowcases, you can still buy the higher quality pure silk pillow covers, which are better for hair and skin care. They cause fewer hair tangles and tugging which minimizes hair damage and frizz. Also, sateen is not absorbent like cotton so it won't absorb your cream or other skin care products.
To achieve that plush look of the hotel bed when it comes to pillows, alternate their sizes and shapes – a couple of King and Queen-sized pillows, depending on the size of your bed.
Layers and more layers are what you need for that luxurious hotel feel. Add a duvet with a goose down filling to create your own bedding bliss at home. The duvet will recreate the heavy, soft, and safe feeling of a hotel bed.
2. Go white
Almost all luxury hotels prepare their beds in white linens. The all-white color scheme exhibits a modern coolness that luxe hotels want to portray. Furthermore, white also symbolizes calmness and simplicity, which gives the hotel rooms a luxury spa-like feel.
By using white linens, the warm accents around your bedroom will also give the space a luxe and cozy touch. It will give your room a contemporary fresh feel similar to that of a hotel. Also, it doesn't hurt that the white bedding is much easier to clean and maintain, as it can simply be bleached.
3. Fold and smooth the right way
Like hotels, use flat sheets instead of fitted sheets. After laying your desired percale or sateen sheet over the mattress, tuck in the four sides of the sheet under the mattress and create hospital or mitered corners for a neatly tailored appearance.
With the leftover material sticking out at the corners, create a 45-degree angle with these corners, and firmly tuck them under the mattress.
Instead of ironing the bed sheet, you can also spray bedding with a mixed concoction of water and lavender sprigs to add a bit of scent. Shake out any lines or gently smooth the linen with your hand. Layer other individual pieces of the bedding to your liking.
Frequently Asked Questions
1. What makes Marriott beds so comfortable?
Marriott beds are widely known for their comfortable mattresses. Their mattresses have premium foams that cradle the entire body while sleeping to help reduce any body aches caused by excessive tossing and turning. In short, it prevents any restlessness while sleeping.
Its high-density soy-based foam offers medium to firm support, so the guests wake up feeling refreshed and energized. The mattress also has an ultra-breathable comfort foam, uniquely constructed to lower the mattress temperature and prevent trapped heat from interfering with guest's sleep.
In addition to that, pillows used at Marriott hotels are filled with premium quality down and feather creating an ultimate sleeping experience for guests.
2. How can I make my bed softer like a hotel?
Luxury hotels add a featherbed as a top mattress to impress their guests with an unbelievably soft bed. These mattress toppers have equally distributed feathers and down to provide just the right amount of comfort and support, that can only be best defined as sleeping on a cloud.
Therefore, apart from investing in a high-end mattress, you can also buy a featherbed to match the softness of a hotel bed. The featherbed will add cozy and cloud-like feeling to the mattress and provide an exceptional night's sleep.
3. Which hotel chain has the most comfortable beds?
When it comes to comfortable bedding, Westin takes the lead. Westin were the first to create their signature bed in 1999 by partnering with Simmons, a mattress manufacturing company. Their mattresses have medium firmness, which allows comfortable sleep as it relieves pressure around the shoulder and hip areas which often get painful for side sleepers. Westin beds are ideal for both side sleepers and those who prefer to sleep on their backs.
Other popular hotel chains such as Ritz Carlton, Hilton and Marriott are known for their plush beds as well. The Hilton beds have a quilted top and coiled support to provide a good night's sleep. Also, the premium pillows used at Hilton hotels further add tot he comfort. On the other hand, the Marriott Bed includes the chain's proprietary mattress made from a high-density polyurethane foam, which provides extra support to reduce movement and minimizes disturbances throughout the night.