Known for its unique and luxurious amenities, the Hyatt pays special attention to comfort and relaxation for its guests. We've tested nearly all of the best hotel pillows on the market and Hyatt's cuts no corners. Their hospitality is worth the applause but what really stands out is the warmth and welcoming ambiance that provides you with all the comforts of your home.
Of course, this includes a comfortable bedroom or more specifically, the most important feature of all; Hyatt hotel pillows. The Hyatt hotel values comfort over extravagance, loud colors, and over-the-top décor. Pillows used in Hyatt hotels are carefully selected to offer tranquility, relaxation, and the ultimate sleeping experience.
Shop Hyatt Pillows at Pillows.com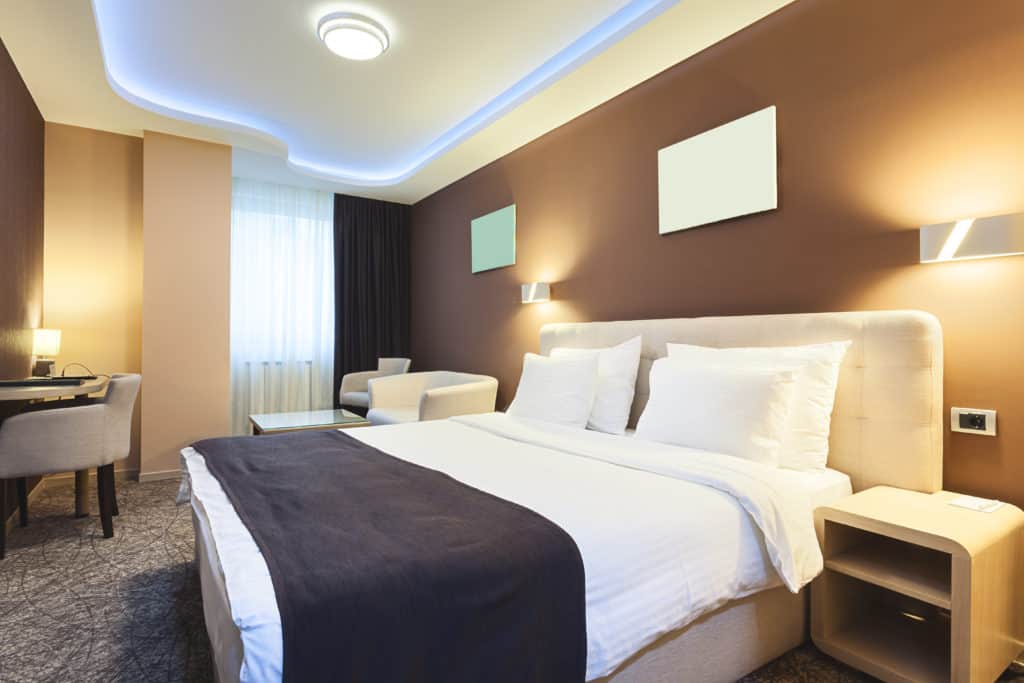 What Kind of Pillows Do They Use at Hyatt Hotels
If you have ever stayed at the Hyatt hotel and you thoroughly enjoyed its comfortable hotel bed and luxury pillows, you can get the same ones for your bedroom for that stunning hotel room feeling!
Hyatt hotel uses impeccably fashioned pillows designed for all kinds of sleepers. The star pillows at the Hyatt include the Down Etc. Rhapsody Wrap and the Restful Nights Trillium Polyester. Both come with their unique set of qualities that fit different sleeper needs and comfort styles. Whether you are on a luxury vacation and prefer cloud-like softness and comfort, or you are looking for a firmer option for support and ease, Hyatt offers it all!
Down Etc. Rhapsody Wrap Down/Feather Pillow
Nothing spells luxury like goose down and feather pillows. When I first used this pillow, I was pleasantly surprised at the firm support. The Down Etc. Rhapsody Wrap pillows are designed with the unique pillow-in-pillow design that adds to their firmness and will keep your body perfectly aligned during the night.
The inner core is filled with 95% pure white goose feather and 5% white goose down. The outer core of the pillow is packed with a combination of 70% white goose feather and 30% white goose down. This high ratio of goose feather filling makes this amazing pillow a true, Hyatt luxury experience.
I prefer pillows on the softer spectrum because I am more of a stomach sleeper, but if you prefer sleeping on your side or your back, then what you need is adequate firmness which this pillow provides. If you still choose to invest in these but the firmness is just not for you, you can do what I do and keep them as spares for guests to offer them that spectacular expensive hotel-like experience.
The Down Etc. Rhapsody Wrap pillows come in standard, queen, king, and euro size. It is also encased in 100% down proof cotton fabric which protects the filling and makes sure that no feathers leave the cover. If you are new to down pillows, make sure to fluff it occasionally to maintain its shape and loft like the way you experienced it at Grand Hyatt or Hyatt Regency.
I would also suggest investing in a pillow protector for this pillow to keep it fresh, clean and maintain its shape. Now, I say this because washing down and feather pillows is no easy feat! With all its luxury and flare, the Hyatt hotel pillow comes at a price and that is good pillow care. A pillow protector will make your life so much easier and keep the filling from any damage or moisture from seeping in.
One thing to keep in mind is that down and feather pillows can often emit a pungent odor which is especially noticeable when the filling becomes wet. To avoid any bad smells from ruining your luxury sleeping experience, I suggest air drying your down and feather pillows thoroughly and tossing in a couple tennis balls in the dryer with your pillow to get them back in shape, free from odors.
Restful Nights Trillium Polyester Pillows
If you are anything like me and enjoy the ultimate, soft, and cloud-like fluffy pillows, the Restful Nights Trillium Polyester pillow is the definitive choice. Sleeping on this pillow made it clear that Hyatt hotels prize comfort over anything else.
The Restful Nights Trillium Polyester pillow, manufactured by National Sleep Products, offers a soft to medium support for sleepers. It is ideal for stomach and back sleepers. The pillow is laced with 100% blown gel polyester fiber for that soft, plushy feeling in all the right areas. The best feature of this pillow is that it is customizable so you can mold the shape of the pillow however you want for ultimate comfort.
This pillow comes in standard, queen and king size and is the ideal alternative to natural down or feather pillows. The fabric used for this is 230 thread count with 100% cotton and it consists of a double needle corded edge which gives it a clean finish.
When it comes to maintenance, the Restful Nights Trillium Polyester pillow can be machine washed and dried. It is comfortable, unique and does not require extensive pillow care. In my opinion, it encapsulates the Hyatt experience impeccably! If you are looking to buy a pillow that defines comfort in all its glory, then try this one. It certainly will not disappoint.
[elementor-template id="3004231″]
Invest in the perfect luxury hotels pillows for a fantastic night's rest or to get rid of any aches and pains. Or better yet, buy a whole set and redo all the beds in your home for a new and unique hotel-like look and feel.
Want to find out more pillows like these used in popular hotel chains? Check out our top picks.